In Maldives, there is a place where you can swim with whale sharks all year round : South Ari Atoll. The area is so populated by the ocean giant that it is the home base of the Maldives Whale Shark Research Programme (MWSRP) which carries out whale shark researches and advocate for their conservation in the Maldives. Based at Dhigurah Island, they propose you to volunteer for their study and protection.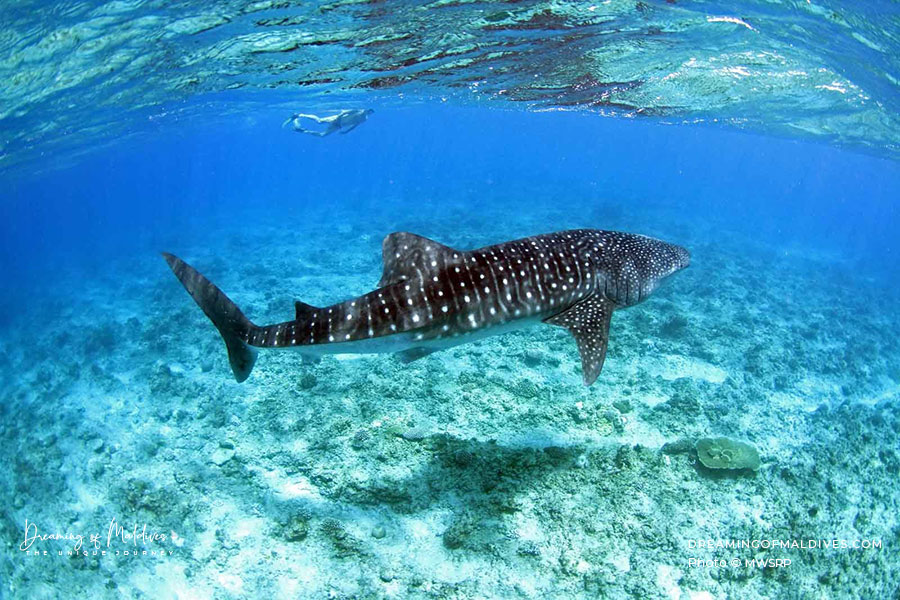 Almost 10 years passed since I wrote about MWSRP. The last time was when they ran a competition together with Conrad Maldives Rangali Island, a resort located in South Ari Atoll, to support them.
At the time, MWSRP was just launching a series of a scientific expeditions to study whale sharks. Since then, it has grown to become the first long-term organization dedicated to study the iconic, yet vulnerable whale shark species in the Maldives.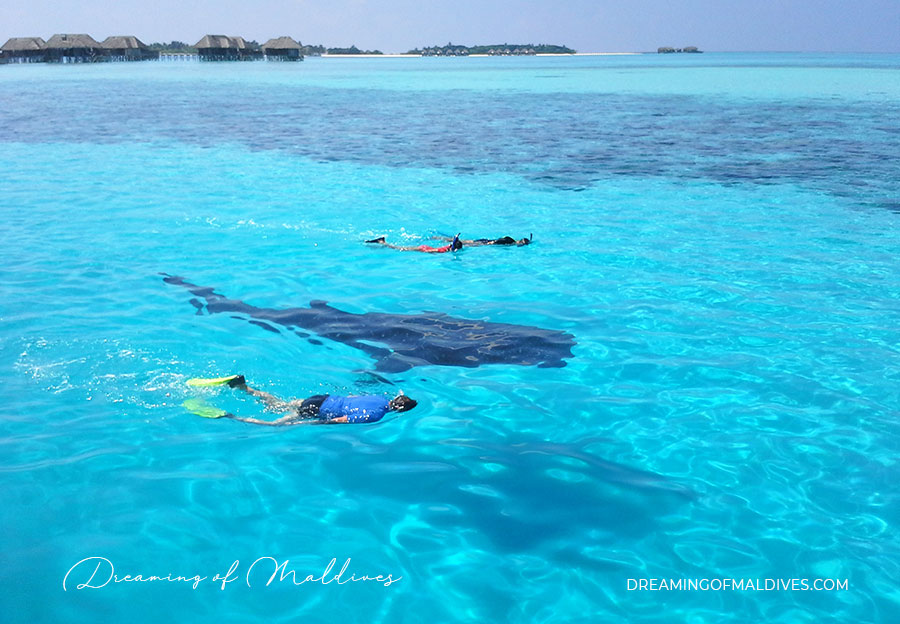 ---
"You will love the ocean. It makes you feel so small, but not in a bad way. Small because you realize you're part of something bigger."

— Lauren Myracle, The Infinite Moment of Us.
---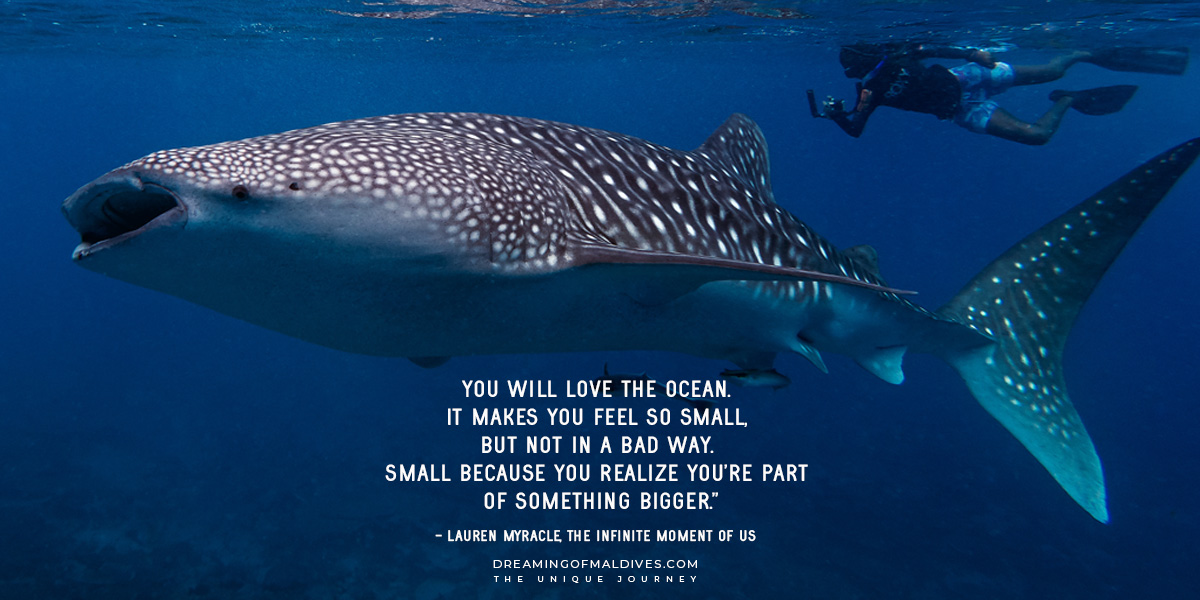 Dhigurah Island, a heaven to swim with Whale Sharks in Maldives
Dhigurah island in South Ari Atoll, considered as one of the most beautiful island in the Maldives, is a paradise to swim with mantas and whale sharks.
According to MWSRP, over the last decade until mid-2021, a total of 8022 whale sharks – mostly young males, have been encountered in South Ari Atoll. 527 of them spotted and registered in the area of Dhigurah.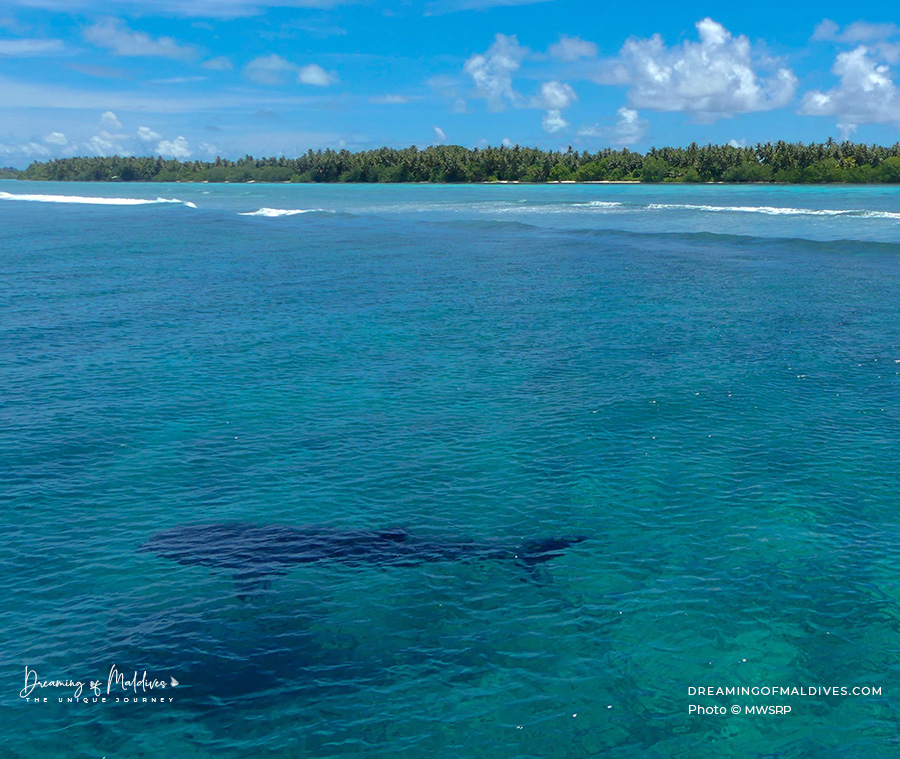 Why South Ari Atoll ?
South Ari Atoll seems to have the perfect conditions for the shark to live and grow : a massive presence of phytoplankton and ideal stable temperatures for their needs to grow until their mature age which is around 30 years.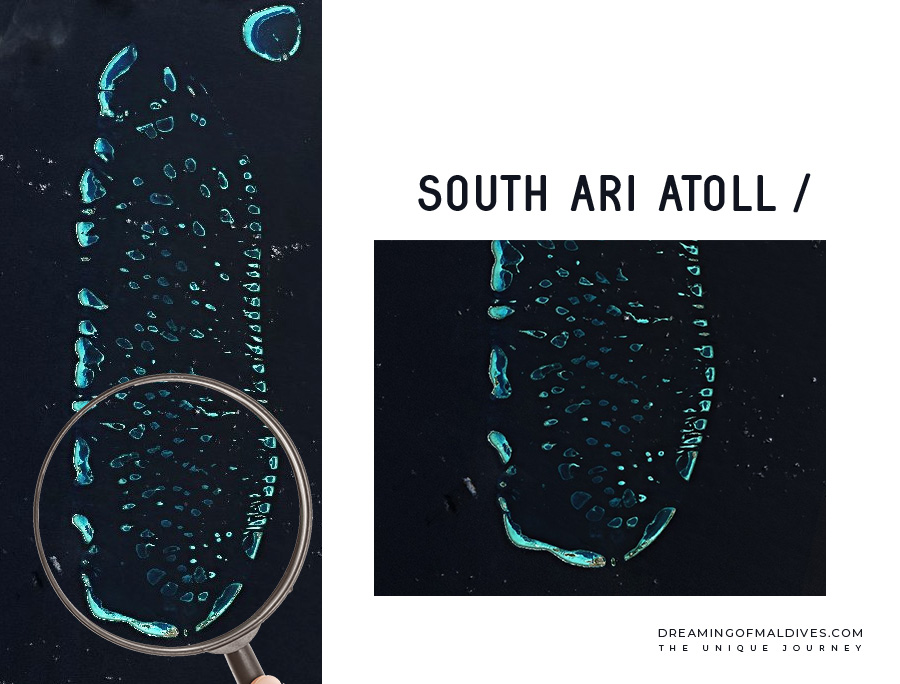 The atoll area where whale sharks gather is called South Ari Marine Protected Area, or SAMPA, where they thrive. This is why any person staying around this area will certainly have the chance to see them.
Who's MWSRP ?
The Maldives Whale Shark Research Programme or MWSPR is a non-profit organization and a precious actor in whale shark protection in the Maldives.
Based on Dhigurah Island, a paradisiacal island and a heaven for whale sharks and manta rays in South Ari Atoll, the conservation charity programme is dedicated to fostering community-focused conservation initiatives in the Maldives.
MWSRP proposes a volunteer programme as an assistant researcher. Fees for the participation serve as a donation for its sustainability.
MWSRP Mission and Values
MWSRP focus on the interconnection of everything : the economy, people, culture, whale sharks, and environment – and that local community involvement is central to successful conservation initiatives.
They strive to recognize the importance of these layers and be inclusive in their conservation philosophy towards the sharks they study, the supporting marine ecosystems, and the coastal communities they work with.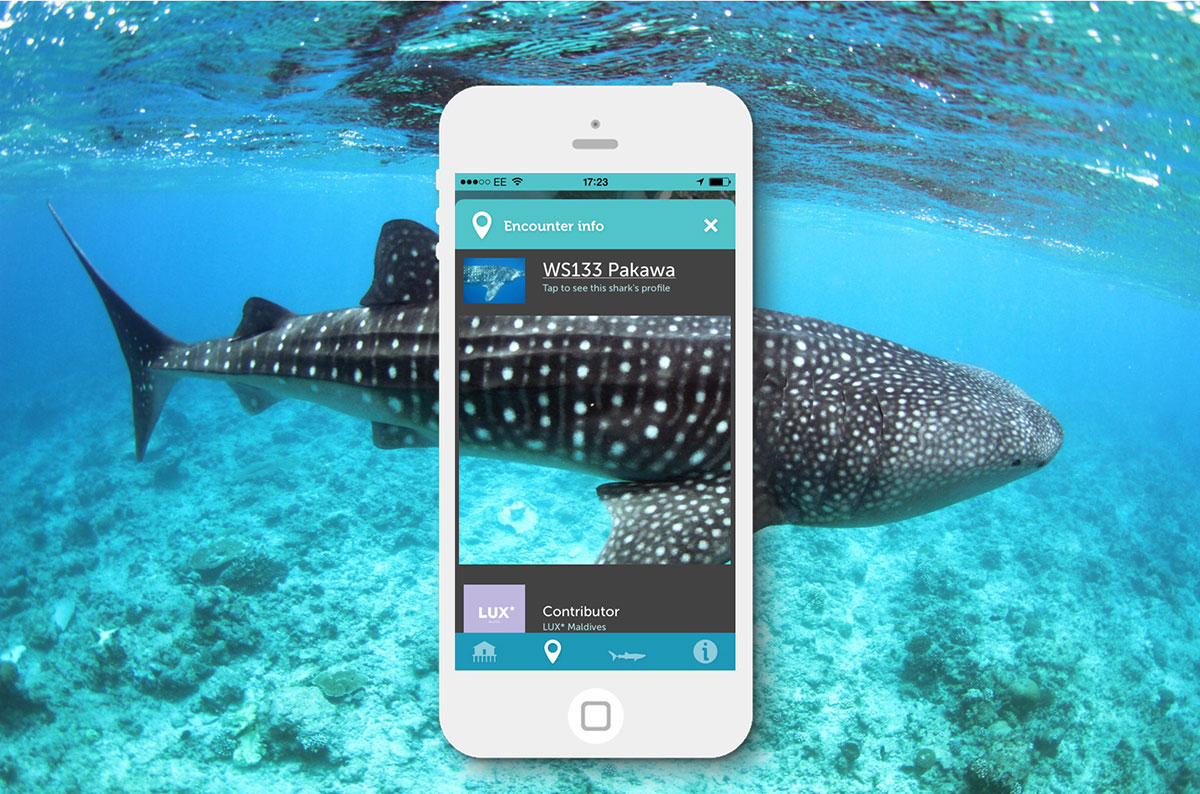 Through scientific research and a reverence for ecological principles, their conservation strategy encourages people of all backgrounds and cultures to participate in keeping the fragile Maldivian ecosystems healthy for future generations.
You love the Ocean and whale sharks ? Volunteer with MWSRP
If you love the Ocean and are curious about whale sharks, you can volunteer for MWSRP on a two or four week research period during which you will be joining other selected persons in representing a small team of dedicated researchers and community charity workers.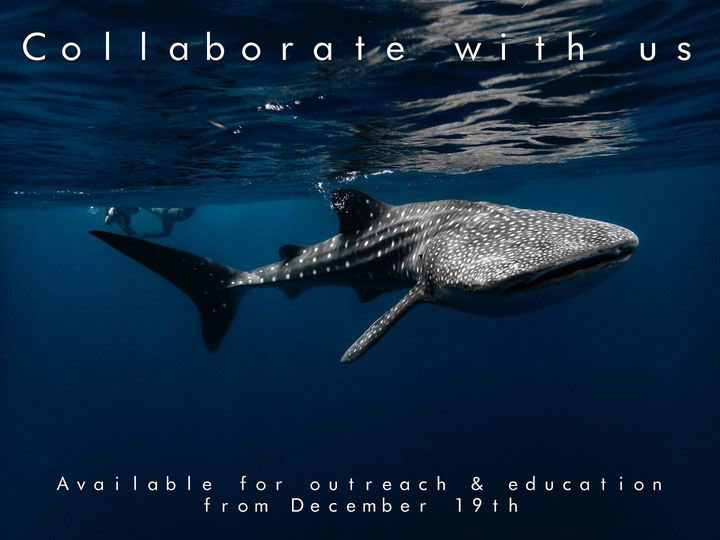 You will be joining the team aboard MWSRP research vessel to help them collect baseline data on whale sharks and the marine environment.
Anyone fitting with MWSRP requirement is eligible to volunteer.
You must be over 18 years of age. However, in some cases the team consider applications from 16 and 17 year olds if accompanied by a guardian.
Here is a typical day of a MWSRP volunteer.
7:30 Breakfast
8:30 Boat Survey
– The most common activity will be actually being out on the water onboard the research dhoni looking for sharks.
– You travel around on MWSRP dhoni, the traditional Maldivian boat, and from the roof you will help spotting sharks.
– Every member of the team is assigned a role at the start of the day, such as recording any other significant marine species they see, from turtles to mantas and dolphins, so there's never a dull moment.
– Once the team spots a shark, it's all systems go !
They have to identify the shark if they can, which means taking a left and right sided picture, from which they look at the unique spot pattern later.
Those with good lungs may be asked to 'sex' the shark, which means swimming underneath and having a good look !
– Finally, if there's time, they try to measure the shark, either with a line or with their laser photogrammetry measurement device.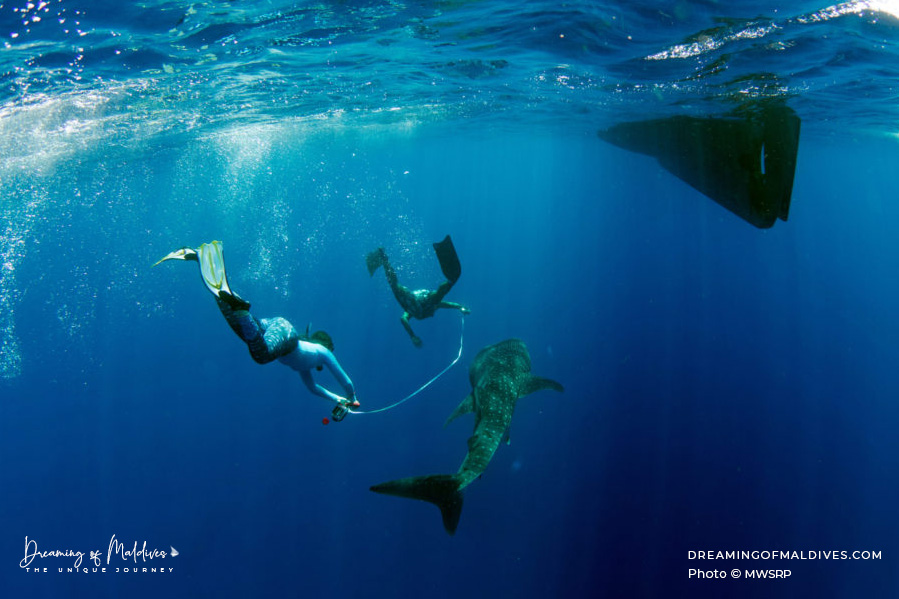 remark : noticing and digitally recording new or healing injuries and other distinguishing marks can be really important in recording the health of the population too.
4:00pm Return to Felicity
5:00pm Data Entry
– As an active research programme, they also have to collate all the data and encounters they log whilst out on the water for presentation to policy and decision makers.
– As volunteers you are an essential asset in bringing all this information together, so each evening after a day on the boat you input the data into their database and identify the individual sharks or other megafauna such as manta rays you and they saw that day.
– The team then uploads all encounters onto their online portal
7:00pm Dinner Evenings
Your time to process pics, listen to a presentation from MWSRP staff or just chill out and recuperate for the next day adventures.
Days off
Friday is typically the team day off. You'll have the opportunity to do some diving, go for a snorkel or visit a sandbank or two.
Cost for 2 weeks Volunteering with MWSRP
Volunteer fees are an important part in helping to keep MWSRP in operation conducting research and conservation initiatives. These fees go towards covering the rental of the research dhoni (boat), accommodation, food, fuel, and project related expenses.
2 weeks volunteering cost : approximately 2499.00 USD per person.
Price inclusion : Food & water, accommodation, research vessel, guiding, and airport transfer.
What's not included : International Flight, Diving (available at a heavily discounted rate tbc), Travel Insurance.
Discover more about the Maldives Whale Shark Research Programme and its volunteer programme :
https://maldiveswhalesharkresearch.org/
Follow their researches and adventures on facebook : https://www.facebook.com/MWSRP
Help support their actions and researches : https://www.gofundme.com/f/save-the-mwsrp
Volunteer
https://maldiveswhalesharkresearch.org/volunteer/
Maldives Whale Shark Stories

Here is a selection of the best resorts to swim with whale sharks. in South Ari Atoll, Maldives. In South Ari Atoll you can swim with Whale…
Dhigurah Island

Discover SAMPA for South Ari Marine Protected Area in Maldives, the world's most unique and significant sites for whale sharks. What is SAMPA…
Follow us on Facebook, Youtube and Instagram
for more Maldives Dreams & Stories
Your TOP Best Maldives Resorts 2023
YOUR CHOICE. YOUR DREAM. YOUR VOICE
[ Official ]
Traveler's Choice
12th Edition