Meet the Nemo cast in real life in Maldives with this Who's Who visual guide.
Are you Dreaming of finding Nemo fishes and other sea creatures in Maldives during your next holiday in the archipelago ? Your dream will soon come true.
To help you spot them during your explorations, here they are in real life, in their natural and wonderful habitat that the Maldives are.
Finding Nemo and Dory. The Movies
When I went to watch Finding Nemo at the cinema back in 2003, I was stunned by the similarities with the Maldives underwater word. I remember being amazed. It was so real, so beautiful and so fun to see them on this huge movie screen, sitting in my cinema chair, back in Europe.
Later on, I watched it again with my son ( who couldn't pass the shark scene with Bruce ( aka the Great White ) loosing it and transforming himself into a killing machine at the smell of blood.
If you're a bit scared yourself, don't worry. There are many types of sharks in Maldives but NO Great Whites.
Bruce "scary" scene from the first Nemo movie (2003) by PIXAR
If you haven't watch it yet, I advise you to discover it. It is a master piece of animation.
The first movie, Finding Nemo was released in 2003. Its 3D version in 2012, followed by Finding Dory in 2016.

If your kids ( or yourself …) loved Nemo adventures in Finding Nemo or Finding Dory and you plan a trip to the Maldives, tell them they are about to meet them for real ( again : excepted for Bruce 🙂 ).
Dedicated snorkeling trips to find Nemo & Co in Maldives
Some resorts organize special excursions to search the sea creatures you see in the movies.
Six Senses Laamu, an excellent resort to snorkel and dive, organizes dedicated a snorkeling safari called Finding Nemo Snorkeling Trip, where guests go explore the resort rich house reefs and its surroundings together with the resident marine biologist who helps them spot the fishes from Pixar characters.
Dusit Thani, also known to be one of the best Maldives resort for snorkeling, also created a dedicated excursion called Nemo Adventure where guests go snorkeling on the reef of an uninhabited island to search for the famous fishes featured in the movies.
Reethi Beach Resort in Baa Atoll, an absolute marvel for snorkeling and diving, has a place called Nemo Garden located at just 25 minutes from its shores, where snorkelers can observe different anemones and their clown fishes, turtles surrounded by beautiful corals.
These resorts are far to be the only ones where you will find your favorite Nemo character. If you go snorkeling or diving anywhere in Maldives, you will certainly meet one or several of them.
Meet Nemo and his friends in Real Life in Maldives
Here is a list of the various cute Nemo characters you will meet during your snorkeling and diving explorations in Maldives.
To illustrate this Pixar Who's Who gallery I used photos from various resorts and dive centres in Maldives ( you will find their names for each ).
Nemo cast in Real Life in Maldives
The Who's Who gallery
---
Nemo & Marlin, the Clownfishes or Anemonefishes
Specie name :
Amphiprion ocellaris
Nemo and Marlin from the 2003 Disney-Pixar animated movie Finding Nemo.
© Pixar
Nemo & MArlin In real life in Maldives
Nemo and Marlin -his father, are called Amphiprion ocellaris and belong to the wide family of clownfishes, also called anemonefishes.
The clownfish you will see in Maldives is its close cousin, the very common and look alike Amphiprion nigripes like here at W Maldives, North Ari Atoll.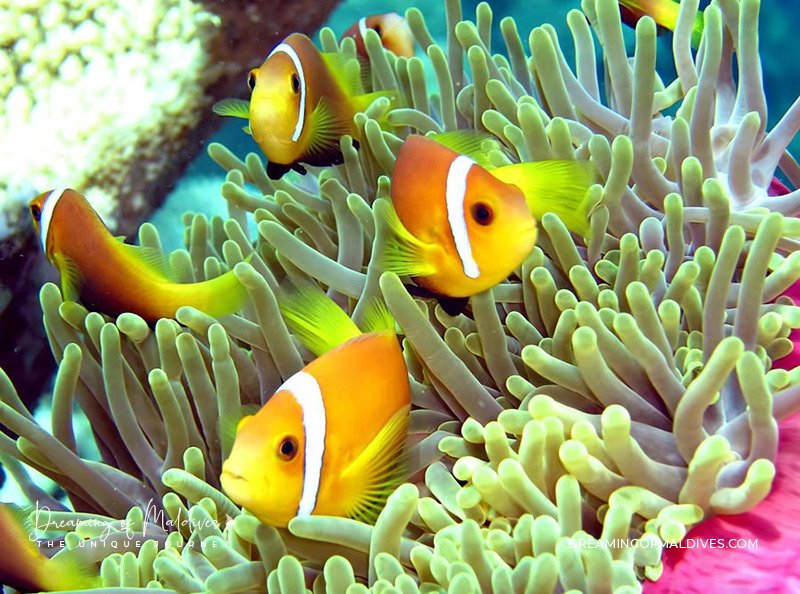 clown anemonefishes
Anemonefishes live in symbiose with the anemone they live in. The anemone provides them a home and a protection as well as food. In return the fish defends it from predators and parasites.
Dory, the Blue Tang Fish
Specie name :
Paracanthurus hepatus
Dory from Finding Nemo & Finding Dory movies © Pixar
Dorie In real life in Maldives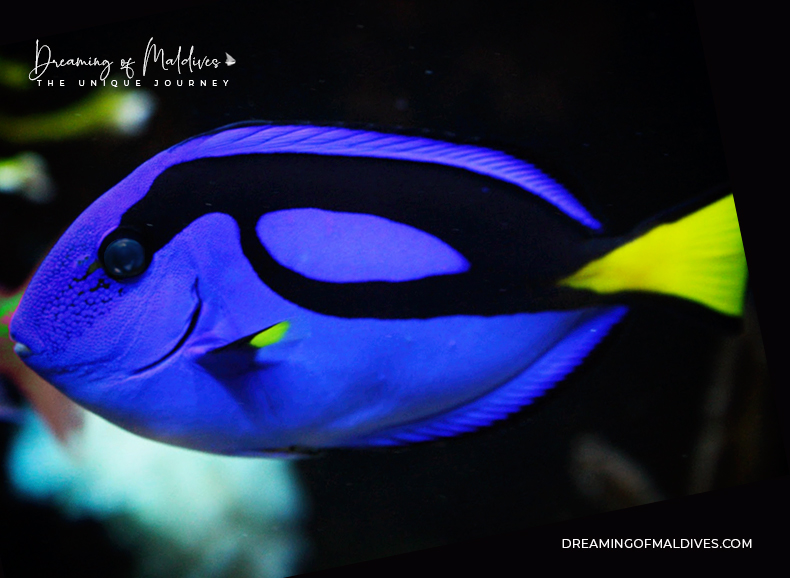 Blue Tang Fishes
A Blue tang fish in real life in Maldives ( not to be confused with the Powder-blue Surgeonfish, which is more common in their waters ). This beautiful blue fish can be found on every Maldives house reef, like here at Bathala ( now Sandies Bathala ), North Ari Atoll.
Crush and Squirt, the Green Sea Turtles
Specie name :
Chelonia myda
Crush and Squirt from Finding Nemo © Pixar
Crush In real life in Maldives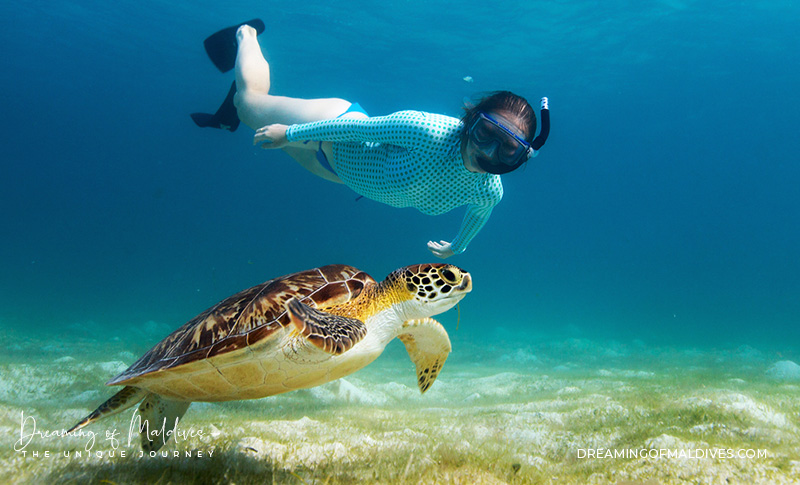 Green sea turtles
Green sea turtles are the second most common turtles in Maldives after the Hawksbill turtles. These two species often cause confusion due to their close resemblances.
To differentiate them, look at their beaks. Hawksbill turtles have a sharper curving beak than their cousin the Green turtle like on the above photo taken at Cinnamon Dhonveli, North Male Atoll.
Destiny, the Whale shark
Specie name :
Rhincodon typus
Destiny from Finding Dory movie © Pixar
Destiny In real life in Maldives
The Maldives is one of the few places on earth where whale sharks can be encountered all year round.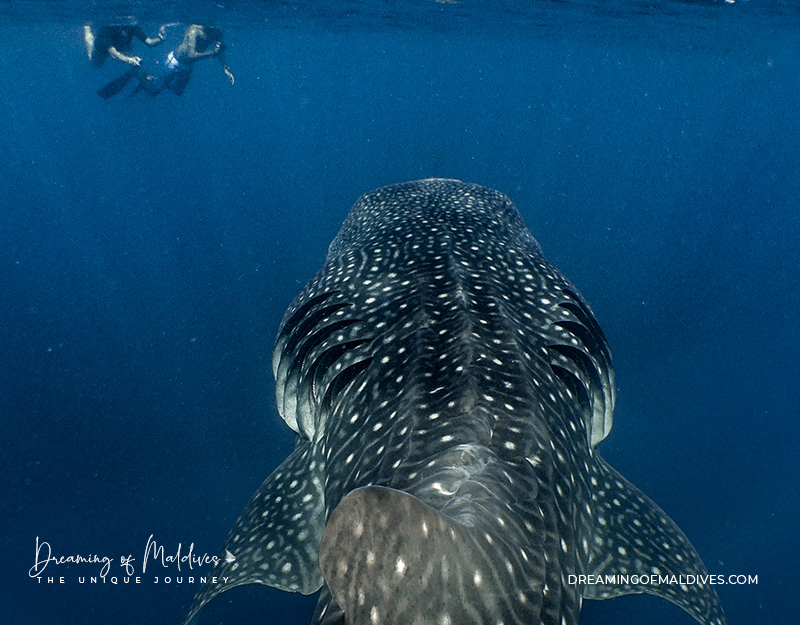 Whale sharks
The Maldives have several Whale Shark official sanctuaries.
The best Atolls to see them are Baa Atoll and South Ari for the 2 most famous ones.
You will have more chances to see whale sharks if you Scuba Dive, but if you are really lucky, at the best time and at the best spot, you might swim with one of them just by snorkeling in their sanctuary, like above, in Baa Atoll with snorkelers from Amilla Fushi.
Bubbles, the Yellow Tang Fish
Specie name :
Zebrasoma flavescens
Bubbles from Finding Nemo movie © Pixar
Bubbles In real life in Maldives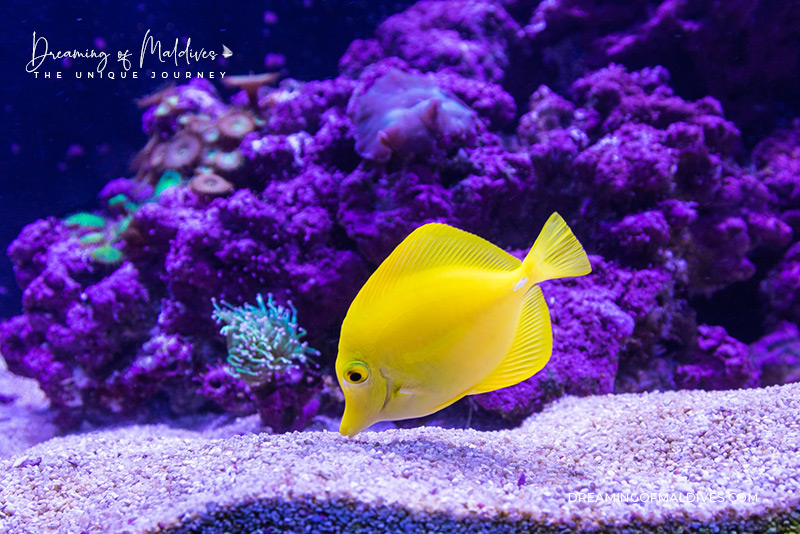 Yellow tang fishes
The Yellow tang fish is instantaneously recognizable with its distinctive bright yellow in color. They are peaceful but youngsters can be aggressive ( yellow tangs have retractable spikes on their tail fins). On some occasions, they can be seen eating up algaes from turtle shells. In real life, Bubbles lives in shallow reefs like here during a night snorkeling at Baros Maldives, North Male Atoll.
Mr. Ray, the Spotted Eagle Ray
Specie name :
Aetobatus narinari
Mr. Ray from Finding Nemo movie © Pixar
Mr. Ray In real life in Maldives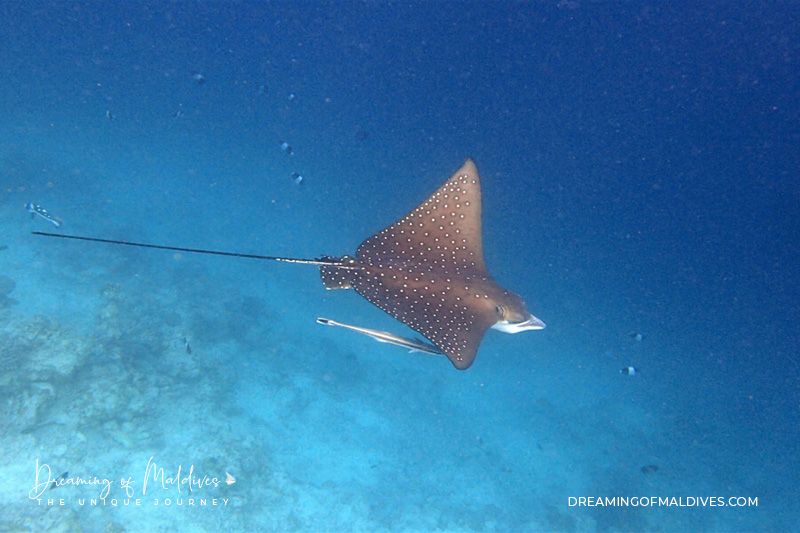 Spotted Eagle Rays
Spotted Eagle Rays are one of the largest species of ray in the world and are easily spotted in Maldives. Usually seen cruising along the atolls and island reefs they also enter the lagoons to mate or searching for food like here at Milaidhoo, Baa Atoll.
Gill, the Moorish Idol
Specie name :
Zanclus cornutus
Gill from Finding Nemo movie © Pixar
Gill In real life in Maldives
Moorish idols are known to be the quintessential reef fishes.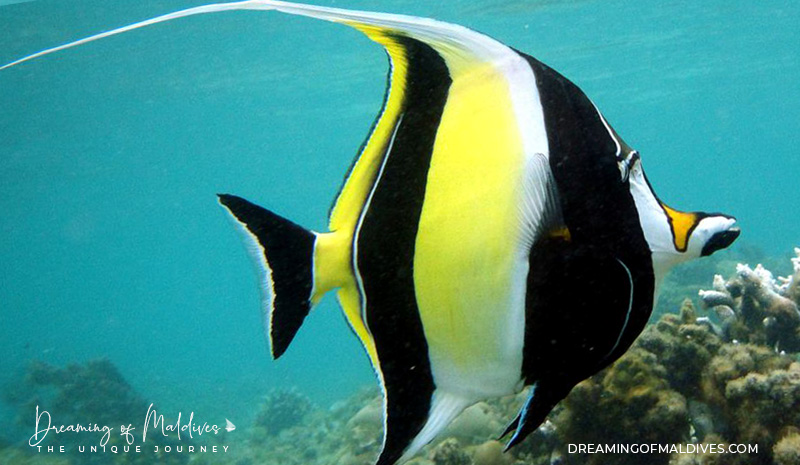 Moorish Idols
In Maldives, the beautiful Moorish idol can be spotted everywhere by snorkelers and divers as it swims alone or in very small groups of four to six individuals.
You can spot Gill on every reef, like here at Bandos Maldives, North Male Atoll.
Peach, the Starfish
Specie name :
Asteroidea
Peach from Finding Nemo movie © Pixar
Peach In real life in Maldives
Real life Starfishes do not have eyes like peaches, but eyespots at the tip of each each arm that appear light and dark. However, just like Peach, Starfishes have a mouth under their body.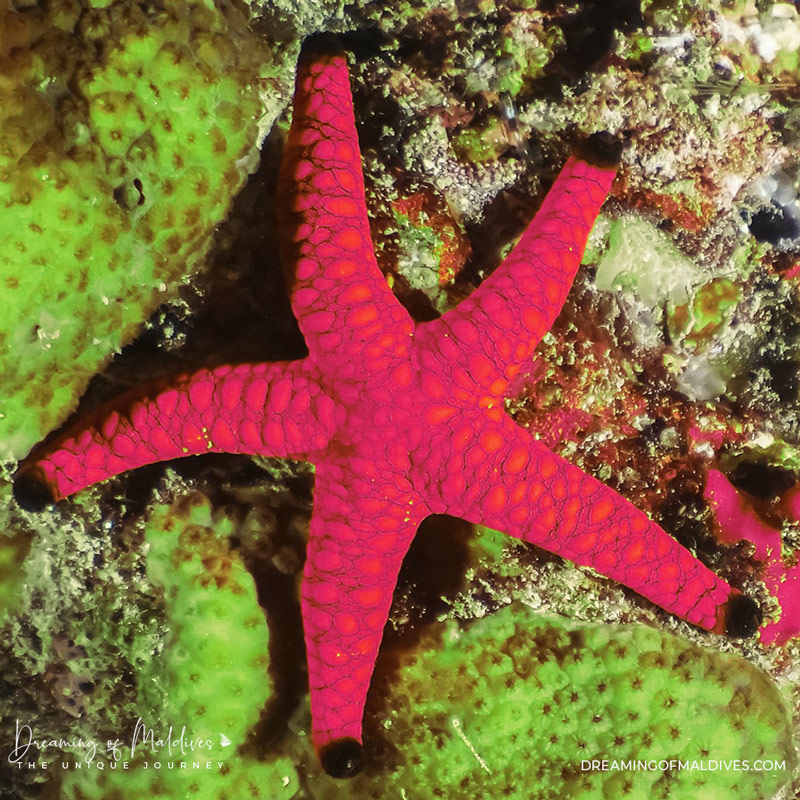 Starfishes
In Maldives starfish species come in many shapes and species. From the infamous Crown-of-thorns ( a nasty coral eater ) to the fat and big Granular sea star. Here above is a simple and beautiful pink-red starfish on Kandooma reefs, North Male Atoll.
Anchor, the Hammerhead Shark
Specie name :
Sphyrna lewini
Anchor from Finding Nemo movie © Pixar
Anchor In real life in Maldives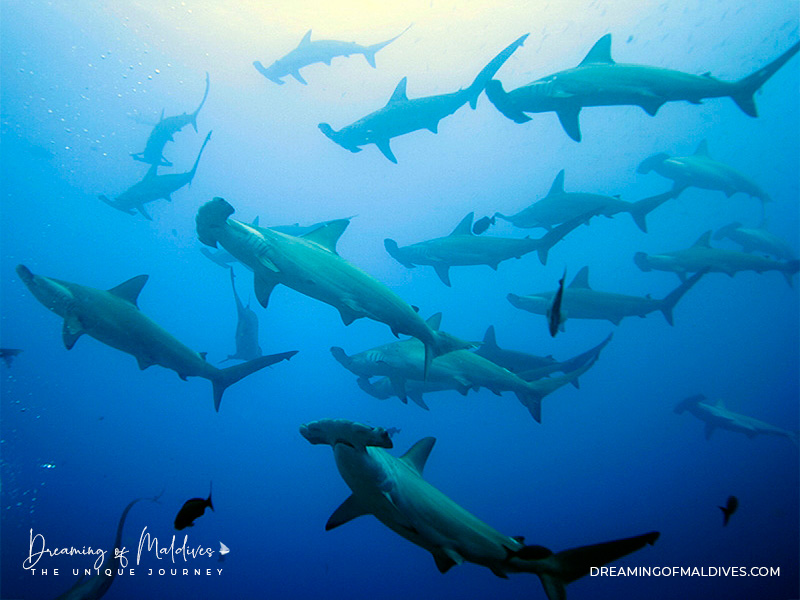 Hammerhead Sharks
Hammerhead sharks, mostly scalloped hammerheads, are common in Maldives. Easily recognizable with their massive heads shaped like a double hammer, they can be found almost everywhere around the archipelago.
There is even a diving spot called Hammerhead Point, located in Rasdhoo Atoll, where you can dive with them early in the morning, like here at Kuramathi.
Jacques, the Banded Cleaner Shrimp
Specie name :
Stenopus hispidus
Jacques from Finding Nemo movie © Pixar
Jacques In real life in Maldives
A Banded cleaner shrimp, cleaner by essence, waiting for a "dirty" client to be cleaned.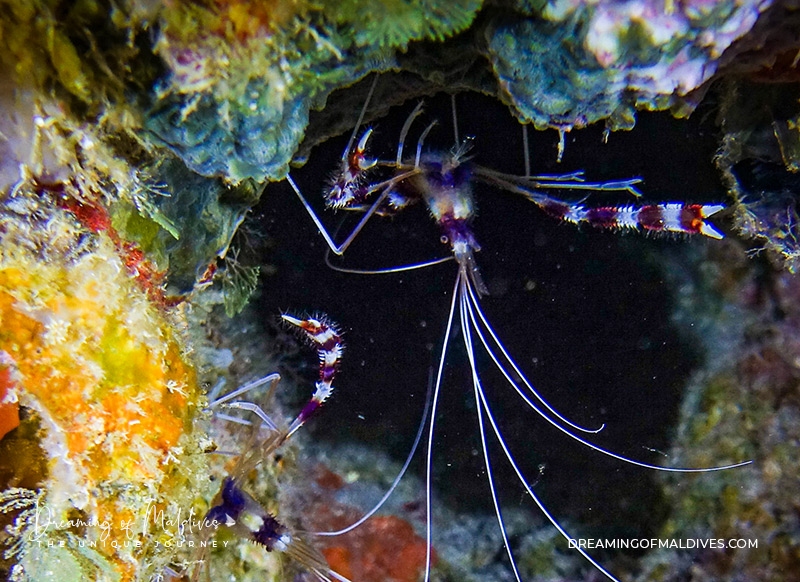 Cleaner Shrimps
Cleaner shrimps are funny little creatures spotted by divers. They can be found cleaning other fishes or hanging upside down in coral crevices, waiting for their "dirty" client to be cleaned. Their long antennae serve as a touching signal to passing fishes to let them know that they are available, like here during a dive at Amilla Fushi, Baa Atoll.
Bloat, the Porcupine Pufferfish
Specie name :
Diodontidae
Bloat from Finding Nemo movie © Pixar
Bloat In real life in Maldives
The rule of "Please Watch them. Don't touch them" strongly applies with Bloat the Porcupine Pufferfish.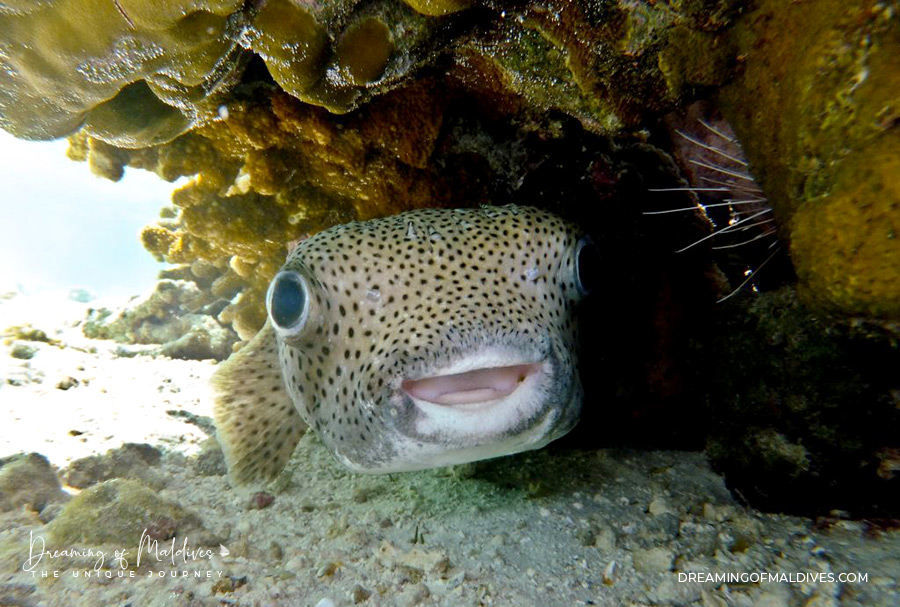 Porcupine Pufferfishes
Porcupine fishes are very common in Maldives.
They are not aggressive but will be dangerous if bothered or threatened. They will puff up their body full of poisonous spines as a defense mechanism. Shy, cute and peaceful they even can be found during snorkeling trips around resorts like above at Gili Lankanfushi Maldives, North Male Atoll, where you can see "Bloat" in its normal state, quiet, his spikes down.
Hank, the Octopus
Specie name :
Octopus vulgaris
Hank from Finding Dory movie © Pixar
Hank In real life in Maldives
Octopuses are highly intelligent. They have 9 brains ( 1 in their head and 1 in each of their 8 tentacles ) as well as 3 hearts !
They are a wonder of nature and such a delight to observe as they change their colors and patterns to mimic their surrounding.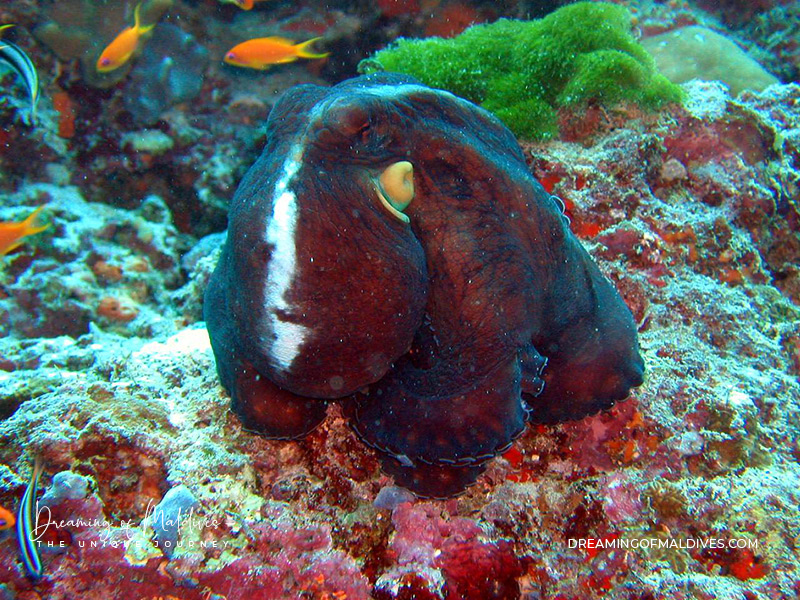 Common Octopuses
In Maldives, the most common octopus specie is the Octopus vulgaris, just like Hank. This amazing creature will eventually appear to your eyes if you take your time to observe well your surroundings.
They can be seen on the seafloor, on corals or hidden inside cavities where their incredible flexibility allows them to enter, even in the tiniest ones.
Depending on their mood, they will eventually use their stunning camouflage capacity to completely fade in. A must watch ! Above, Hank the octopus spotted at Reethi Beach in Baa Atoll.
Snorkeling & Diving in Maldives

The Maldives islands are a destination where snorkeling is outstanding everywhere. With 26 Atolls, you are sure to dive on countless beautiful…

Dreaming of swimming with whale sharks meanwhile holidaying in Maldives ? Your dream is about to come true with this complete guide dedicated…

The Maldives is home to over 25 species of sharks, including the magnificent whale shark. There are several species you will often encounter…

If you're a diver and plan a holiday in Maldives, I've put together 8 of the best dive spots in Baa Atoll. You could spend years…
Marine Life in Maldives. Interesting websites
marinesavers.com
maldivesbiodiversity.org
oliveridleyproject.org
Spot Nemo & Friends in Maldives
A Visual Guide

Pin The Dream

Pin your favorite character
Follow us on Facebook, Youtube and Instagram
for more Maldives Dreams & Stories