Let's go underwater for a Diving and Snorkeling exploration of Baa Atoll at the exquisite Amilla Maldives with the Resort Dive Center Manager, Silvio.
Be ready to get mesmerized, you're about to discover one of the most extraordinary Resort to dive and snorkel in style in Maldives.
Through my previous Diver Interviews, you discovered some of the best Resorts for diving and snorkeling in the Maldives.
Today, I bring you to a spectacular Resort located in Baa Atoll, Amilla Maldives Resort and Residences, a chic and unique paradise for stylish travelers and underwater world enthusiasts.
After having recently explored the beauty of Amilla new Residences and discovered the island exceptional underwater surroundings, I wanted to know more about the resort diving and snorkeling conditions. It was impossible not to fall under the charm of this unique Island and also one of the top Luxury Hotel in the Maldives.
The best way to find out more about Amilla underwater secrets was to ask to a resident and a specialist. Silvio, Amilla Dive Center Manager, came to the rescue with many answers to my questions. For our pleasure he gives us here his personal vision of diving and snorkeling in Maldives and at Amilla.
Amilla is home to EXTRAORDINARY Marine Creatures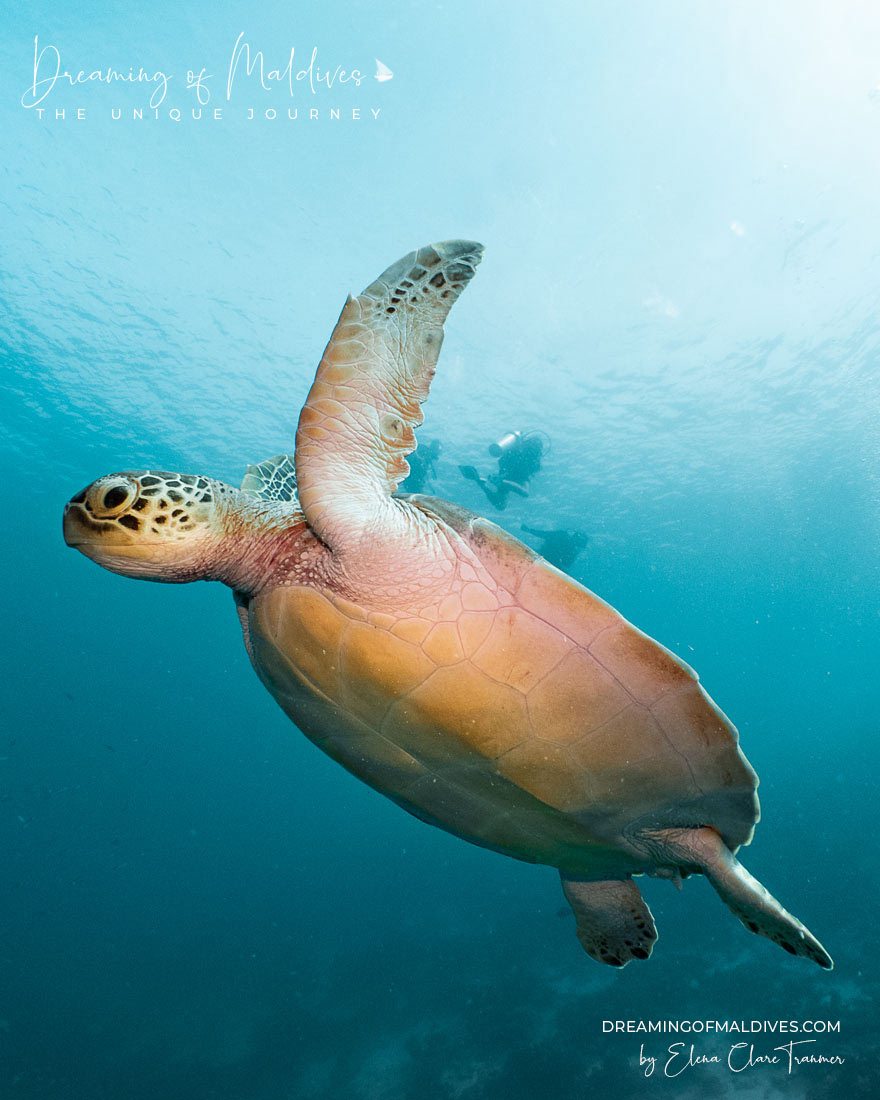 Silvio transports us to one of Maldives most beautiful island resort to stay if you're an underwater lover or if you're dreaming to explore and experience the best of it.
From Amilla, guests have the opportunity to dive any of the 30 sites of Baa Atoll, including the Blue Hole which is located right on the resort house reef and world-renowned Hanifaru Bay at 10 mns by boat.
Silvio dives in Maldives since 2006 and ensures, together with his international team, that guests live the utmost experience of Amilla amazing surroundings.
Before discovering Silvio's story and precious tips, let's have a look at the resort, shall we ?
About Amilla Maldives Resort and Residences
Amilla Maldives Resort and Residences ( previously called Amilla Fushi ) is nestled in Baa Atoll, just a scenic 30-minute flight by seaplane or domestic flight from Velana International Airport.

The resort is located on a beautiful island spanning over 23.5 hectares of lush vegetation surrounded by one of the best house-reef in Maldives for snorkeling.
Amilla has a wonderful house reef on one side for snorkeling and a pristine blue lagoon on the other, large enough to enjoy watersports.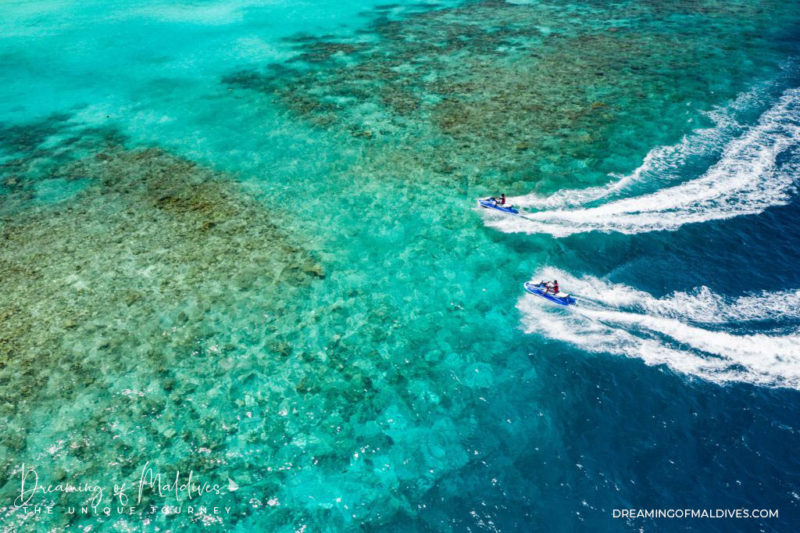 Glamorous and edgy, Amilla focuses on the concept of 'your island home'. Amilla Fushi (its native name) literally translates to 'My Island Home' in Dhivehi, the Maldivian language. Fushi means Island and Amilla means private or personal.
The resort offers a chic minimalist and unmistakable design with mediterranean style villas and highly-personalized services.
Stylish white villas reach out over the lagoon and hug sandy shores. The new spacious residences provide luxurious family getaways on the beachfront. Tranquil tree houses nestle amid the palms.
Amilla, The Villas
The resort boast 67 contemporary Villas and Residences located on the rich island reefs, on the beach and up in the trees with a fabulous Treetop Pool Villa perched at 12 meters above the ground.
Diving and Snorkeling at Amilla with Dive Butler International
Amilla dive area is home to exceptional diving that will appeal to beginners as well as experienced divers.
The Diving, snorkeling and watersport center is managed by Dive Butler International.

Diving and Snorkeling at Amilla from a Diver point of View. Interview
All ( beautiful) Diving and Snorkeling Photos. Credit Elena Clare Tranmer. Dive Butler International.
Q. Hello Silvio, where are you from and can you introduce yourself ?
A. Hi, my name is Silvio Nishimura and I am the Dive Centre Manager at Amilla Fushi in Baa Atoll.
I was born in Brazil, where I lived until I was 16 after which I moved to Japan where I lived for another 15 years.
Q. Your diver degree(s) ?
A. I am PADI Master Scuba Diver Trainer.
Q. When and why have you started diving ?
A. I started diving in December 2003, after visiting the beautiful island of Boracay and instantly became hooked and I haven't stopped since !
Q. Have you been diving in other places around the world ? if yes, where ?
A.Yes, I have dived in the Philippines, Thailand, Japan, Malaysia and Galapagos.
Q. Holidaying yourself…Are you more underwater or on the land ?
A. Depends on the destination but I love eating different local cuisines and embracing local culture.
Q. What are your favorite spots in you Atoll and why ?
A. Yellow Wall is one of my favourites as it has an explosion of contrasting colours and soft coral.
Q. If you've worked in other Atolls . What are your favorite spots in Maldives and why ?
A. Voshimas Thila in North Male Atoll because of the abundance of marine life, especially grey reef and whitetip reef sharks.
Q. How do you compare Maldives diving with the rest of the top spots around the world ?
A. Maldives is one of the most diverse places you can dive in the world, also easy access to dive sites.
Q. The difference(s) ?
A. Marine life diversity is abundant, there is everything to see from the smallest to the biggest.
Q. I am curious to know about :
Your most exciting/memorable moment.
A. In Galapagos I had an encounter with over 400 hammerhead sharks, followed by some gigantic Galapagos sharks and during the safety stop I was surrounded by Silky Sharks
Your worse
A. In Thailand I went to a whale shark spot and there was a big storm and the visibility was less than 2m.
Q. What are the Atoll top spots proposed from the resort ?
A. For snorkeling – Hanifaru Bay should not be missed if you are visiting during the manta season but it is protected and scuba diving is not allowed. There are many dive sites during the season where mantas can be seen cleaning or passing by.
Dreaming of Swimming with Mantas at Hanifaru Bay
Q. 1 Diving Spot not to be missed inside the Atoll ? Which one ?
A. Dhonfanu Thila is one of my favourite sites due to the reef formation which contains lots of overhangs, soft corals and a huge variety of marine life.
Q. Any wrecks around the resort ?
A. Unfortunately not.
Q. What is the best season for you to dive around the Atoll – anything about currents, visibility, big species?
A. During the monsoon season from mid-May to late November the visibility is less but it is also Manta season during this time so there are good chances of diving with Manta Rays and occasionally Whalesharks.
The rest of the year the visibility is up to 40m with calm seas and plenty of other marine life to see, turtles can be seen all year round.
Q. Best season for Mantas ?
A. Manta season is June – November, with the best time being during the middle of the season.
Q. Best season for Whale Sharks ?
A. Whalesharks are not common but can be seen during the manta season.
Q. How is the coral around the resort ? Improvement ? Worsening ?
A. The coral was damaged by El Nino in 2016, but has shown some signs of improvement.
Q. How is the coral in your Atoll. ? Improvement ? Worsening ?
A. The deeper dive sites have some healthier coral as the temperature is lower so it wasn't as damaged.
Diving around beautiful Coral Formation
Q. Is it dangerous to dive in Maldives ?
A. It is not dangerous but there can be strong currents and it is highly recommended or mandatory to dive with a guide. The maximum depth for diving across the Maldives is 30m.
Q. Any basic advice for divers ?
A. Always follow your dive instructors advice, respect your limits and keep your skills refreshed.
Q. Any basic advice for snorkelers ?
A. Be careful of the currents, know your limits, snorkel with a buddy, wear a lifejacket when required, don't touch anything under water and don't stand on the coral.
Don't touch anything. Just Watch and Enjoy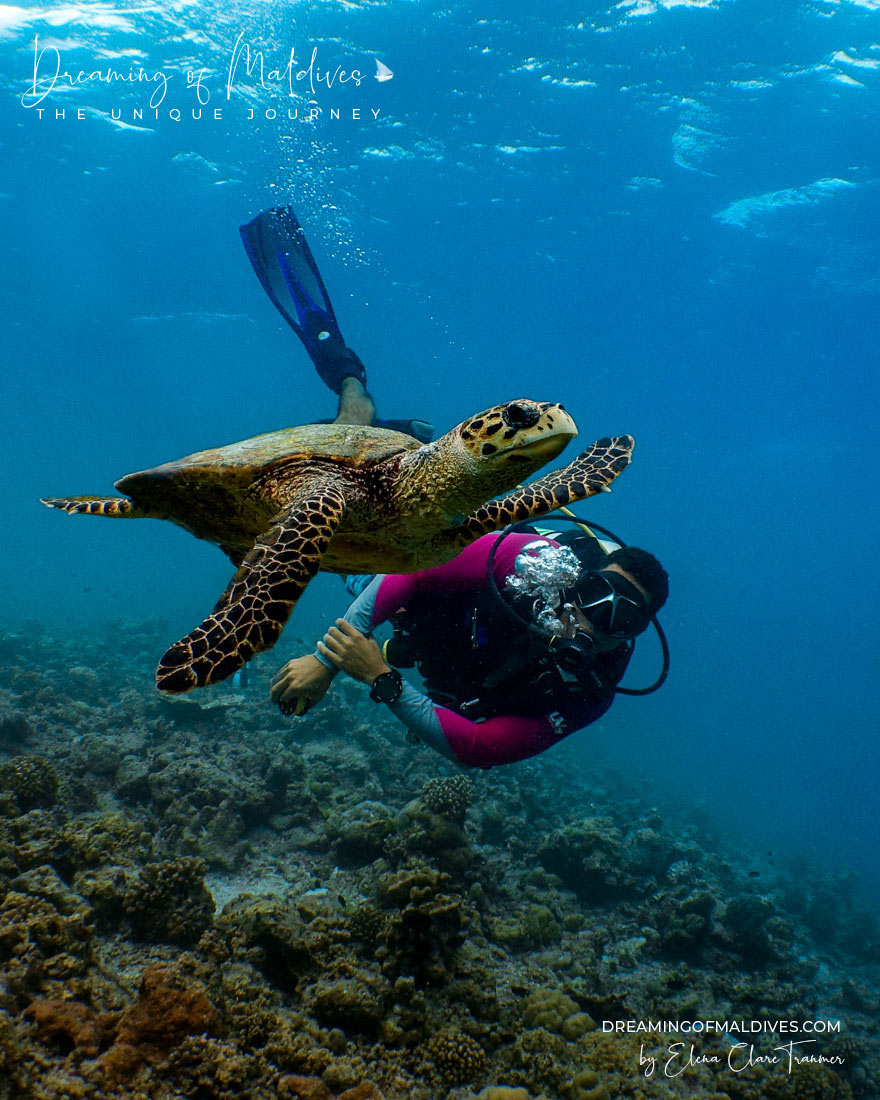 Q. Any scuba-dives outside the resort house reef ? How is the scuba-diving around ?
A. There are more than 30 dive sites in the surrounding area, a range of Thilas (underwater pinnacle), wall dives and reef dives.
Q. Can I see nice underwater flora / fauna ?
A. Absolutely! We are in a UNESCO Biosphere Reserve with a lot of diversity.
Q.Approximate Scuba-Diving Depths expected:
A. Any depth up to 30m, we can cater for all levels of divers.
Snorkeling at Amilla Maldives Resort & Residences
Q. How is the snorkeling around Amilla ?
A. We have some very beautiful snorkelling, especially the Blue Hole (which is also a dive site) where you will be surrounded by many types of fish, there's a chance to see Hawksbill turtles and a variety of sharks. This area can be subject to strong currents and we highly recommend taking the boat trip offered by the excursion team.
The magical Blue Hole
Q. Is it safe for children?
Do you have material for our small ones ? which age ?
A. Yes it is safe for children but of course they should be supervised by their parents/guardian while snorkelling as the currents can be strong. The resort excursion team have a range of activities that are suitable for children and at the Dive Centre we have SASY(5-7 years), Bubblemaker (8-9 years) and Discover Scuba Diving (10 years and above) available on a daily basis.
Q. Night snorkeling. How is it ?
A. Snorkelling at night you can see lots of marine life you don't see during the day, although going by yourself is not advisable there are trips offered weekly by the excursion team.
Q. Any top snorkeling spot reachable by boat ? Distance / time by boat ?
A. There are a range of snorkel spots reachable by boat, from 5mins to 30mins.
Amilla DIVING Center
Q. Can you tell us about your diving center ?
A. Amilla Fushi Dive Centre is run by Dive Butler International.
Dive Butler are pioneers in the field of true luxury diving, providing private, personal scuba diving guides and instructors to super yachts, charter companies, luxury 5 Star resorts and individuals across the world.
Dive Butler Amilla is a PADI 5 Star Centre that offers a full range of scuba diving courses, from entry level right through to professional certification.
We have a passionate team of handpicked multilingual instructors that have lived and worked all over the world. Certified divers will be delighted by the range of activities on offer at dive sites in the Baa Atoll UNESCO Bioreserve.
Q. Spoken languages at the diving center ?
A. Usually English, Dhivehi, Japanese, Portuguese, Chinese, French, German, and Russian. However guests should check availability prior to booking.
Q. Starting from level 0. Which level can I be if I stay 1 week at your resort ?
A. It would be up to the person and how much time they would want to spend studying and diving but would be possible up to Advanced and Nitrox. The Open Water Course can be completed in 3 days, but we are flexible with our course schedules.
Q. How many divers maximum per group ?
A. We try to keep the groups as small as possible, however private guides are available if you wish to ensure privacy

Q. Can I dive privately ?
A. Yes, instructors and a variety of boats are available for private bookings.
Q. The starting price for a simple dive ?
A. For certified divers a single dive is $134++ including equipment rental and boat fees.

Amilla Diving & Snorkeling Prices and Menu
Q. How much costs an initiation ?
A. If by initiation you mean an orientation before the first dive from our Dive Centre, this is complimentary for certified divers and unnecessary for Discover Scuba Divers as they are guided throughout the experience.
Q. Beginner course (discovery ) – where and how does it take place ?-
Any age/health issue/requirement ?
A. The Discover Scuba Dive begins with a short briefing from the instructor, after which we complete 3 skills in the lagoon or pool followed by an open water dive limited to maximum 12m.
Available to anyone over the age of 10 years, each participant is required to complete a medical questionnaire which may lead to a visit to the resort doctor to check suitability for diving.
Q. Not all our readers are divers or snorkelers (yet). "I am afraid of the depths…Convince me"
A. We have a dedicated team of highly qualified instructors who are equally passionate and willing to spend as much time as needed to ensure your comfort and safety so from your first breath underwater you are able to appreciate the wonders of the sea.
COVID-19 Diving Precautions and Practices at Amilla
Q. What is the new way to dive during this sanitary Crisis ?
We are following the PADI Best Practices to Reduce Covid-19 Transmission Risk, which includes using disinfectants according to manufacturers recommended strength and immersion times specific to Covid-19.
Our staff are following local guidelines in terms of social distancing/mask wearing and cleaning and sanitising hands before and after handling equipment.
Underwater, social distancing is not required but at the surface it is important to pay attention to breathing patterns, direction and breeze of wind to reduce respiratory transmission concerns.
Finally, as stated previously, we already dive in small groups but this is more important during this sanitary crisis.

Silvio, Amilla Dive Center Manager for Dreaming of Maldives.
Explore more with the…Penguin
Just in case you are still not convinced to go underwater at Amilla, the resort also proposes another fun way to explore the island wonderful reefs with a glass bottom boat named Penguin.
…Dive, Snorkel, take the penguin, but please, don't miss Amilla's extraordinary surroundings !
All Resort Photos / Credit Amilla Maldives Resort and Residences
Go Discover Amilla's Treasures…
OTher Resorts close to Hanifaru Bay
Hanifaru BAy
Follow us on Facebook, Youtube and Instagram
for more Maldives Dreams