Soneva Fushi provides one of the most exquisite setting in the Maldives for a wedding. The Maldives' original desert island hideaway is a true gem and of the most extraordinary wedding venue of the Island Kingdom.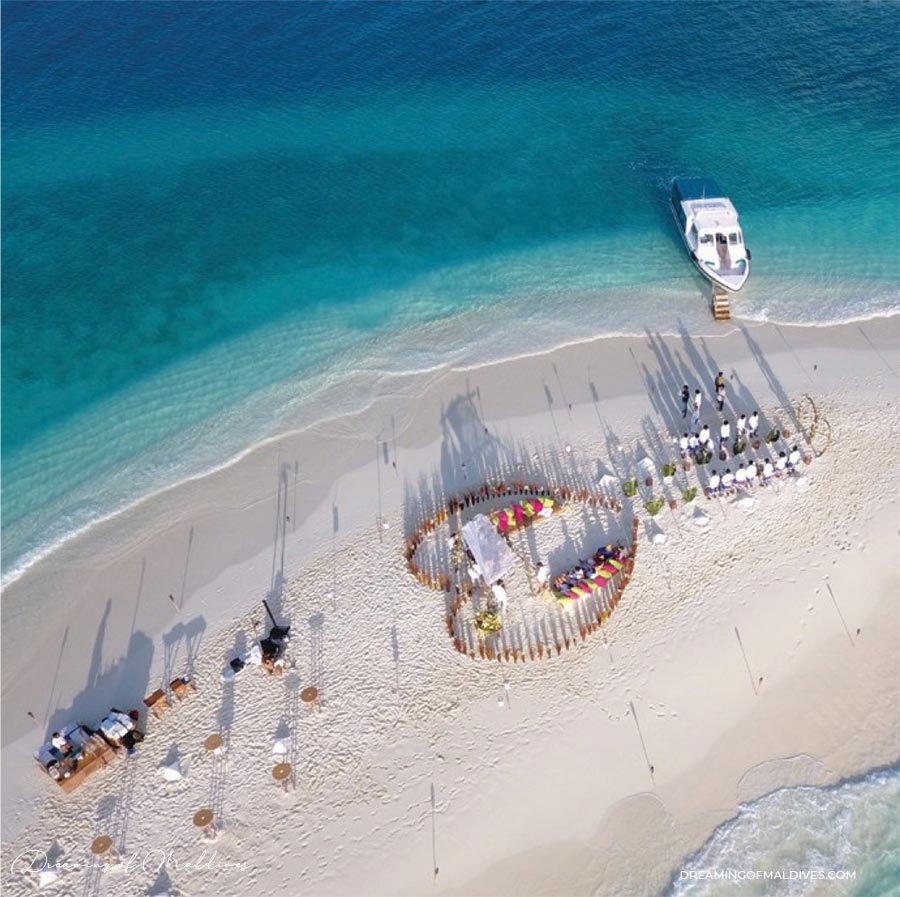 A wedding at the Maldives' original desert island hideaway
A Dream wedding at Soneva Fushi in Maldives
Soneva Fushi, the Maldives' original desert island hideaway, is nestled within a lush tropical island of Baa Atoll, a UNESCO Biosphere Reserve, known for being one of the Maldives most striking beautiful for the beauty and shapes of its islands.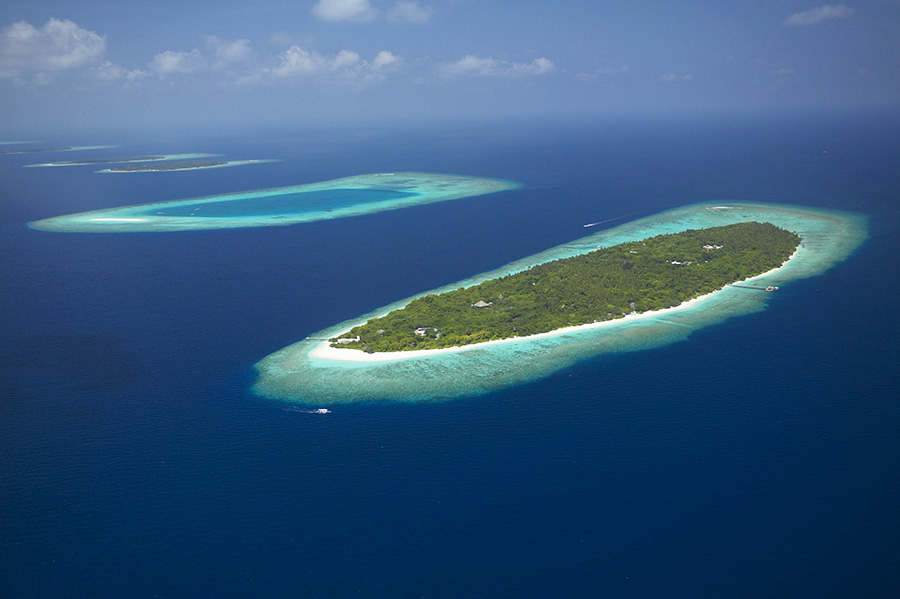 Imbued with romance, mystery and adventure, every experience here inspires the imagination.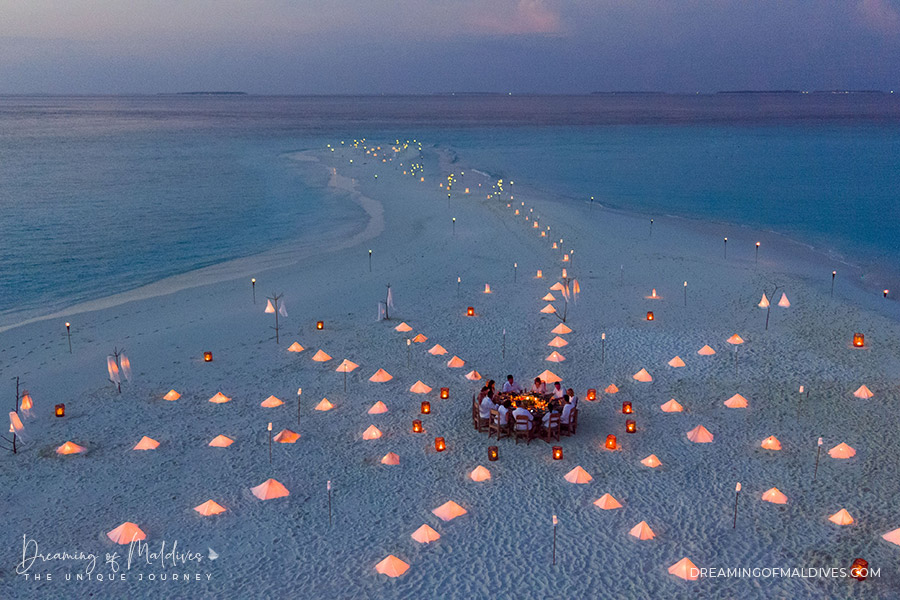 Soneva Fushi provides the most exquisite canvas on which to create your Maldives wedding.
See also : 10 questions and answers to know before you Say I Do in Paradise
From a ceremony on a desert sandbank, a cruise on a yacht, a wedding underwater to one the finest cuisine in Maldives, Soneva Fushi's wedding coordinators will take care of the smallest details, while specially tailored wedding packages promise luxurious stays and unforgettable experiences for you and your guests.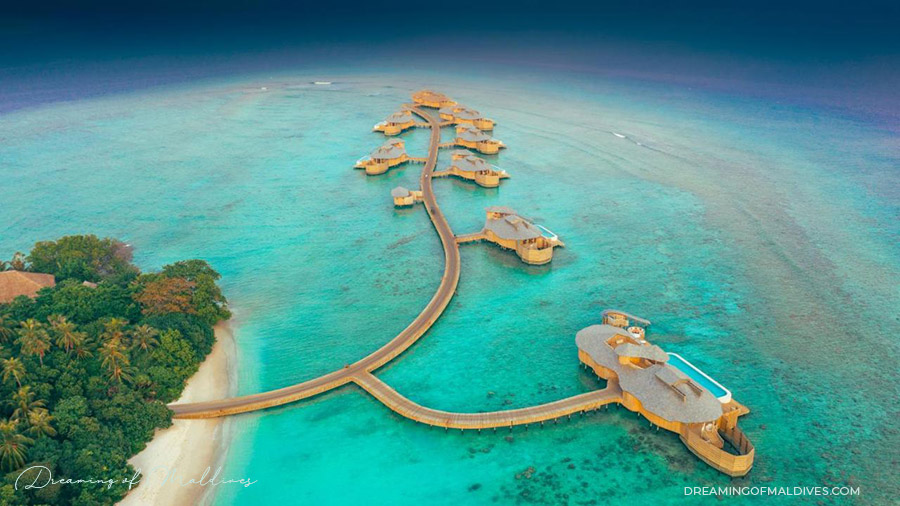 For those who prefer to celebrate in complete privacy, you can also rent the entire island, providing you and your guests with the ultimate Soneva experience.
Your wedding day
Soneva Fushi offers couples one of the most unique and complete wedding celebration.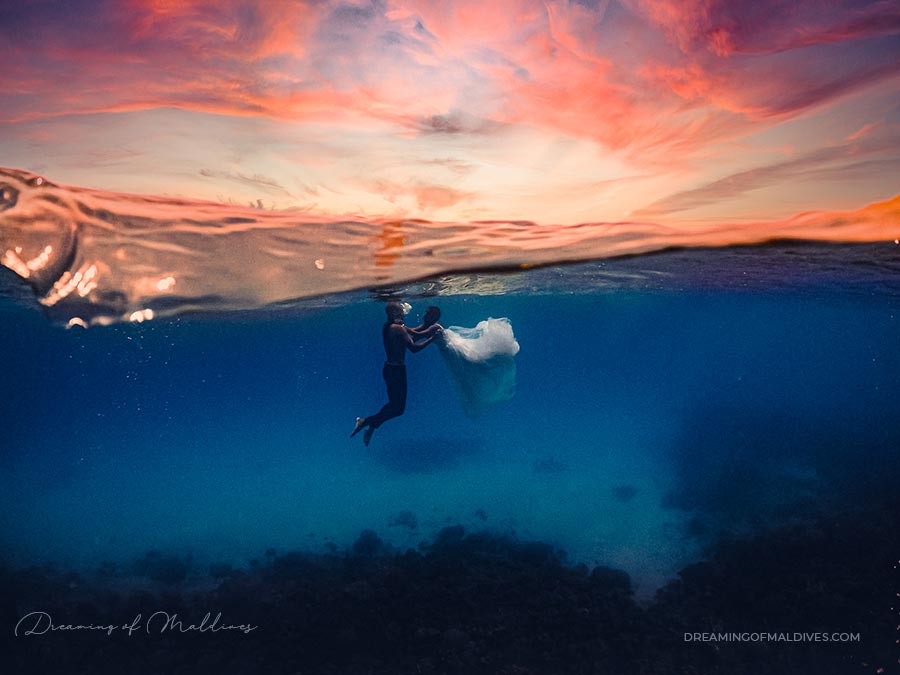 Once on the island, the pace of life moves only to the pull of the tide and the path of the Sun. At Soneva Fushi, you will have no choice but to slow down and absorb every precious moment of your wedding day.
The ceremony
Soneva Fushi dedicated team will move sand and sky to ensure your wedding ceremony is everything you could ever wish for.
The wedding event planners are located at the resort and will cater everything single detail meanwhile you're at home.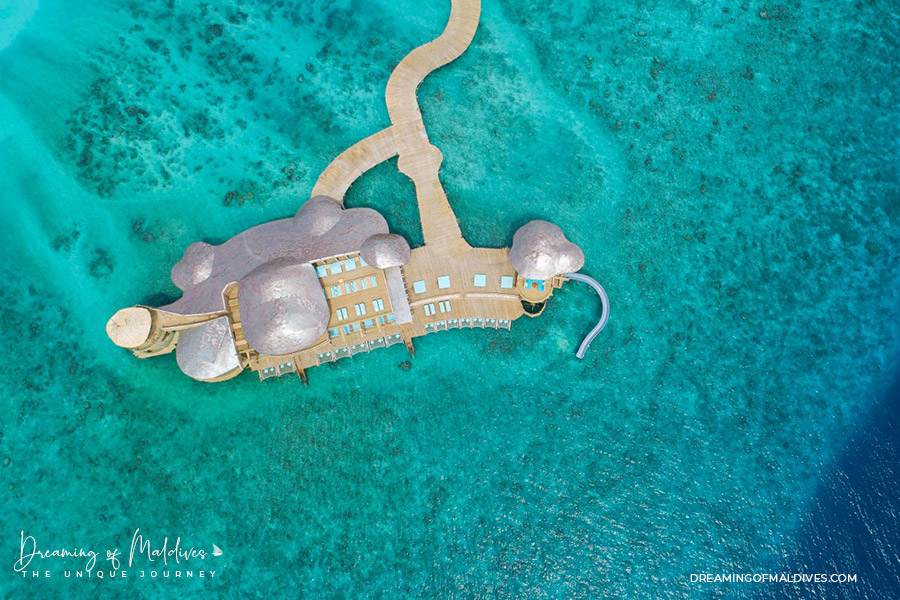 Compose your wedding day, discuss what you want or ask for suggestions from Soneva's team and live the magic on location .
here are a few suggestions of Wedding moments
Private sandbank ceremony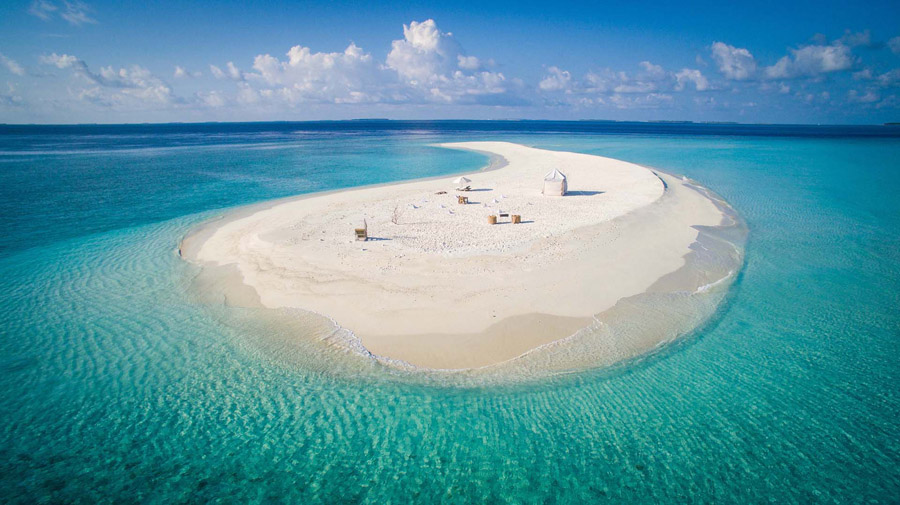 A ceremony on Soneva's private sandbank offers ample space and the ultimate desert island setting.
You will arrive by Maldivian dhoni ( the Maldives traditional boat ) , and step off the traditional boat into the palpable warmth of love and affection from friends and family waiting on the shore. Say your vows under an arch made entirely from fallen island blooms, and commit to a life together to the moving sounds of live local music and the waves gently lapping on the shore.
(Suitable for intimate ceremonies as well as larger groups)
Private villa garden ceremony

An evening ceremony in one of Soneva immense villas is ideal for an intimate and romantic ceremony. Lit by hundreds of glowing lanterns and flickering candles, the garden becomes an enchanted haven.
Walk down the aisle under the glow of candlelight and a canopy of stars, before committing to the one you love against the chirps and chirrups of nature's beautiful soundtrack.
(Suitable for intimate ceremonies)
Underwater ceremony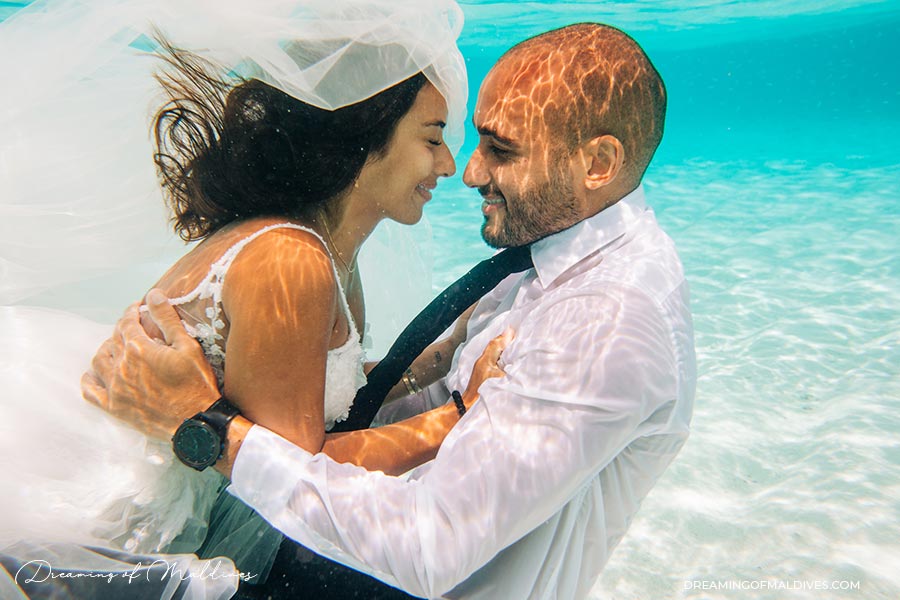 For the less traditional couple, the resort features an underwater scuba ceremony is a novel way to exchange vows. Board a petal strewn boat and sail out into the glittering ocean with the one you love.
Submerge in the translucent waters and follow the ceremony through a waterproof audio player. With no one but the tropical fish watching, you will give in to the beauty of utter seclusion.
(Suitable for intimate ceremonies only)
Turtle Beach Champa ceremony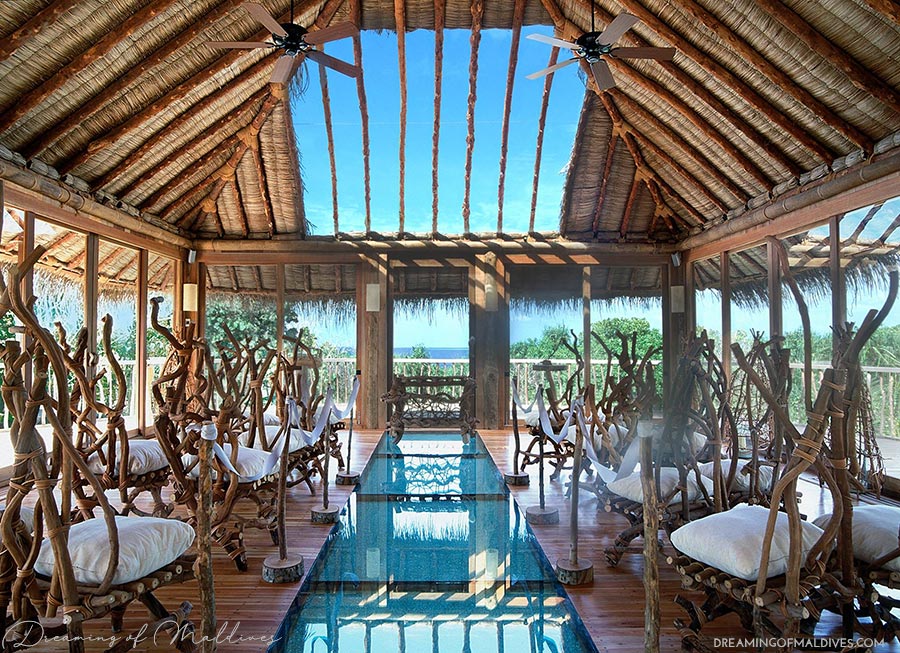 Soneva Fushi's cool, glass-walled sala, the Turtle Beach Champa, nestled high above the rich green of the island foliage and the shimmering azure of the ocean provides a wonderful venue for a ceremony with a view that is sure to impress. Secreted away in this intimate setting, share your commitment to each other in front of friends and family, with the embrace of nature as your witness.
(Suitable for intimate ceremonies)
Some of Soneva Dining options
At Soneva Fushi, each dining experience is in tune with nature. The eco-friendly resort, pioneer in sustainability, uses what they can grow organically and fish sustainably from in and around the island. The rest is up to you and the inventive chefs. With 10 restaurants and bars, and a number of dining experiences available, choose from the freshest and most imaginative dishes, and a tropical setting to match.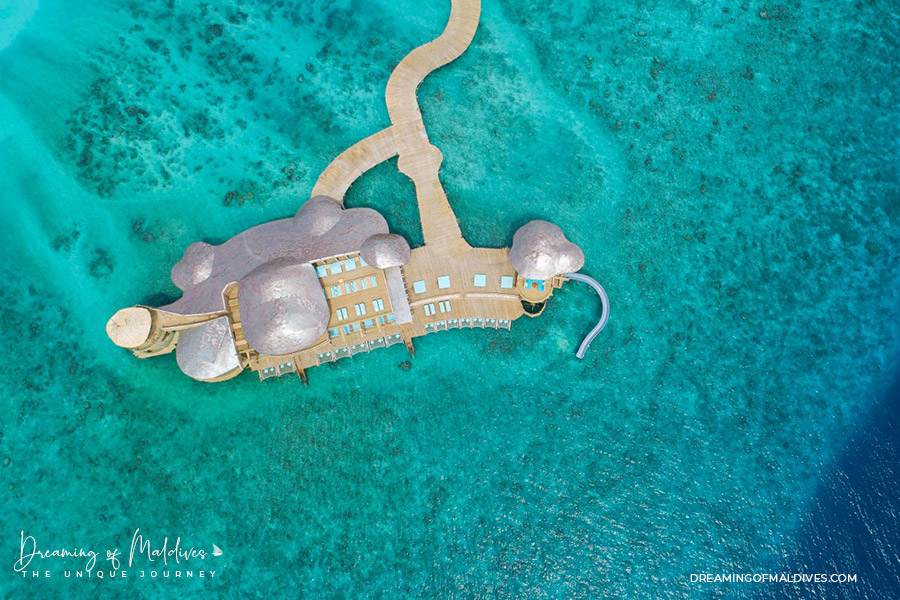 Out of the Blue by Sobah
The heart of the dining facility and the only all-day dining outlet where you can dine on Vietnamese, Japanese and Indonesian cuisine, salads, grilled meats and seafood. Guests can choose to sit undercover or on the open deck, upstairs or downstairs, for unimpeded views in all directions.
So Hands On by Akira
Our sushi counter sees some of the world's best sushi masters behind its sake-polished Japanese pine, known as 'hinoki', counter top. The intimate five-seater sushi counter lets you experience the chef's dexterous skills up close.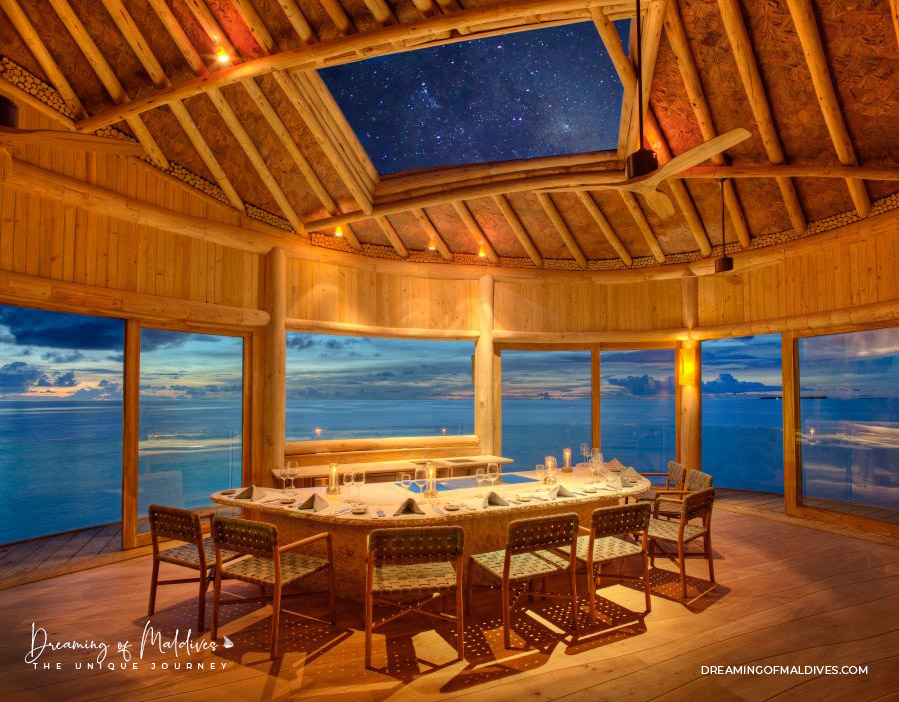 Fresh in the Garden
Get back to nature from a lofty perch at our unique restaurant nestled high in the banana tree canopy. Surrounded by the people you hold most dear, soak up the panoramic views of the shimmering horizon and indulge in a long and leisurely meal prepared with freshly picked produce from the vegetable garden below.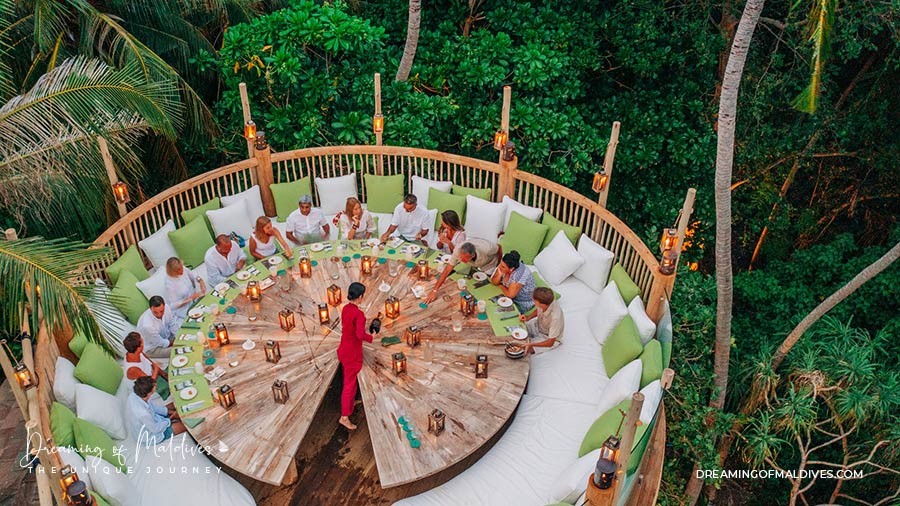 By the Beach
The feeling of soft sand between the toes is one of life's greatest pleasures. Feel connected to nature and each other as you linger over Japanese inspired cuisine at your seaside table. Savour sashimi and sushi fresh from the ocean, indulge in champagne from our extensive cellar and reflect on the happiness of the day to the sound of rolling waves.
Sandbank dinner
Dine in true castaway style with a sumptuous banquet on your own private sandbank. Our talented chefs will be on hand to prepare a specially crafted menu as chosen by you, to be served and savoured in the glow of a hundred lanterns. Surrounded by your loved ones, you will eat, laugh, dance and soak up the warmth of the special occasion.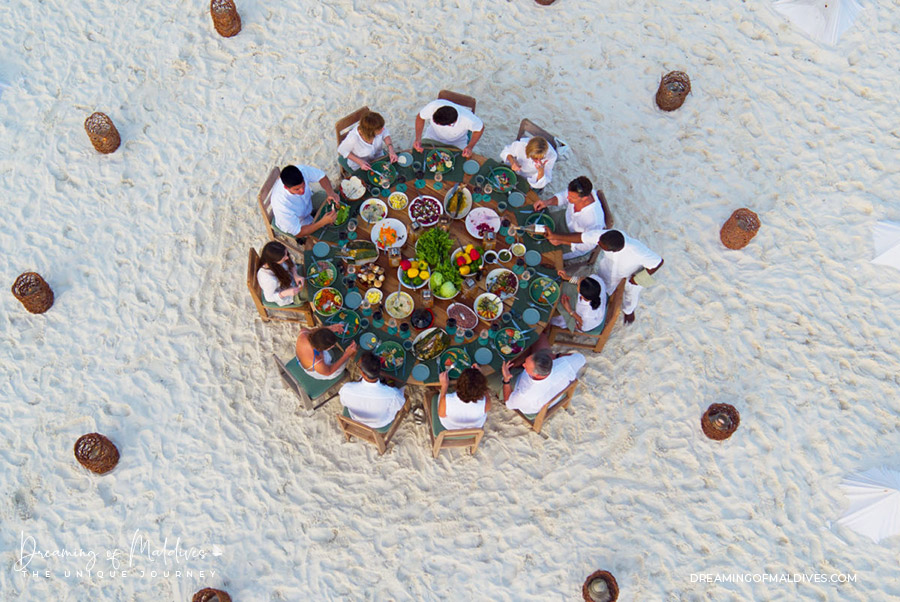 The Bar and Cellar
Guests can select from our beverage encyclopedia, with a collection of more than 200 rigorously chosen high-end wines by the glass to enjoy throughout the day, not to mention a wide selection of beers, spirits and cocktails. Start the day with a freshly squeezed juice, specialty teas or coffee.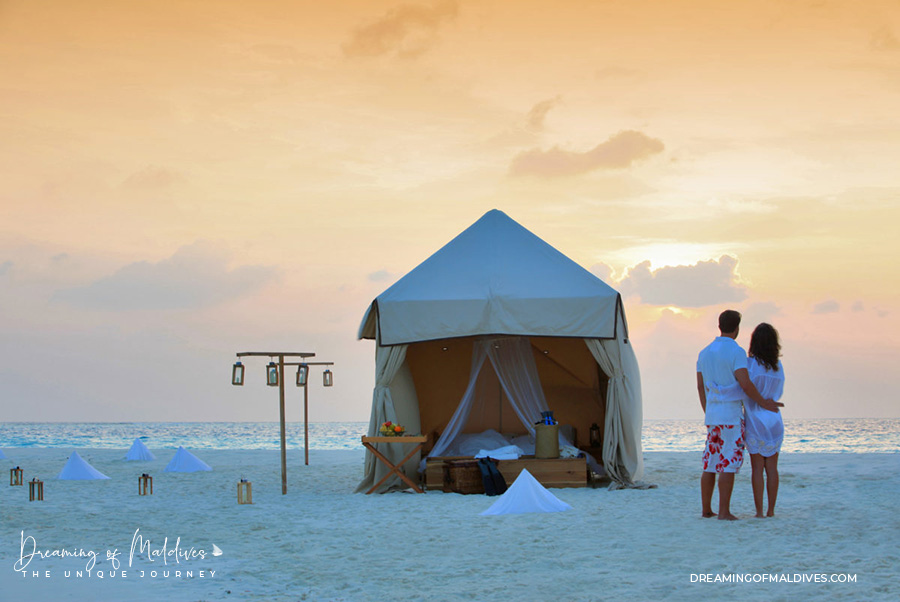 Sandbank private sunrise breakfast
Wake up as newlyweds and set sail to your very own island where a wonderful continental selection awaits your arrival. Cherish the joy of your union as you watch the sun rise from the east to the tune of the dawn chorus.
The Villas
Soneva Fushi offers 63 beachfront villas and eight Water Villas with slides. The resort has the resources to accommodate a team with ease and style.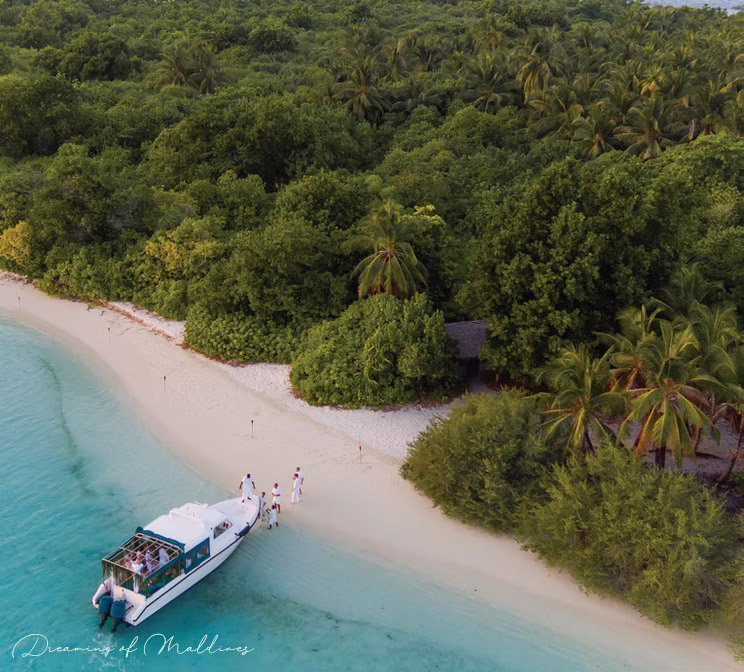 Fringed by lush tropical vegetation and with a stretch of white sandy beach just a few steps away, each of the villas ( overwater and on the beach ) capture the essence of a luxurious castaway fantasy.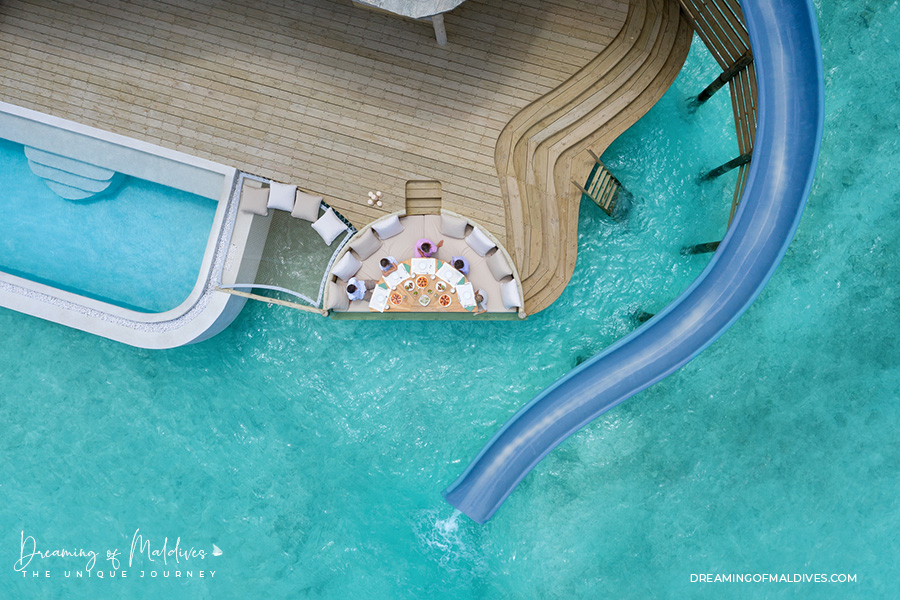 Each villa features high ceilings and deep beds made with sustainable materials. Open-air garden bathrooms are secreted away amongst dense tropical foliage that inspires the feeling of being one with nature. For some, the pathway to the beach is interrupted by their own private saltwater swimming pool.
Beside their water slides, the water retreats feature an incredible retractable roof like Soneva Jani, its sister island.
For all, an assigned Barefoot Butler will attend to every need and desire.

Whether your group would like to stay together in a large private residence with ample room for meetings and enjoy the exclusive feel of a resort within a resort, or prefer to stay separately at a selection of smaller villas, Soneva Fuhsi has the flexibility to cater to all requests.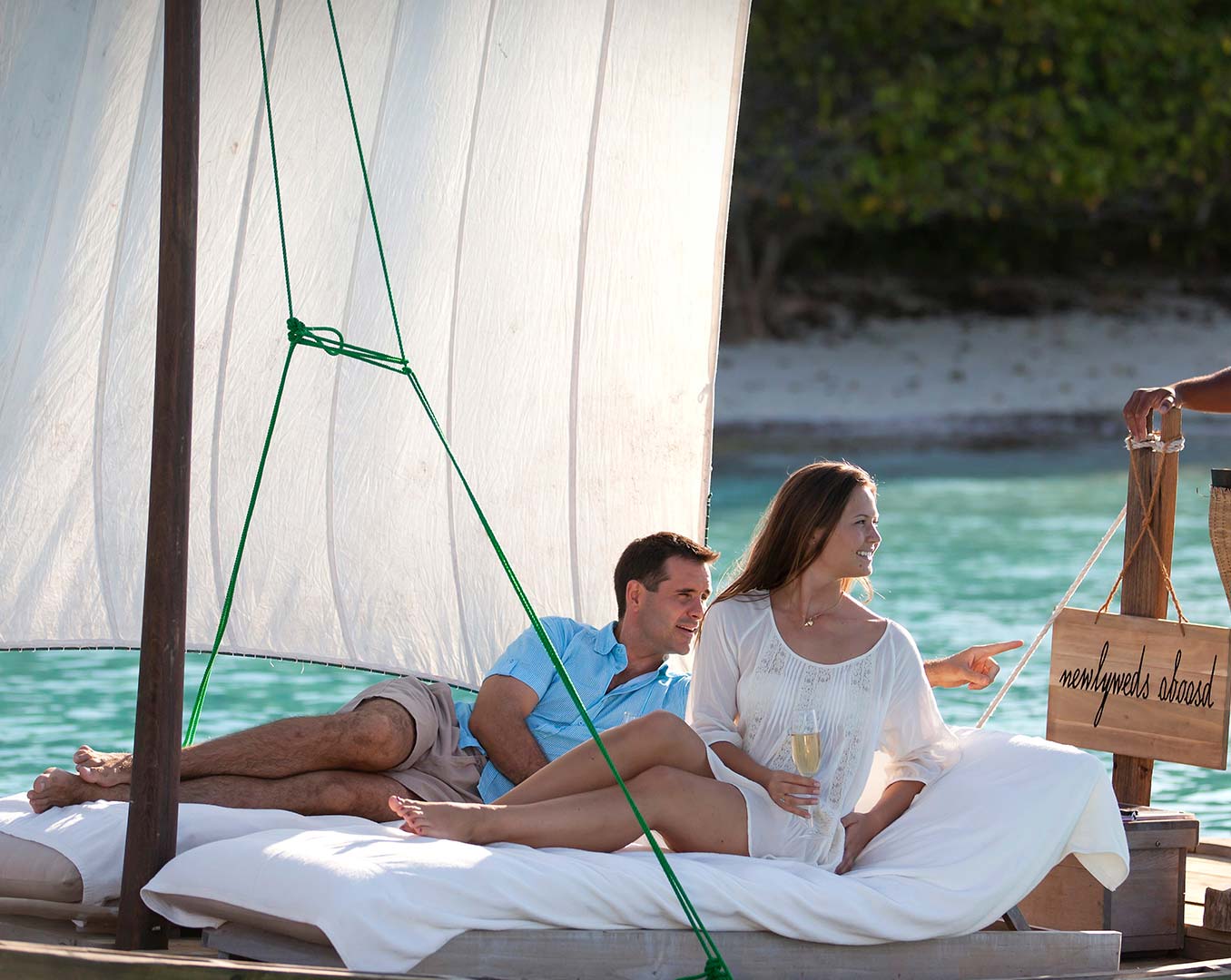 Soneva Minimoons.
Follow your micro-wedding with a minimoon – the precursor to your longer honeymoon. Extend your stay at a Soneva resort in the Maldives as a newly married couple or go on a customised cruise onboard Soneva in Aqua, a luxurious yacht, and explore atolls and far-flung islands. You can even spend a night on Soneva Fushi's sandbank in a Bedouin-inspired tent with no one but you and your better half, and the moon and stars overhead.
Soneva's Romantic Experiences
Soneva Fushi has too many experiences to offer to be listed here and many are very romantic. Here are just a few options. Discover 10 Things To Do at Soneva Fushi for more.
Watch your life unfold at an Open Air Cinema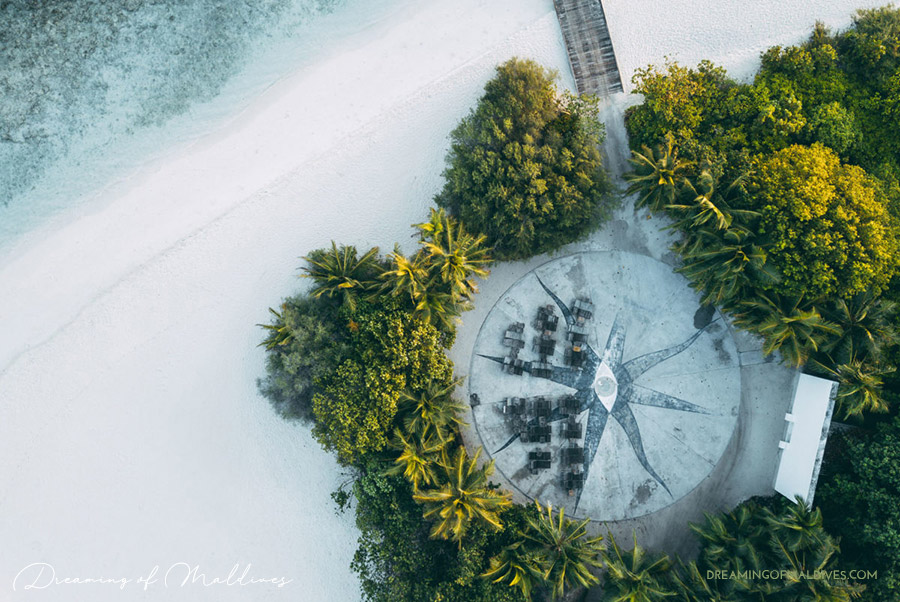 Sink into a cushioned lounger beneath the inky night sky at Cinema Paradiso, one of the Maldives most beautiful outdoor cinema and watch the story of your life unfold on the big screen. A specially prepared video, a montage of photographs – whatever you have prepared, there is nowhere more magical to share moments and memories with loved ones.
Stargaze in paradise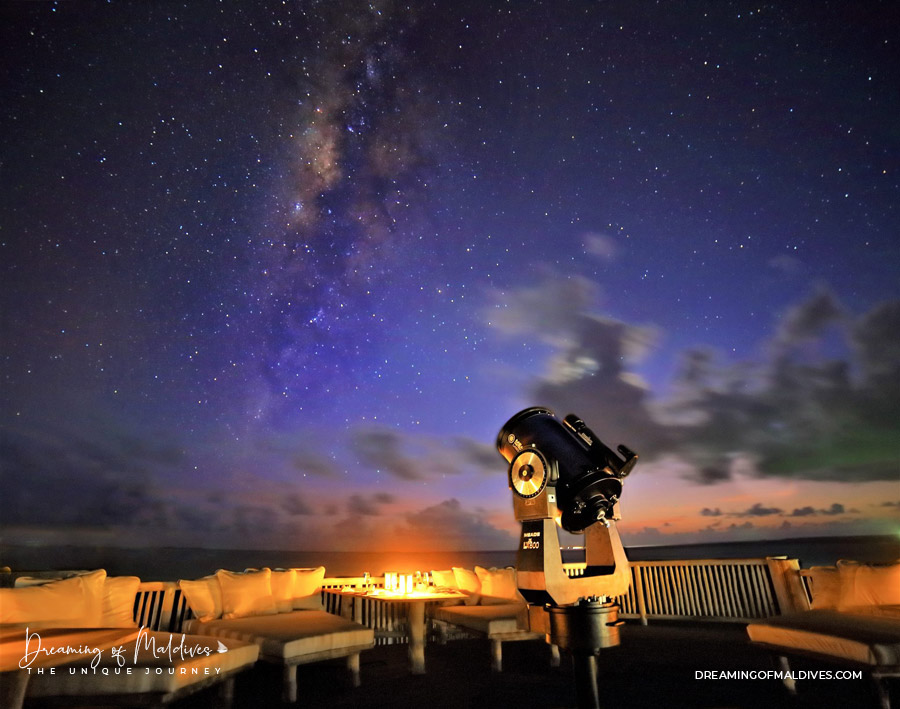 After the ceremony, take a minute for yourselves and experience the beauty of the stars from the midst of the ocean. Peer through the lenses of Soneva's state-of-the-art telescope in the resort observatory and set your eyes upon the rings of Saturn and its serene, translucent curves. Take advantage of your remoteness to see celestial bodies invisible from Europe and much of the world.
You will love : TOP 10 activities and Things to Do at Soneva Fushi
Do not disturb.
Newlyweds aboard

Have your kids taken care of
Weddings are all about family, and when it comes to keeping the smallest guests happy, The Den, Soneva's fantastic club for kids and teens, provides the perfect escape. A playground for the imagination; children can spend hours exploring the pirate ship, Lego room, dress up area, cinema and music room, just to name a few. Supervised by trained staff, you can leave them to play with total peace of mind.
Honeymoon Sail on board Soneva's ultra-luxurious Yacht
Having said your vows at Soneva Fushi, step aboard the ultra-luxurious and highly refined Soneva in Aqua luxury yacht for the ultimate honeymoon sailing experience. With a maximum occupancy of four adults and two children, you can select your closest ones to join you on the yacht, or opt for a romantic newly weds experience where you can lose yourselves in the magnitude of the surrounding waters.

Soneva in Aqua
Highlights of Soneva in Aqua include spacious indoor and outdoor decks with daybeds and dining areas, an outdoor Jacuzzi, and a glass bottomed spa tub in the master bedroom.
Its highly skilled and trained crew on board comprises a Captain, a Sous Chef, a Barefoot Butler, a Dive Master, a Therapist and an Astronomer (on request).
The boat can be chartered for one, two, three and seven night adventures to explore the untouched beauty of far flung Maldivian atolls.
All Photos © Soneva Fushi.
Soneva Fushi Wedding package in details
Soneva Fushi Wedding package includes :
A 60 minute couples spa treatment
Wedding ceremony at the sandbank, on the beach or in the garden of one of our villas
Ceremony decoration with jungle foliage and local coconuts
A flower bouquet and buttonhole flowers from our island jungle
Maldivian drummers, the classic Bodu Beru band to lead you into the ceremony, and celebrate with you afterwards
A wedding cake – as per your desire
A bottle of sparkling wine to celebrate your union
​A framed wedding certificate and photograph of your wedding day
A wedding Celebrant to guide you through the ceremony
A private BBQ dinner on the sandbank for two (food only)
Soneva Fushi wedding package price at only USD 4,750++
It is possible to arrange Hair & Make-up artists, dancers, magicians and entertainers, beverage packages for the party and many other add-ons at an extra charge and 72 hours prior the wedding day.
If you prefer to get married onboard of SONEVA in AQUA it includes :
Wedding ceremony on board Soneva in Aqua.
Ceremony decoration with jungle foliage and local coconuts.
A flower bouquet and buttonhole flowers from our island jungle.
Maldivian drummers, the classic Bodu Beru band to lead you into the ceremony.
A wedding cake – as per your desire.
A bottle of sparkling wine to celebrate your union.
A framed wedding certificate and photograph of your wedding day.
A wedding Celebrant to guide you through the ceremonyFoot spa for the couple.
Soneva in Aqua experience for the couple after the wedding ceremony, with either lunch on board or sunset cocktails and reception at the sandbank.
Dolphin Cruise, depending on the time of the ceremony.
Soneva in Aqua wedding ceremony package : $4,950
Dreaming of Soneva Fushi ?
Contact me for more information or to book your Dream Wedding
SOneva Fushi latest

The Maldives in Virtual Reality. These words put together are so dreamy ! If you are a VR lover like me, you are absolutely going to love this…

Discover the TOP 10 activities and 'Things to Do' at Soneva Fushi Maldives. Watch a movie on the beach, stargaze the Maldivian…

Inside Soneva Fushi Art and Glass Studio, So Glasscycle, an extraordinary place where guests can watch world-renowned glass artists create…
Follow us on Facebook, Youtube and Instagram 
for more Maldives Dreams & Stories
Maldives TOP 10 Dreamy Resorts 2024
YOUR CHOICE. YOUR DREAM. YOUR VOICE