Discover the TOP 10 activities and 'Things to Do' at Soneva Fushi Maldives. Watch a movie on the beach, stargaze the Maldivian skies from a real observatory, learn the Art of Glass blowing, dine and sleep under the stars and more….Soneva Fushi has so many dreamy experiences to offer.
Take a closer look at these amazing moments.

Along our stays in these resorts, we have lived incredible moments that I will share with you.
Discover here our previous Dreamy Journeys : TOP 5 Things To Do in Maldives Resorts.
Here are TOP 10 Things To Do at Soneva Fushi
Watch a movie on the beach
Soneva Fushi's Cinema Paradiso was the very first outdoor cinema in Maldives. Lie back in your cushioned lounger and watch a classic film screening with complimentary popcorn and ice creams. And if should you desire a chilled cocktail, or something more substantial, the cinema hosts will be happy to oblige.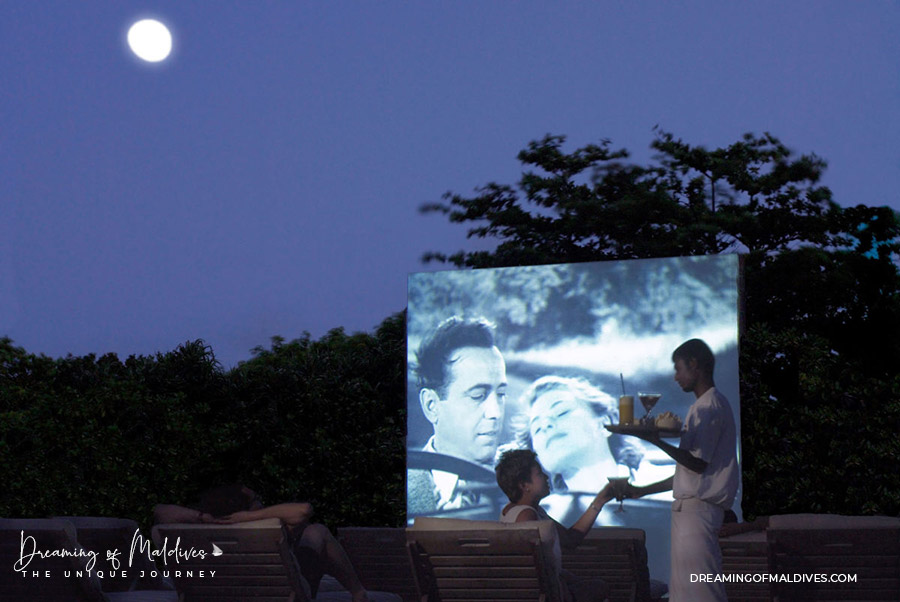 Slide down a giant water slide from your water villa
Soneva Fushi new water villas with water slide offer exquisite ocean views, beautifully appointed interiors, extensive alfresco terraces for relaxing, private pools, retractable roofs and last but not least : water slides into the lagoon beneath.
The dreamy water villas also feature retractable roofs in the bedroom like at its sister island Soneva Jani.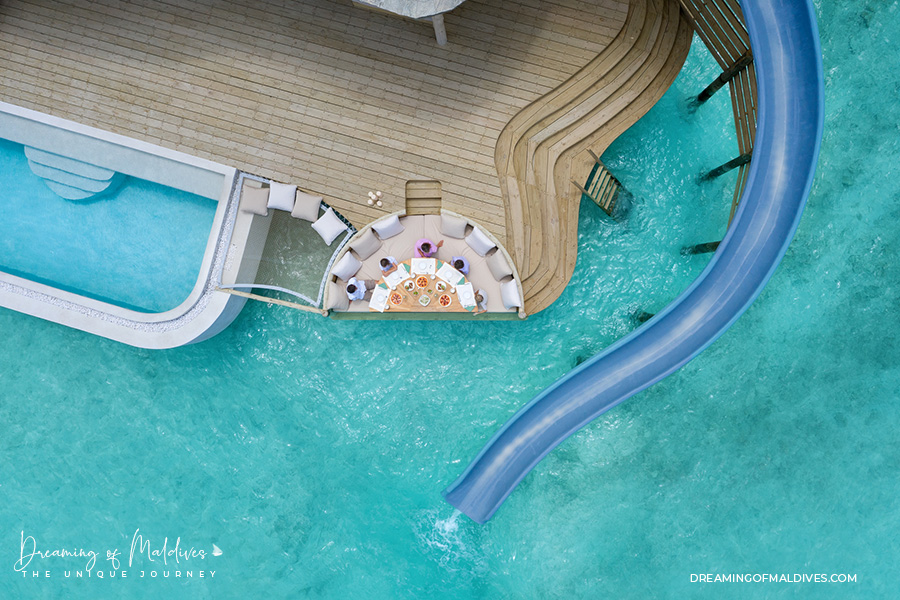 Water Slides in Maldives

These Resorts in Maldives have massive Water Slides to take you right into the lagoon or in swimming-pools. First imagined by Soneva Resorts,…
Stargaze the Maldivian skies from a real observatory
At Soneva Fushi, you can stargaze the Maldivian skies from a real observatory called Ever Soneva So Celestial Observatory.
Built at 12-metre high above the Island Jungle, Soneva Fushi astronomical observatory uses the exact same technology and optics as NASA's Hubble Space Telescope, Ritchey-Chretien. The fully-automated dome offers coma-free, wide-angled views of the heavens above.
The telescope is linked to a plasma screen in the library downstairs.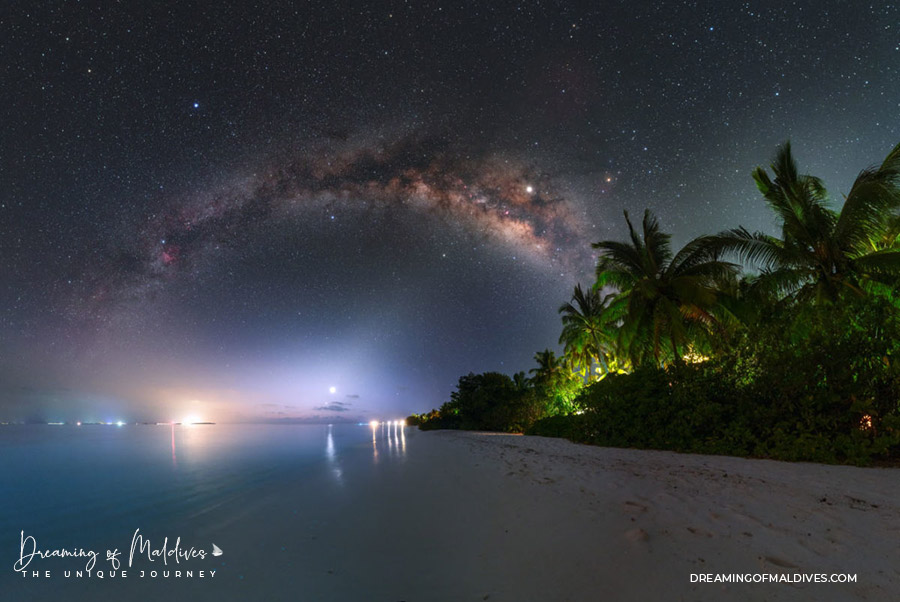 Stargazing in Maldives.
Located on the equator, away from the bright city lights and with nothing but a flat horizon, the Maldives are a dream place for stargazing.
A Dream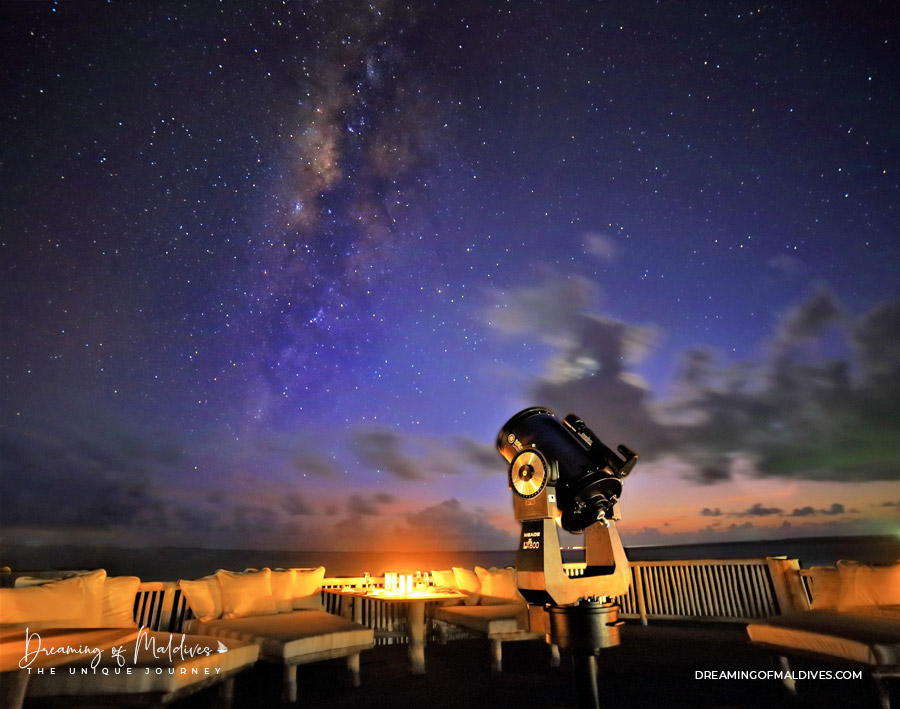 More Maldives Extraordinary Places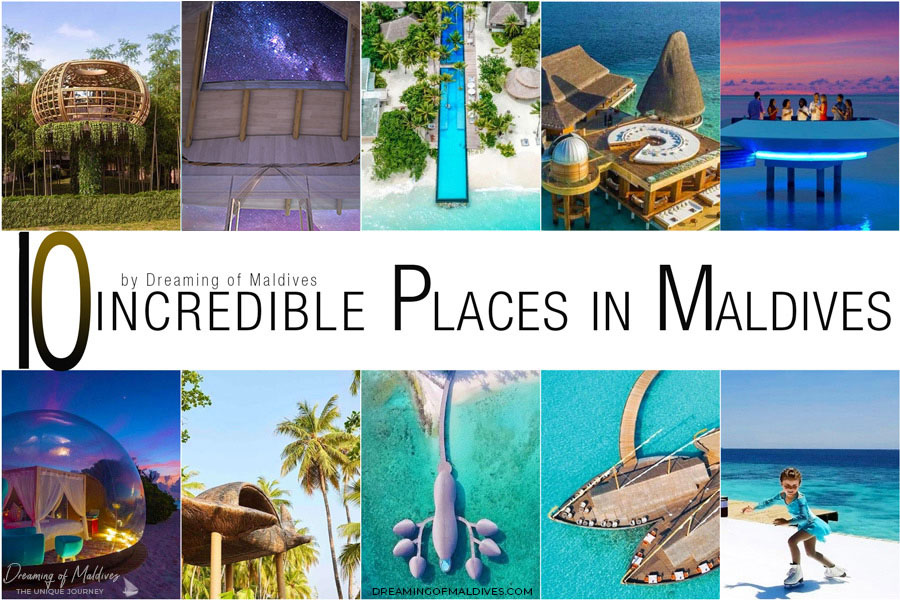 10 Incredible Places in Maldives
Sail on a luxury Yacht
Soneva in Aqua is an ultra-luxurious 23-metre yacht which combines Soneva's luxurious hospitality with the freedom of a private charter tailored to your needs, whether you want to explore the best surf breaks or dive spots, drop anchor at deserted islands, or simply sail towards the sunset.
The yacht comes with a highly experienced crew that includes a captain, mechanic, Barefoot Butler, head chef and a wellness therapist. Upon request, you can also be joined by a dive master, a surf instructor or a digital storyteller.
The sailing yacht is also used for astronomical dinner cruises. Leave at sunset, enjoy a four-course meal with wine pairings and let the resident Astronomer guide you through the wonders of the cosmos.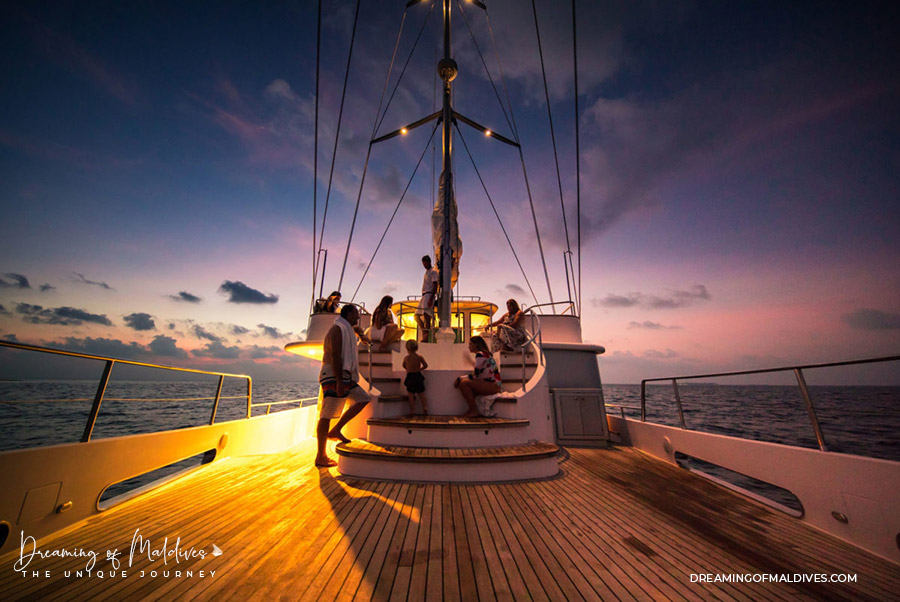 Learn the Art of Glass blowing
Soneva Fushi has an extraordinary Art and Glass Studio called So Glasscycle where guests can watch world-renowned glass artists create objects of art and learn the art of glass blowing. So Glasscycle offers state-of-the-art amenities and is the first and only glass studio in the Maldives.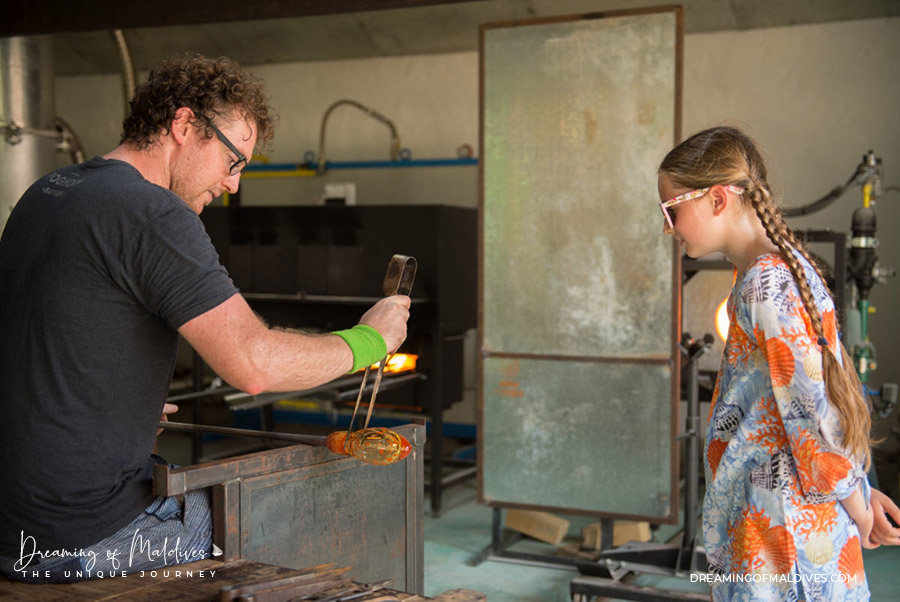 Soneva Fushi Glass Studio

Inside Soneva Fushi Art and Glass Studio, So Glasscycle, an extraordinary place where guests can watch world-renowned glass artists create…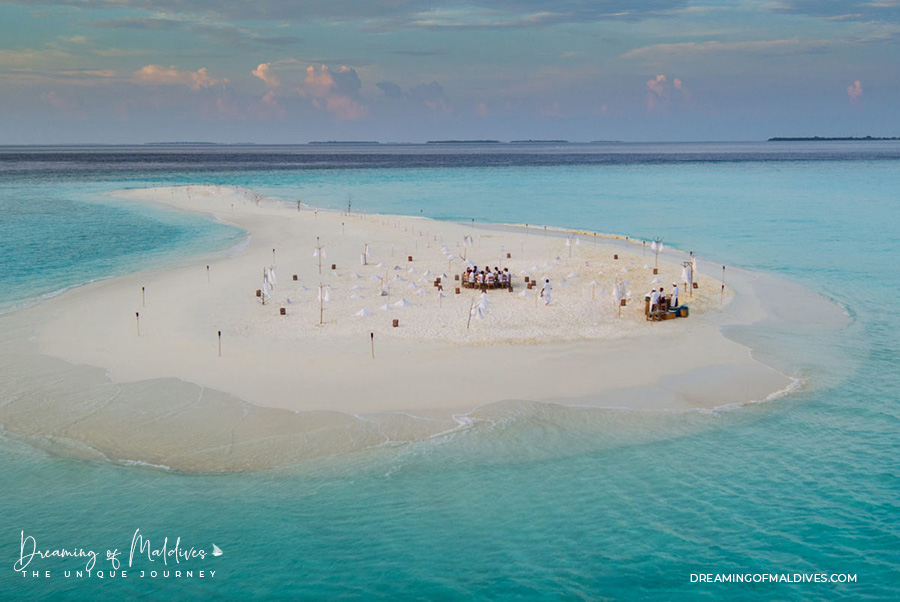 Soneva Fushi Private sandbank.
Soneva Fushi sandbank is completely private and remote. The secluded piece of paradise is the perfect place for romantic moments and events.
A Dream
Dine with your friends or family on a private sandbank
At Soneva Fushi, beach dinners are set up on the resort dreamy white sandbank for families, couples and groups alike.
Enjoy a private sunset barbecue (or group sunset drinks organized each week for all guests) or a picnic and let the team deliver you by speedboat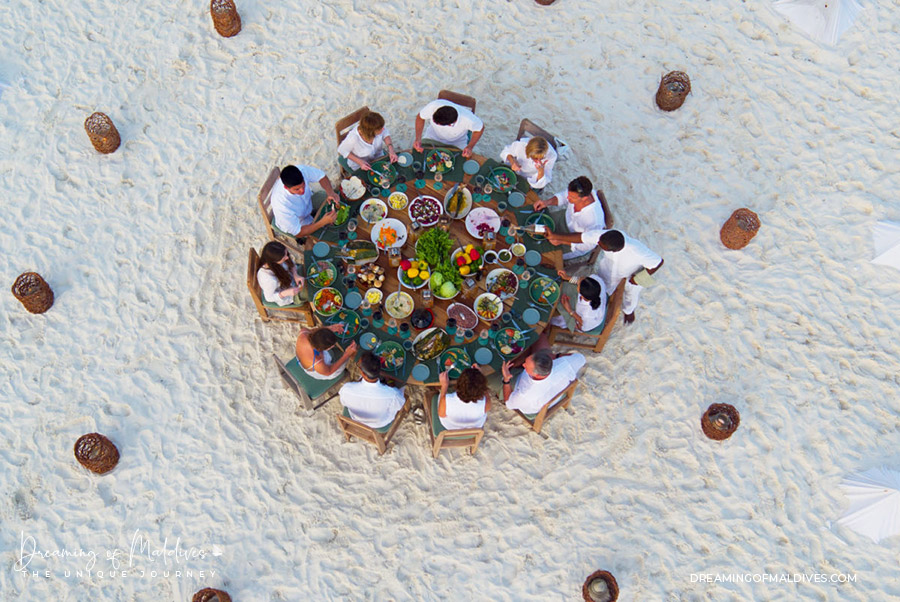 Maldives Beach Dinners
Live your ultimate romantic Dream with these 25 spectacular beach dinners in the Maldives. Sit down, take a glass of champagne and enjoy the…
Sleep under the stars on the resort sandbank
Spend a romantic night camping under the Maldivian skies on Soneva Fushi private sandbank in a luxurious Bedouin-style tent, which even comes with its own WC.
Enjoy a candlelit dinner, set up by your personal attendants before they depart to allow you to experience the unspoiled island for yourself. Breakfast will be delivered at a pre-arranged time of your choice.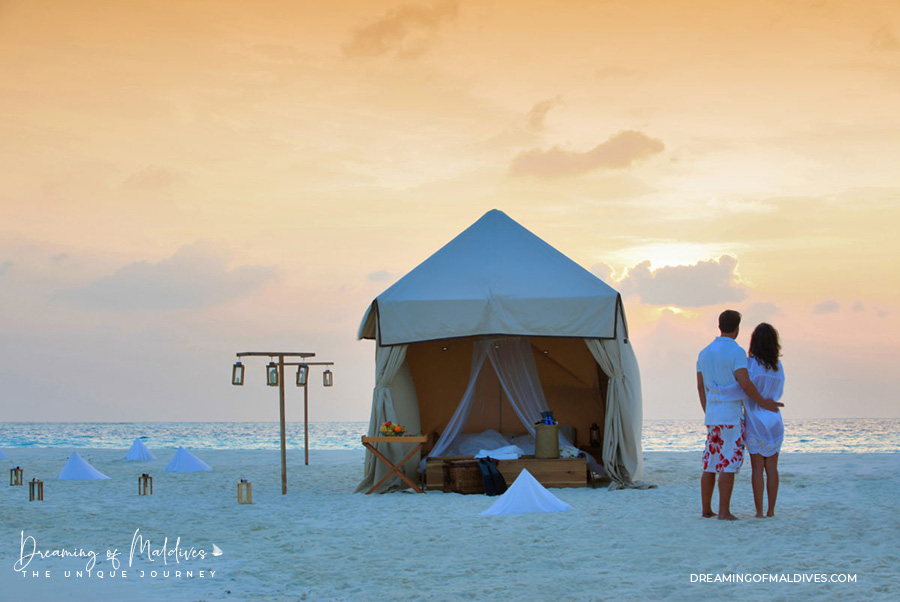 Enjoy culinary delights overwater
The overwater Out Of The Blue restaurant is both a sensory and culinary experience that will transport you on every level of satisfaction.
The amazing restaurant offers extraordinary spaces and exquisite Asian and International menus : Dine on Vietnamese and Indonesian cuisine, salads, grilled meats, and seafood. Out Of The Blue also includes several grills, a pizza area, a chocolate and ice cream parlors and a cheese room.
Oh, and if you feel to have some fun meanwhile you wait for your delicious meal, go enjoy the giant water slide located on its deck.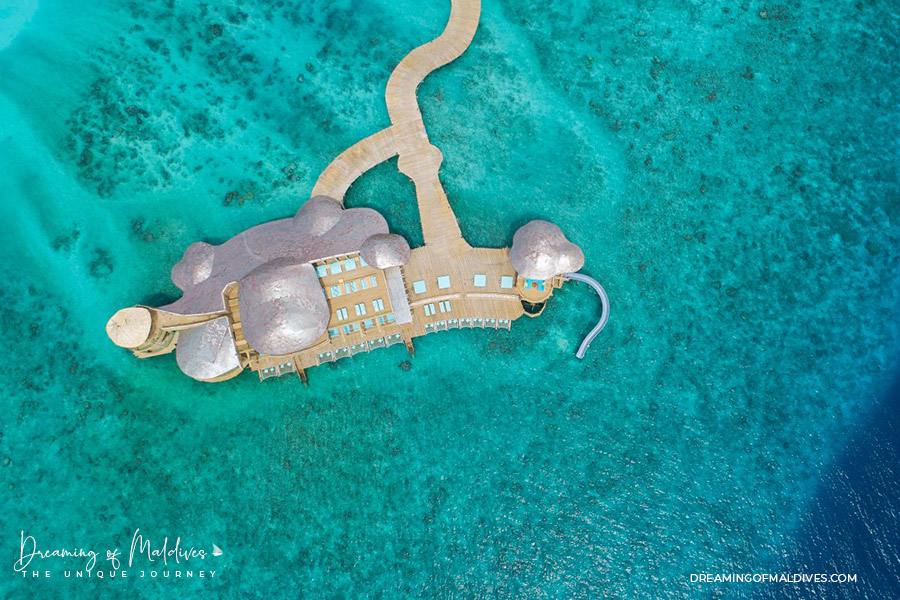 Surf on crystal clear lagoons
Soneva Fushi offers you the possibility to surf on more than 11 different surf breaks spots in Baa Atoll. All spots are located within 30 minutes by boat from the resort and are suitable for beginners through to advanced surfers.
Surf trips are proposed for half day, full day and by hour with an instructor as well as surfing classes. Surfboards are available to be borrowed at no extra charge. In Maldives the best surfing season is from May to September with some of the biggest waves, although beginners will enjoy the activity year-round.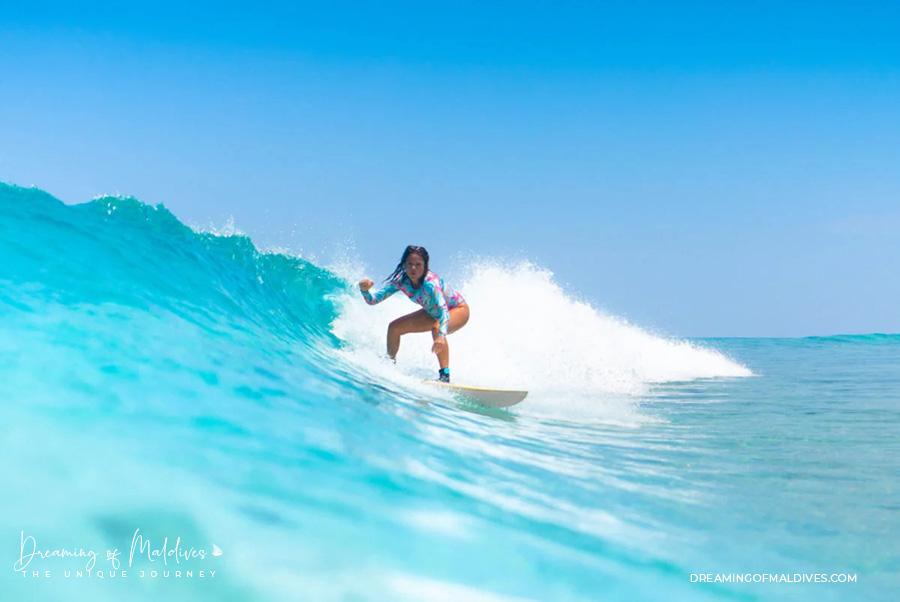 Surfing in Maldives
Dine at a table with a roof that opens onto the stars
Dine at the Once Upon a Table with a roof that opens onto the stars where international cuisine is served by the best chefs. Besides its extraordinary design, Once Upon a Table is also a culinary theatre showcasing some of the biggest names in fine dining. There is no menu, allowing the creativity and skills of the chef to take center stage.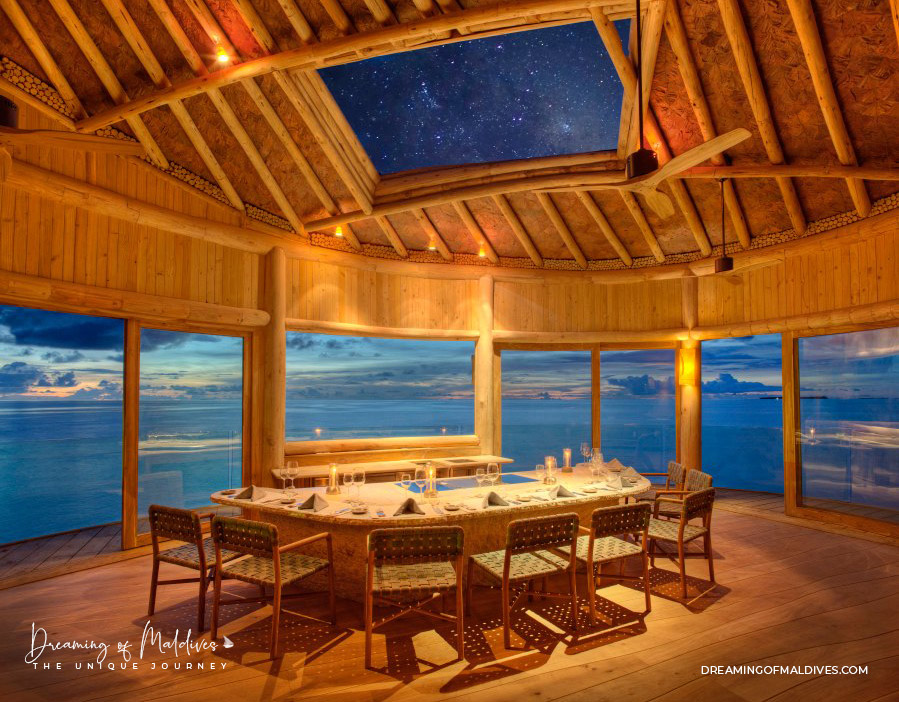 about Soneva Fushi
Soneva Fushi offers 57 villas which offer the quintessence of a luxurious castaway fantasy. Each villa opens to its very own stretch of white sand beach, whilst many also include private swimming pools and some water slides. Each bathroom extends to a private garden, and utmost care is given to the environment.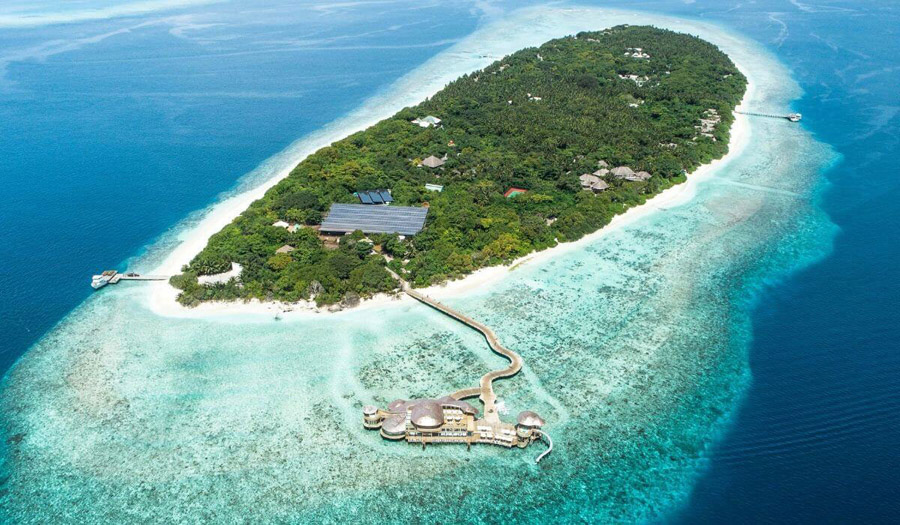 Soneva Fushi dining experiences are as diverse as they are memorable. From gourmet menus across a variety of cultures and cuisines to organic offerings, simple barbeques or elaborate romantic escapades. The resort grows and fishes for sustainably and incorporate the talents of inventive chefs from East and West complemented by an extraordinary wine cellar.
The Spa offers a menu of holistic and traditional treatments conducted by highly skilled therapists using all-natural products. Thai, Balinese, doctor-assisted Ayurvedic treatments and nutritional programs are also available. Spa programs are complemented by a fully equipped gym, private beachside treatment villas and a yoga pavilion for wellness therapies such as yoga and Tai Chi.
All photos © Soneva Fushi
Soneva Fushi latest

Soneva Fushi provides one of the most exquisite setting in the Maldives for a wedding. The Maldives' original desert island hideaway is a true…

The Maldives in Virtual Reality. These 2 words put together are so dreamy ! If you are a VR lover like me, you are absolutely going to love…

Soneva Fushi in Maldives, will host a long Yoga retreat from December 1, 2021 to May 31, 2022 with several teachings and workshops of Yoga,…
Follow us on Facebook, Youtube and Instagram
for more Maldives Dreams
Your TOP Best Maldives Resorts 2023
YOUR CHOICE. YOUR DREAM. YOUR VOICE
[ Official ]
Traveler's Choice
12th Edition