In Maldives, you will find Padel tennis courts in the dreamiest places. Set the match with these 6 Dream Places to play Padel in the Maldives.

Tennis is already wide spreaded in the maldives with some of the most outstanding tennis courts to swing your racket.
Padel tennis is rising in the Maldives with resorts slowly adding more and more dedicated courts on their islands. Most of the padel courts you will find here are located in resorts that already offer tennis sport.
Kudadoo, Hurawalhi and Kuredu regularly host Padel Tennis events with coaching sessions where guests can play with professionals. In January 2021, the resorts organized a special Padel Tennis week with ProAm with matches played by world number 1 ranked players.
Vakkaru Maldives will soon add a state-of-the-art padel court to its range of land activities.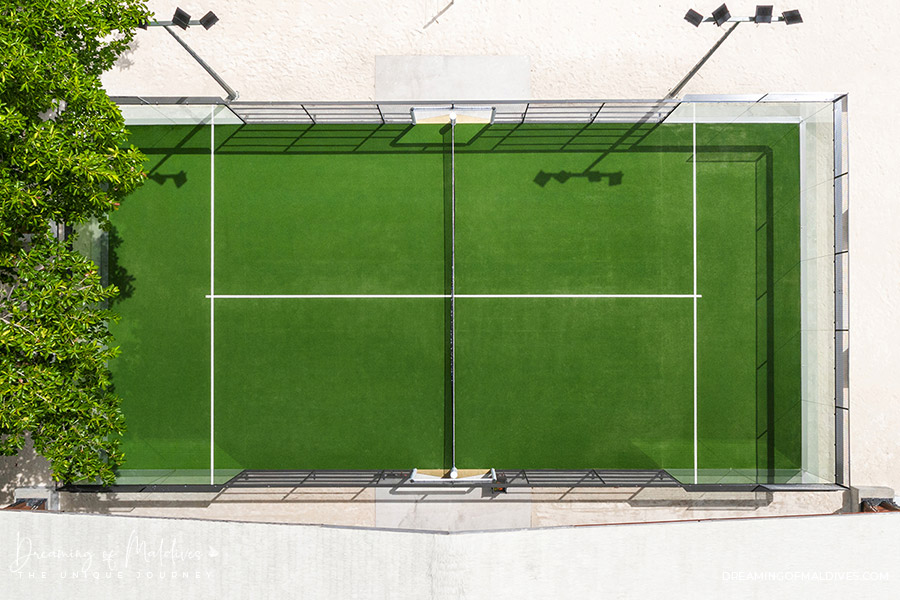 What is Padel tennis ?
Padel tennis is one of Europe's fastest growing grassroots sports. The game, very dynamic and generally played in double, is a mix of Tennis and Squash.
Padel is played on a mini version ( roughly 25% smaller ) of a tennis court with a lower net and no doubles lanes. Padel is also played with small and stringless rackets called bats.
Invented in Mexico in the 1960s, the sport has been recently recognized as a tennis form.
Play Padel on a Maldives Paradisiacal beach
Kuredu Resort & Spa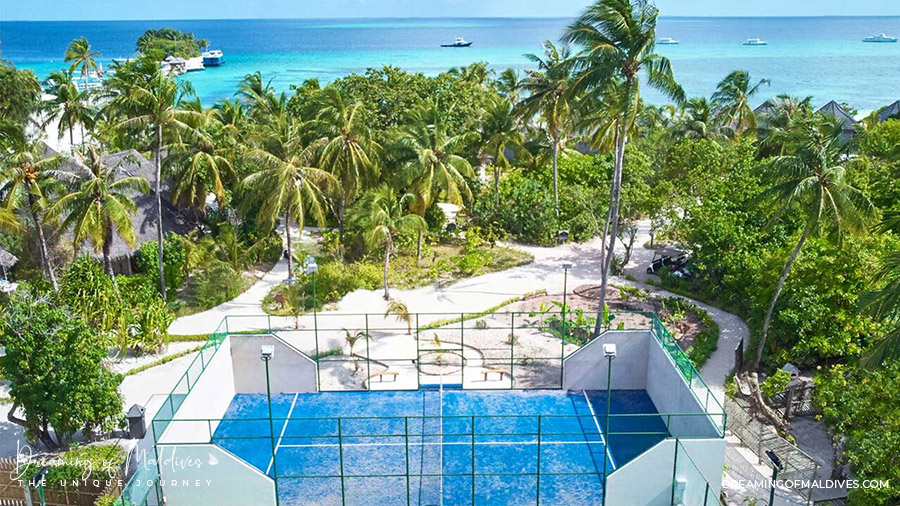 Kuredu boasts a variety of land-based sports to rival its dive and water sports offered. For sports enthusiasts and those after casual recreation alike, the resort's offers an assortment of sports facilities from golf, tennis, football to the fashionable racket games – padel tennis.
Velaa Private Island

Launched in June 2021, Velaa Private Island new padel court comes to complete the tennis options given by the resort. The fully panoramic Padel Court is available for beginners and expert players alike.
Velaa Private Island also offers the Maldives only covered tennis court.
Emerald Maldives Resort & Spa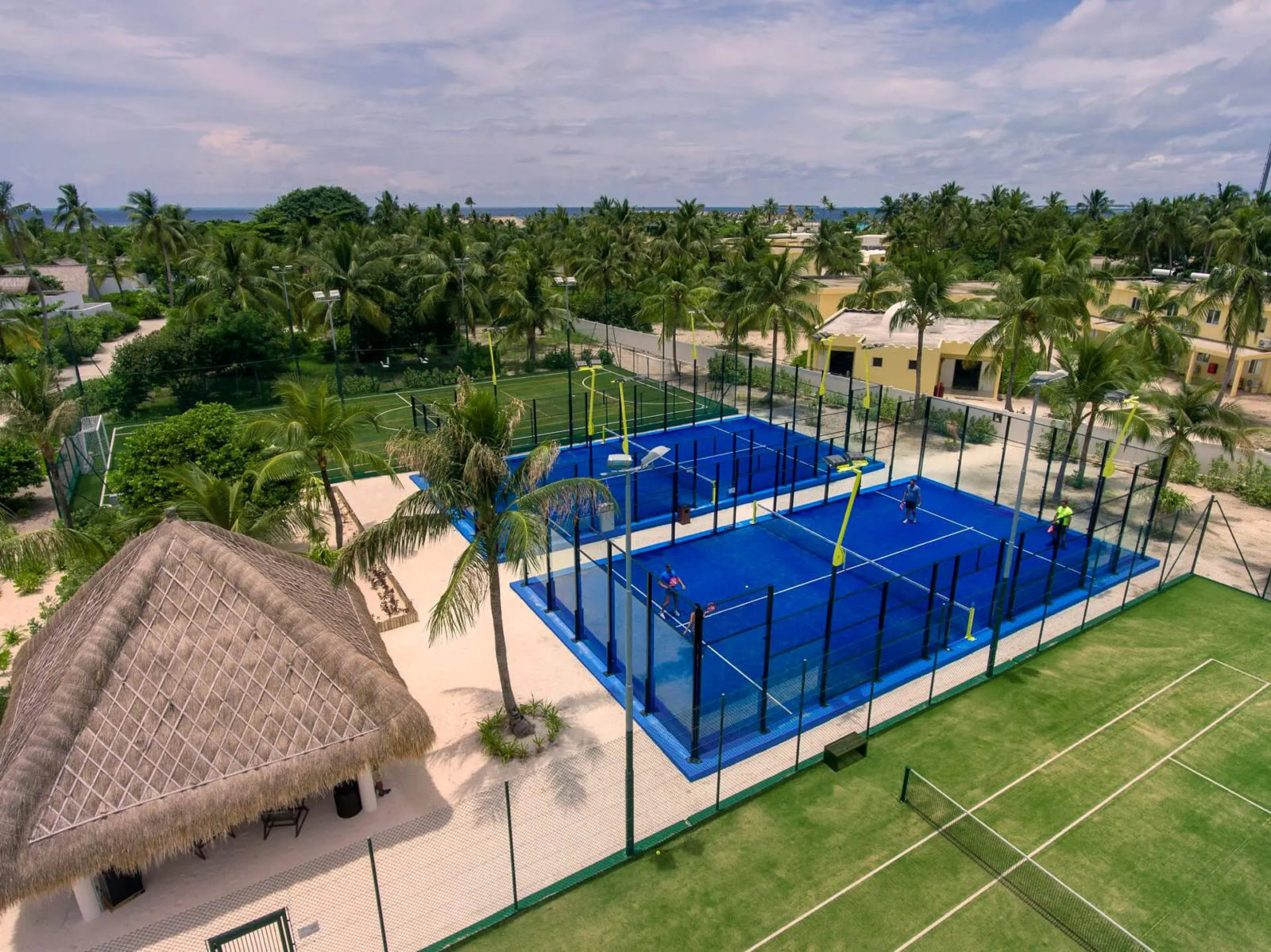 Emerald Maldives features 2 tennis courts (1 of which is eventually convertible in a soccer field), 2 padel courts and professional assistance for personalized training programs
Waldorf Astoria Maldives Ithaafushi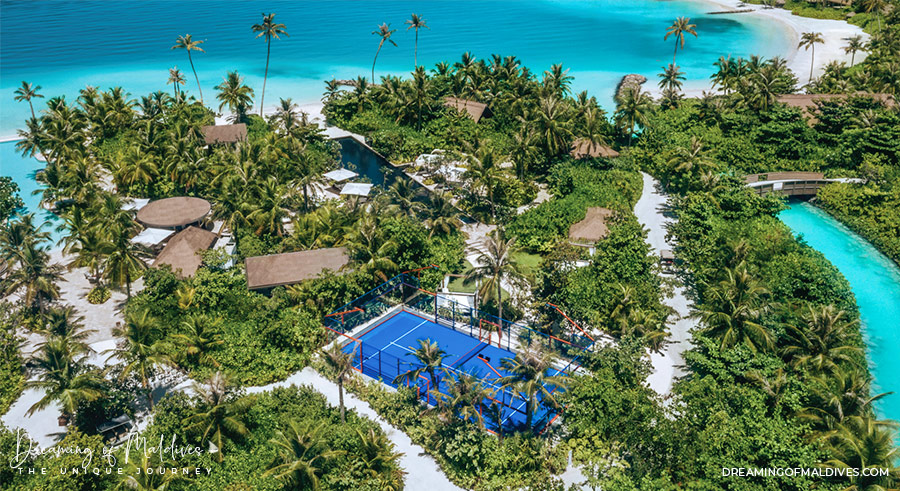 Waldorf Astoria Maldives Ithaafushi features a padel court hidden in the island vegetation, close to the resort tennis court.
Kudadoo Maldives Private Island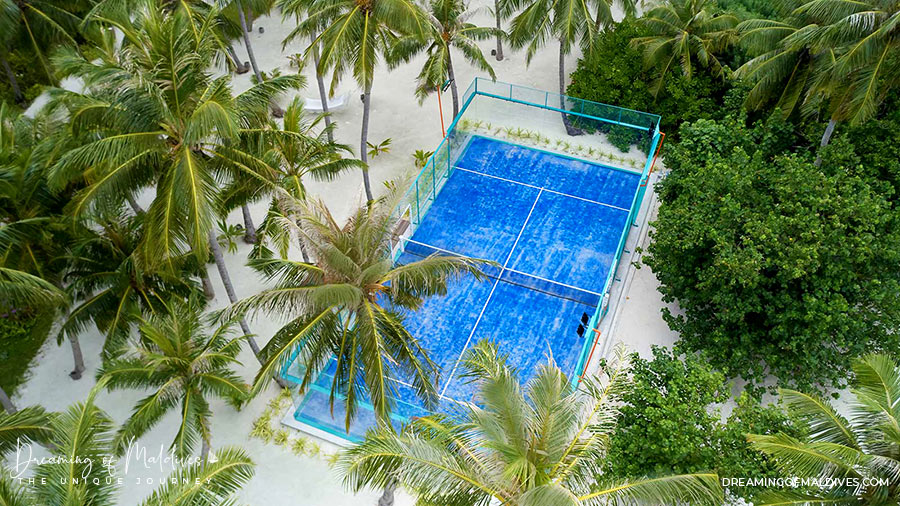 A short stroll from the residences, guest can find hidden among the palms of the island and greenery Kudadoo's Padel Tennis Court.
Hurawalhi Island Resort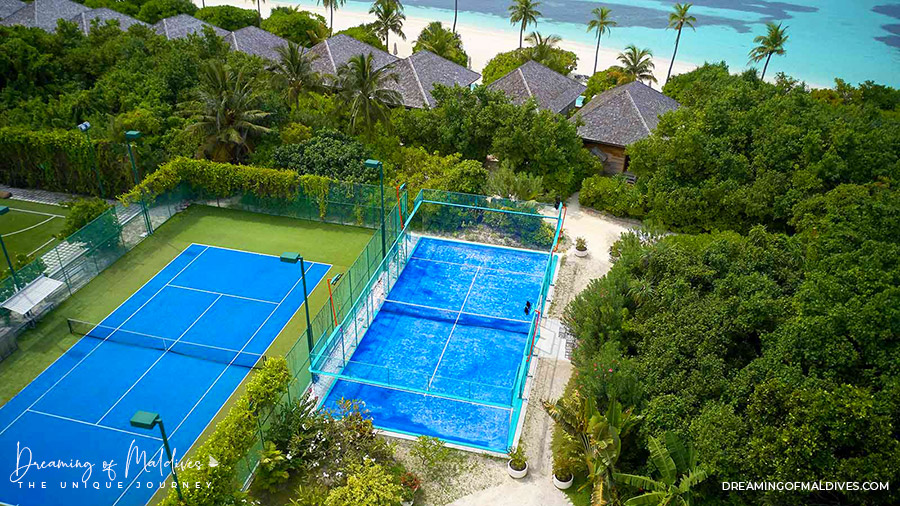 Amidst the tropical surroundings or play padel tennis – on the court ranked as one of the most spectacular paddle tennis courts in the world. The resort is so dreamy to play padel that it recently hosted the World Padel Tour.
Play Tennis in the Maldives

If you want to play tennis in the Maldives I gathered here the list of all the resorts that offer one or several tennis courts. Looking for a…

Dreaming of playing tennis in the Maldives ? Here are 10 Luxury Resorts that feature outstanding tennis courts to swing your racket. Tennis…

Enjoy a dream holiday at The Westin Maldives Miriandhoo Resort and play Tennis like a pro on one of the most beautiful court of the…
Follow us on Facebook, Youtube and Instagram
for more Maldives Dreams & Stories