Kudadoo Private Island Maldives' sustainability model is a masterpiece of eco-conscious architecture. Powered by 984 solar panels and naturally ventilated by a clever cooling system the luxury resort is a shining example that opulence and sustainability can beautifuly coexist.

Kudadoo is one of the Maldives' most sustainable resort
Kudadoo is an All-Inclusive adults-only private island located on a small and beautiful three-hectare private island in Lhaviyani Atoll. Sister island of Hurawalhi, the private resort boasts a total of 15 luxury private Residences.

The resort, which opened in 2018, is a masterpiece of eco-conscious design, and the brainchild of the visionary team at Yuji Yamazaki Architecture (YYA), based in the heart of New York City and behind the design of several other resorts in Maldives.

In a world where luxury and sustainability are sometimes seen as opposing forces, Kudadoo Maldives Private Island emerges as a shining example of how these seemingly contrasting elements can beautifully coexist.
Kudadoo's architectural concept isn't just about aesthetics and opulence, it's also about energy efficiency.
The resort is designed to be in total harmony with the natural wonders that surround it. Its geometrical design is a marvel in itself, strategically minimizing electricity consumption throughout the day with natural air cooling system and 984 solar panels that feed the entire resort.
Kudadoo is entirely powered by solar panels
With a total of 984 solar panels installed on The Retreat's roof ( Kudadoo's main hub ) that produce a whopping 300kW of electricity, this island retreat is not just self-sustaining but a beacon of renewable energy.

The Residences are built with a clever energy-efficient cooling system
The resort's commitment to nature extends to its design, where operable full-height windows grace each villa and public space, to have a natural cooling system.
Whether you opt for a one-bedroom or two-bedroom residence nestled in the serene sand lagoon, you'll be treated to an open floor plan adorned with elegant Tasmanian Oak floors, an eco-cooling system, private outdoor decks, and your very own private infinity plunge pool.

More than half of each water villa's private outdoor space has been meticulously crafted to ensure a generous five hours of shade during the day. Privacy is paramount, with innovative "Egg crate" privacy screen systems thoughtfully placed between each villa.
Here, every detail has been carefully curated to harmonize with the natural wonders that surround it.
Kudadoo Maldives Private Island doesn't stop at its sustainable energy efforts. The resort proudly embraces other eco-conscious materials, including responsibly sourced wood from Indonesian, New Zealand, and Canadian forests, along with timber lovingly harvested from the Maldives itself.
Kudadoo's Residences in detail
Kudadoo Private Island Maldives Residences are available with one or two bedrooms, covering respectively 310 m2 and 390 m2. All stays are All-Inclusive and based on the resort's concept 'Anything. Anytime. Anywhere'.

Kudadoo Maldives is all about privacy and quietness. The residences confort, location and private butler service make them a perfect hideout.

Each Residence feature :
44 m2 private infinity plunge pool
State-of-the-art electronics: 54-inch TV Bang & Olufsen surround sound system
Overwater, with unobstructed ocean views
IPTV with the latest movies, series and TV channels; Netflix and Spotify
Fully automated lights with dimming
Energy-efficient cooling system
iPad
Tasmanian oak floors
Handmade furniture
Private butler and accomodation for personal team
If you feel to venture out from your villa, you will be able to enjoy a fine range of dining options at The Retreat, the resort main hub with a buffet restaurant, a Teppanyaki and a bar. Additionally, you can enjoy the spa, a freshwater infinity pool, a gym, many excursions, as well excellent snorkeling and diving in the vicinity.

Kudadoo's additional dreamy features :
The resort is close the manta hot spots of Lhaviyani Atoll
You can enjoy Hurawalhi's Dream Island sandbank, which is located at a few minutes by speedboat from the resort.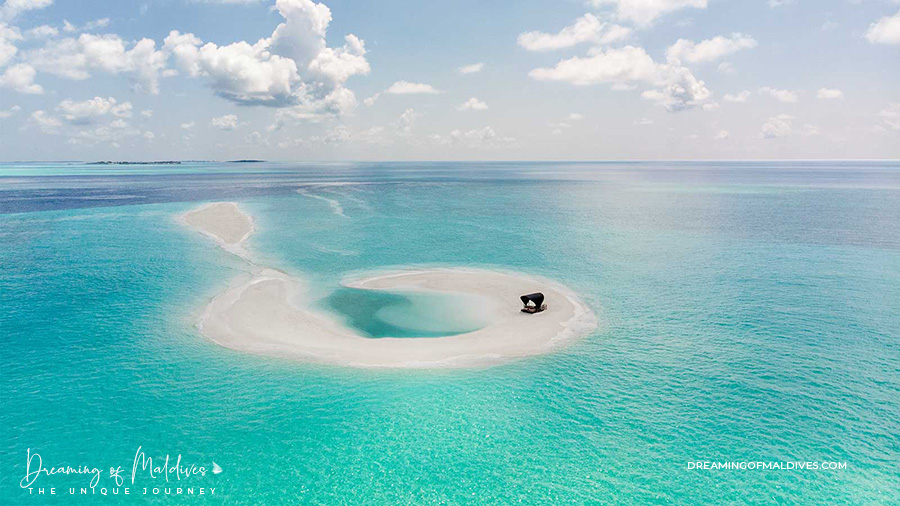 Fully inclusive prices for Kudadoo Maldives Private Island Ocean Residences start from US$3,800 per night.
You can also rent the entire island as your own for a starting price of US$80,000 per night.
All Photos © Kudadoo Maldives Private Island
Follow us on Facebook, Youtube and Instagram
for more Maldives Dreams & Stories
Maldives TOP 10 Dreamy Resorts 2024
YOUR CHOICE. YOUR DREAM. YOUR VOICE