Dreaming of a top luxury surf trip in Maldives ? Niyama Private Islands is simply and truly the best luxury surf resort you will find in the archipelago. The stunning resort is located right in front of Vodi wave, one of the best surf break in Dhaalu Atoll and at 10 mns by speed boat from Kasabu spot, another great Maldivian surfing spot.
Here is why Niyama Private Islands Maldives is the ultimate luxury surf resort to stay in Maldives for a top wave-riding experience.
We've been there
Ask me any question
Niyama Private Islands Maldives is a real Nature's Playground. The superb luxury surf resort in Maldives has its very own surf break right onto the island's shore : Vodi Point.
Surfing Vodi break directly from Niyama Private Islands shores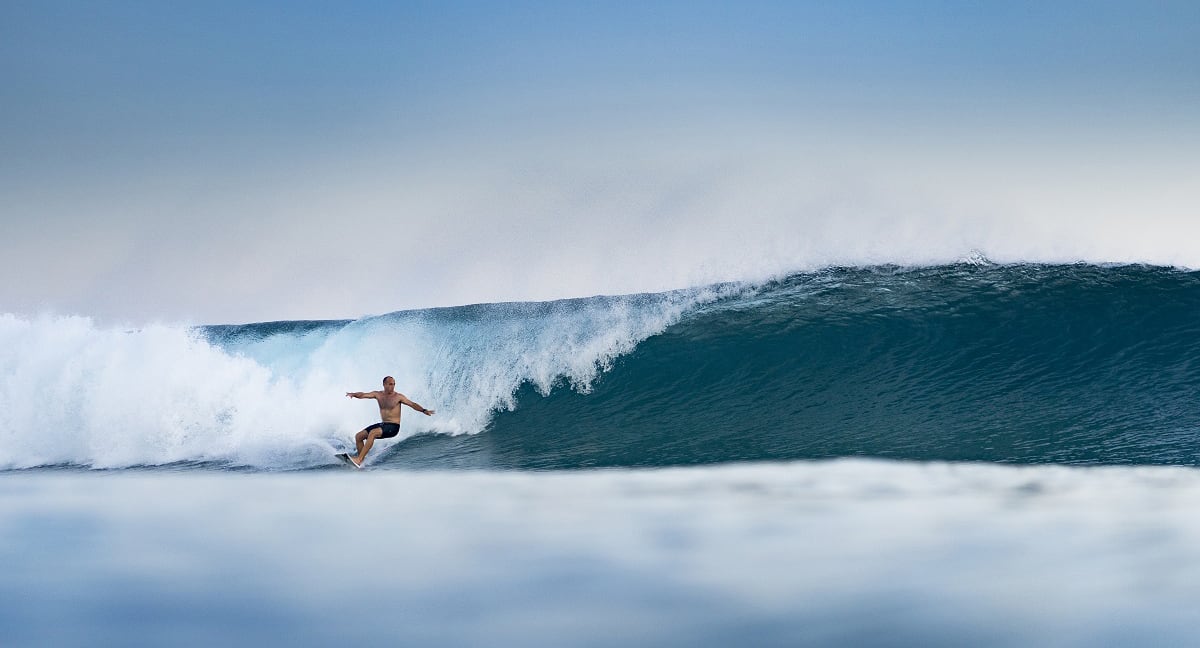 The resort is also one of the very few to offer tailored surf programs to help you get the most out of your stay.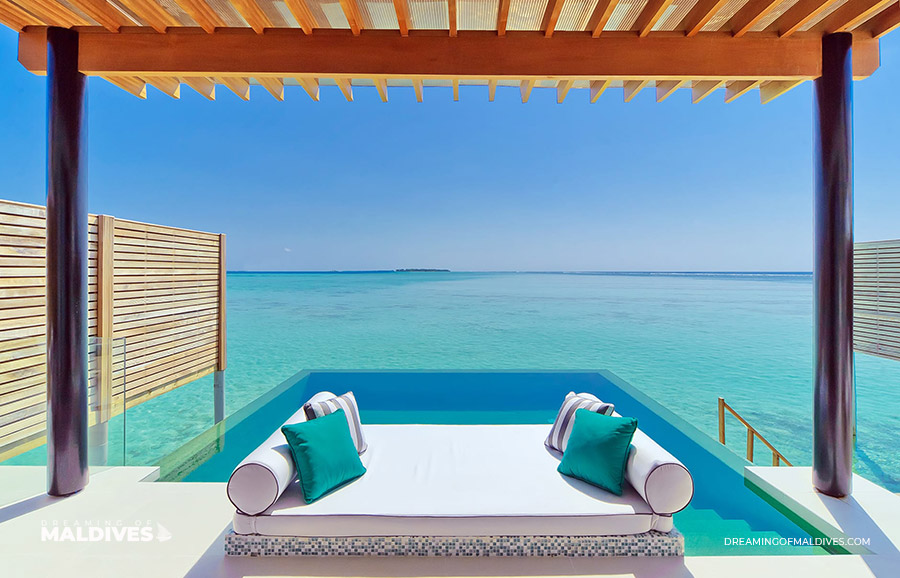 Dreaming of Niyama Private Islands Maldives in Video
Niyama Maldives Video - Discover the Resort Most Beautiful Places. #NiyamaMaldives #MaldivesResort
Niyama Maldives Private Islands is one of the most luxurious surf resorts on the planet
The Maldives are a true surfing paradise, boasting some of the most beautiful tropical sceneries and blue waters in the world. It's no wonder that they are a surfer's dream come true with an abundance of perfect waves.
Niyama Private Islands offers surfers a chance to enjoy the renowned Vodi break right from its shores. In addition, the resort also provides open paddle access, making it an ideal destination for a comprehensive surf trip.
Surfing at Niyama Private Islands Maldives is probably one of the best experience you will get in Maldives if you're looking for a luxury resort, a good surf break at proximity and crystal clear waters.
Surfing the crystal clear waters of Vodi break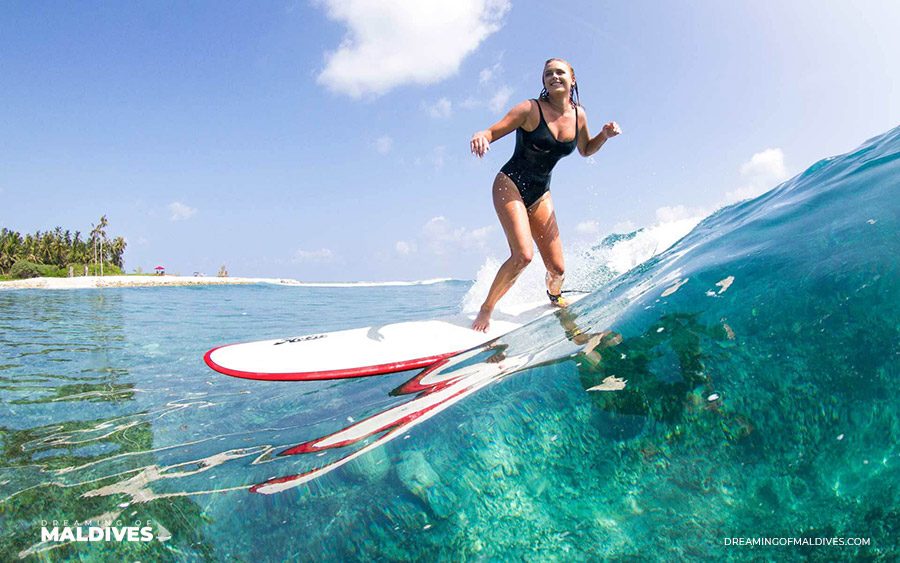 About Niyama Private Islands Maldives
Niyama Private Islands is located on 2 islands at the heart of Dhaalu Atoll, a central Atoll of the Maldives, at 40 mns by seaplane from Male international airport.
Ultra-modern and exclusive, romantic, active & very fun, relaxing and family friendly all together, the resort features an unprecedented blend of holiday lifestyles in a superb environment dominated by the bright blue colors of its gigantic lagoon.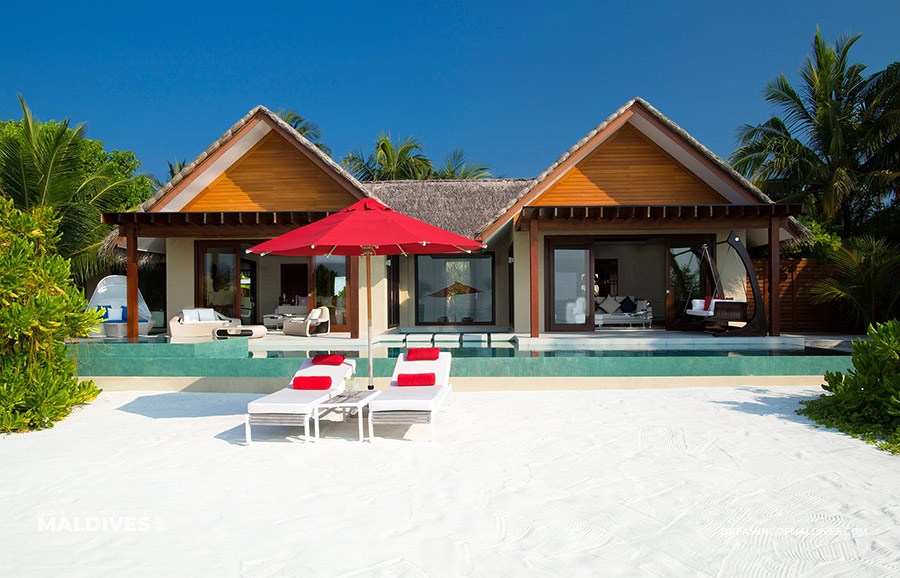 The main island, Chill, boasts 134 contemporary spacious, modern and superbly designed Beach Villas ( with or without pool ) and overwater Pavilions featuring high-end amenities and fun gadgets. Additionally, the hotel provides guests with their own Thakuru (butler) service.
Niyama has some the most beautiful bathrooms we've seen in Maldives.
A dreamy bathroom in one of the Deluxe Water Pool Villa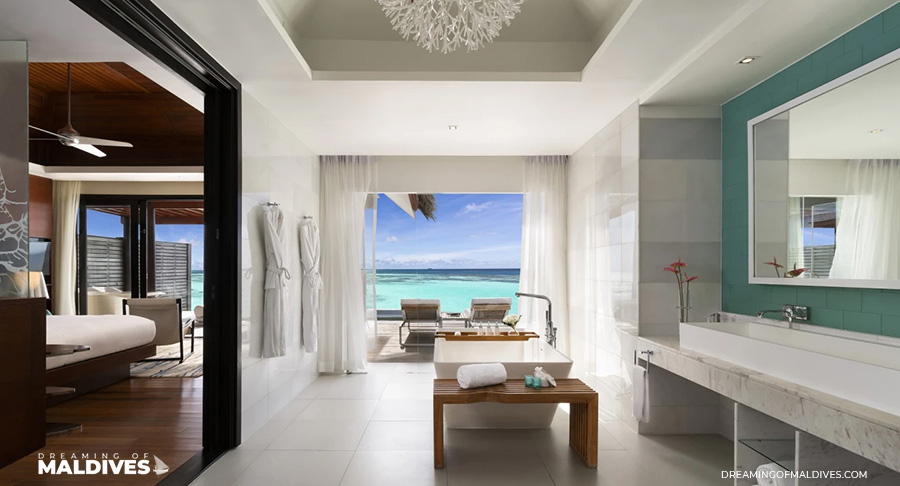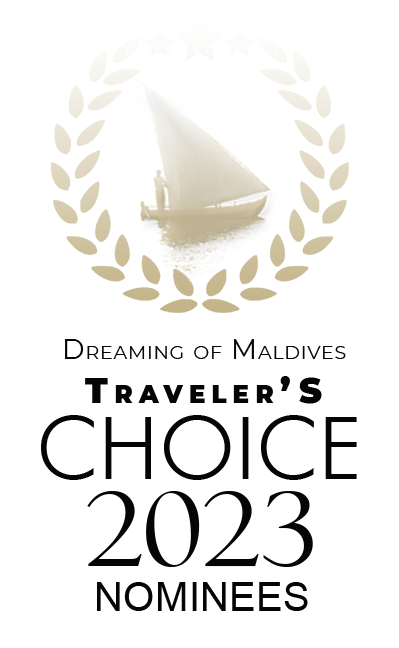 The resort is nestled in an exceptional natural environment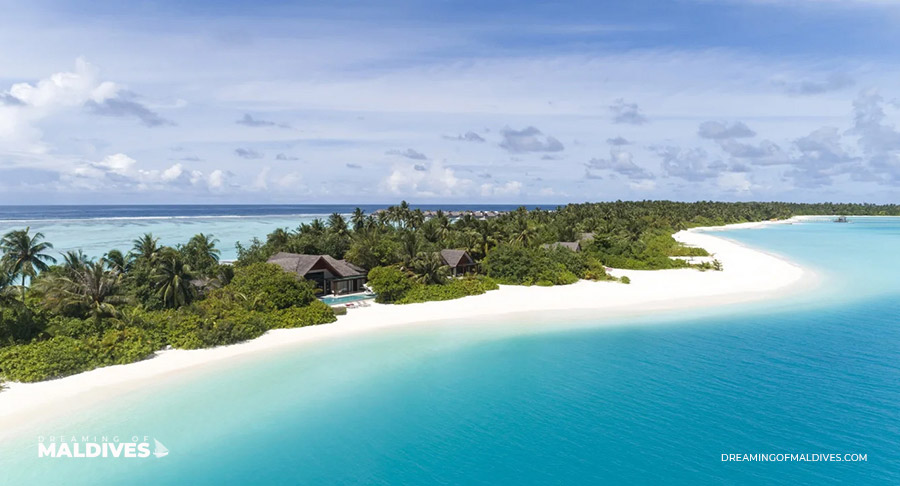 Are you a kiteboarder or a funboarder ? You wil absolutely LOVE Niyama.
Niyama Private Islands is also the ultimate Maldives paradise for kitesurfing and windsurfing. This is one of our photo taken on the resort's sandbank.
A DREAM.

Niyama is one of the very few Maldives resorts to spread across two natural islands.
Named 'Play' and 'Chill', each island is totally natural and caters to a diverse range of travelers.
Aerial view of Chill Island in the foreground and Play island in the background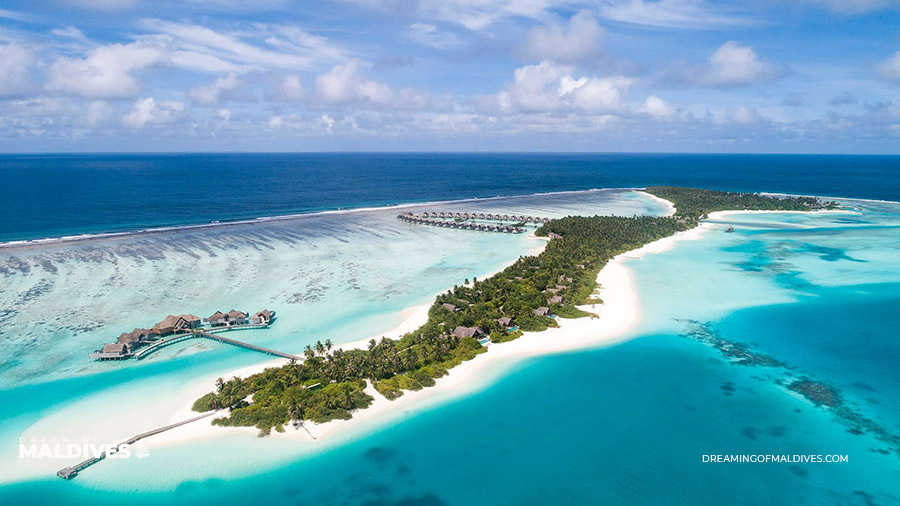 Play is ideal for families and those seeking an active holiday, while Chill provides a romantic Maldivian getaway, featuring days by the pool and spa, indulgent dining, and a relaxed atmosphere.
Niyama's surf center is located on Play Island, right in front of Vodi.
The surf center is located on Play Island but if you chose to stay on Chill you will just need to cross the resort bridge from your island with your bike, by foot or with a buggy.
checking Vodi's swell from your buggy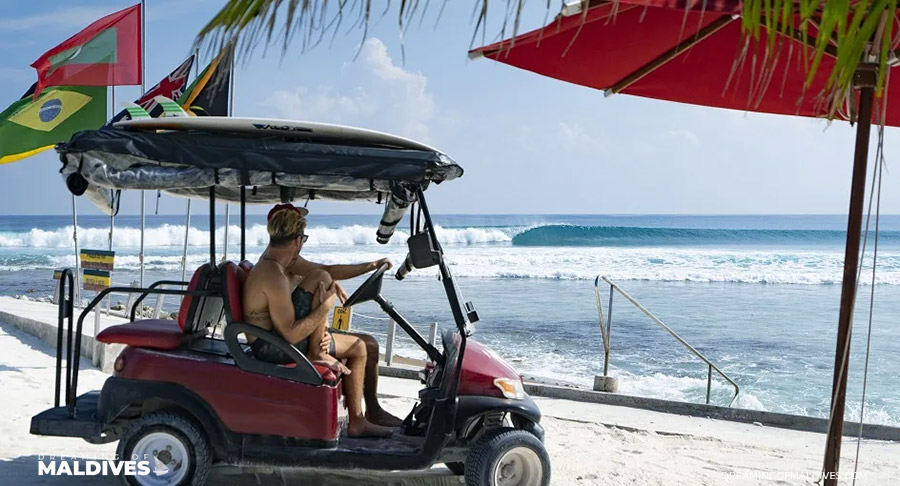 Play Island is really dedicated to fun and surf. The island has a bar called the Surf Shack where you can check on the surfing conditions meanwhile chilling out.
Surf Shack – Surfing & Bar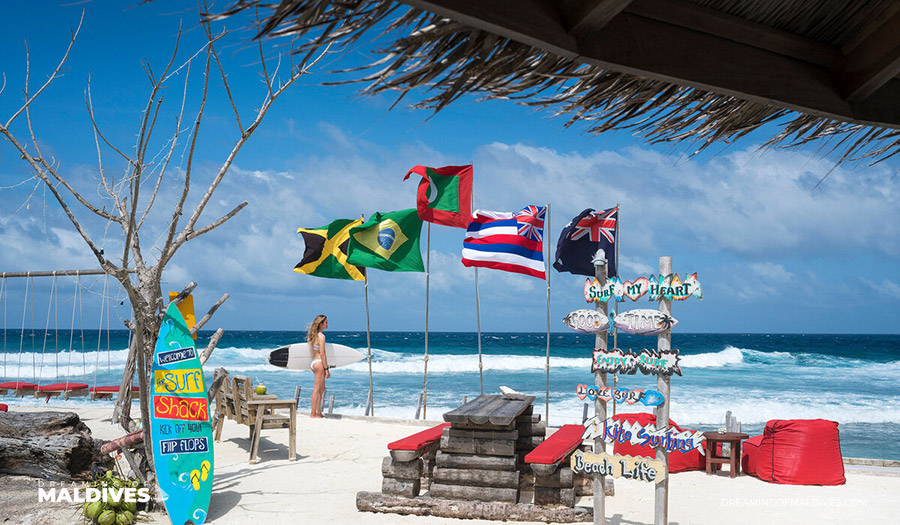 Surf Vodi directly from the shores of Niyama Private Islands Maldives
Vodi surf break aerial view with the Surf Shack Bar at the foreground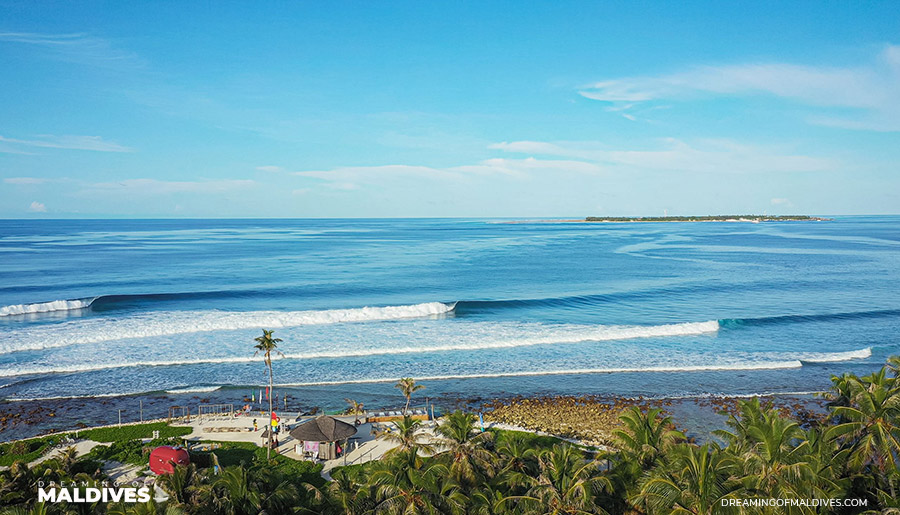 Niyama Private Islands is one of the rare luxury surfing resorts in the Maldives that benefits from wave breaks directly onto the island, as well as easy access to exceptional breaks just a short ride away. Vodi offers fantastic left-handers with ample face for big hacks, and when the swell builds up, some impressive tube time. It's no surprise that world tour surfers such as Owen Wright, Matt Wilkinson and Gabriel Medina have been spotted at Niyama for off-season training!
About Vodi, Niyama's own surf spot


Vodi break is a surfer dream : good swell and no crowds. Guaranteed !
At Vodi, expect a good set of waves and around five average surfable swell rolling out every five minutes… and no crowds.
Vodi breaks right on Niyama's reefs. Smooth and playful, but sometimes challenging, Vodi is perfect for intermediate to advanced surfers with some areas ideal to learn surfing.
Vodi is a powerful and sometimes hollow left-hander.
Other surf breaks reachable from Niyama
Apart from Vodi, Niyama Private Islands features a plethora of other good waves in the vicinity, including Kasabu, Hocus Pocus or Machines. These breaks cater to both left and right-handers and are suitable for surfers of varying levels.
Kasabu break, located at 10 mns from Niyama
For those seeking a right-hander, you will surf Kasabu, one of the longest right-handers in the Maldives. The spot is just five minutes away by speedboat from the resort. Kasabu is considered as one of most playful and fun wave of the area.
Read more about Kasabu, Hocus Pocus and Machines surf spots here /
My Guide to Surfing and Bodyboarding in Maldives :
Maldives Central Atolls. Best Maldives Surf Spot List
Other spots you can reach from the resort
Alternatively, as the resort's surf guides keep a close eye on the waves around, you can explore a variety of empty and playful surf breaks around Dhaalu Atoll.
Among other good spots you will find Hocus Pocus, less known than Vodi or Kasabu but worth the try. Shallow on the inside, the swell provides a high performance wave with barrel sections during optimum wind conditions. Hocus Pocus is accessible from Niyama by shuttle and safari boats in approximately 20 mns.
Reach your surfing spot by spedboat or…by seaplane
Niyama is one of the very few resorts in Maldives to offer tailored surf programs to help you get the most out of your stay.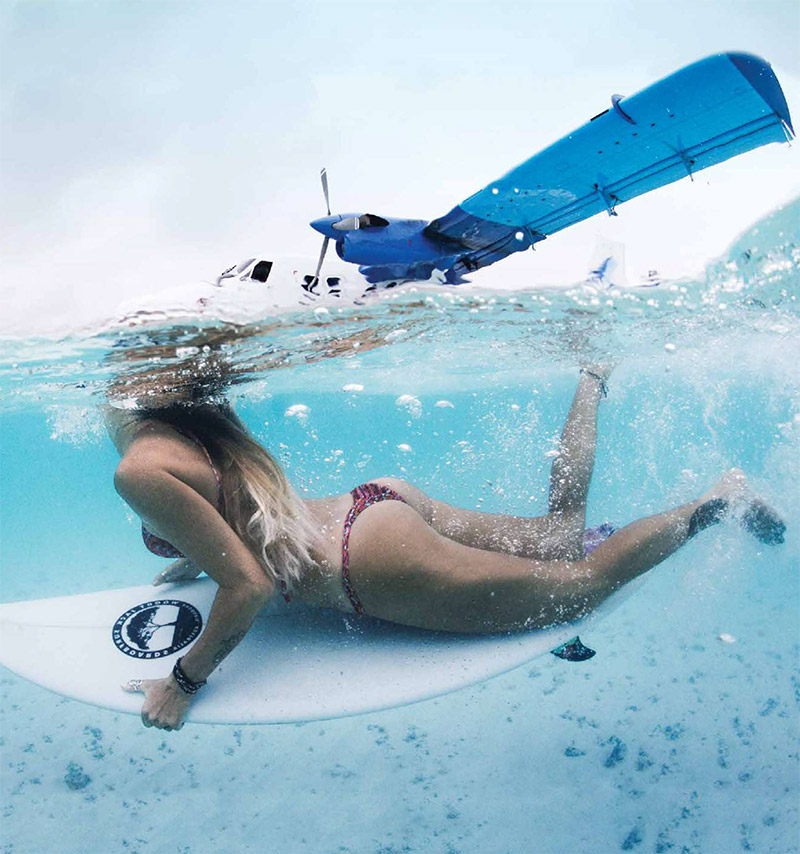 Niyama elevates luxury surf trips to new heights and offers a unique experience for surfers of all levels. While staying at the resort you can inquire about a private seaplane to access any spot in the Maldives !
© Resort
Niyama Maldives Surfing lessons, Surf passes and Board Rental Prices
Niyama Private Islands provides a range of surf services, including board rentals, Surf Passes that allow 2.5 hours out at the breaks with a guide and boat, Surf Lessons that provide 2.5 hours of instruction for beginners, including board rental and boat, and Tow Surfing with a jet ski available at an additional cost in addition to Surf Pass.
If you're an experiemented surfer, Surfing at Vodi can be done free of charge and at your own risk.
To perfect their surfing option, Niyama Private Islands Maldives has asked the Californian surfer Nathan Kemp to lead the resort's surf center for its expertise and experience. Nathan has spent nearly two decades surfing waves across the globe, including in California, Hawaii, Japan, Taiwan, and most recently, Indonesia.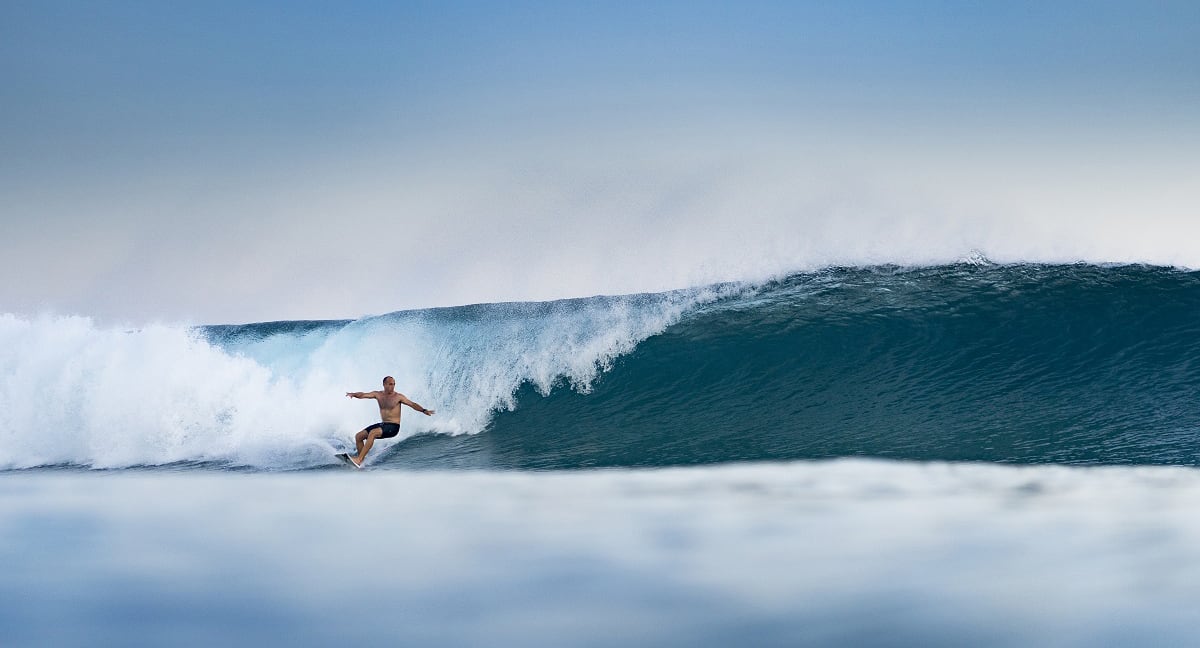 Niyama Surfing lessons and prices
After one has a lagoon lesson, one can get 1-on-1 coaching to keep progressing to the next level. Coaching for beginners ( including kids ! ) or advanced surfers is available.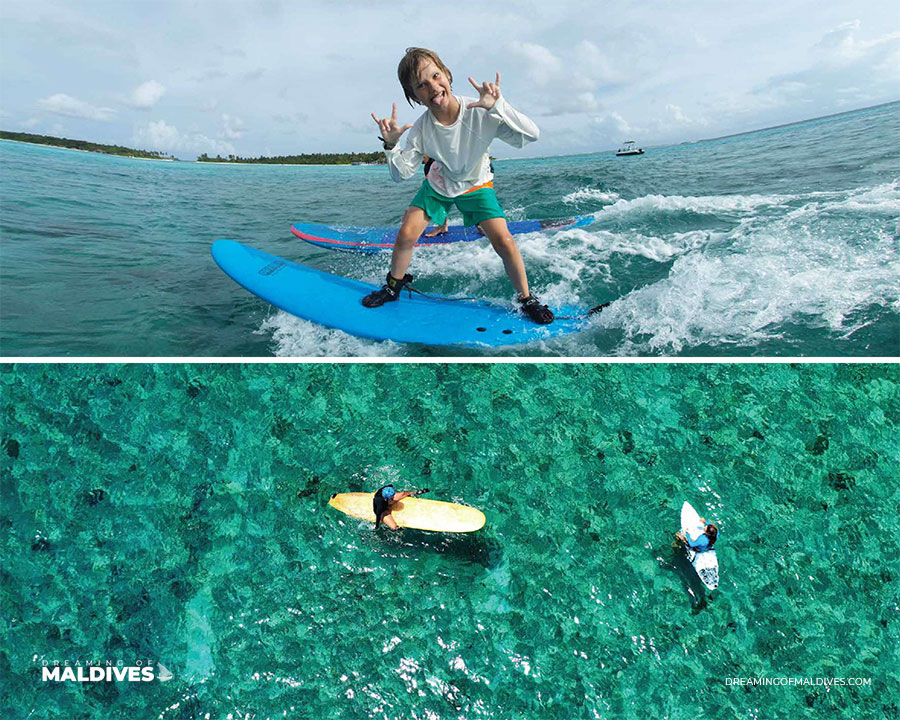 The below prices may vary. The rates and details provided are only informative and valid at the time of publication.
Prices
FREE Introductory Sessions.
Every afternoon at the surf bar from 5 – 5:30pm where the instructors will familiarise you with everything there is to know about the beginner lessons and how to use the equipment safely.
Beginner Lagoon Session.
Instructors will help you with body position, become familiar with the surf equipment and learn the basics in a calm/safe environment. Surfboard included
90 USD per hour.
Beginner Coaching Course.
Improve your confidence and learn how to surf waves with a professional instructor. The instructor will be by your side to push you into waves while coaching you through each step of the way.
Note : 1 Session = 3 hours
Surf with pros at the resort
Niyama regularly receives pro-surfers to add to the excitement of the already thrilling surf scene.
Read the latest news about Surf event at Niyama Private Islands Maldives
Niyama's surf passes details + Prices
Niyama's Surf Passes entitle you to :
– Flexible session length that allow you to surf for as long or short as you wish.
– Surf Photographer/Videographer (on request)
– Complimentary wax, zinc/sunscreen, reef booties, bottled water
– Live surf report.
The Surf Pass System has various prices.
Surf Passes can be purchased if you wish to explore Niyama's neighboring waves using the resort on-demand boat transfer service.

On-demand Surf Passes : Boat transfer with a surf guide to the world class wave of Kasabu

1 session : 200 USD
3 sessions : 525 USD
5 sessions : 750 USD
10 sessions : 1000 USD
More than 10 sessions : 100 USD per session.
Niyama's surfing material and Board Rental Prices
If you're already a surfer and left your gear at home you can rent
a surfboard and booties from the SURF CENTER next to the Surf Shack.
The surf Center has surfboards, soft-tops, body boards, fins, booties, sunscreen, wax, and much more for rent and sale.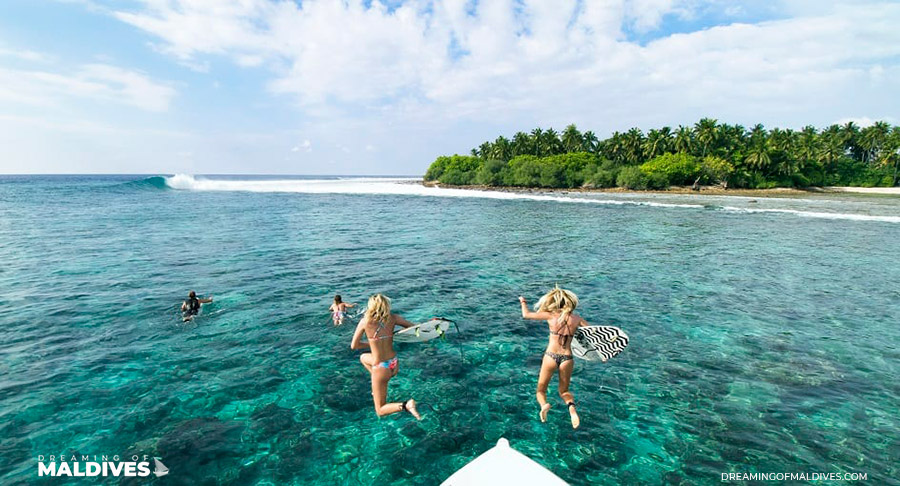 The price for surf board rental, count approximately 60 USD per day and 200 USD per week.
The same prices applies to Stand Up Paddle Boards.
Skill level
Regardless of your skill level, there are waves for everyone at Niyama Private Islands. The resort also offers tailored surf programs to ensure that you make the most of your stay. While the waves are generally mellow and playful, they can also be challenging at times, making it perfect for beginners and experienced surfers alike.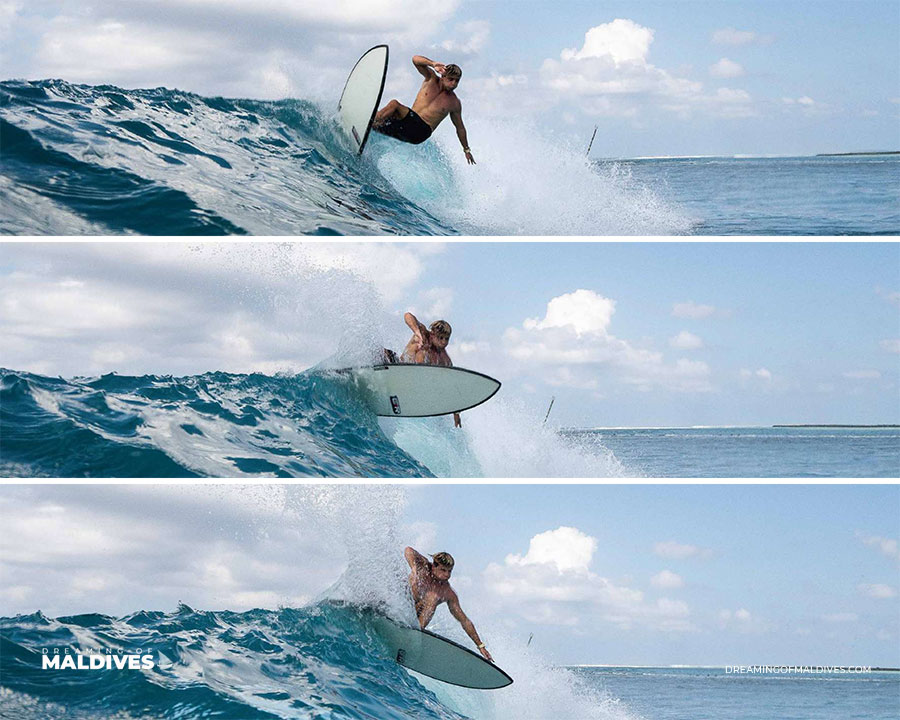 General Surfing Conditions at Vodi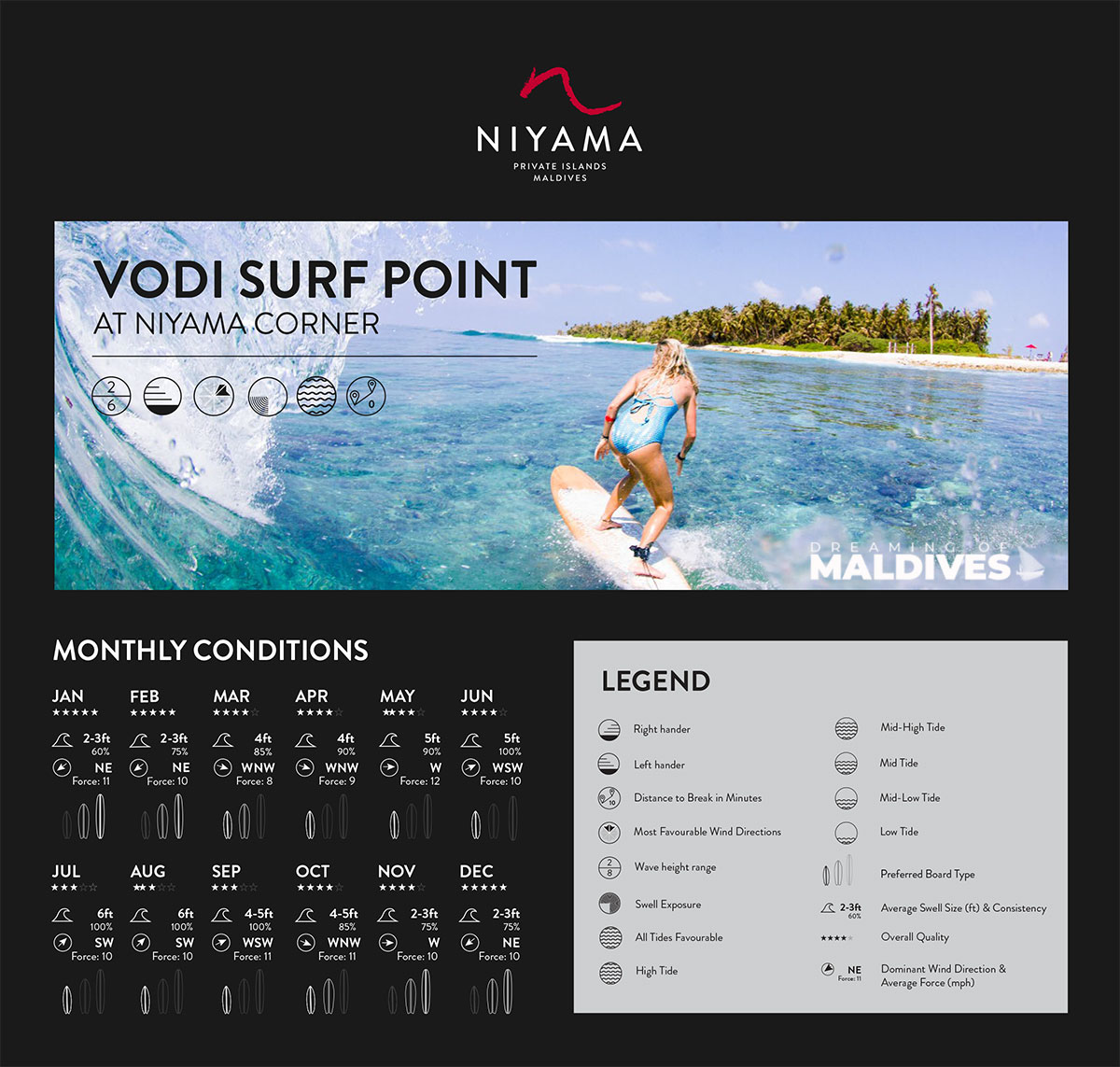 Traveling with surfboards ?
When intending to travel with surfboards, bear in mind that seaplanes permit a maximum board length of 7 feet, including the board bag.
I highly recommend you to bring a board length of 6.5 feet or less. ( this apply if you travel with your windsurf equipment.
Dreaming of Maldives Video
Niyama Maldives Complete Resort Video #NiyamaMaldives #Maldives #MaldivesResort
Where to sleep ?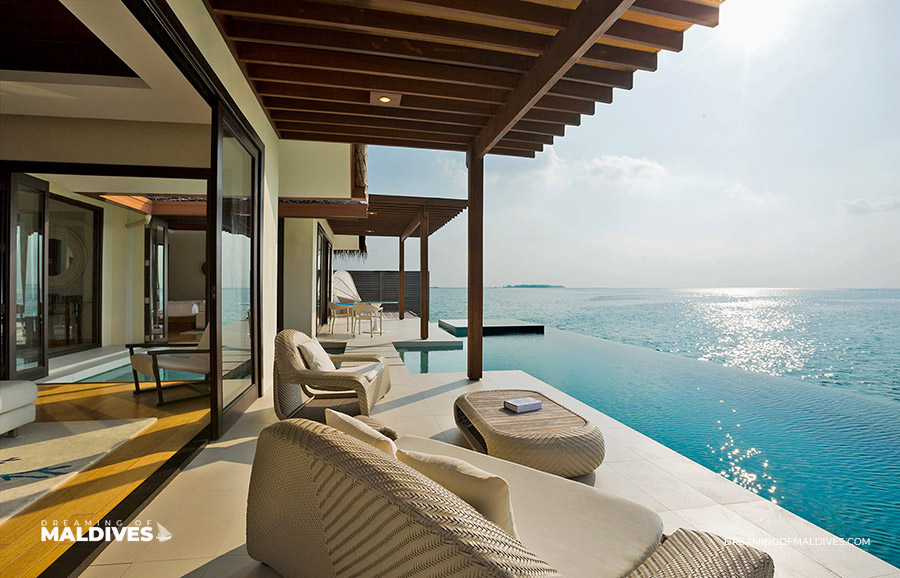 Niyama Maldives Villas and Pavilions
Niyama offers a variety of villas and suites to suit any preference, ranging from the Beach Villa to luxurious Family Beach Pool Villas. If you're looking for the ultimate luxury stay, then The Crescent is the perfect option for you.
Featuring several 1-3 bedroom overwater pavilions, the Crescent is the resort most luxurious range of accommodations and stand as some of the largest water villas in Maldives. Each suite can be rented as a single unit but if you're traveling with a larger group, you can even take the whole Crescent as your own. A private chef, butler, housekeeper and much more will be at your entire disposal.
Luxury Surf Resorts in Maldives
Restaurants and Bars
Whether you're in the mood to relax and unwind, enjoy some refreshing cocktails, experience a unique meal and night out at Subsix, the world's first underwater club.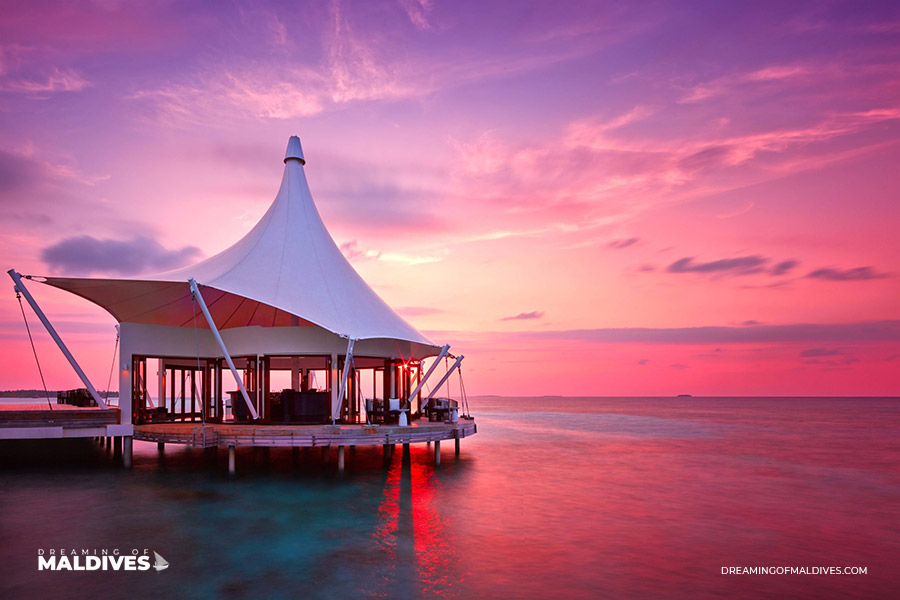 Niyama boasts one of the finest dining experiences in the Maldives. Among the options are Blu and Epicure, which offer all-day dining, as well as Tribal, serving up delectable African, Central and South American cuisines. Additionally, guests can experience Nest, a unique dining concept tucked away in the trees, and Subsix, an extraordinary underwater restaurant situated six metres below the water's surface.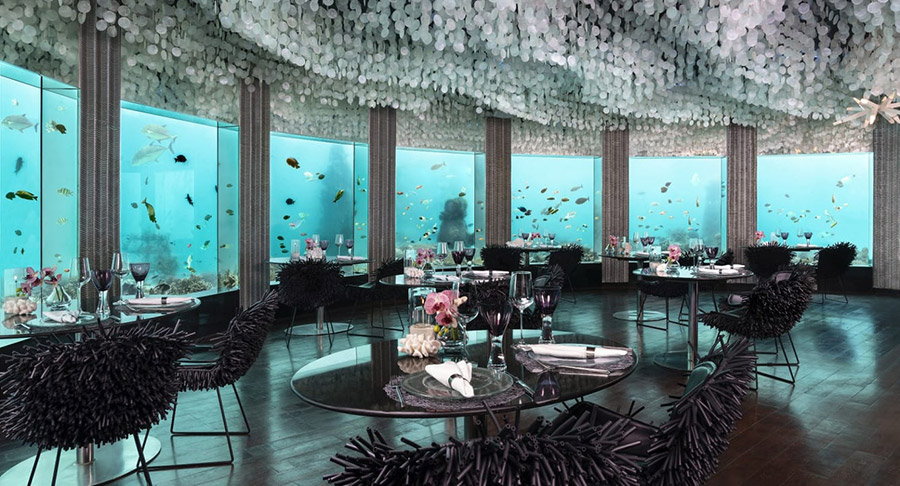 With 6 drinking options to choose from and even private parties with world-famous DJ, you can refuel and unwind after a long day of surfing. Plus, if you're traveling with your family, you'll be thrilled to know that the kids club – one of the best in Maldives and one of the very few to have a baby club ! ( SEE my personal list of the Best Child Friendly Resorts in Maldives for more ) – is included, so you can focus on surfing without having to worry about your little ones.
Dreaming of Niyama Private Islands Maldives ?

or
in association with our trusted partner
& personal counsellor in Maldives

A Dreamy Guide to Surfing in Maldives : the best surf breaks. Where to surf ? Where to sleep and stay to be close to surf breaks ? Get your…

Are you Dreaming of windsurfing and kitesurfing in Maldives ? Wind lovers welcome to Windsurf paradise. 2 consecutive years of windsurfing in…
or explore more on the topic The Maldives Best Resorts for Surfing
Follow us on Facebook, Youtube and Instagram 
for more Maldives Dreams & Stories
Your TOP Best Maldives Resorts 2023
YOUR CHOICE. YOUR DREAM. YOUR VOICE
[ Official ]
Traveler's Choice
12th Edition