The Two Bedroom Ocean Pool Pavilion at Niyama Maldives is definitely one of the best Water Villa we've seen in Maldives. Here is my review and why we love it. Visit and New Photos.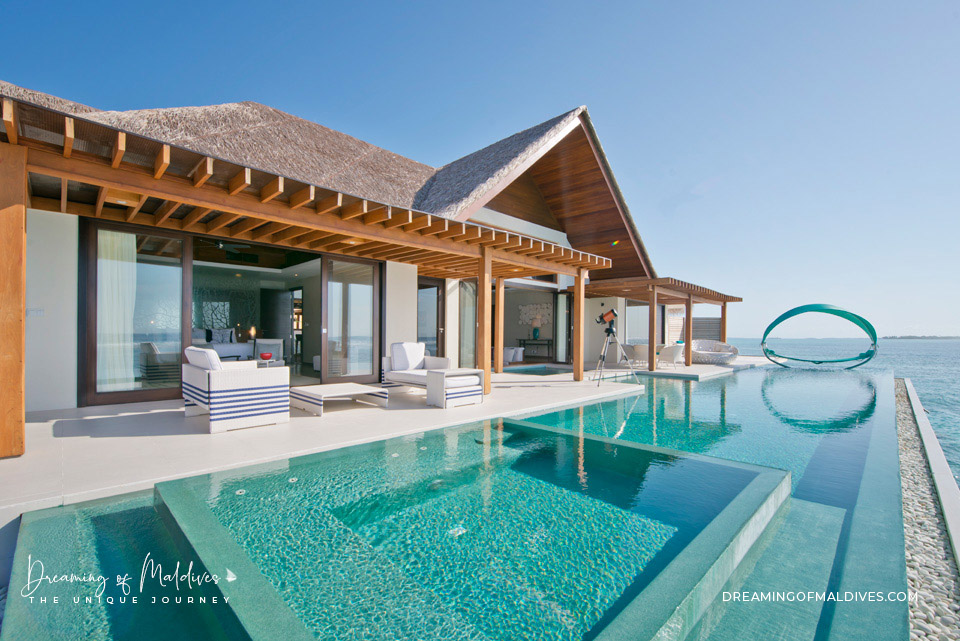 Follow me for a visit of the fabulous Two-Bedroom Ocean Pool Pavilion
at Niyama Private Islands Maldives.
One of the best Maldives water villa we've seen.
Our Videos of Niyama Maldives
Niyama Maldives Video - Discover the Resort Most Beautiful Places. #NiyamaMaldives #MaldivesResort
Niyama Maldives Complete Resort Video #NiyamaMaldives #Maldives #MaldivesResort
Niyama Maldives SUBSIX World's First Underwater Nightclub Video. #NiyamaMaldives #MaldivesResort


note : since our visit, Niyama has released new photos. They are now presented here.
The Island Dream : a long Island nested in a beautiful vegetation surrounded by Paradise Beaches and an endless blue lagoon.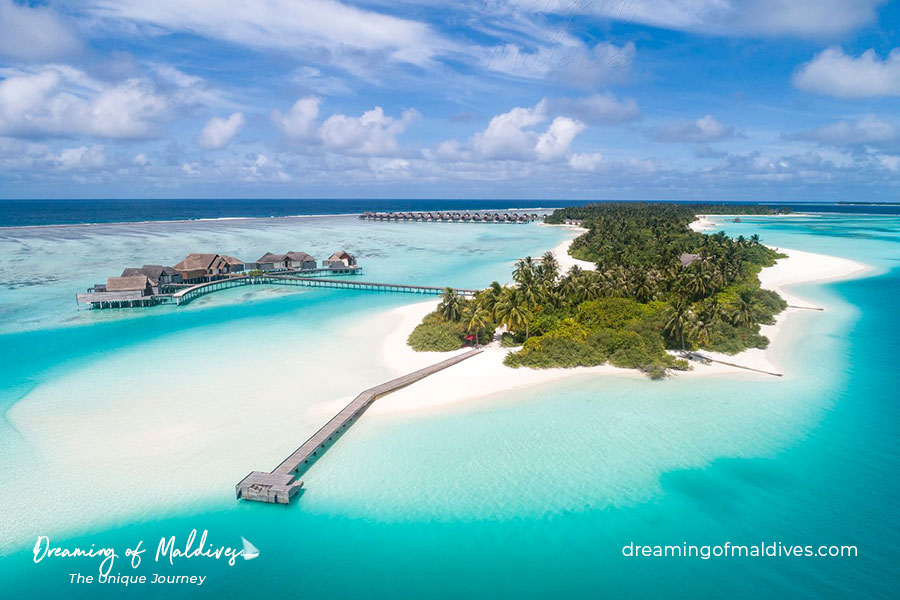 My Review of Niyama fabulous Water Villa : The Two Bedroom Ocean Pool Pavilion
+ What I Love About The Resort
Niyama Private Islands MAldives at a Glance
Niyama Private Islands is located in Dhaalu Atoll and spreads on 2 private Islands in the virgin Atoll of Dhaalu, South Maldives. The resort is reachable after a 40 mns flight by Seaplane.
The main resort is settled on a superb and long island and the second island, recently opened and dedicated to watersports, surfing and families, spreads its beautiful wings on its sister Island located close-by. Niyama twin island is rightly called Play and Chill.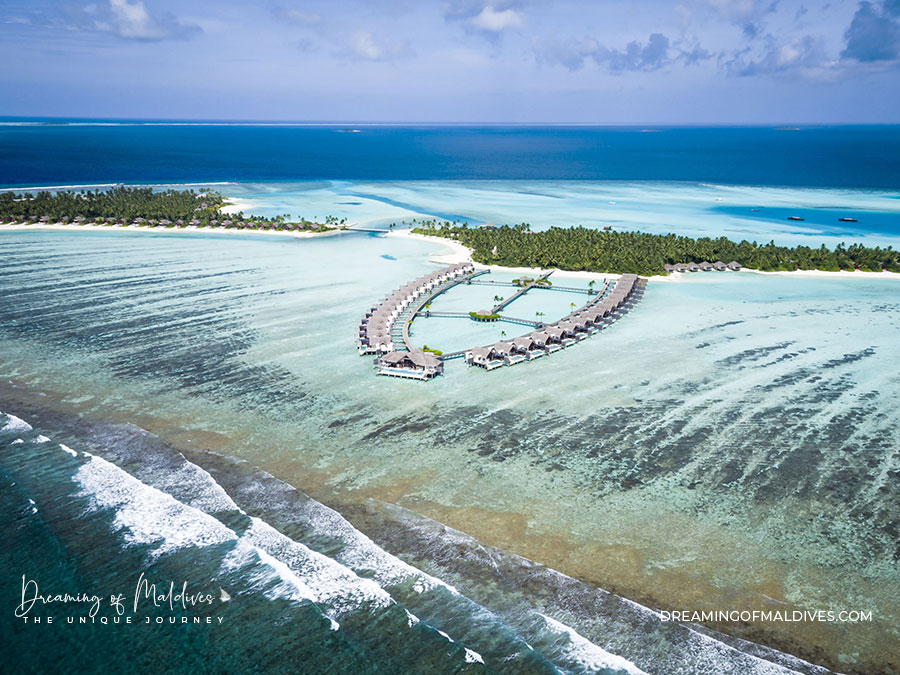 Both islands are surrounded by a huge blue lagoon waters and benefits from one of the best location for surfing in Maldives.
World renown for the beauty of its surrounding, the resort features an unprecedented blend of holiday lifestyles in a superb environment.
It is also one of the best resort for a family holiday, with an extraordinary Kids club and a paradise for surfers, kitesurfers and funboarders.

Niyama is famous for having one Maldives best surf break, Vodi ( on the photo above) as well as perfectly flat crystalline waters, all located close-by its shores.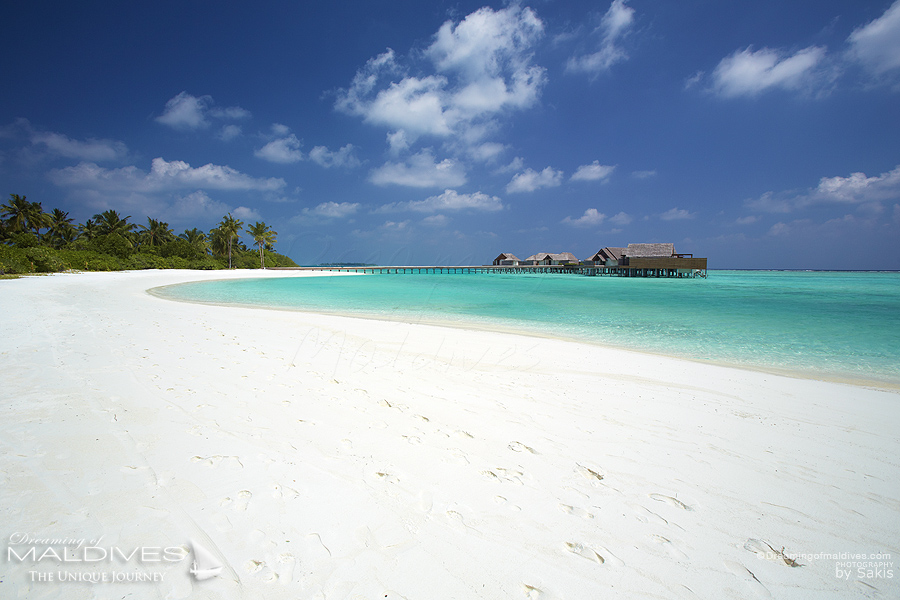 Ultra-modern & exclusive, romantic, active & very fun, relaxing and Family friendly all together, Niyama Maldives is a Dream for travelers seeking for a Active & Hip Holidays mixed along with the ever existing Maldives quietness and lagoon beauty.
The Resort features 7 Restaurants including a floating restaurant located in the middle of the lagoon and an underwater restaurant located at 6 meters below the lagoon, 4 Bars, 1 grab-and-go gourmet snack bar.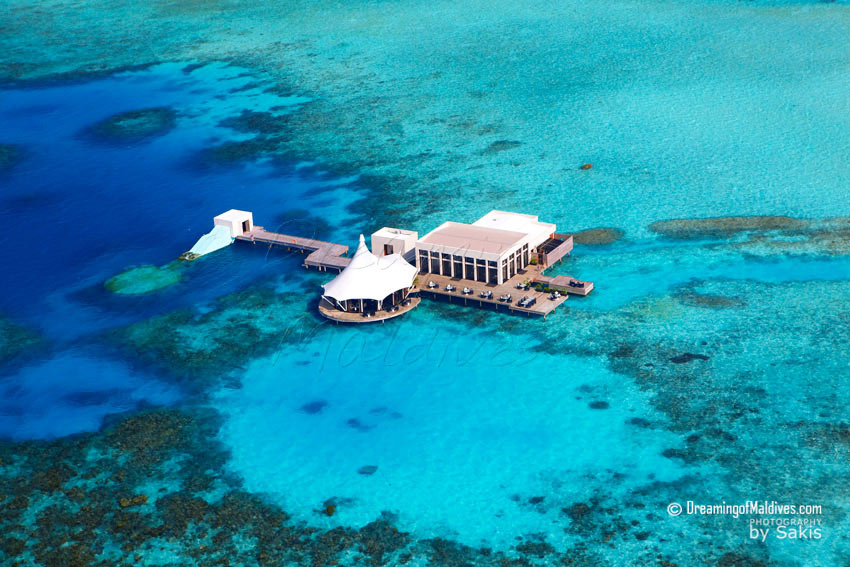 Niyama is world renowned for having opened the first underwater night-club, SUBSIX, recently redesigned, and reopened as a super trendy Bar Restaurant.
DJ sessions, a Garden Spa, Yoga and a great range of water and land activities, including surfing, body board and a great spot for kitesurf make Niyama an excellent resort for stylish travelers looking for some cool and dynamic activities meanwhile enjoying the beach.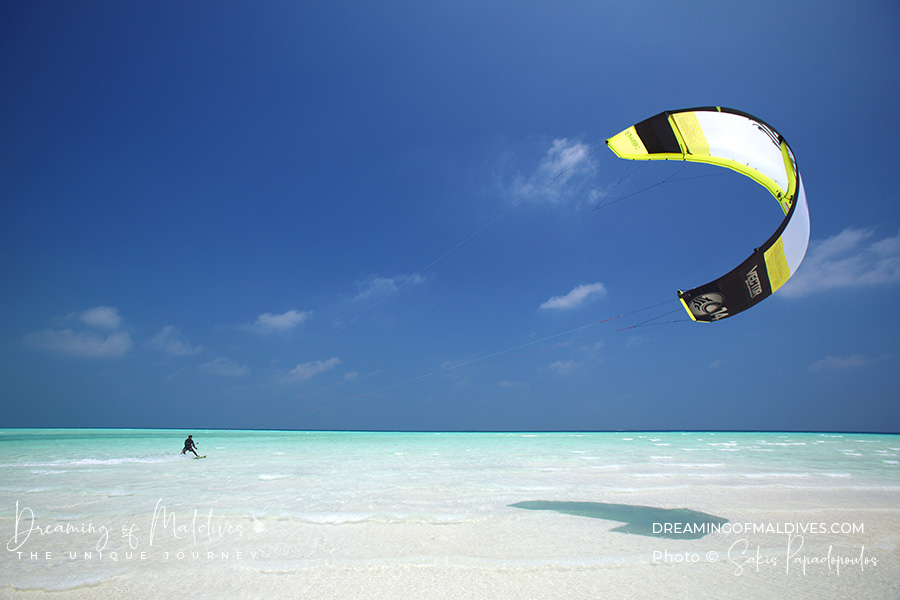 Parents will love the kids and baby club which offer plenty of cool activities and excellent toddler care.
Teenagers and grown-ups will also enjoy Active Center, the place to spend a fun time during the day and at night with private cinema screening, Video Games and Consoles, Game Simulator, boards, billiards, etc…
Niyama. The Villas
Niyama Maldives boasts 134 contemporary Beach and Over Water Pavilions and Studios, each equipped with high-end amenities and fun gadgets. Spacious and designed with taste, all villas are proposed with or without pool.
A villa host, called a Thakuru ( in Dhivehi ), stands at your disposal to make your holidays even more exquisite.
The Two-Bedroom Ocean Pavilion is the epitome of the Resort ultra stylish and modern standards.
Niyama Two Bedroom Ocean Pool Pavilion. Water Villa Visit & Photo Review
A Tropical Chic overwater Residence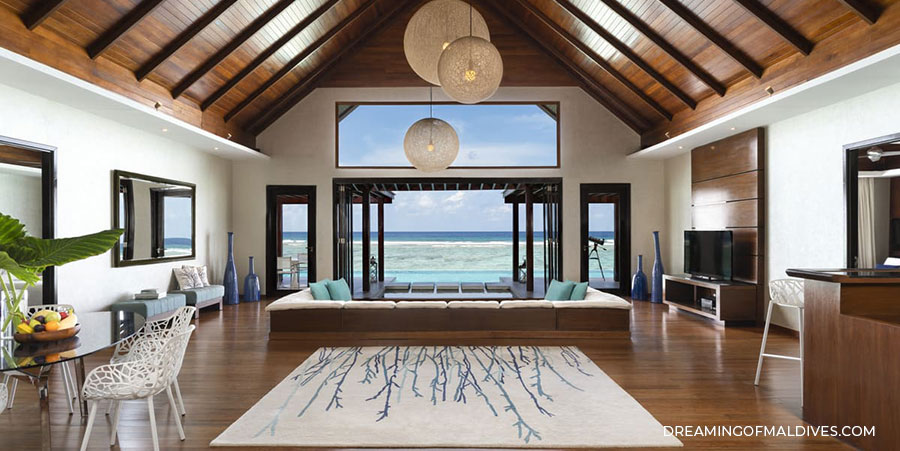 Located at the very end of the water villa main jetty, the stunning pavilion guarantees absolute privacy and offers everything needed to stay-in and get pampered.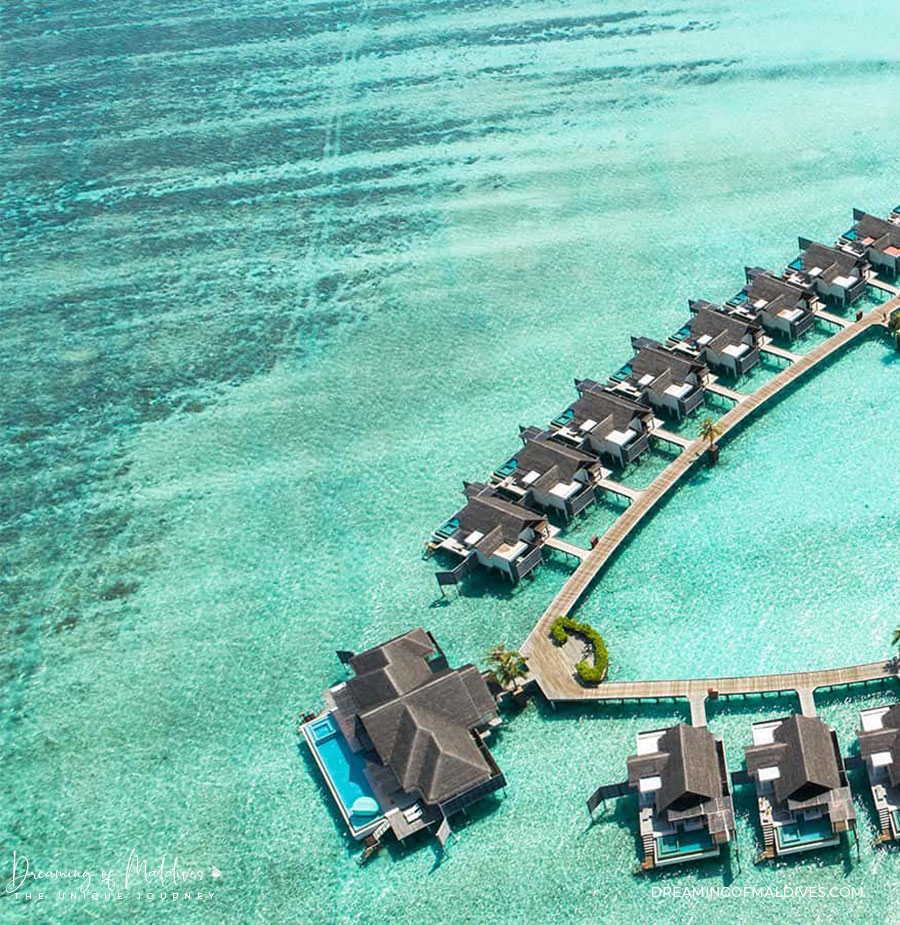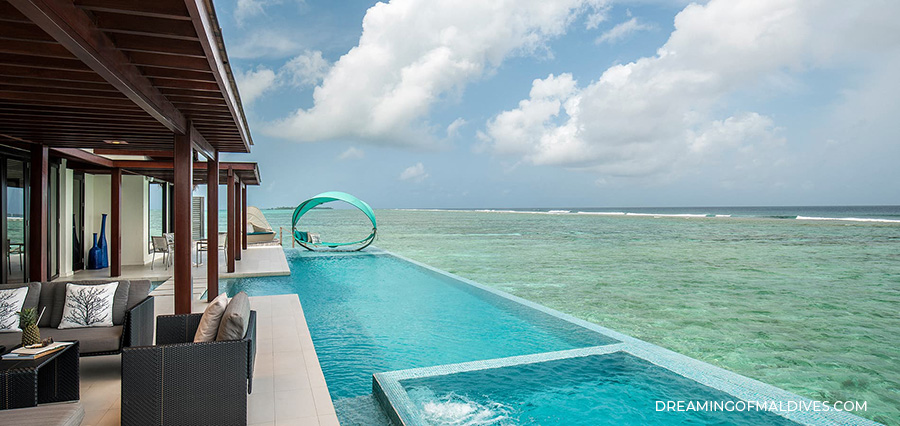 In & out, the Pavilion features a superb design.
Inside you will find exotic parquets, designer accessories, a telescope, a sunken Living-room with a huge sofa standing right in front the pool and the ocean, a dining area with cocktail bar, 2 King en-suite Bedrooms with indoor and outdoor showers, Deli-In brimming with gourmet drinks and treats in a full-sized refrigerator… these are some of the many remarkable interior features.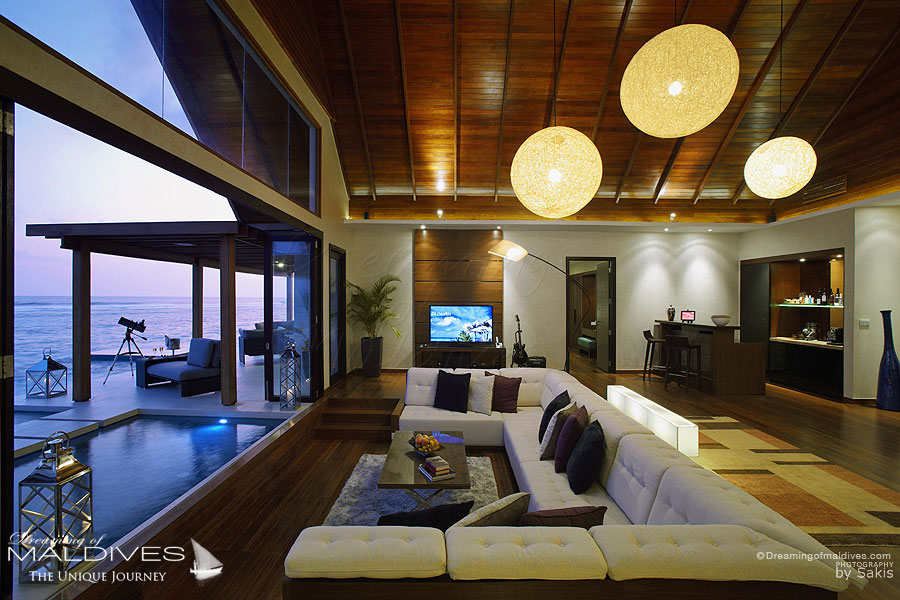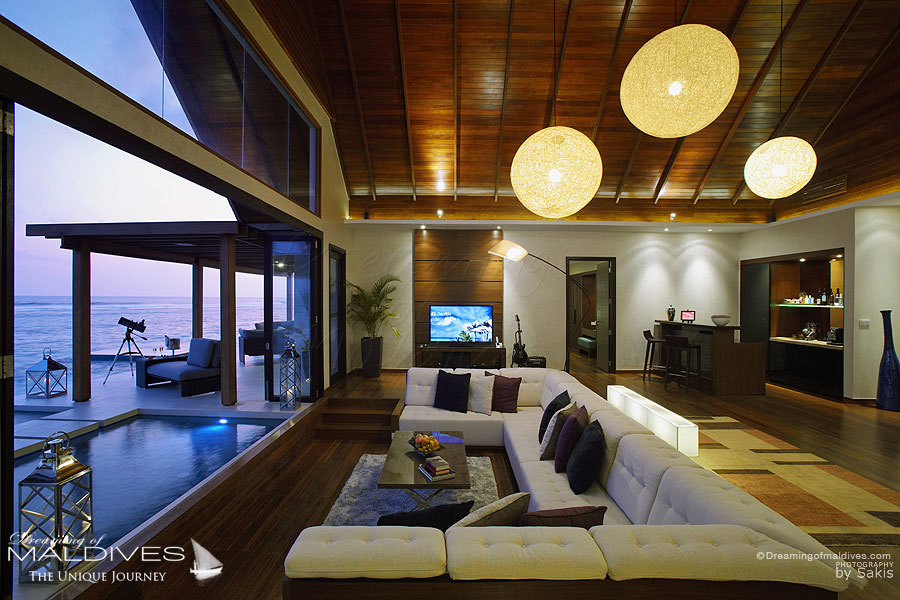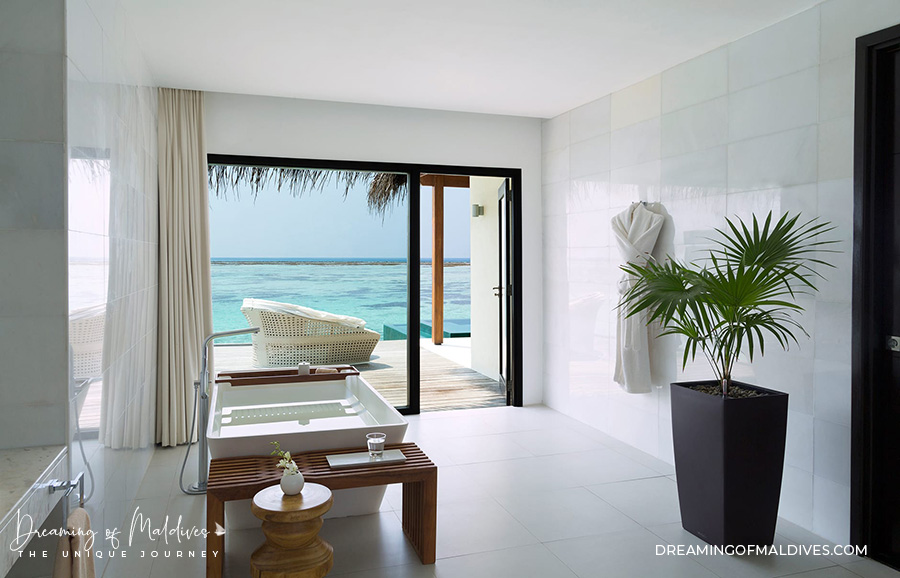 Outside, at the lagoon edge, a long deck provides endless space to lounge, a huge private fibre-optic lit plunge pool, an immense deck with a big jacuzzi and a gorgeous cocoon hammock, a daybed and a dining table.
As expected, your Thakuru is on call 24/24h.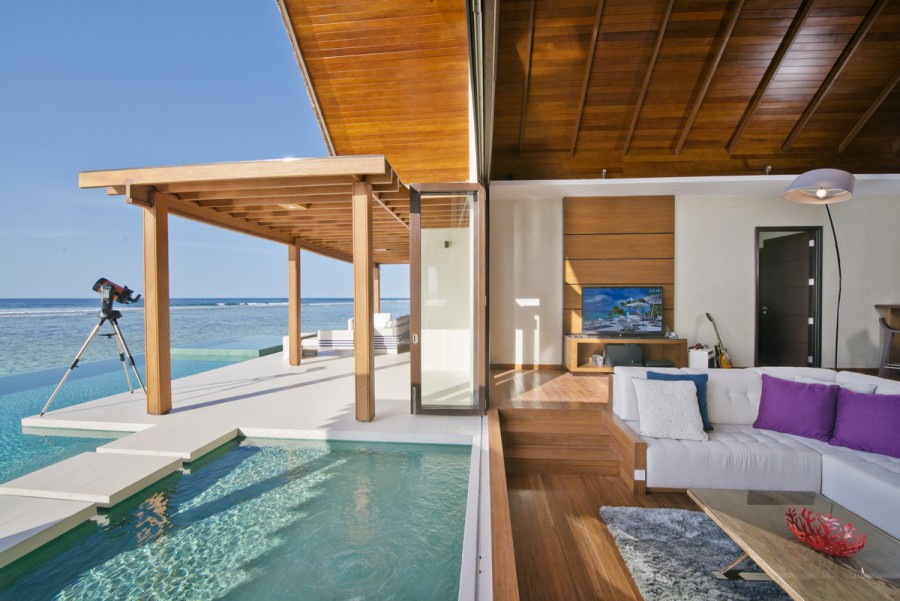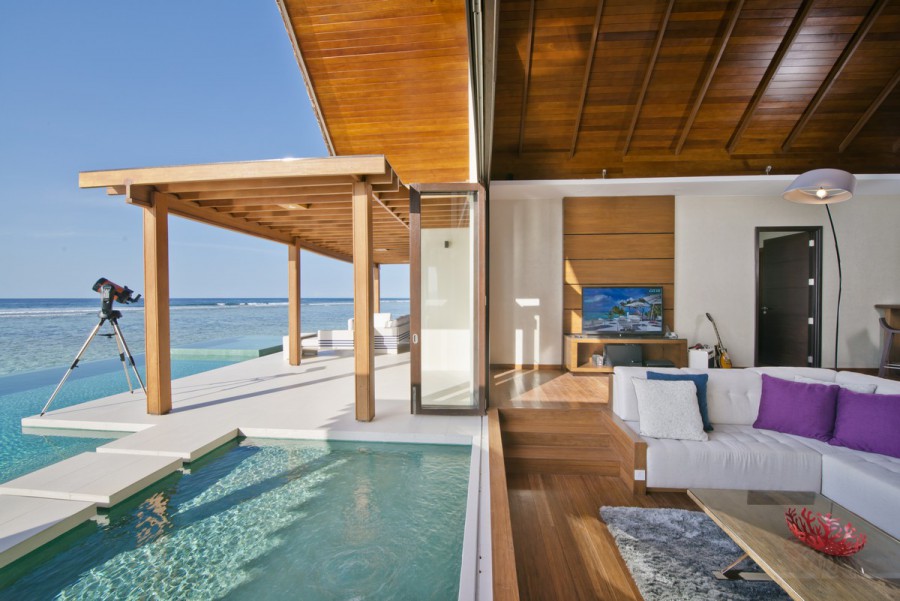 More Photos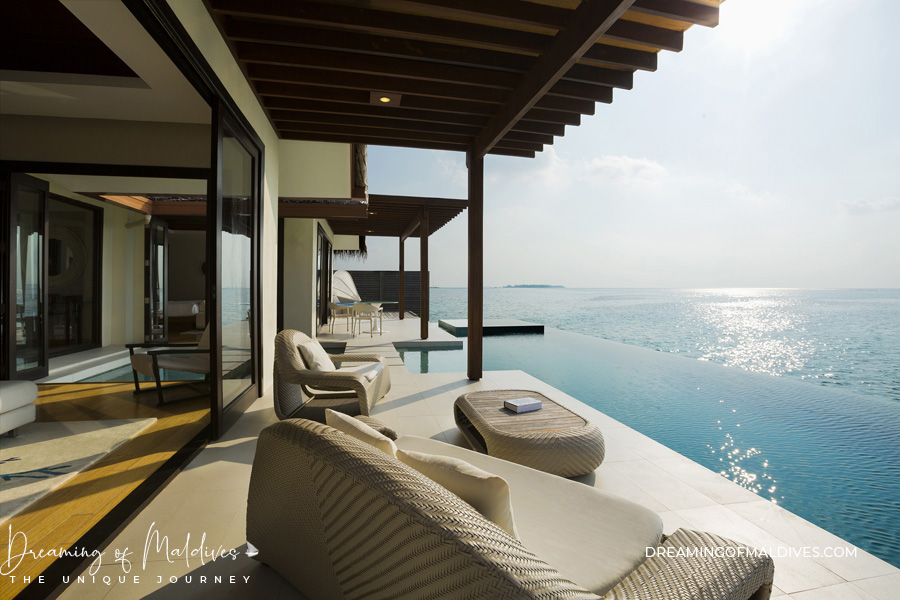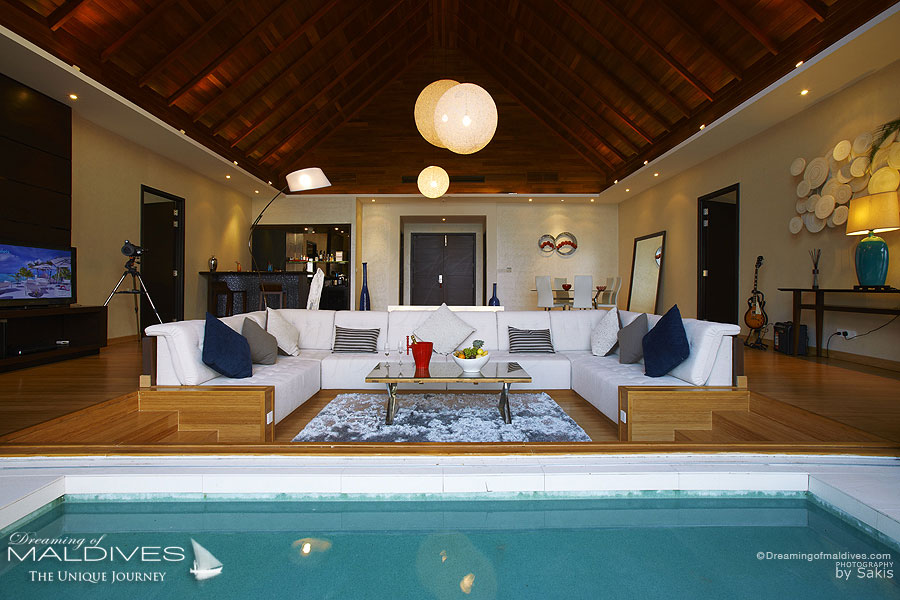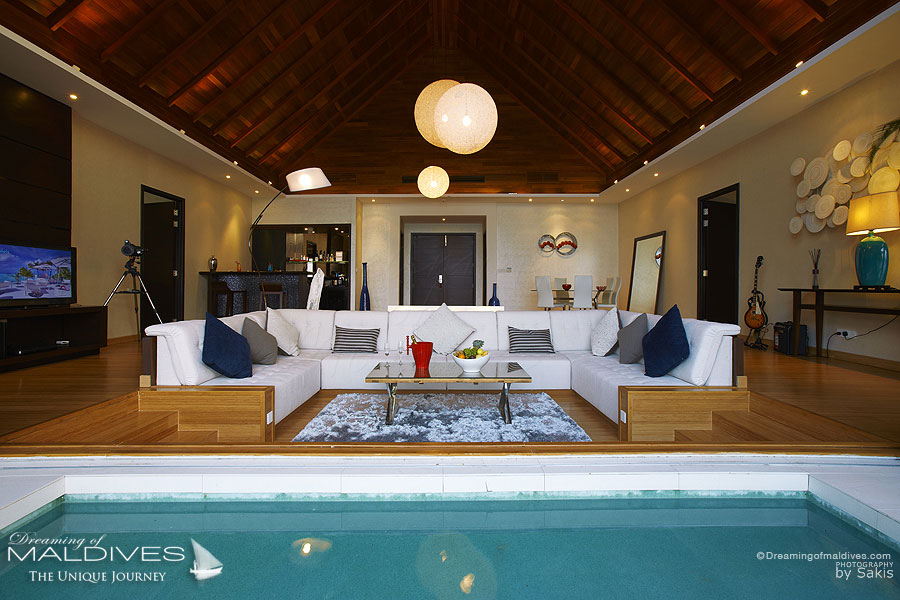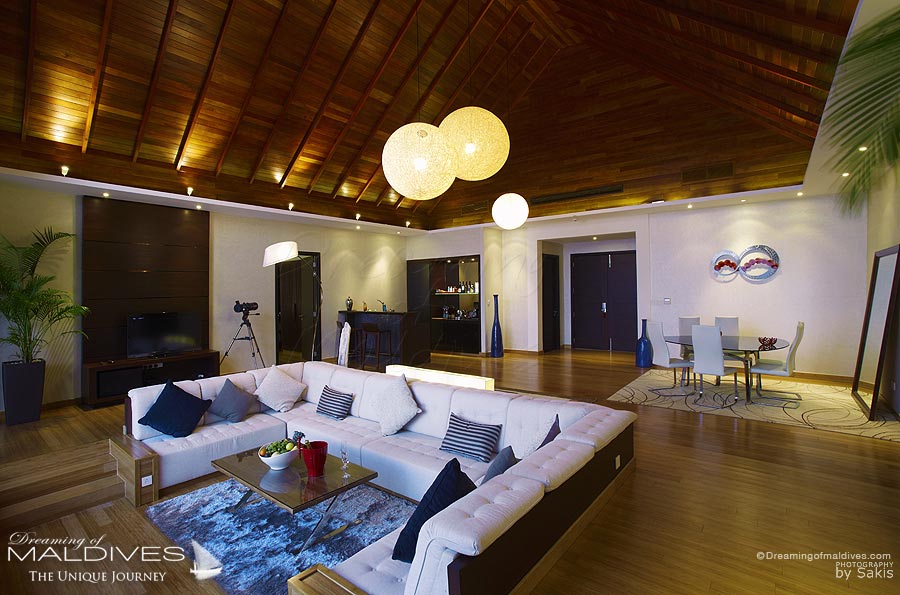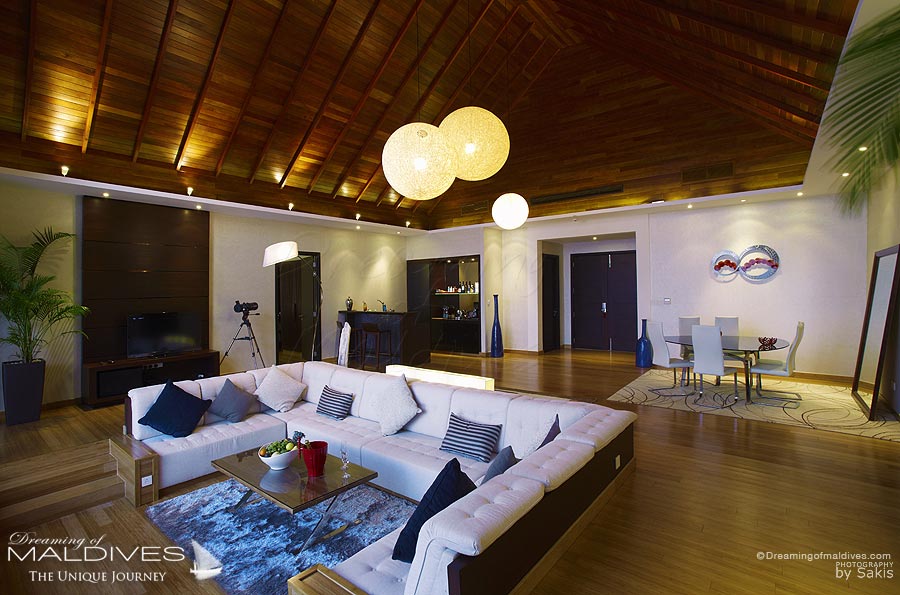 Ocean Pavilion – Floorplan
Niyama Two Bedroom Ocean Pool Pavilion
Key Features and Assets
Villa Size : 515 sqm
Bedding & Capacity : One king bedroom and one twin bedroom.
For up to 4 adults and 4 children (under 12 years old).
Sunken living room
Private pool
Outdoor Jacuzzi
Butler's pantry with extra fridge, ice-maker, microwave and wine refrigerator
Deli-In brimming with drinks and treats in a full-sized refrigerator
Private deck with floating loungers, daybed and dining table
Enclosed bathrooms with indoor and outdoor showers
In-room entertainment system with LED TV, Bose surround sound and international movie selection
Direct ocean access
Thakuru – Maldivian butler service
Niyama Private Islands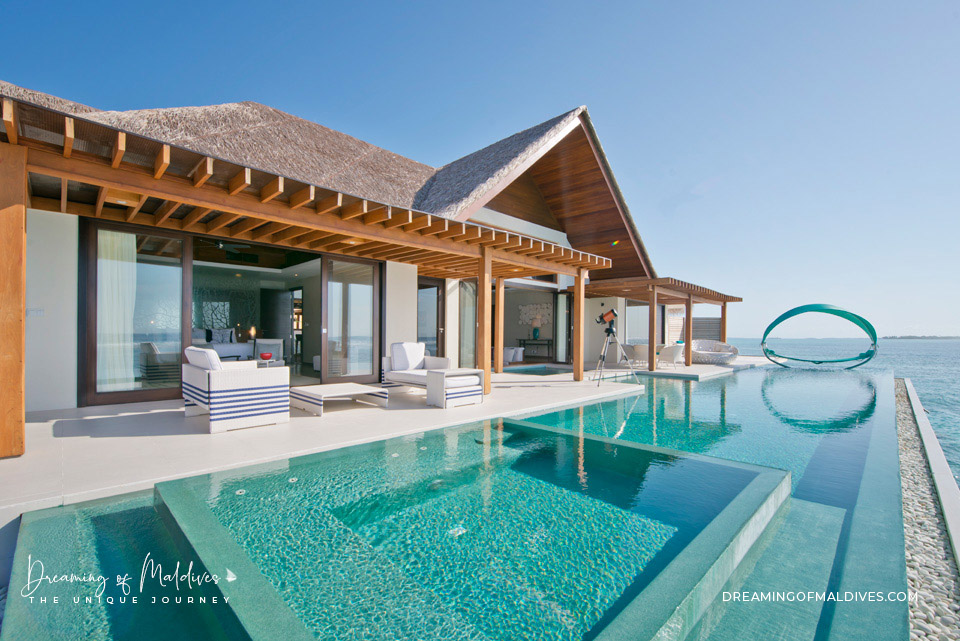 Two-Bedroom Ocean Pool Pavilion
from
US$ 2,750 / per night
in Bed & Breakfast
All taxes Inc.
for 8 persons
in association with our trusted Travel Agent in Maldives
More about Niyama Private islands Maldives
SUBSIX. Niyama Underwater Nightclub in Video (before its redesign) and new Review as Bar and Restaurant.
8 Amazing Underwater Structures in Maldives. SUBSIX Underwater Restaurant
To see more of our photos taken at Niyama Maldives, explore the Photo Gallery on our main website.
Follow us on Facebook, YouTube and Instagram for more Maldives stories.
Niyama Private Islands Maldives Two- Bedroom Ocean Pavilion Dream Score
Niyama Private Islands Maldives Two- Bedroom Ocean Pavilion Dream Score
Review of one The Best Maldives Water Villas We've Seen : The Two-Bedroom Ocean Pavilion at Niyama Private Islands Maldives. Why We Love it ?
A complete and Dreamy review of The Two-Bedroom Ocean Pavilion at Niyama Private Islands Maldives. One The Best Maldives Water Villas We've Seen. Review By Dreaming of Maldives
Where are the Water Villas located ? Privacy and Views

Water Villa design, amenities, comfort and living space

There is no snorkeling areas around Niyama Maldives. You will need to take a boat to reach the closest spots.

Lagoon beauty around the villa. How beautiful, big and dreamy is the lagoon around the water villa

There is no snorkeling at Niyama Maldives. The Resort is gifted with a gigantic blue lagoon, as a consequence the Two-Bedroom Pavilion is surrounded by an endless blue and natural swimming Pool. The Dream at its very best.
The +
Design
Space
Absolute privacy and seclusion
Perfect for a family
The blue lagoon which feels like a giant swimming pool
The telescope
The -
no snorkeling ( but it's personal )
Maldives TOP 10 Dreamy Resorts 2024
YOUR CHOICE. YOUR DREAM. YOUR VOICE