A free photo of a Glowing Beach in Maldives to be used as wallpaper for computer desktops and laptops.
A dreamy freebie by Visit Maldives.
Maldives glowing beach Free Background Image for desktop
About Bioluminescence
Bioluminescence in Maldives is a common natural phenomenon that turns the night-time ocean into a field of glowing patterns.
Why some beaches are glowing ?
Some beaches are glowing in Maldives when a massive quantity of bioluminescent phytoplankton arrives on the Maldives Island shores.
The sea is then filled with this plankton and the movement of the waves causes it to glow, creating a fascinating glow-in-dark show that looks like the sea is full of stars.
The phenomenon starts to happen during summer for a few months. This is also the best season to see Manta Rays and Whale Sharks who come to feed on their favorite food. These spectacular flock feeding happens in several Maldives atolls. Learn more about the best seasons to snorkel and dive with Mantas and Whale Sharks with my series of Diver Interviews in Maldives.
Here is a beautiful 6K Photo of a Bioluminescent glowing Beach in Maldives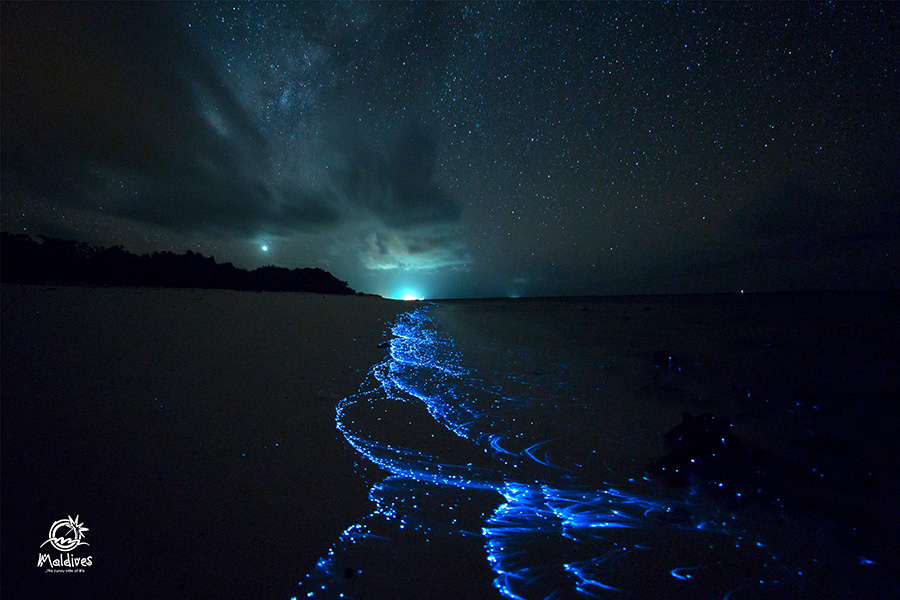 Maldives Glowing Beach – Free 6K Wallpaper for Desktop Background Image
Image type JPG
Resolution 6000×4000
See also this Maldives Glowing Beach free wallpaper for mobiles
In Maldives you can Watch and Play with Bio-luminescent plankton.
This is one of the destination many activities.
See more photos of activities in Maldives with
40 THINGS TO DO IN MALDIVES
Download the complete set of high-resolution Images for free at Visit Maldives Official Website.
Maldives TOP 10 Dreamy Resorts 2024
YOUR CHOICE. YOUR DREAM. YOUR VOICE