There are multiple resorts boasting underwater restaurants in the Maldives. Gazing out at tropical fishes as you feast on some of the finest cuisine in the world is one of the most exciting experience for the taste buds and eyes.
Awaken your senses at these 7 underwater restaurants.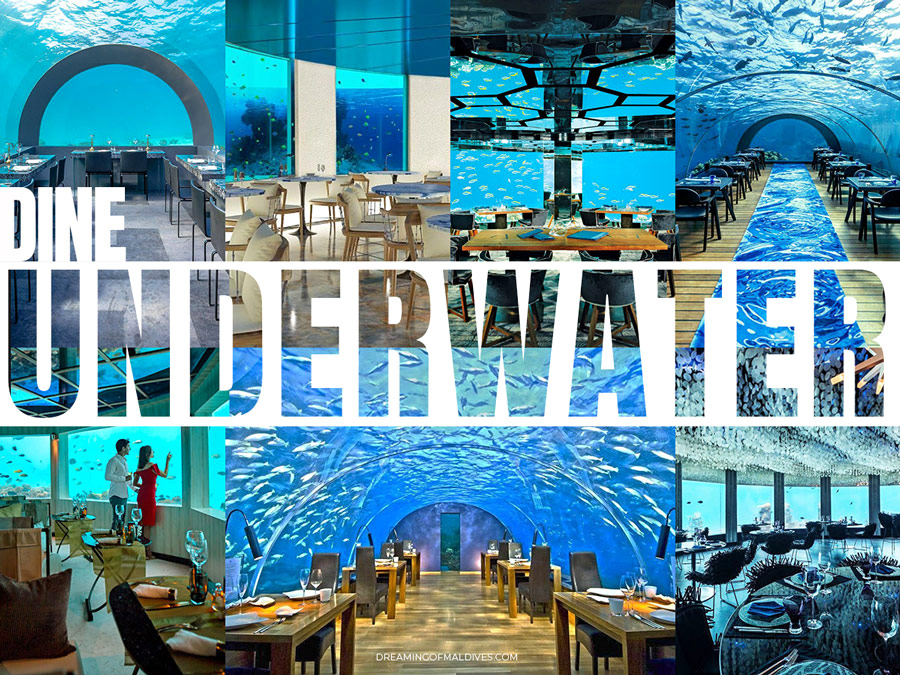 Dining underwater is a dream for many. Imagine dining fine cuisine in the company of thousands of colorful fishes, turtles, stingrays and sharks. That sounds extraordinarily dreamy. The Maldives, home to several extraordinary underwater structures, host the largest number of underwater restaurants.
7 underwater restaurants in the Maldives to awaken your senses
Come below the sea to awaken your taste buds and vision in 7 these extraordinary underwater restaurants.
M6m Underwater restaurant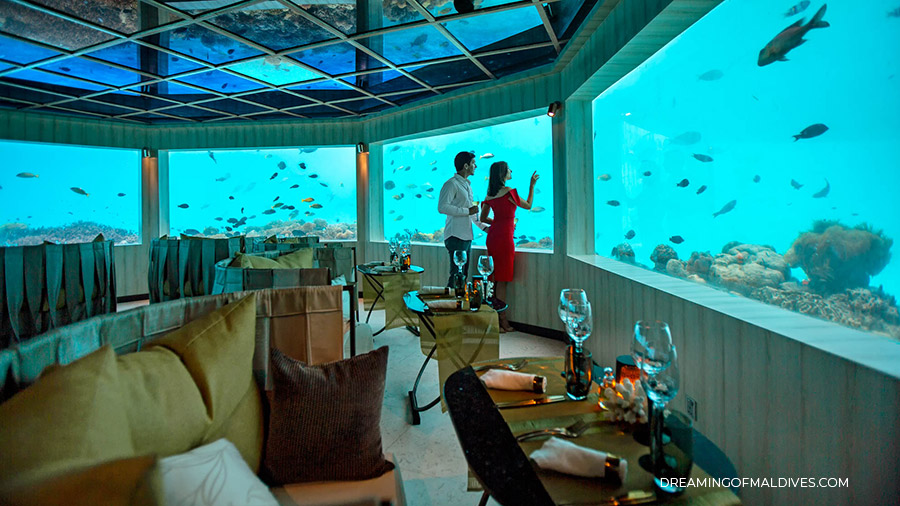 M6m restaurant is located at 6 meters / 20 feet under OZEN at Maadhoo lagoon. Open for lunch and dinner, M6m serves excellent seafood cuisine at tables for 2 elegantly displayed around semi circled panoramic windows. OZEN at Maadhoo all-inclusive plan includes a dinner at M6m for a minimum stay of 4 nights.
Read more about M6m
5.8 Underwater restaurant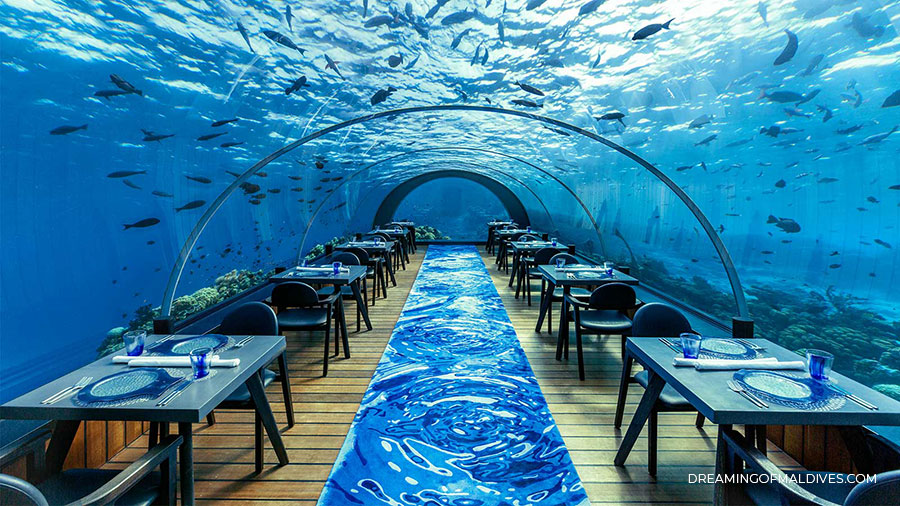 Located at Hurawalhi Maldives, 5.8 is the world's largest all-glass underwater restaurant. Offering 360 panoramic views from its dome shape, 5.8 is entirely made with glass walls and ceiling. Standing a 5.8 meters / 20 feet below the sea level, the underwater dining venue is for no more than 10 couples and has a barefoot policy.
Read more about 5.8
Ithaa Undersea Restaurant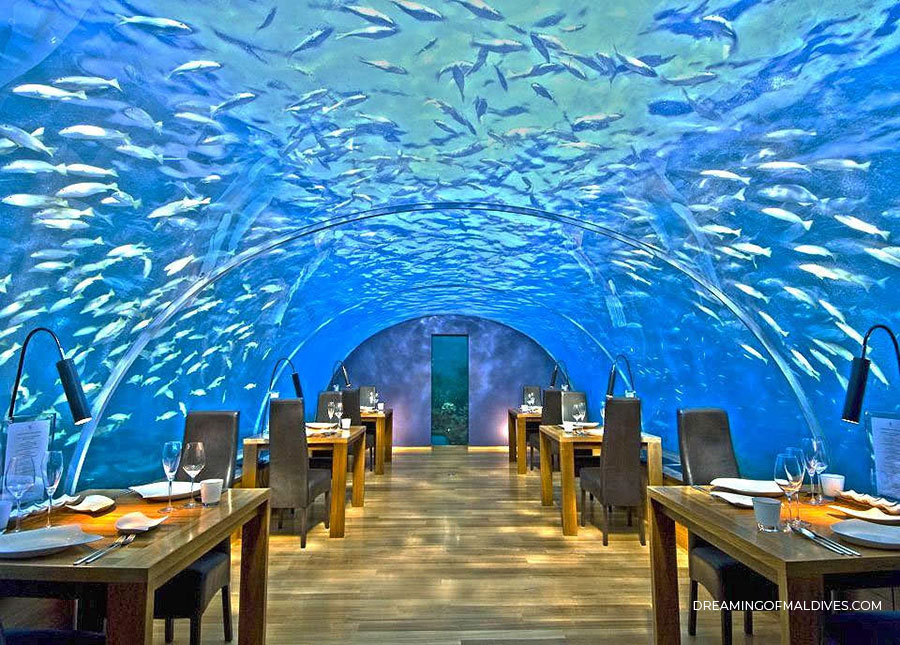 Set at 5 meters / 16 feet below the sea level, Ithaa Underwater Restaurant is the world's first all-glass undersea restaurant.
Located at Conrad Maldives Rangali Island, Ithaa is surounded by an acrylic-walled tunnel which allows for 270-degree views at the extraordinary Maldives marine life.
Read more about Ithaa
Sea Underwater restaurant and wine Cellar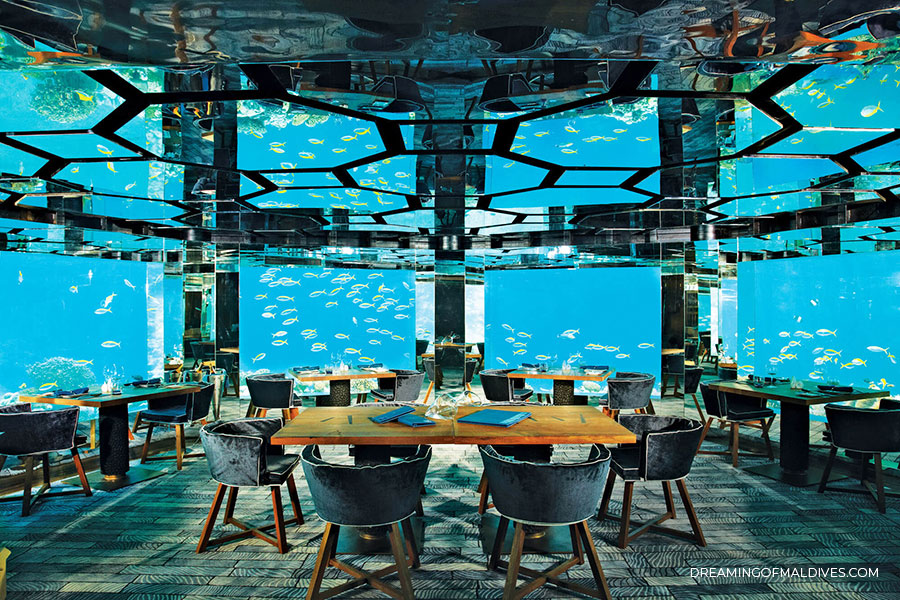 Located at 6 meters / 20 feet below the sea level at Anantara Kihavah Villas, SEA underwater restaurant is also home to the world's first underwater wine cellar.
The restaurant primary view windows are only 1 meter away from a more than 50 meter deep channel giving the opportunity to observe a dazzling amount of fishes. The view at the marine life around is multiplied by mirrored walls and ceiling.
Read more about SEA
H2O Underwater Restaurant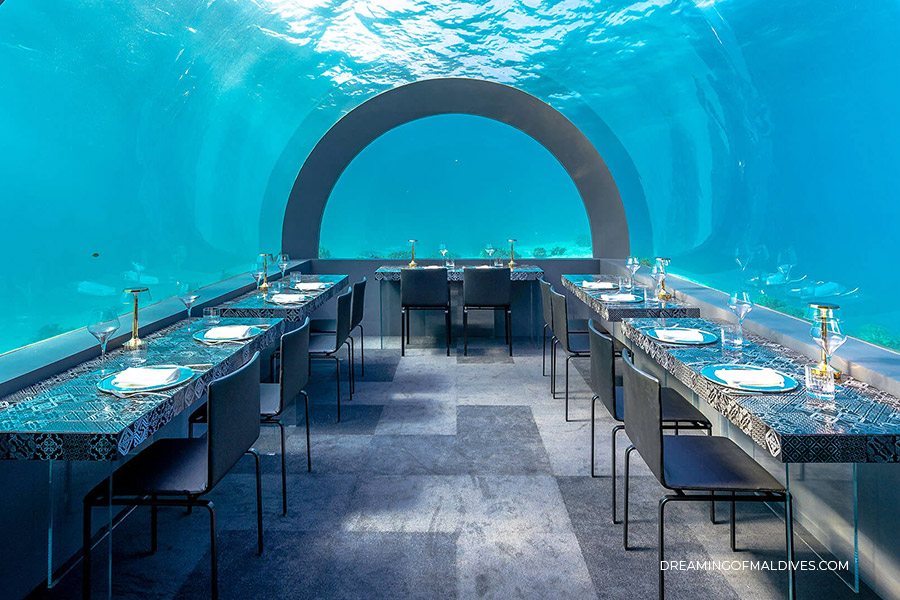 Located at 6 meters / 20 feet below the sea, H2O undersea restaurant is located at 100 meters away from the adult-only resort You & Me. The fine dining venue can welcome up to 20 guests.
Read more about H20
SUBSIX Underwater restaurant and Bar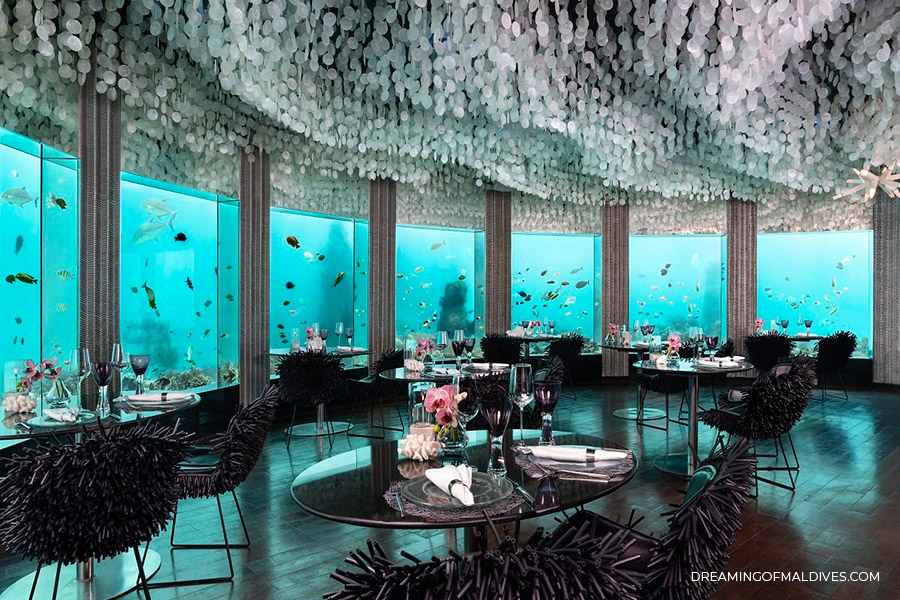 SUBSIX underwater restaurant is located at 6 meters / 20 feet beneath the sea level. The beautifully designed dining venue is isolated from the world at 500-metre offshore from Niyama Private Islands. Subsix is also a bar and night-club.
Read more about SUBSIX
Only Blu Underwater restaurant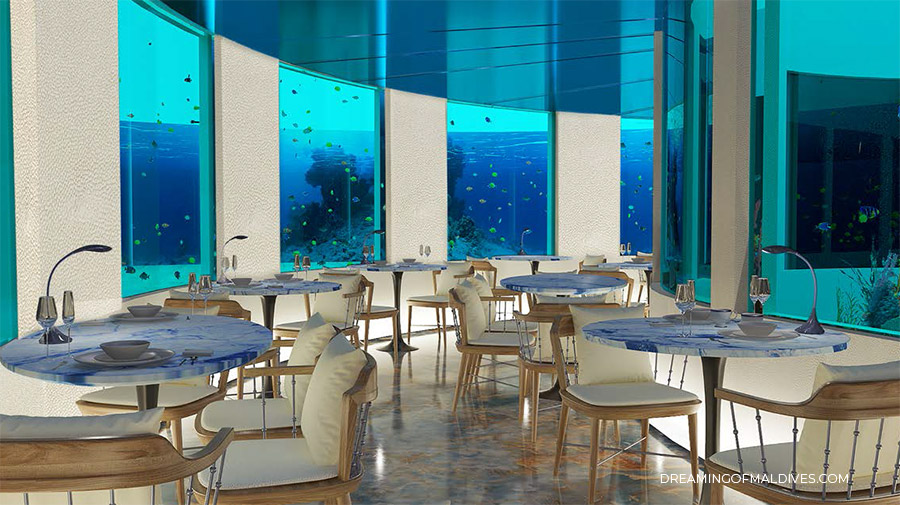 The soon to open Only BLU underwater restaurant will be the largest of its kind in the Maldives. The dining venue is located at OBLU Lobigili, which recently opened. Only BLU will feature an open kitchen serving three-course Prix Fixe menus with the option of Meat, Seafood or Vegetarian menus. OBLU Obigili all-inclusive plan includes a dinner at Only BLU for a minimum stay of 4 nights.
Read more about OBLU Obigili
Maldives Underwater Wonders

Are you Dreaming of sleeping underwater in Maldives ? Come under and discover Pullman Maldives Maamutaa's underwater bedroom called the…

Win a Maldives dream holiday worth $40,000 and sleep underwater at The Muraka – the world's first undersea residence at Conrad Maldives…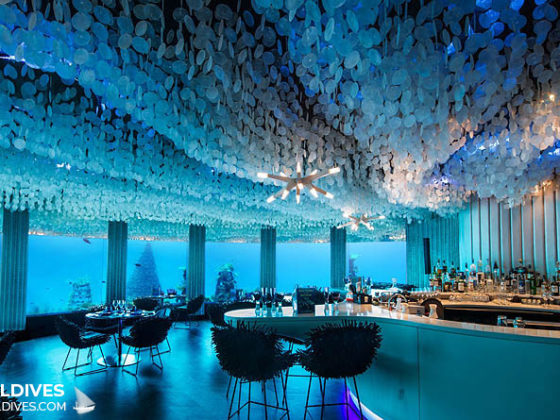 Originally opened as a night club, the first underwater clubbing spot in the world at this time, Subsix is located nearly 20 feet ( 6 meters )…

Go down underwater at 5 metres under the sea to discover The Muraka, a super luxury underwater Villa and Suite at Conrad Maldives Rangali…

Welcome inside the World's largest all-glass underwater restaurant 5.8 at Hurawalhi Maldives. Come beneath the lagoon for a Dreamy…
Follow us on Facebook, Youtube and Instagram
for more Maldives Dreams & Stories