A free photo of a Bioluminescent Glowing Beach in Maldives to be used as a wallpaper background image for your mobile.
A dreamy freebie by Visit Maldives.
Maldives glowing beach Free Background Image for Mobiles
About Bioluminescence.
Bioluminescence in Maldives is a common natural phenomenon that turns the night-time ocean into a field of glowing patterns.

The phenomenon starts to happen during summer when a massive quantity of bioluminescent phytoplankton arrives on the Maldives Island shores.
The sea is then filled with this plankton and the movement of the waves causes it to glow, creating a fascinating glow-in-dark show that looks like the sea is full of stars.
This magical glowing blue tide occurs everywhere in Maldives. The most popular photo was first taken in Vaadhoo, a small island located in Baa Atoll.
Living another Maldives Dream : we saw a beach glowing in Noonu Atoll.
Back in 2014, we had the chance to see this amazing natural show in Noonu Atoll on the shores of Kuda-Funafaru, previously known as Zitahli Resort and Spa ( now Noku Maldives by Noku Hotels ).
Unfortunately our cameras could not catch the scenery which happens at night. We played with my son in the sea and jumped to make the plankton sparkle even more. It was totally out of this world. This is something that any Maldives traveler should experience.
Here is a beautiful photo of a bioluminescent glowing Beach in Maldives for your mobile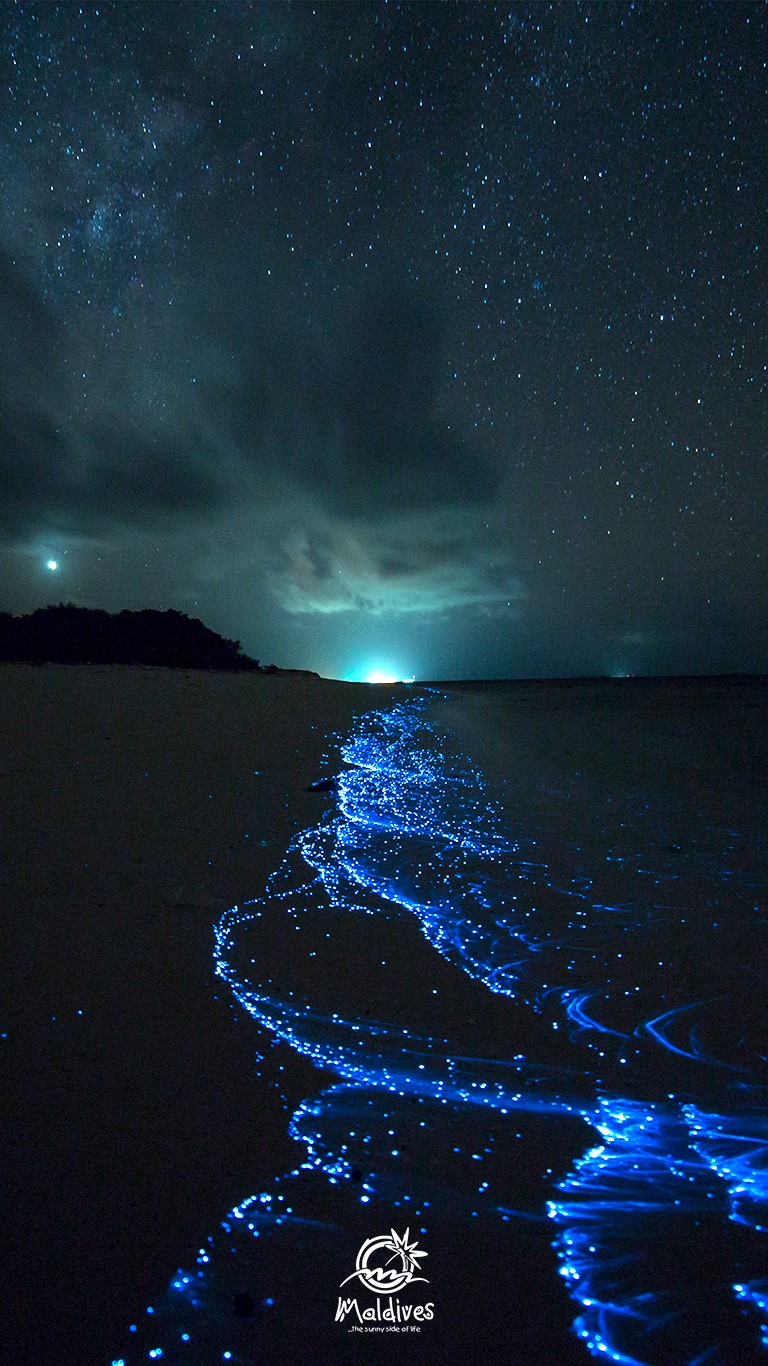 Maldives Glowing Beach – Free Wallpaper for Mobiles
Image type JPG
Resolution 768×1366
See also this Maldives Glowing Beach free as a Background Image for desktops
More Photos of activities in the Maldives
40 THINGS TO DO IN MALDIVES
MALDIVES IN YOUR POCKET – MOBILE WALLPAPERS
Download the complete set of high-resolution Images called Maldives in your Pocket for free at Visit Maldives Official Website.
Your TOP Best Maldives Resorts 2023
YOUR CHOICE. YOUR DREAM. YOUR VOICE
[ Official ]
Traveler's Choice
12th Edition