Surfing at Four Seasons Maldives Kuda Huraa is a promise of a dreamy adventure for surfers looking for a luxury stay in the Maldives. Located close to some of the Maldives best surf breaks, in North Male Atoll, the elegant and so-chic resort offers opulent accomodations, breathtaking natural beauty, a luxurious island spa, exquisite dining options and the unparalleled Four Seasons hospitality.

Kuda Huraa's world-class surf breaks that surround it have attracted a lineup of surfing legends over the years, including Kelly Slater, Mark Richards, Mark Occhilupo, Tom Curren, Tom Carroll, and Taylor Knox, to name just a few.

Four Seasons Kuda Huraa is one of the best luxury surfing resort in the Maldives. The idyllic retreat has access to world-class surfing experiences and works in partnership with Tropicsurf, an Australian top surf school.
The elegant resort is close to renowned surf breaks like Cokes, Sultans and Jailbreaks, where you can ride hollow, powerful right-handers, all just a short boat ride away. For those craving left-handers, Chickens and Honkeys are easily accessible too.

In addition to these world-class waves, Four Seasons Kuda Huraa also offers beginner-friendly breaks within its lagoon.
With the guidance of experienced instructors, even non-surfers can start surfing. And for those looking to elevate their skills, the resort in-house surf guides will lead you to the perfect waves for progression.

Kuda Huraa Surfing Event : the Surfing Champion Trophy
Four Seasons Maldives Kuda Huraa is home to the Surfing Champion Trophy (SCT) since 2011.
The 7-days event takes place at one of the Maldives best waves : Sultans, located at just five minutes away from the resort shores. During the SCT, surfing big names and world champions gather for a wave battle at Sultans break.
Since 2011, the event has received several world champions like Tom Curren, Brad Gerlach or Joel Parkinson. Hussain 'Iboo' Areef, Maldives Surfing Champion, regularly participates to the SCT since 2016.

Hussain 'Iboo' Areef, Maldives Surfing Champion. Born in Raa Atoll, north Maldives, Iboo is the Maldives most celebrated surfer. Iboo regularly competes against some of the finest surfers in the world.
See more about Iboo at https://www.facebook.com/iboomv
Stay at Four Seasons Maldives at Kuda Huraa

Four Seasons Kuda Huraa combines luxury, world-class waves and exceptional customer service as you would expect from the brand. The resort boasts a wide range of amenities, including an exceptional Island spa ( one of the most beautiful spa in Maldives ) reachable by dhoni only, several fine dining options and 96 sumptuous villas and suites all featuring private pools.

Accomodation options range from luxurious tropical beach villas to expansive three-bedroom suites, each blending Maldivian craftsmanship and cutting edge amenities.

Four Seasons Kuda Huraa is also one of the best child-friendly resorts in Maldives. For families traveling with children, the resort provides a complimentary kids club. This means you can hit the waves or simply relax with your partner, knowing that your little ones are in capable hands and being thoroughly entertained.
Live the Dream and go on a seaplane Surfing Safari

Four Seasons Kuda Huraa is one of the very few Maldives resorts to offer exclusive seaplane surfing safaris.
Together with the Four Seasons team you can tailor your own surfing adventure and fly above the Maldives to reach out far surfing spots accompanied by a team of expert guides. The seaplane is all yours, so enjoy the ride and the wild uncrowded swells !
Customized Surf Packages
For surfers seeking the ultimate VIP experience, the resort offers a tailor-made package that includes a dedicated senior surf guide, a professional photographer and a private speedboat. This means you can surf precisely when, where, and how you desire on the Maldives' best-kept surf spots.
Surfing for all levels
Start surfing at the resort
At Four Seasons Kuda Huraa, you can learn to surf by mastering the basics in the quiet lagoon of Kuda Huraa before taking on the waves. Once you acquire the basics ( position, how to stand-up, keep your balance and ride ) you will then progress to the second level, which enables you to surf your first wave on a very soft swell.

Intermediate and expert surfers
Intermediate will go by boat with a guide from Tropicsurf to close-by surfing spots like Ninjas which is perfect for both longboarders and beginners. This right-hand wave unfolds at leisurely pace and tends to close out when it reaches heights exceeding shoulder level, making it ideal for riders looking for waves around 4 feet and under.
Experts will be able to experience some of the Maldives strongest and fastest waves like Sultans. Honkeys or Cokes. ( see further below for more details ).

Tropicsurf : Four Seasons Maldives Surf School
Tropicsurf is an Australian-based company, working with luxury hotels and resorts in some of the best surfing spots around the world with over 25 years of experience in the surfing industry, and a skilled team of surf instructors. Besides the Four Seasons properties in the Maldives ( Kuda Huraa, Landaa Giraavaru, Voavah Private Island and Four Seasons luxury boat Explorer ), Tropicsurf has spread its surfboards and knowledge with other top luxury brands like Gili Lankanfushi, Anantara Dhigu or Six Senses Laamu to name a few.

Four Seasons Kuda Huraa also provides you with a Surf Shack where you can securely store your surfboard, catch up on the latest surfing films, or simply relax and soak in.
The resort's variety of surf breaks
Four Seasons Kuda Huraa is strategically located within a short boat ride from some of the Maldives best surf breaks in North Male Atoll : Sultans, Cokes and Jailbreaks.
Map of North Male Atoll surfing spots located close to Four Seasons Maldives Kuda Huraa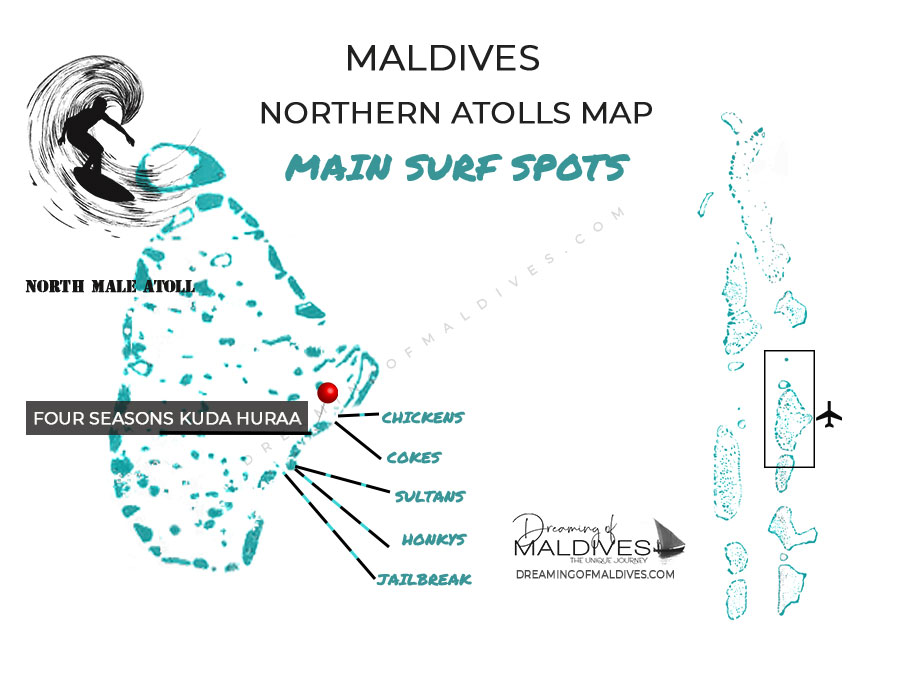 Surfing in North Male Atoll
North Male surf breaks both to the right and left with some tubes. Like all Maldives spots, the swell forms over coral reefs, providing a stunning backdrop. Riding them demands a specific skill set and is best suited for surfers of intermediate level and above.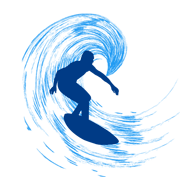 Maldives TOP WAVE : Sultans
Sultans is one of the Maldives best and most consistent break renowned for its magnificent right-hand. Recently declared as a surfer sanctuary, the break is the most popular Maldives surf spot. Sultans offers a consistent wave with ranging sizes of 3ft-5ft up to 10ft !
For intermediate to experienced surfers. Beginners can ride it when the swell is small.
The tubing right Cokes
Hard to surf but worth the ride, Cokes is one of the hardest break in North Male but also one of the most regular. For experienced surfers only.
The epic right Jailbreak
Jail Break or Jailbreak wave is a consistent wave open to locals and surf boats. Extremely popular but crowded. Jails takes its name from its location on a jail island reefs. The swell ranges from 1ft up to 8ft.
Other spots
Honkeys
Close to Sultans, Honkeys is a long, bowling left wave with a fairly mellow take-off open to locals and surf boats making it a popular and crowded surf spot during week ends.
Chickens
Chickens is a long fun left-hand wave with 2 sections where you can easily get barrels on the last section of the wave. For experienced surfers. Surfable by beginners to intermediate when small swell.
Waves range from 2ft to 14ft.
Best season to surf and stay
The peak swell season in the Maldives spans from April to October, this is the time of the year when Sultans and Jails surf spots are at their best with powerful and perfect barrels.
Dreaming of Four Seasons Maldives at Kuda Huraa ?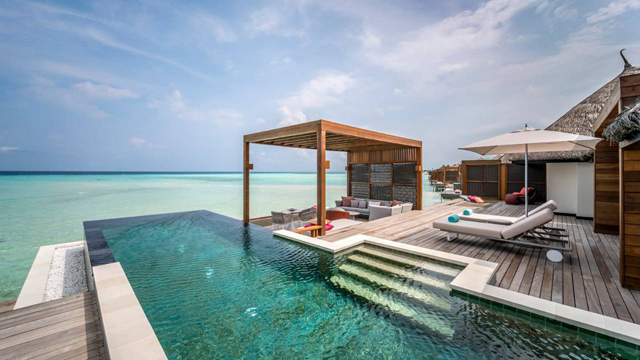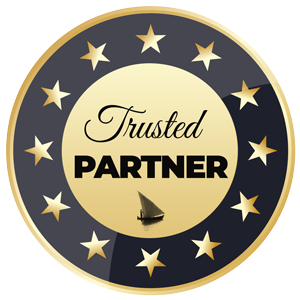 in association with our trusted partner
& personal counsellor in Maldives
Find latest Maldives Surfing Stories in

A Dreamy Guide to Surfing in Maldives : the best surf breaks. Where to surf ? Where to sleep and stay to be close to surf breaks ? Get your…

Six Senses Laamu is considered as one of the top luxury resort for surfing in the Maldives. The eco-chic resort offers a prime access to the…

Kuda Villingili Resort Maldives has been awarded with the title of Best Surf Resort 2023 at the recently held Travel Trade Maldives (TTM)…
Follow us on Facebook, Youtube and Instagram
for more Maldives Dreams & Stories
Your TOP Best Maldives Resorts 2023
YOUR CHOICE. YOUR DREAM. YOUR VOICE
[ Official ]
Traveler's Choice
12th Edition