Tennis Champion Roger Federer loves Maldives too !
By Dreaming of Maldives — July 09, 2012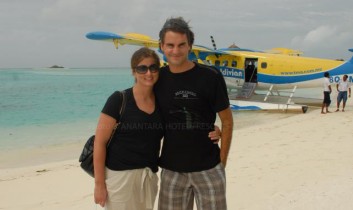 Ok, this is not a news, but I've just seen this photo on Anantara Hotels Resorts & Spas news and I thought to share it with you, Tennis / Maldives Fans :
Reminder : Mr Federer just closed his historical victory by winning his 7th Champion title at Wimbledon !
TIP : if you wonder where this photo was taken : Roger Federer was in the same Resort as Christiano Ronaldo this last Xmas (the answer is on the blog of course !)

About Author
A Comment ? A question ? Leave it here
Comments are posted from viewers like you and do not represent the views of Dreaming of Maldives.
All submitters agree not to submit inappropriate content.
We do not alter the substance of any posted comment but we reserve ourselves the right to reject any comment if we consider to be inappropriate : containing personal information (street addresses, phone numbers, etc.), obscenity, offensive or that advertise or promote a company or service.
By commenting here, you agree that you submit your comments in a spirit of respect and honesty for the others.
Let's keep Dreaming of Maldives nice and informative. Thank you !
Live us a message