In 2016 alone, Maldives had imported almost 40 million plastic bags...
NO MORE PLASTIC IN MALDIVES PLEASE
We've all seen these horrendous images of Alison on her surfboard as she navigates plastic waste that washed up around the islands in the Maldives.

Plastic bottles, bags and other polluting rubbish floating in Paradise.
or the infamous Thilafushi – also gracefully called the Rubbish Island
Thilafushi the Rubbish Island

Ships bringing filthy waste at Thilafushi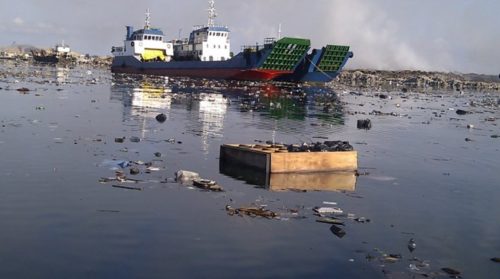 Sad. Very sad. And what to say about this whale that died with 80 bags of plastic bags in her stomach in Thailand ? I am afraid that we're about to witness the same in Maldives very soon. A dead whale shark stranded on a resort beach. ….Nightmarish scenario ? Yes. …Impossible. NO. If you follow the Maldives on social medias ( beyond the usual Dreamy news, influencers / instagramers in bikinis ), you surely saw turtles covered of plastic, desert island with shores disfigured by plastic bottles and other man made items, seas ornated by patches of floating plastic stuffs…and so on…
The Ocean conference held by United Nations in June 2017 reported that Maldives has a high level of plastic bag consumption and plastic pollution.
Quote : Import data show that in 2016 alone, the country had imported almost 40 million plastic bags.
The situation is now out of control. With more than 1.3 million tourist arrivals in 2017, it's not getting better. Multiply this amount by an average of 2 plastic bags per person ( and I am probably under estimating the number ), packaging like empty bottles, toothpastes and other nice plastic items generously let by tourists, we reach an insane total amount of rubbish.
SO. 2 questions :
Do people REALLY Care ?
Do Resorts care ? and if they do, do they REALLY inform well their guests ?…It's a sensitive subject.
Some resorts really CARE
Clever recycling system at Soneva Fushi

Well, here comes the good news.
And hopefully it will make its way through. This is why I wish to pass on the information here.
Well, it's not as Dreamy as usual but hey….it's time to wake up !
This situation CANNOT continue.
People from Europe, US, Middle East, China who come to the Maldives.
Have a look at this little video made by Six Senses Laamu featuring Marteyne Van Well, Six Senses Laamu Resort Manager since 2011, Maldives Lover and Skilled Diver.
She not only hears about plastic pollution, she sees it.
In this video posted on Six Senses Laamu medias she calls some Maldives Resorts :
Four Seasons Maldives, Gili Lankanfushi ( another major actor in sustainability ) and COMO Hotels to enter a Challenge refusing all single-use plastic bags.
Cleaning beaches and Educating future maldivian adults
Six Senses laamu fights against plastic for many years.

Update about the challenge more 24 Hours after Marteyne's call. So far, the challenge to refuse all single-use plastic bags has been accepted only by Gili Lankanfushi.
More about Six Senses Laamu
More about Environment in Maldives Serious Actors and concrete Initiatives on location
Known Maldives Resorts actively (beyond the banning of drinking plastic-bottles) engaged in Maldives Environment for several years :
– Soneva Fushi Sustainability #Soneva Fushi
The resort follows the three R principles: Reduce – Reuse – Recycle.
Soneva Fushi ( / all Soneva Resorts in the world ) is a Pioneer and Leader in Waste management. It is the Company Philosophy. Soneva Fushi concrete and global Actions against waste : – Recycling Waste Facility – Reverse-osmosis desalination – The Resort recycles her own plastic and collects the one from neighboring local islands – Has banned plastic drinking bottles for many years – uses recyclable packaging only ( room amenities, shopping bags…) – Solar Energy. – A composting site takes food waste from the kitchen and restaurants composts it with garden waste. The composting soil generated from this activity is reused in the island landscape and gardening. and much more…
– Gili Lankanfushi Maldives Sustainability #Gili Lankanfushi
The resort has inheritated and kept the Green Philosophy from its prior owner Soneva
Gili Lankanfushi concrete and global Actions against waste and environment: – Recycling Waste Facility – Reverse-osmosis desalination – The Resort recycles her own plastic and waste – Purchased the Maldives first and only Mechanical Biological Composter – Uses recyclable packaging only ( room amenities, shopping bags…) – Solar energy + ( first in Maldives) Floating Solar Panels – Guests are given re-usable glass water bottles rather than disposable plastic bottles. – A recycling corner where waste is separated into paper, plastic, metal, glass, organic waste, and toxic waste. A compactor reduces the space required to store the waste before it is sent for recycling and proper handling. – A composting site takes food waste from the kitchen and restaurants composts it with garden waste. The composting soil generated from this activity is reused in the island landscape and gardening. and much more…
Linen tote Bags fro guests to carry their waste back home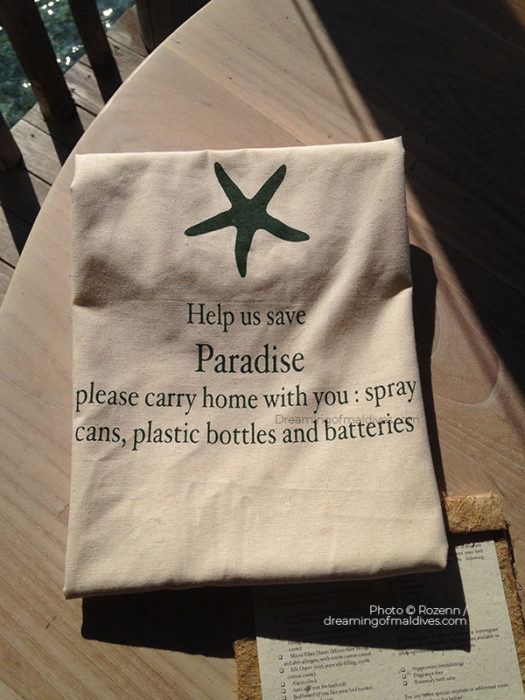 Waste Center at Gili Lankanfushi, Soneva Fushi and Six Senses Laamu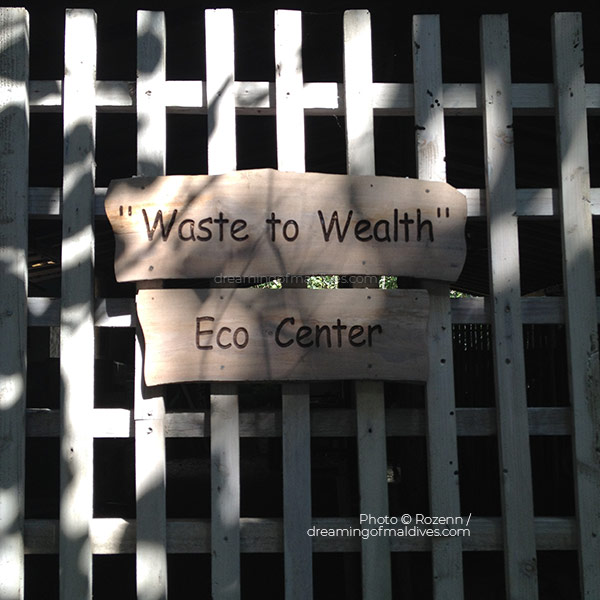 The resort has kept the Green Philosophy from Soneva Brand ( behind Six Senses Concept)
Six Senses Laamu concrete and global Actions against waste and environment : - Heavily engaged in Seas and reef Protection – Works in partnership with The Reef-World Foundation, UN Environment's Partner – Reverse-osmosis desalination – Recycling Waste Facility – The Resort recycles her own plastic and waste – uses recyclable packaging only ( room amenities, shopping bags…) – Solar energy – Zero Carbon restaurant – Suppliers are asked to reduce packaging when delivering supplies. – Printing paper is eco-labelled or recycled and the reverse side of printed paper is used for notes. – Guests are given re-usable glass water bottles rather than disposable plastic bottles. – A recycling corner where waste is separated into paper, plastic, metal, glass, organic waste, and toxic waste. A compactor reduces the space required to store the waste before it is sent for recycling and proper handling. – A composting site takes food waste from the kitchen and restaurants composts it with garden waste. The composting soil generated from this activity is reused in the island landscape and gardening. and much more…
– Right now about Plastic NOT Fantastic on Twitter – 
Plastic Recycling workspace opened on the occasion of #EnvironmentDay Parley Maldives 🇲🇻 initiates this to educate school children & others. As this years environment day theme stands 'Beat plastic pollution' this recycling lab will provide different tools for recycling ♻️ pic.twitter.com/YEH4cJKWNz

— Layal Manik (@alayalm) June 5, 2018