The Maldives sees a new luxury resort opening : Kuda Villingili Resort Maldives which opened this June 06th 2021. Located in North Male Atoll, the new luxury 5* resort boasts an idyllic location with close proximity to one of the world's best surfing spots, Chickens.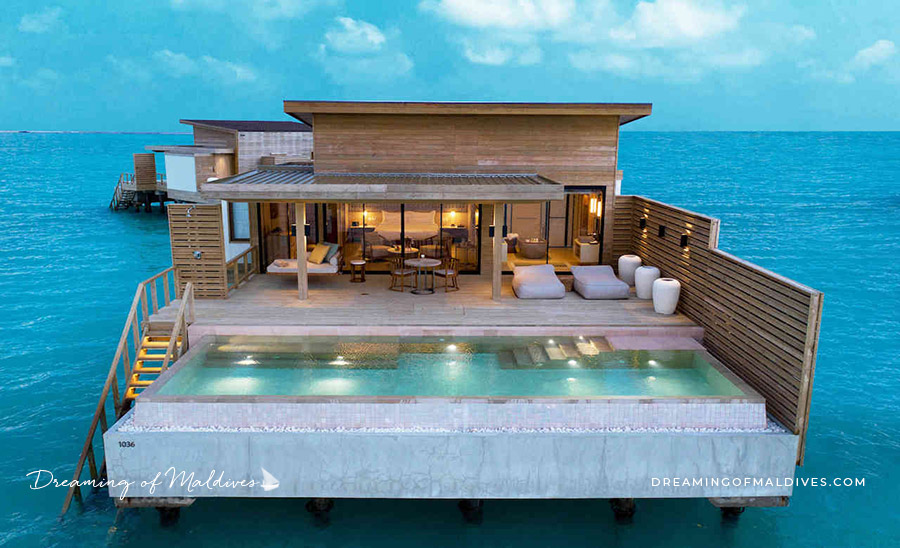 Kuda Villingili is one of Maldives most anticipated new opening in 2021, making waves for its luxury credentials and intriguing programs that satisfy even the most demanding guests.
Initially supposed to open in 2020 under the name The Chedi Kudavillingili, the resort finally opened as Kuda Villingili Resort Maldives.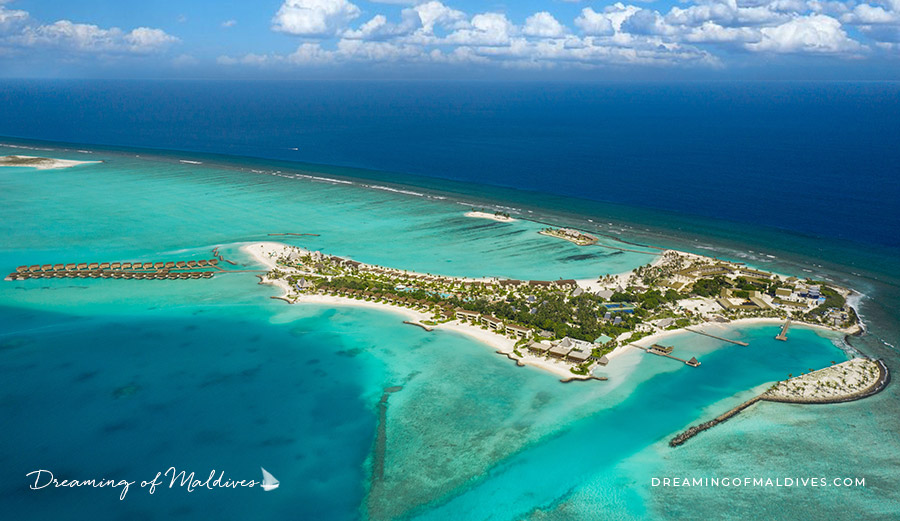 Kuda Villingili Resort Maldives at a Glance
The luxury property offers exciting activities catering to different types of travelers, looking to reconnect with loved ones and meet like-minded people in a laid-back environment. With world-class dining in the style of a Singaporean Hawker, sporting competitions including tennis tournaments on US-championship standard courts, surfing, well-being sessions and an astonishing 150m pool – the resort combines relaxation with activities and adventure in 5* Maldivian luxury environment.
Kuda Villingili has one of the Maldives largest Pool
Kuda Villingili has a 150-metres pool, one of the longest pool in the Maldives. Surrounded by lush nature, the pool is lined with sunbeds and private, shaded cabanas, a jacuzzi and a separate, child-friendly pool.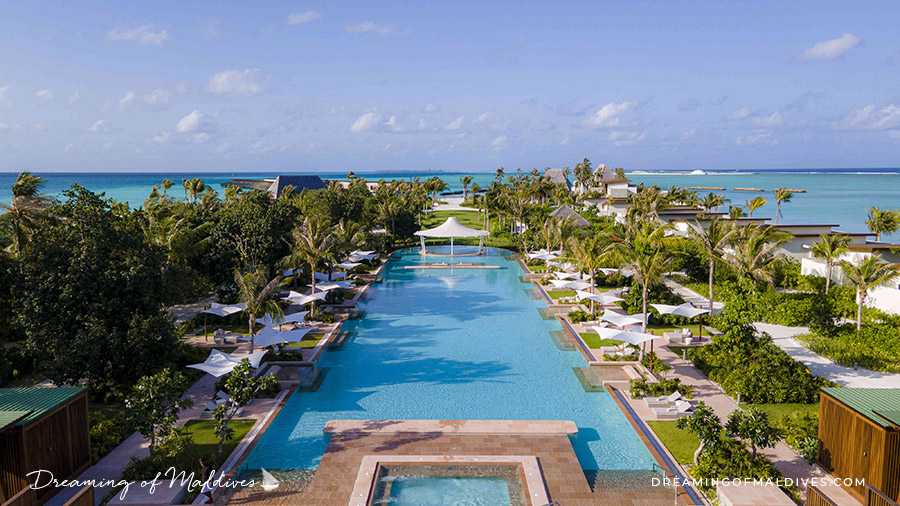 ---
---
Kuda Villingili Design and Villas
Conceived by architect Mr Sappey of the Maldivian firm GX Associates in collaboration with interior designer Mr Gaurang Khemka of the Singapore-based URBNarc, Kuda Villingili was designed with nature in mind.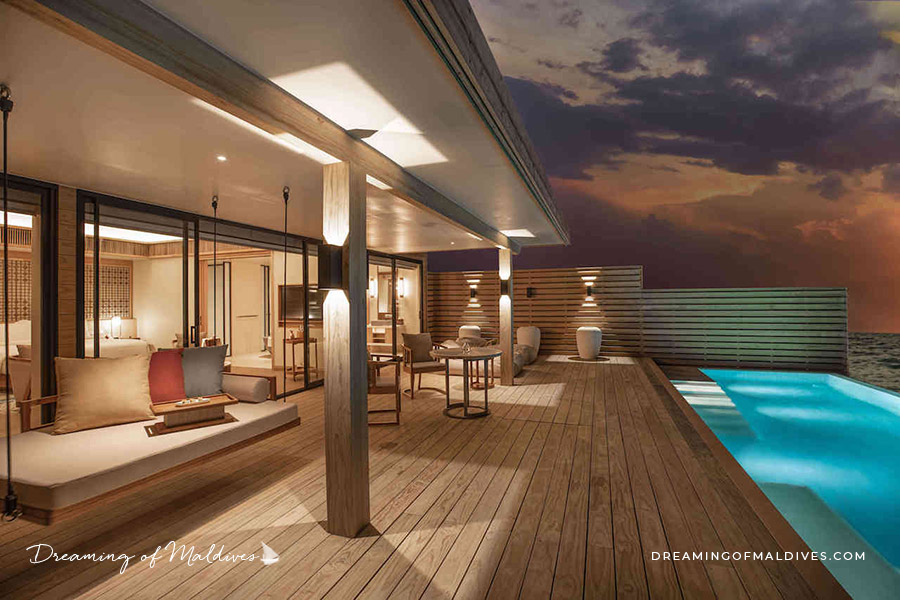 The 95 spacious villas offer panoramic views of the pristine surrounding ocean, allowing for the natural sounds of the sea to awaken the senses.
The calming colour palette was inspired by both the ocean and the local flora's iridescent colours, whilst the resort's décor features custom, eco-friendly furniture and fittings (including carpets manufactured from recycled plastic bottles).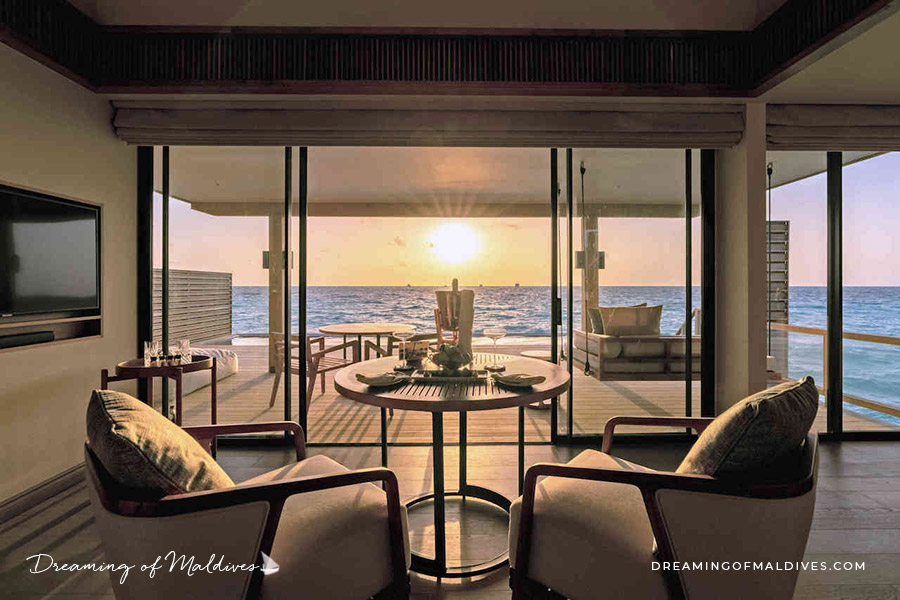 The traditional Maldivian art pieces and the expert use of natural materials enhance the harmony between the water, light and wind. The island's purpose is to give a new meaning to the concept of time and space; a place where bonds strengthen, connections sparkle and self-discovery awaits; a minimalist, understated, respectful compliment to the stunning nature that surrounds.
Villas. Photo Gallery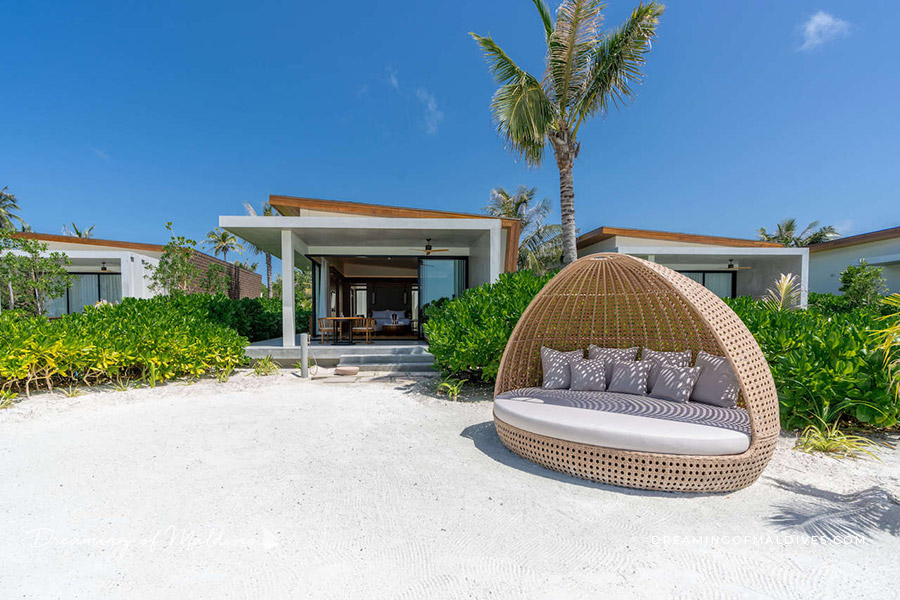 Dining
Kuda Villingili offers a main beachfront restaurant open from breakfast to dinner, a poolside Beach Club and The Hawkers, an upscale three-stall food market that serves Indian-Arabic, Thai-Japanese and Italian-Mediterranean street food via an open kitchen.
A special mention also goes to the resort's cosy Cigar Lounge, where guests can unwind with a good book, the finest whiskies and cognacs, and a premium cigar
The main restaurant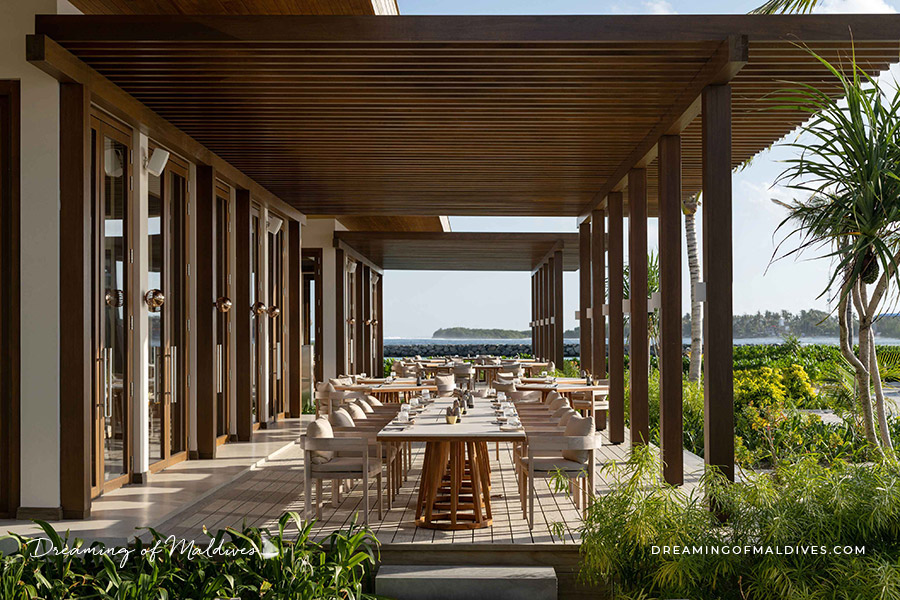 With views of the beachfront, the resort's signature dining establishment, The Restaurant, serves breakfast and offers three menus at dinner: Fire, Earth and Ocean. Fire inspired by the traditional American Steak House experience; Earth is an Asian-inspired concept that celebrates organic ingredients as part of classic dishes like noodles and dim sum; and Ocean is a fine-dining experience championing seafood specialties, prepared in a European style.
The Hawkers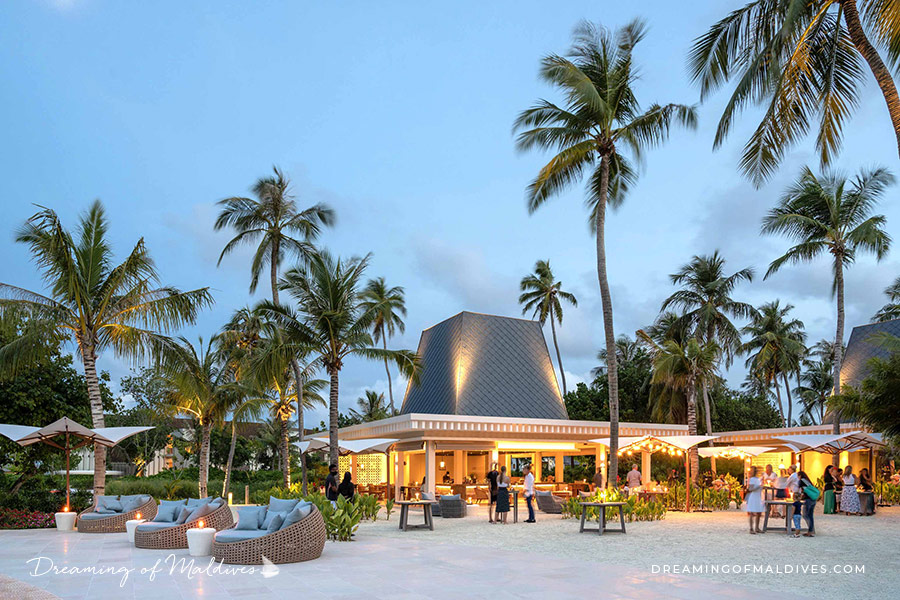 The Hawkers is an upscale, three-stall street food market that sits poolside and serves up sharing-style options. The open kitchen dishes up Indian/Arabic-inspired flame-grilled kebabs, charcoaled tandoor and shawarma, along with Thai/Japanese delicacies, such as robatayaki grill and sushi, and Italian-Mediterranean favorites like wood-fired pizza.
The Beach Club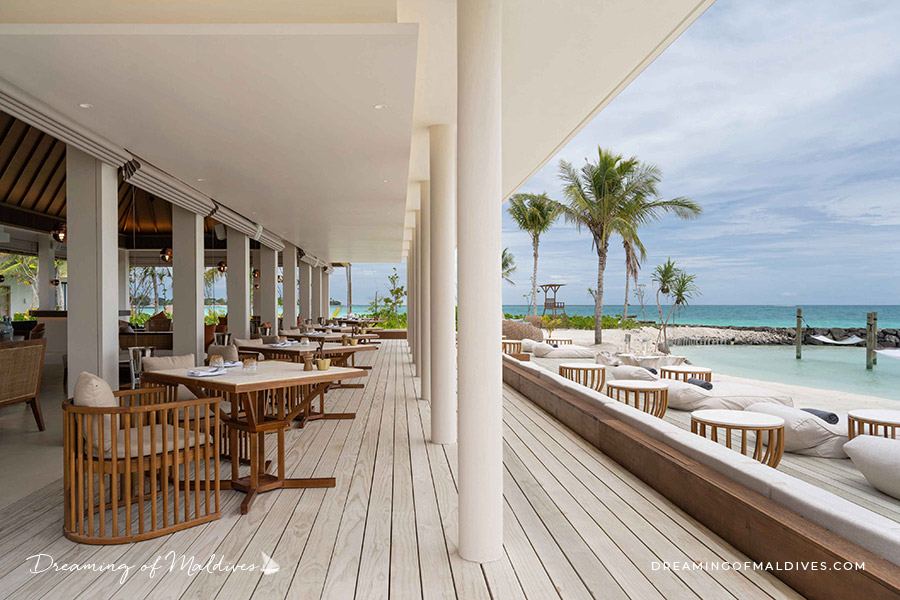 A South American take on a beach lunch menu is available at The Beach Club, together with daily live DJ sets and an extended list of frozen cocktails and rosé wines. The resort's two bars, the Main Bar and the Poolside bar, both offer classic cocktails, mocktails and beers.
The Cigar Lounge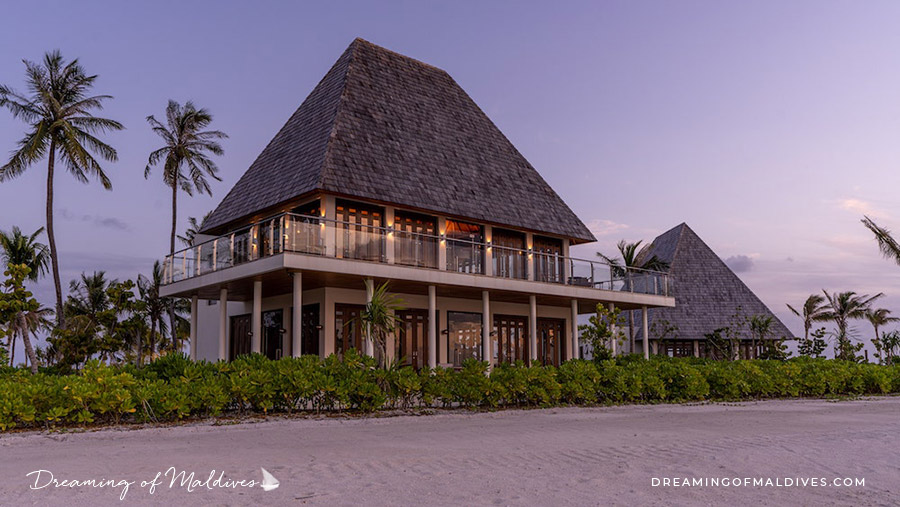 Overlooking the lagoon, the resort's Cigar Lounge offers the finest international whiskies and cognacs and a wide selection of premium cigars in a leather-decorated ambience.
Wellbeing and Activities
Kuda Villingili features an extensive choice of wellness facilities including a state-of-the-art spa with eight self-contained oceanfront spa villas. In these suspended slices of paradise, experienced therapists will treat guests in the utmost privacy and seclusion, using only organic and plant-based products by VOYA.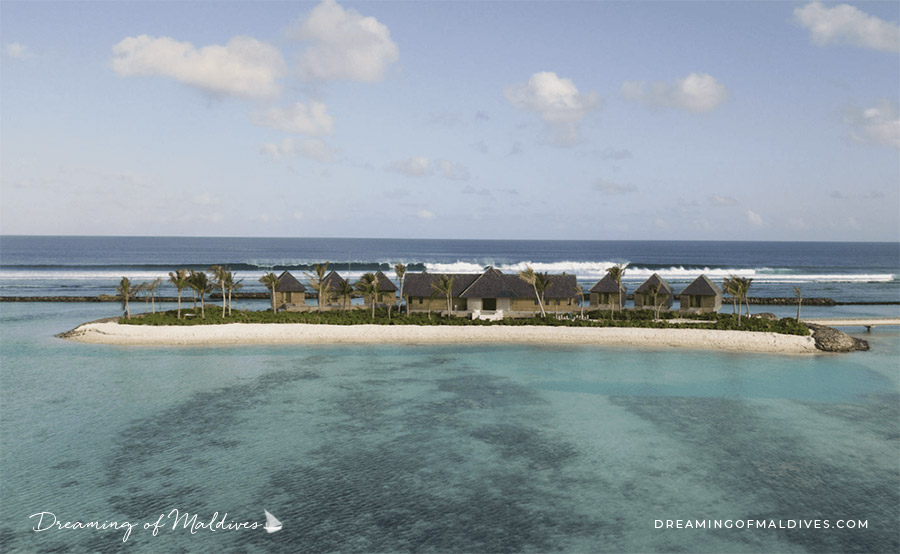 Facilities also include a spectacular gym with Technogym equipment and ocean views, an elevated yoga pavilion where guests can take individual or group classes, and a recreational space with tennis tables, billiard, karaoke and table games for young and adult.
Kayaking, wakeboarding, jet skiing, windsurfing and surfing the waves at nearby Chickens Break is also on offer. Back on land, sushi masterclasses, mixology courses, morning yoga sessions, cardio lessons and tennis tournaments await—all included with the stay.
At night guests can enjoy music from a live band by the pool as well as DJ sets at the Beach Bar and a Maldivian night celebrating the Maldivian culture with a traditional Bodu Beru performance.
The Kids Club
For Kuda Villingili's littlest guests, the resort team can organize such activities as crab discoveries, treasure hunts, creative workshops and sandcastle competitions at the kids club.
Surfing and Kitesurfing
Kuda Villingili offers a prime access to one of the top surfing spots in the Maldives, Chicken's Break, where a reef stretch produces over 10 second barrels. Along with surf boards and other equipment available at Kuda Villingili, the resort also offers surf lessons.
With groundswell coming from the Southeast, the best time to visit the island for surfing is between May and October.
Surfing from Kuda Villingili

Kuda Villingili Maldives is an unbeatable luxury resort if you dream to surf Chickens, one of the Maldives best and longest wave. This summer,…
Kuda Villingili is Paradise for Watersports Lovers
The resort is also a paradise for Kite Surfing where experienced kite surfers will be able to push their skills to the next level and break personal records with high kite jumps.
Kitesurfing
electric foil
For watersport lovers, the resort also features an electric foil to fly over water. This is a sport that combines surfing, skate boarding, flying and deep-powder snowboarding.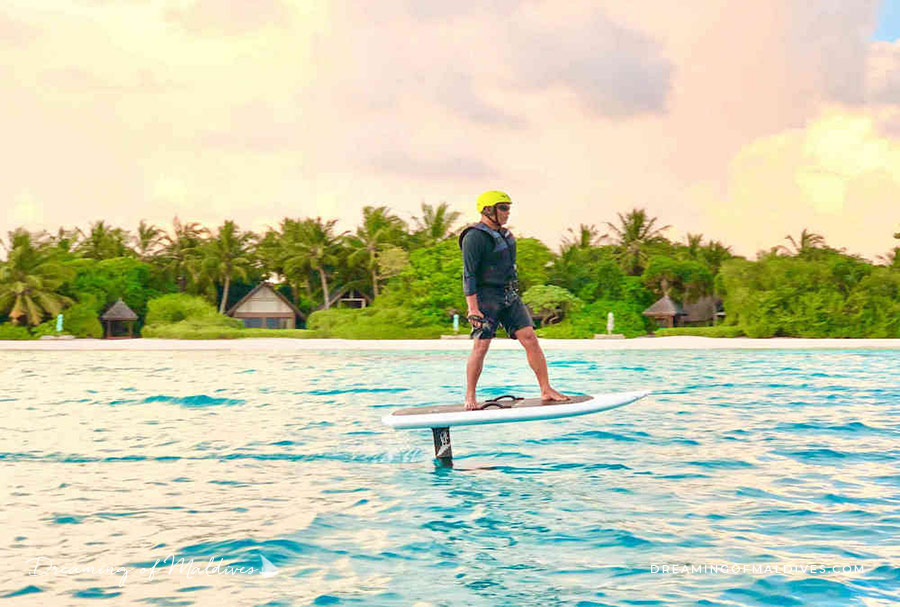 Maldives Surfing & Bodyboarding /

A Dreamy Guide to Surfing in Maldives : the best surf breaks. Where to surf ? Where to sleep and stay to be close to surf breaks ? Get your…
Lift foil
If you want even more, you will also have access to the unique Lift Foil, an electronic surfboard, to glide over the water
Diving at Kuda Villingili
Kuda Villingili is located close to several iconic diving spots like Manta Point, one of the world's largest concentration of feeding mantas, the breathtaking spot is located at about a 20-minute speedboat ride from the resort.
You will also have access to Colosseum which is just outside the reef of Thulusdhoo island, another great dive spot with rich marine life where divers can encounter moray eels, eagle rays as well as several kinds of reef fish.
My Diving Guide To NOrth Male Atoll
Colosseum is an ideal dive spot for both beginner and advanced divers.
Aquarium, a dive spot that lives up to its name, is also at a close range from Kuda Villingili. There, you can swim amongst many schools of fish in the clear water, with visuals similar to a large aquarium.
Nassimo Thila, a year-round top dive spot with a rich underwater landscape and colourful soft corals and thousands of fish is located at a short boat ride from the resort, as well as the mesmerizing H.P. Reef (a Marine protected area) or "rainbow reef", with its colourful coral and the rich variety of fish species
Kuda Villingili is managed by André Kretschmann, who previously served as Director for LVMH's Hotel Management division.
---
I look forward to welcoming guests in this magic and unspoiled island. Kuda Villingili represents years of ingenious planning and successful collaborations with famous hoteliers and designers, not to offer yet another luxury resort but a place where time and space are redefined. The young resort team and I are here to help guests create ever-lasting memories.
– André Kretschmann, General Manager of Kuda Villingili Resort Maldives
All Photos © Kuda Villingili
---
Kuda Villingili

Kuda Villingili Resort Maldives has been awarded with the title of Best Surf Resort 2023 at the recently held Travel Trade Maldives (TTM)…
Follow us on Facebook, Youtube and Instagram
for more Maldives Dreams & Stories
Your TOP Best Maldives Resorts 2023
YOUR CHOICE. YOUR DREAM. YOUR VOICE
[ Official ]
Traveler's Choice
12th Edition