Here is a comparison of a Sunrise view VS a Sunset view from a water villa at Waldorf Astoria Maldives Ithaafushi.
Waldorf Astoria Maldives Ithaafushi Water Villas
Waldorf Astoria Maldives Ithaafushi boasts several categories of water villas, all fitted with an infinity pool. Whether you choose to stay in a Reef Villa with Pool ( the first water villa category ) or in a Three Bedroom Overwater Villa with Pool ( the most luxurious one ), you will be spoiled by awesome Maldivian Sunset or Sunrise views according to their location.

Scattered around the island above its lagoon or its reefs, all water villas offer space and luxury with a minimum of 293 sq.m/3153 sq.ft up to 1113 sq.m/11976 sq.ft for the largest which comes with 3 bedrooms ( The Three Bedroom Overwater Villa ).
Each overwater villa features more or less the same decks and ocean views.
Sunrise View VS Sunset View from A Water Villa at Waldorf Astoria Maldives
Here are the awesome views you will enjoy at Sunrise and at Sunset if you stay in a water pool villa at Waldorf Astoria Maldives Ithaafushi.
---
Sunrise VS Sunset

Slide the Cursor from Right to Left to view the Sunrise View VS Sunset View.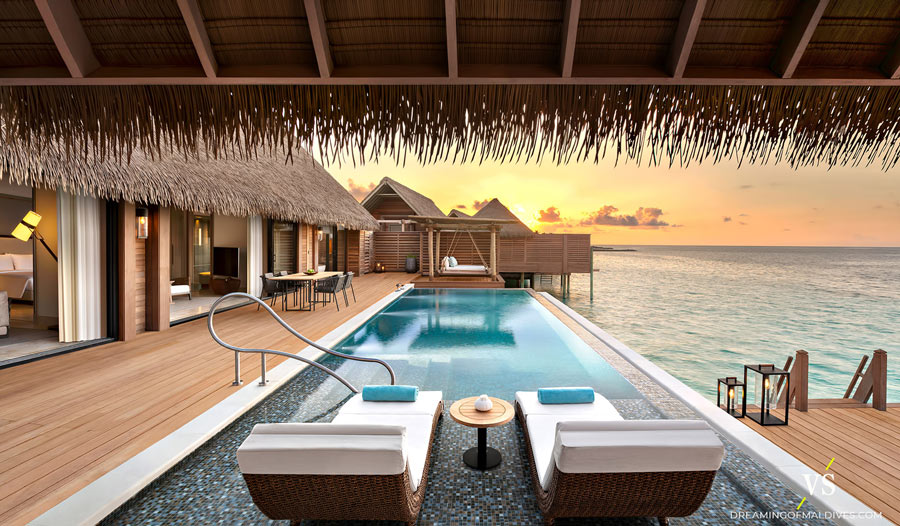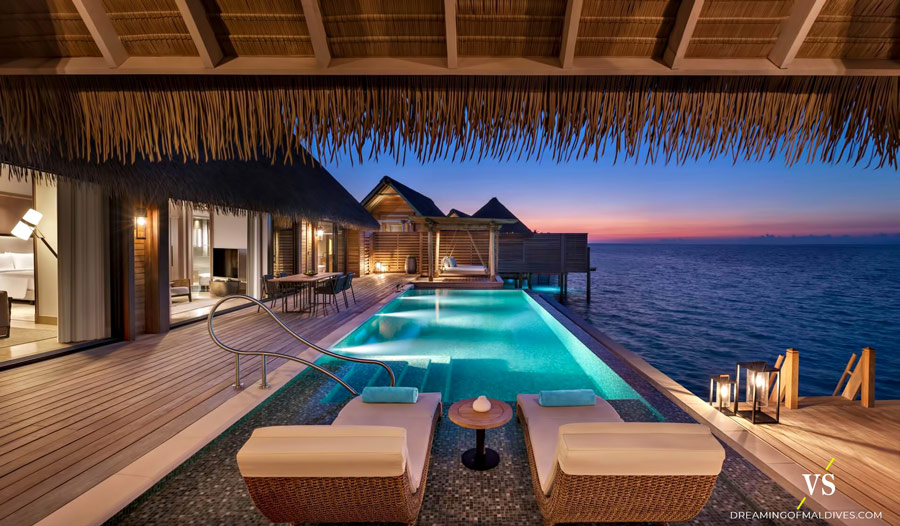 ---
Each water villa has an infinity pool, a dining gazebo, a suspended water hammock and a day bed to give you space to relax and unwind, indoor/outdoor showers and a bathtub.
Some, like the King Overwater Villa with Pool or the King Grand Overwater Villa with Pool with one, two or three bedrooms – an ideal getaway for a family holiday in Maldives, have a dressing room with a glass floor to see the marine life below.


A comparison of the views from Gili Lankanfushi water villa with pool by Day VS at Sunset. Gili Lankanfushi Maldives offers some of the best…
About Waldorf Astoria Maldives Ithaafushi
Waldorf Astoria Maldives Ithaafushi is located in South Male Atoll at a 45-minute yacht journey away from Male International Airport.
The luxury resort spans over 3 interconnected islands that includes a Private one available for rent called Ithaafushi Private Island featuring one of the most immersive accommodation option available for those who want to live the Maldivian experience at it's very best.

In the middle of the resort lagoon, stands another fabulous location : The Stella Maris Ocean Villa, one of the most secluded and largest luxury water villa in Maldives for those who want exceptional levels of privacy.
The ultra luxury resort offers plenty of world-class dining options with 11 restaurants and bars, one of which is located in the island tree-canopy, called Terra, a beautiful spa, a big water play area and a kids club, several swimming pools, a wide range of land sports and water sports, romantic celebrations and endless tailor made experiences.
Waldorf Astoria Maldives Ithaafushi is also one of the Leading Honeymoon Luxury Resorts in Maldives.
Sunrise VS Sunset based on photos by Waldorf Astoria Maldives Ithaafushi
Find Waldorf Astoria Maldives Ithaafushi in
Cast your vote for Waldorf Astoria Maldives Ithaafushi for the TOP 10 Maldives Best Resorts 2024 – 13th Edition. The TOP 10 Maldives…

Discover the TOP 10 Best Maldives Resorts in 2022 voted by Maldives Travelers at Dreaming of Maldives. The TOP 10 Best Maldives Resorts are…
Follow us on Facebook, Youtube and Instagram
for more Maldives Dreams & Stories
Maldives TOP 10 Dreamy Resorts 2024
YOUR CHOICE. YOUR DREAM. YOUR VOICE