The Maldives is home to over 25 species of sharks, including the magnificent whale shark. There are several species you will often encounter like blacktip and whitetip reef sharks, hammerhead sharks, nurse sharks and grey reef sharks.
The Maldives has a thriving shark conservation industry, with many resorts and dive centers offering shark-focused eco-tourism activities that aim to promote shark conservation and education. Furthermore, the Maldives have banned shark fishing since 2010.
The 5 most common sharks spotted in the Maldives are :
Blacktip Reef Shark and Whitetip Reef Shark
The blacktip and whitetip reef sharks are the two most common shark species found in the Maldives.
Blacktip Reef Shark in Maldives waters at Amilla Maldives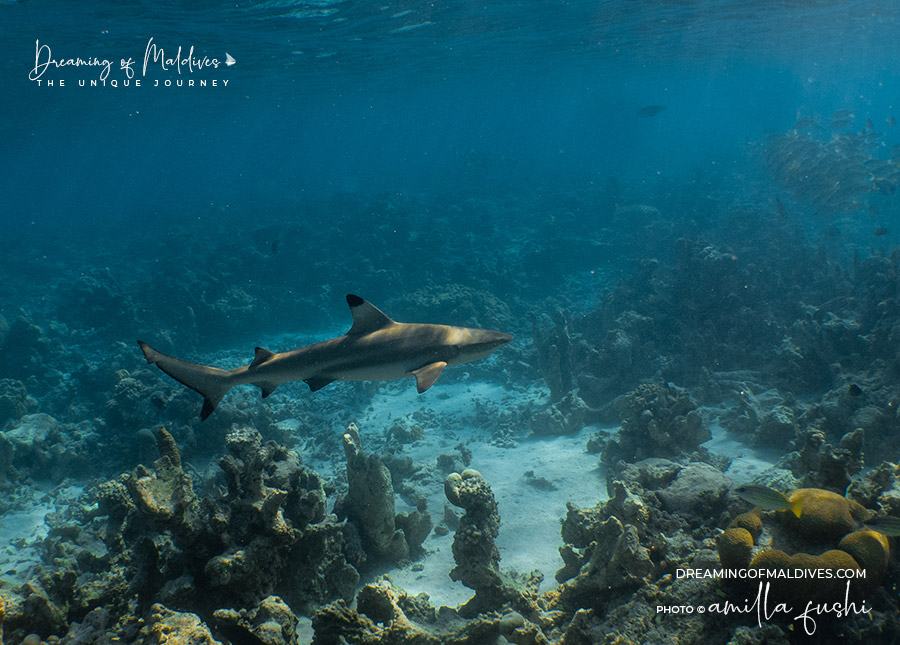 Blacktip Reef Sharks are easily recognizable by their distinctive black tips on their fins. They are relatively small, growing to around5.3 feet (1.6 m) in length, and are found in shallow waters around coral reefs. They are not known to be aggressive towards humans and are often seen by divers and snorkelers in the Maldives.
Whitetip Reef Sharks have distinctive white tips on their dorsal and caudal fins. They are also relatively small, growing up to 5.3 feet (1.6 m) in length. They are found in similar habitats to blacktip reef sharks, and like blacktips, they are not generally considered to be a threat to humans.
Whitetip Shark in Filitheyo Maldives waters

In the Maldives, both blacktip and whitetip reef sharks can be seen in the shallow waters around coral reefs, and are often observed by divers and snorkelers.
It's not uncommon to see some baby sharks ( mostly blacktips ) hanging out on the islands shores to learn to hunt.
Watch one of our video of a baby blacktip shark hunting in the shallow lagoon of a resort.
Hammerhead Shark
The Maldives is also a great destination for diving with hammerhead sharks ( mostly Scalloped Hammerhead Sharks ) where they are quite common.
Easily recognizable with their massive heads shaped like a double hammer, they can be found almost everywhere around the archipelago but Rasdhoo Atoll is really the Maldives best spot to dive with them, precisely at the rightfully named Hammerhead Point. One of the best resort to stay close-by is Kuramathi. Other places to dive with hammerhead sharks in the Maldives include North Male Atoll ( seasonal ) and Ari Atoll ( all year round ).
Read my Diving Guide to North Male Atoll
Diving with scalloped hammerhead sharks at Hammerhead Point from Kuramathi in Raasdhoo Atoll, one of the best resort to stay to reach this hotspot.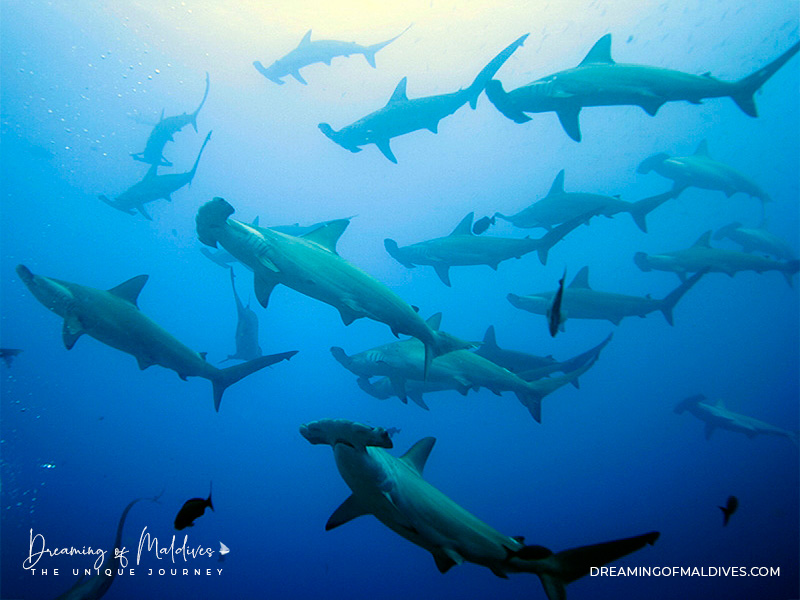 Whale Shark
The Maldives is one of the few places in the world where you can see whale sharks year-round, as they are attracted to the warm waters and abundant food sources around the islands. There are several places in Maldives where you can swim with whale sharks, but the 2 most popular atolls are South Ari Atoll and Baa Atoll where many resorts and dive centers offer guided tours and excursions to swim with these gentle giants.
Diving with a whale shark from Four Seasons Maldives Kudaa Huraa, North Male Atoll

Read more about Whale Sharks in Maldives.
Nurse Shark
Probably the cutest shark you will see in Maldives : the nurse shark. When scuba diving you will sometimes see them on the bottom floor where they spend a lot of time, particularly in areas with caves, crevices, or other hiding places. This is because they are nocturnal feeders, and often rest during the day in relatively sheltered areas before venturing out at night to hunt for food !
Otherwise, in open waters, they are pretty impressive…
Nurse sharks are typically medium-sized sharks, with adults ranging in length from about 7 to 9 feet (2.1 to 2.7 meters), sometimes more but it's rare. They have a distinctive appearance, with a broad, rounded head and a relatively small mouth that is positioned at the front of the head. They have five gill slits on the sides of their heads and two dorsal fins.
Freediving with a pack of nurse sharks at Anantara Dhigu Maldives, South Male Atoll.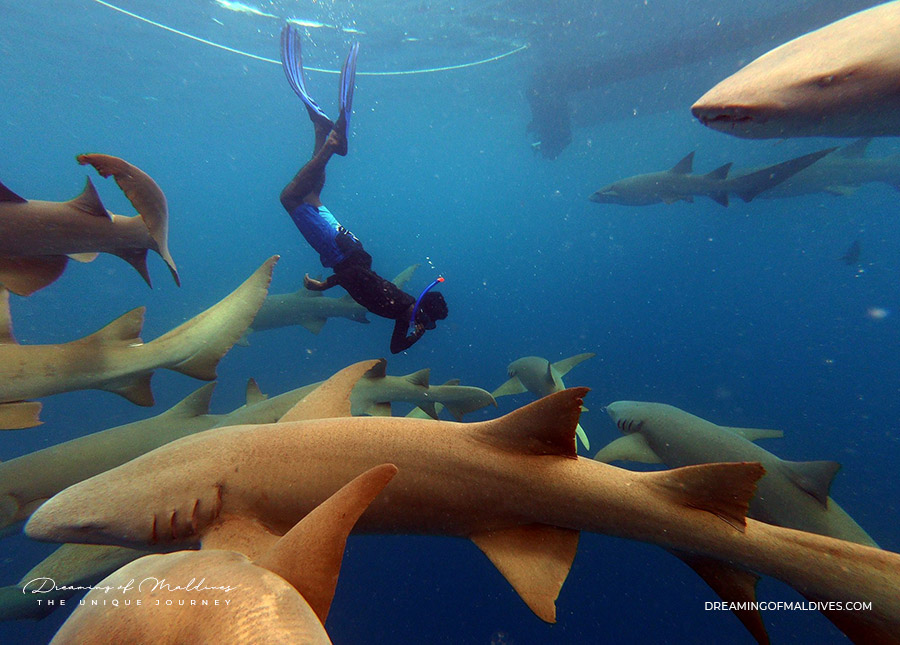 Grey Reef Shark
Grey reef sharks can be encountered in many different areas of the Maldives, as they are a common species in the region. They are often found patrolling the shallow coral reefs, drop-offs, and channels, particularly in the central and southern atolls of the Maldives. The grey reef shark is known to be quite territorial. Despite being less than 1.6 feet ( 1.9 m ) long, they are known for their aggressive behavior, which enables them to dominate many other shark species on the reef. During the day, they tend to gather in groups of five to 20 individuals near coral reef drop-offs, only to split up in the evening to begin hunting.
Maldives Fishes

If you're a diver and plan a holiday in Maldives, I've put together 8 of the best dive spots in Baa Atoll. You could spend years…
Discover the secrets and peculiarities of 10 of the most common fishes in the Maldives in this illustrated snorkeling guide. In the Maldives,…
The Moorish Idol is often confused with the Schooling Bannerfish or its cousin the Pennant Coralfish. In order for you to know if you are…
Follow us on Facebook, Youtube and Instagram 
for more Maldives Dreams & Stories
Your TOP Best Maldives Resorts 2023
YOUR CHOICE. YOUR DREAM. YOUR VOICE
[ Official ]
Traveler's Choice
12th Edition