Maldives – February 2015
The glamorous New-York City based DJ and producer Heather McAlpin, alias Heather M takes residency as the new resident DJ at the iconic W Retreat & Spa – Maldives for the next three months.
It will be possible for guests to hang out with Heather M to learn spinning vibrant tunes and make your own tracks.
Dreamy & Worthy
Heather M. is a New York based Producer/DJ.
She has been spinning and producing for over 6 years. She made a name for herself primarily in the corporate world doing campaigns for companies like Target, Hard Energy, Voli Vodka, Volkswagen, etc. She now travels the world to spin for different events.
Last year Heather M had the honor to spin in LA for Justin Timberlake's album release of the 20/20 experience which was aired live on CW.
Watch DJ Heather playing at W Maldives in our video.
Heather M's love affair with music started early on.
She began playing the piano and alto saxophone at the age of twelve. Her love of music blossomed through her later teen years into her early 20's when she began dabbling in DJ world.
Being one of NYC's rising players, Heather M is becoming a staple in both the underground and mainstream nightlife scenes, working with well-known promoters around the globe.
Always pumping energy into the crowd at live events keeps her dance card full, when she is not in the club performing she's buzzing in the studio working on her original productions. She also performed live for Justin Timberlake during his album release show.
Bringing W Hotel passion for music to life at the Retreat, Heather M will spin around the island.
She will make sure to keep the glamourous WET deck electrified during the weekly Heat Wave Pool party and will play chilled tunes at SIP during sunset before performing at 15Below, the only underground night club featuring trendy glowing cocktails and more than 90 varieties of vodka.
About W Maldives
W Maldives is located in North Ari Atoll at 25 minutes by seaplane from Male Airport.
Alike all W Hotels around the world, W Maldives has an ultra stylish atmosphere with a contemporary and cutting-edge style, focused on lifestyle and design.
Inventive and hip, friendly and laid-back, W Maldives is definitely one the most glamorous Resort of Maldives and amongst the best we've seen.
With its night club beneath the sand called 15 Below ( the only one in Maldives ), its unique design and its superb house reefs, W is a must for travelers who dream of a luxury holiday in Maldives with a twist of originality and a glamorous touch.
W Maldives Latest

W Maldives is a snorkeling Paradise. The superb Luxury resort is amongst the best island to snorkel from its shores. W island, or Fesdhu in…

Gaathafushi is W Maldives Dreamy Private Island, a secluded tiny paradise island located at 5 mns by speedboat from the resort. A Dream Island…

W Maldives Retreat interiors feature a superb design called Let It Glow. The shine in the dark look reflects the perfect blend of W's…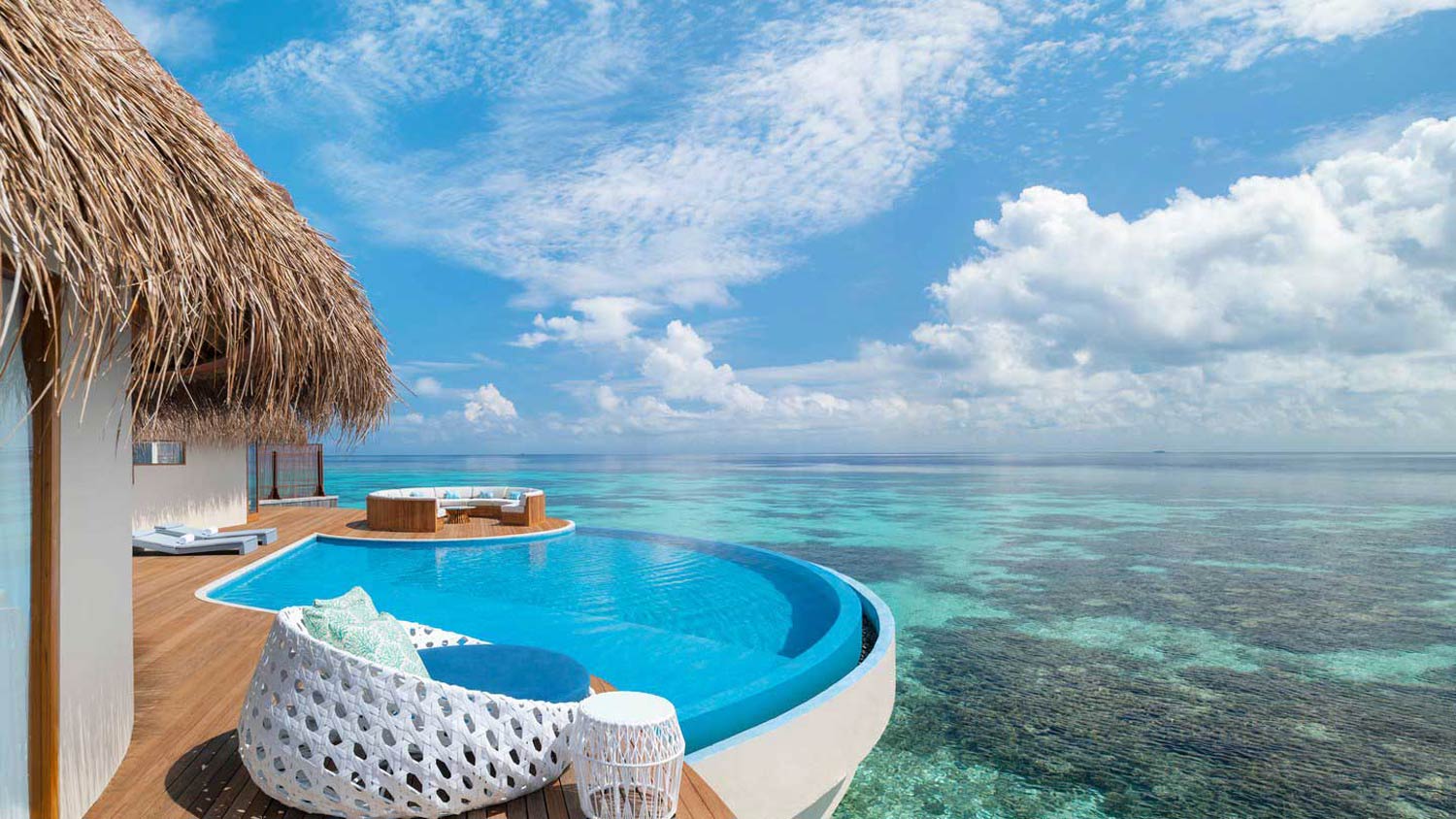 W Maldives
Complete
Resort Review
Why We Love The Resort
Dreamy Review by Dreaming of Maldives
Follow us on Facebook, Youtube and Instagram
for more Maldives Dreams & Stories
Maldives TOP 10 Dreamy Resorts 2024
YOUR CHOICE. YOUR DREAM. YOUR VOICE