Dreaming of Diving and Snorkeling at Meeru Island Resort ? Follow Ingrid Buedel, Ocean-Pro Dive Center Manager at the resort in an exciting interview where she tells us everything you need to know before you go under.
The first set of articles were dedicated to North Male Atoll with
a personal introduction to North Male Atoll Scuba Diving
+ our first interview with Karin and Ronny, Diving Center managers at Baros Maldives.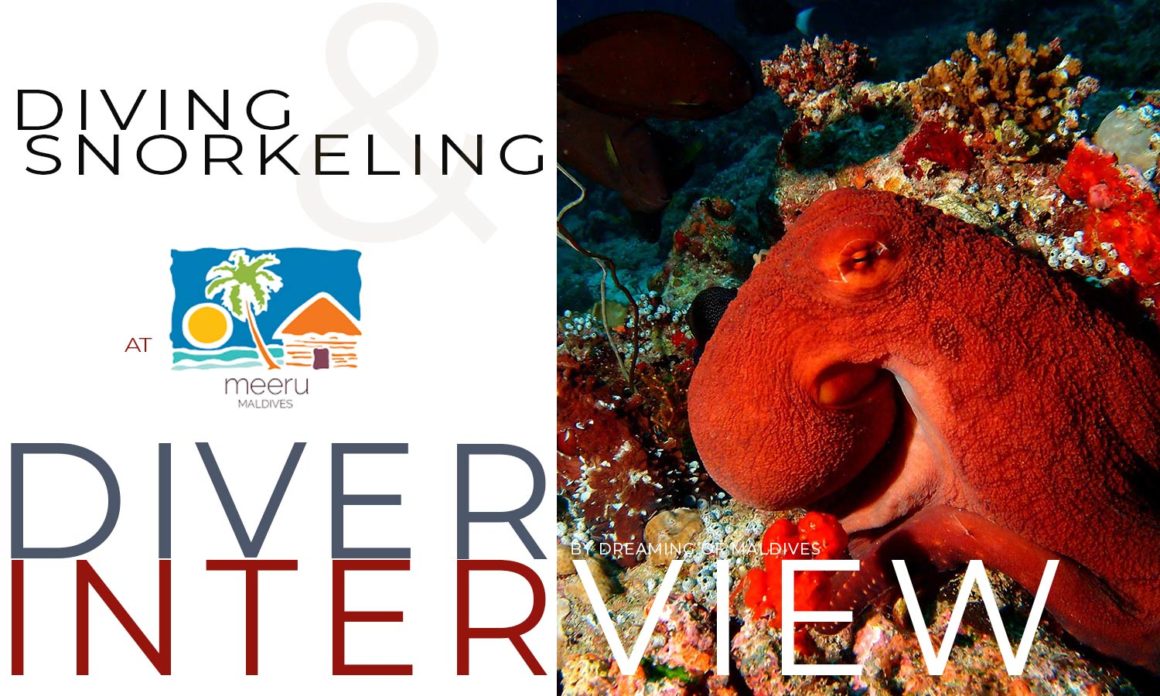 Diving And Snorkeling At Meeru Island Resort, North Male Atoll. Interview With Ingrid, Dive Center Manager
Ingrid tells us about her and her personal experiences as a professional diver, the diving and snorkeling at Meeru and all dive spots and wrecks that can be discovered from the island.
About Meeru Island Resort :
Located on the Center-East side of North Male Atoll, Meeru Island Resort is not only but also one of the largest Island Resort in Maldives with 1 km length. Lushy and surrounded by a gigantic blue lagoon, the island is for years, renowned for her friendly atmosphere and "Maldivian Village" ambiance. ( A/N : Having myself happily lived for several months on the island, I must say that her atmosphere is truly unique and enjoyable ).
The island offers a wide choice of accommodation ranging from simple Beach Bungalows to luxurious over water villas.According to their budget, holiday makers can find their ideal place to stay and "touch Paradise" even at an affordable price for the destination ( which tends to be more and more expensive ).
On the top of these assets and many activities, Meeru is also a perfect starting place to reach some of the most famous Diving sites and wrecks of the northern part of North Male Atoll.
With this second interview, we hope that you will have a complete view on what North Male Atoll has to offer to Divers.
Note : A small Photo Gallery is waiting for you at the end of the interview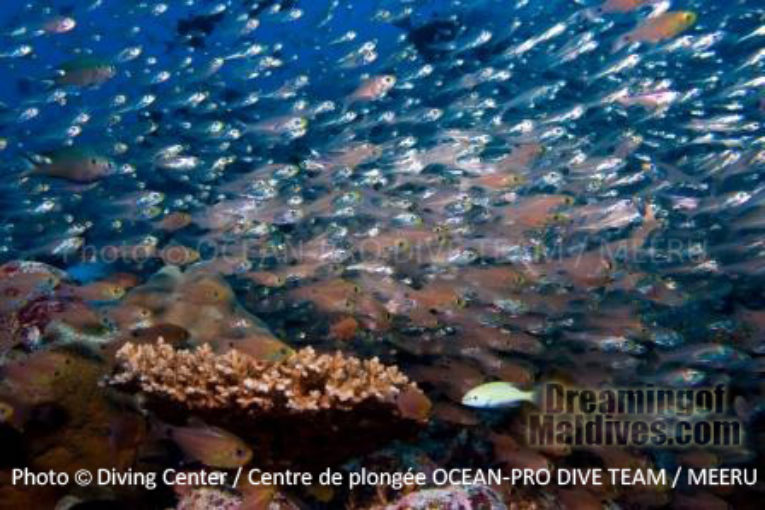 INTERVIEW
Diving in Maldives from a Professional Point of view.
Focus on North Male Atoll ( Northern Part )
Dreaming of Maldives Question. Hello, where are you from ?
Ingrid Answer. Germany.
Q. Can you introduce yourself ?
A. My name is Ingrid Buedel.
Q. Your diver degree(s) ?
A. I am a PADI Instructor
Q. When and why have you started diving ?
A. . In 1989 I went on holiday to the Maldives. I started with snorkeling and was overwhelmed by all the fish life and corals. I soon wanted "more" and went to the diving center. After the first training dive in the lagoon I was hooked and that's how it all began …
Q. Have you been diving in other places around the world? If yes, where ?
A. .In 1995 I worked for one year in Egypt
Q. How long have you been diving in Maldives ?
A. . I have spent several holidays in the Maldives and since 1996 I have been working in the Maldives.
Q. How did you become a dive center manager in Maldives ?
A. After 9 years of working in the diving industry as a Dive Master, Instructor and as Dive Center Manager on other Islands, I came to Meeru.
I also worked as an Instructor, then as Assistant Dive Center Manager and became the Dive Center Manager in 2004.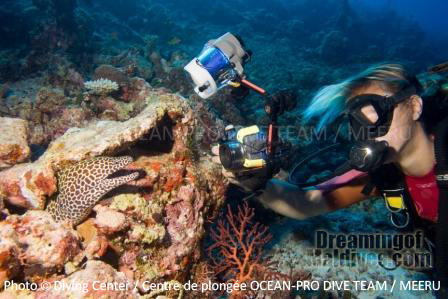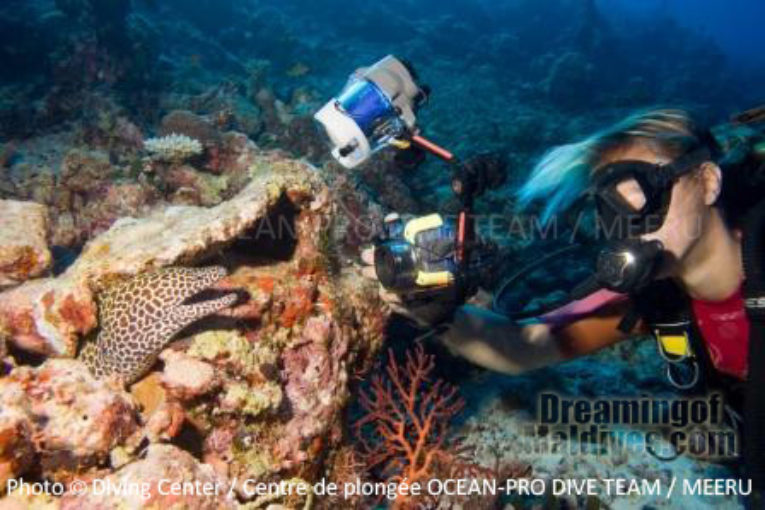 Q. How is the Diver life on a (small Island) resort ?
A. You can probably already guess? The main focus is diving !
Meeru is one of the bigger island resorts and so, offers a great variety of evening entertainments, sports facilities, bars and restaurants. Although it is one of the bigger islands, it still has a very relaxing atmosphere.

Q. What are your favorite spots in your Atoll and why ?
A. We offer more than 50 dive sites, so there is a huge selection !
Each dive site has its own character, as a consequence, it is difficult to say which one is "favorite".
– Miyaru Faru, Vashimas & Far Reef are great places to see sharks.
– Banana Reef, HP Reef & Nassimo Thila are marine protected areas with spectacular hard and soft corals, along with great fish life.
– Lankan Manta Point, Bodu Hithi Thila & One Palm are great places to see Manta Rays and other pelagic.
Q. If you've worked in other Atolls. What are your favorite spots in Maldives and why ?
A. . I have worked in a few different Atolls before I came to Meeru back in 1999. I would say it's been too long since I've worked in the other Atolls for me to make a fair comparison. With so many dive sites it's impossible, I would say, to give an answer really.
Q. How do you compare Maldives diving with the rest of the top spots around the world ?
A. . There are a great variety of different types of dive spots!
There are channel dives, thilas ( A/N : pinnacle ), giris ( A/N : small underwater islands ), farus ( A/N : circular reef, the top of which reaches the surface), inside and outside reefs etc.
The fish life is abundant with the majority of dives being some kind of drift dives.
One of the best things about the Maldives is that on most of the dive spots we are on our own (i.e., NO other dive boats!).
Average water temperature is 28 degree Celsius.
Q. The difference(s) ?
A. Here in the Maldives the currents can change rapidly in strength.
We always enter the water to check the current. We inform our divers and the boat crew about the strength and direction of the current, along with the visibility before the divers enter the water. If the current is not suitable for the spot, we will move to another dive spot.
Q.I am curious to know about :
– Your most exciting/memorable moment.
A. The hatching of about seventy Hawksbill Turtles on Meeru Beach! Watching them waddling into the sea and swim for the first time was amazing!
– Your worse
A. I try to remember only the exciting moments.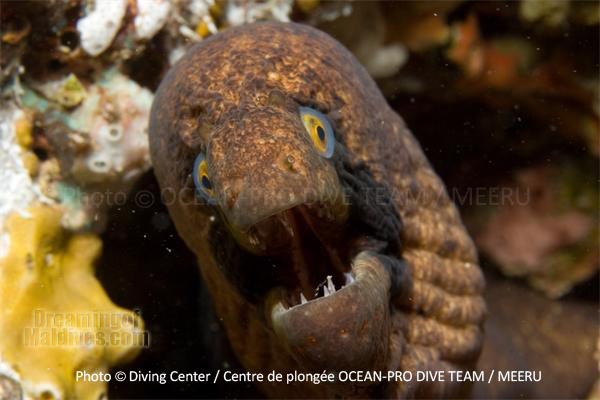 Q. North Male Atoll : what are the top spots proposed from Meeru ?
A. We have a large directory detailing all our dive spots. There is a map for each dive spot, giving a difficulty rating, expected current strengths, the features and more detailed information about the dive spot.
We also have a "Wish list", where divers can sign up for their favorite spots. We then consider the divers' wishes in our dive site planning.
Q.1 Diving Spot not to be missed inside the Atoll ? Which one ?
A. Every diver is different and has his/her own image of what makes a great dive. Therefore we are lucky to have a great variety of different dive spots to cater to different needs.
Q.Is it dangerous to dive in Maldives ?
A. Yes, you might get infected by the "Maldivian Diving Virus" and want to spend your future diving holidays in the Maldives !
OK, seriously : You should always follow the instructions of the dive team and dive in a buddy team.
There are basic guidelines for diving in currents.
The maximum depth limit is 30m and all dives are no-decompression dives.
It is important to respect the marine life and be very aware that conditions, such as, currents & weather can change rapidly.
Q.Any wrecks around Meeru ?
A. We are lucky to have an easy to dive steel wreck (length: 30m) just 10 minutes from Meeru. Also, the Maldivian "Victory" Wreck, situated off the Hulhule (International Airport) reef is part of a Full Day trip. ( A/N : more information about the Victory Wreck – and more- in my article here ).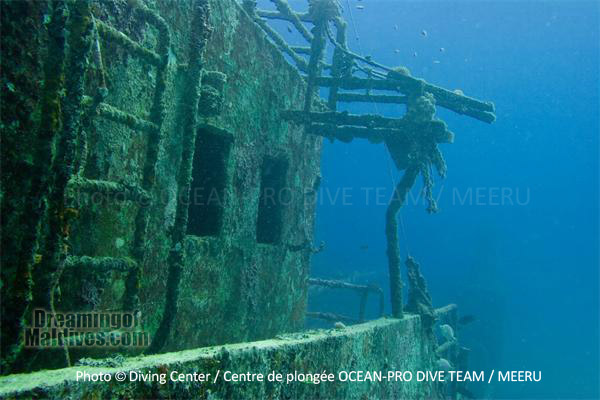 Q.What is the best season for you to dive around the Atoll – anything about currents, visibility, big species ?
A. Meeru is the most eastern island in the North Male Atoll. Therefore we can offer a wide range of dive spots.
We can dive in the far south (Male area), up in the north (Helengeli Island area) and to the east (Bodu Hithi area).
– From December until April (North East Monsoon) brings the driest period, when currents are stronger and the visibility is between 20-50m.
– From May until November (South West Monsoon) the visibility is between 15-25m. Sharks, Rays, Napoleon Wrasses and other pelagics can be seen all year around.
Meeru is well known for its turtle population with the outer reefs, in particular, offering a good possibility to see these wonderful creatures.
Q.Best season for Mantas ?
A. We spot Manta Rays almost all year around. It is possible from May until December, on the east side of the atoll (i.e. Lankan Manta Point and One Palm) and from December until May, on the west side of the atoll (i.e. Bodu Hithi Thila), to see them.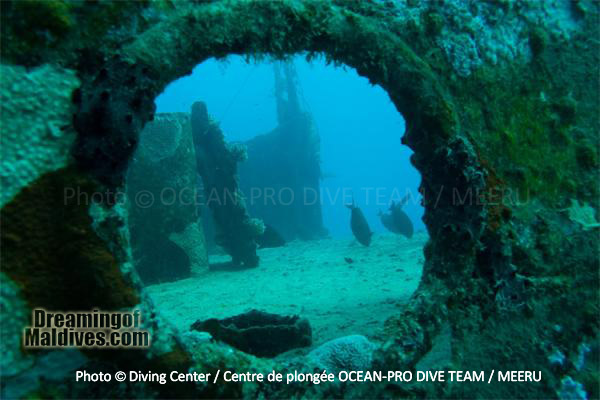 Q.Best season for Whale Sharks ?
A. . OK, it would be too boastful to speak about a whale shark season.
We can see them occasionally in February/March at Bodu Hithi Thila or in July/August on our outer reefs.
Every Whale Shark in between is welcome.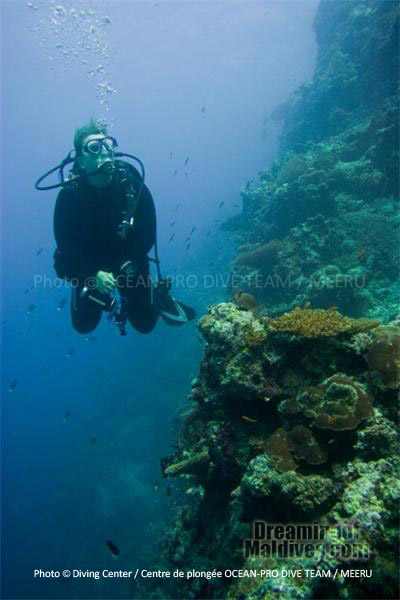 Q.How is the coral around Meeru ? Improvement ? Worsening ?
A. The coral growth is improving.
Q.How is the coral in North Male Atoll. ? Improvement ? Worsening ?
A. In the last few years particularly there has been a great improvement in the coral growth.
Q.Any scuba-dives outside Meeru house reef ? How is the scuba-diving around
A. Meeru is surrounded by a big, beautiful lagoon. There is no typical house reef and so all dives are boat dives
Q.Any basic advice for divers ?
A. Enjoy the diving in the Maldives! Please respect nature.
SNORKELING
Q. How is the snorkeling around Meeru ?
A. Same as for diving. There is no typical house reef so it's best to go out on a boat (but you can snorkel around the resort).
Q.Can I see nice underwater water life ?
A. Same as for diving.
Q.Snorkeling in front of the resort beach. (near the villas) Can I see nice underwater flora / fauna ?
A. The lagoon is home to a great variety of marine life with interesting coral formations and colorful fish life in shallow water.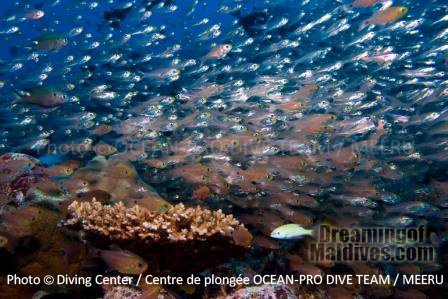 Q.Is it safe for children? Do you have material for our small ones ? which age ?
A. It is very important that children are always accompanied by an adult.
It is also very important for the parents to consider their child's swimming abilities. If they have any concerns about this then I would recommend buying a snorkel vest before coming to the Maldives.
If possible, it would also be a good idea to equip them with snorkeling equipment and do some training beforehand (maybe at a local swimming pool or even in the swimming pool on Meeru?).
Yes, it is possible to rent snorkeling equipment for children aged 8 years and older (i.e. mask/snorkel/fins).
Q.Night-snorkeling. How is it ?
A. As we do not have a typical house reef we do not offer night snorkeling.
Q.Any top snorkeling spot reachable by boat ? Distance / time by boat ?
A. .We offer a 2 ½ hour snorkeling excursion 5 days a week, morning or afternoon.
We take our snorkelers to 2 different reefs in the North Male Atoll.
Q.Any basic advice for snorkelers ?
A. Same as for diving.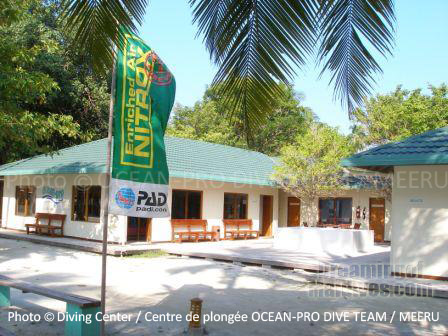 The DIVING CENTER
Q.Can you tell us about your diving center ?
A. Ocean-Pro Dive Team, Meeru Island Resort is a PADI 5 Star Resort.
We offer all PADI courses from beginner to Divemaster level, as well as many specialized diving courses.
We offer a wide range of diving and send our boats to different dive sites every day. There are easy dives, for less experienced divers and more demanding ones, for those with more practice.
We also guide experienced divers, on request, for NO extra charge. Nitrox fills are available, for FREE, to divers certified to dive with enriched air and we offer the PADI Nitrox course that qualifies you to use this gas.
Q.Spoken languages at the diving center ?
A. English, French, German, Dutch, Spanish, Portuguese, Flemish, Dhivehi.
Q. Starting from level 0. Which level can I be if I stay 1 week in Maldives ?
A. PADI Open Water Diver – the certification is internationally recognized and valid for life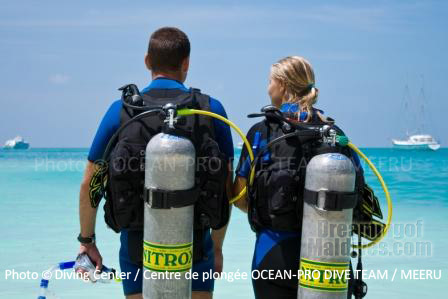 Q. How many divers maximum per group ?
A. This depends on the level and/or experience of the divers. The average group size is 4.
Q.Can I dive privately ?
A. We offer training dives.
Q.Starting price for a simple dive ?
A. From 50 US + Boat trip ( app. 20US Dollars)
Please see the price list attached in the gallery below the interview or the latest price list on the website oceanpro-diveteam.com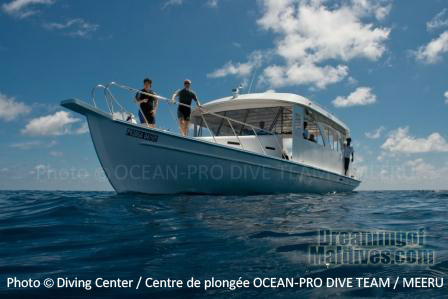 Q.How much costs an initiation ?
A. From 50 US + Boat trip ( app. 20US Dollars)
Please see the price list I've attached in the gallery -at the end of the interview – for indication
Q.Beginner course (discovery ) – where and how does it take place ?- Any age/health issue/requirement ?
A. The "Discover Scuba" program is an Introductory Dive in shallow water in our Lagoon.
The minimum age is 10 years old.
It is always a good idea to bring a medical certificate along with you. A medical certificate declaring the person is fit for scuba diving must be presented in cases of any pre-existing physical or mental condition, disease and/or regular use of medication.
Q.Not all our readers are divers or snorkelers (yet). "I am afraid of the depths…Convince me"
A. Everybody starts their diving course in very shallow water.
Everything is done step by step to increase your level of confidence. Besides other skills, you will learn how to control your buoyancy and so be able to control how deep you go. Simple.
END –
© DreamingofMaldives.com
Maps of all available diving sites from Meeru Island resort and
in North Male Atoll in general.
Diving and Snorkeling at Meeru Photo gallery
Follow us on Facebook and Instagram for more Maldives stories.
Your TOP Best Maldives Resorts 2023
YOUR CHOICE. YOUR DREAM. YOUR VOICE
[ Official ]
Traveler's Choice
12th Edition