SCROLL DOWN TO EVENTS TIMELINE AT THE END OF THIS POST
► Last Update July 04th 2020

Note :
this article will morph along the time and events.
Latest about Maldives reopening + Resort reopening date
Brief sum-up / genesis.
After the Coronavirus outbreak in China in January 2020, the Maldives have rapidly suspended any flights from the country on January 30th 2020 on orders from China Ambassador in Maldives.
Despite having reacted quite quickly ( compared to other countries ) to the coronavirus outbreak by stopping any entrance to their number 1 tourist arrival source ( Maldives received nearly 300 000 Chinese the past year ), the Maldives have had their first Covid-19 cases confirmed this March 2020, 08th.
The Beginning. March 08th.
Coronavirus has spread in some Maldives Resorts
Stopping Chinese tourists has surely avoided a massive and early contamination but has unfortunately not stopped it.
In January, other measures were taken such as thermal imaging cameras on arrival and departure at Male International Airport.
Covid-19 has continued to spread around the world without chinese citizens.
People have kept on travelling. People have kept on coming from China.
No solid measures were taken and the virus has spread at an exponential pace everywhere around the globe.
Italy, the first European country and second in the world affected by the Covid-19, has kept sending Italian tourists to the Maldives.
Other infected countries did too.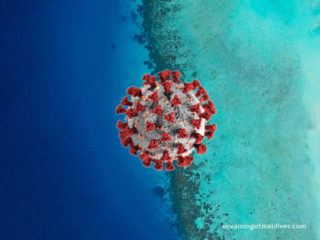 Some Maldives Resorts placed on lockdown with confirmed Covid-19 cases
The first Coronavirus cases have been detected this last March, 08th 2020 at Kuredu Island Resort with 2 confirmed cases who came from Italy.
The same day Sandies Bathala has also confirmed cororanavirus on the island with an Italian tourist holidaying at the resort.
Both Kuredu and Sandies Bathala have immediately been placed on lockdown since the cases were confimred positive.
Tourists and staffs from both resorts are being kept under quarantine for at least 14 days.
According to Maldives Minsitry of Health passengers originating from, transiting to or with a travel history of China, Iran, South Korea, Italy and Bungladesh are currently not allowed into the Maldives.
Note :
the above information have since then evolved. See end of the aricle for latest update.
Obviously the coronavirus situation will evolve in the next days.
If the disease continues spreading like it does ( chances that it will are very high ), some resorts might also close for a while as tourist numbers are getting lower and lower.
Quarantine and isolation centers ( constantly updated)
.The Maldives government has transformed 1 previous and abandoned resort into an isolation Island cente, Villivaru, in South Male Atoll.
.A second center was created in Male North Atoll, at Farukolhufushi, formerly Club Med Faru, which is now part of the artificial island of Hulhumale.
.More quarantine and isolation centers are open at Fun Island, Velidhoo, Hulhule Island Royal Island, Byiadhoo, Kuda Bandos, Holiday Island and Dhiggiri.
I closely follow the evolution of the situation.
Here are the latest available and confirmed news.
Main Timeline – Coronavirus in Maldives
Scroll down for the latest news.

March, 2020 08th. 2 resorts lockdown for quarantine
Kuredu and Sandies Bathala are since, March, 08th 2020 under complete lockdown.
March, 2020 10th. More resorts under temporary measures
Vilamendoo and Kuramathi are today, March, 10th 2020 under temporary lockdown until suspect cases are cleared.
March, 2020 11th. 1 resort lockdown lifted
Vilamendoo lockdown lifted. Suspect case are cleared.
March, 2020 12th. Temporary resort lockdowns lifted + State of Emergency
–Kuramathi, Sandies Bathala and Kuredu lockdowns are now lifted.
-State of Public Health Emergency declared for a period of 30 days from 12th March 2020.
March, 2020 13th. More Samples taken from various INDIVIDUALS in several resorts
As a precautionary measure, several foreign nationals and Maldivians around the archipelago have had tests and/or have been placed under home-isolation and monitoring.
March, 2020 14th.
Multiple individuals located in various Resorts and a safari boat have presented symptoms and have been tested for COVID19. Several have been transfered to another special Island for isolation or on home isolation.
Positive cases for COVID19 are confirmed at Anantara Dhigu, Kuredu.
Individuals are mostly foreigners and tourists, some Maldivians from local Islands hare under tests and have been isolated too.
As a precautionary measure, samples are being taken from several foreign nationals and Maldivians who developed COVID19 like symptoms in several resorts, local islands a safari boat.
Maldives closes all schools and universities.
10 confirmed cases.
Maldives impose a travel ban of any persons to or from a resort to any residential island. This ban includes the suspension of check-ins of international tourists to guesthouses and city hotels in Male' City, Hulhumale', and Vilimale'.
The Maldives have put a ban on air travel from Spain, Germany and France.
March, 2020 15th.
The 2 suspect cases from the safari boat tested yesterday are Positive.
Quarantine locations receive more and more people for isolation and monitoring.
OBLU at Sangeli, Bandos Island resort, and Dreamland Maldives resorts individuals tested yesterday are all Negative
1 individual from Vilamendhoo Island Resort is in isolation and tested.
March, 2020 16th
There are now 13 confirmed cases in Maldives
Meeru and Sheraton Full Moon resorts individuals tested yesterday are all Negative
1 individual from Vilamendhoo Island Resort is in isolation and tested.
March, 2020 17th
All Maldives Resorts are closed to arrivals from Male.
200 Italians have been evacuated back to Italy
Several individuals (Tourists and Maldivians) with symptoms identical to Covid-19 are being tested and have been isolated.
The individual tested yesterday at aaaVeee Nature's Paradise resort is Negative.
Individuals staying at Gili Lankanfushi and Anantara Kihavah are being tested.
Arrivals from the UK will be halted from midnight March 19
Arrivals from Malaysia are halted today.
March, 2020 19th
Individuals tested at Gili Lankanfushi and Anantara Kihavah are Negative.
More tests are undergoing for several individuals on various resorts and a safari boat : Furaveri Island Resort, Cheval Blanc Randheli and RIU Hotel.
Maldivians arriving from other countries will now be kept under 14 days' home quarantine.
All Maldives Guest Houses are now closed
March, 2020 21st. 13 Confirmed cases. Number stable since March 10th.
The Maldives have closed all arrivals from USA and UK
Any entry of all tourists arriving via safaris, yachts and other passenger vessels is halted.
Samples from Cheval Blanc Randheli, Paradise Island, My Sky Yacht, are tested Negative.
More individuals from local islands, safari boats and Resorts have undergoing tests.
UNIVERSAL Resorts will close all their resorts for 3 months
March, 2020 24TH
Confirmed Cases 13
Recoveries 5
Isolation Facilities 16
Quarantine Facilities 574
The Maldives have closed all arrivals from SRI LANKA
Individuals from resorts Veligandu, Centara Grand Island, Sandies Bathala, Ananthara Dhigu and Club Med Kanifinolhu have all tested NEGATIVE
Several individuals (Tourists and Maldivians) with symptoms identical to Covid-19 are being tested and have been isolated.
Male streets are being desinfected
March, 2020 25TH
The President of Maldives has declared today in a Press conference
Maldives will close its doors to tourists from March 27 2020 onwards
The ban will be extended to an additional period of 14-days after the last tourist leaves a resort.
50 resorts have already halted operations
March, 2020 29TH
Confirmed Cases 17
Recoveries 11
Isolation Facilities 15
Quarantine Facilities 826
Samples of individuals staying or working at Resorts Grand Park Kodhipparu, Cinnamon Hakuraa Huraa and JA Manafaru are tested Negative.
Individuals who have developped Covid-19 symptoms and staying or working at the Resorts Residence Maldives Dhigurah, Taj Exotica and Filitheyo are being tested.
2 Maldivian individuals working at Paradise Island and Holiday Island resorts are tested Positive.
1 Maldivian individual returning from UK has been tested Positive
April, 2020 01ST
Confirmed Cases 18 ( 3 Maldivians and 15 Tourists/foreigners )
Recoveries 13
Isolation Facilities 20
Quarantine Facilities 867
Samples of individuals staying or working at Resorts The Standard Huruvalhi Maldives, The Residence Maldives at Dhigurah, Taj Exotica Resort, LUX* North Male Atoll and Filitheyo are tested Negative.
An Individual who has developped Covid-19 symptoms and working at the Rihiveli The Dream is being tested.
1 Maldivian individual returning from UK has been tested Positive
April, 2020 09th
Confirmed Cases 19
Recoveries 13
Isolation Facilities 11
Quarantine Facilities 1019
Samples of 49 individuals quarantined in Fun Island Quarantine Facility are tested Negative.
Joali Maldives and Raa Bodufushi have been placed under monitoring, after a foreign national who visited both islands tested Positive after returning to his/her home country.
April, 2020 16th
Confirmed Cases 23
Recoveries 16
Isolation Facilities 31
Quarantine Facilities 985
3 Maldivian national, resident in Male' City have tested Positive for Covid-19.
Male city, Maldives capital, is on lockdown.
April, 2020 23rd
Confirmed Cases 82
Recoveries 16
Isolation Facilities 183
Quarantine Facilities 1433
Since my last update ( April, 16th), the situation has deteriorated with 59 more COVID-19 Positive cases in Maldives, mostly in Male, the capital .
April, 2020 26th
Confirmed Cases 177 – Active Cases 160.
Recoveries 17
Isolation Facilities 139
Quarantine Facilities 1371
MAY, 2020 12th
Confirmed Cases 897 – Active Cases 863
Recoveries 29
Isolation Facilities nc
Quarantine Facilities nc
Dead 03
The amount of COVID-19 cases in Maldives has severely increased with hundreds of new Positive cases, mainly in foreign communities.
Maldives Health Ministry has released a new dashboard with more details and datas about the situation at https://covid19.health.gov.mv/dashboard/
MAY, 2020 21ST
For the first time, today May 21st, there are NO NEW CASES detected in Maldives.
Confirmed Cases 1216 – Active Cases 1119
Recoveries 91
Isolation Facilities nc
Quarantine Facilities nc
Dead 04 ( a 88 year old Maldivian man unfortunately died the last week from covid.)
MaY, 2020 28TH
The Minister of Tourism of Maldives, Ali Waheed, has announced today that the Maldives will reopen its borders on July 01st to tourists and travelers.
JUNE, 2020 02nd
Confirmed Cases 1829 – Active Cases 1332
Recoveries 488
Isolation Facilities nc
Quarantine Facilities nc
Dead 07
JUNE, 2020 18th
Confirmed Cases 2120 – Active Cases 433
Recoveries 1677
Isolation Facilities nc
Quarantine Facilities nc
Dead 08
Gili Lankanfushi has announced on June 06th 2020 that the resort will be extending the temporary suspension of operations until 31st August 2020.
Universal Resort has announced this June 18th 2020 that Kuramathi, Faarufushi, Kandolhu, Velassaru, Dhigali and Kurumba will remain closed until October 01st 2020.
JUne, 2020 23rd
The Ministry of Tourism of Maldives announced that Maldives will re-open its borders for international tourists on 15th July 2020.
Resorts, Liveaboards and hotels located at uninhabited islands will be open for tourists from July 15, 2020.
Guest Houses and hotels located at inhabited islands will be open from August 1, 2020.
JUly, 2020 04th
Confirmed Cases 2410 – Active Cases 419
Recoveries 1976
Isolation Facilities nc
Quarantine Facilities nc
Dead 10
…
+ Maldives Health Ministry has put a special section on their website for COVID-19 Local updates at https://covid19.health.gov.mv/ 
The page is well documented on the latest news and decisions taken by local authorities as well as the evolving number of cases.

++ Follow The Official Maldives Health Protection Agency on their Twitter account @HPA_MV  
Covid in Maldives. Latest News and updates
Your TOP Best Maldives Resorts 2023
YOUR CHOICE. YOUR DREAM. YOUR VOICE
[ Official ]
Traveler's Choice
12th Edition