The out-of-control Chinese Long March 5B rocket debris finally felt on the western side of Maldives, very close to Dhaalu Atoll, last night.
Being a space enthusiast, I have followed the story with a bit of anxiety. I would have normally not shared this rocket story on Dreaming of Maldives, but seeing the location of the fallen debris, I needed to share the news here.
Long March 5B Chinese rocket debris felt close to Dhaalu Atoll, Maldives
The Long March 5B – comprising one core stage and four boosters – lifted off from China's Hainan island on April 29th 2021 with the unmanned Tianhe module, which contains what will become living quarters on a permanent Chinese space station.
Rocket debris point of impact.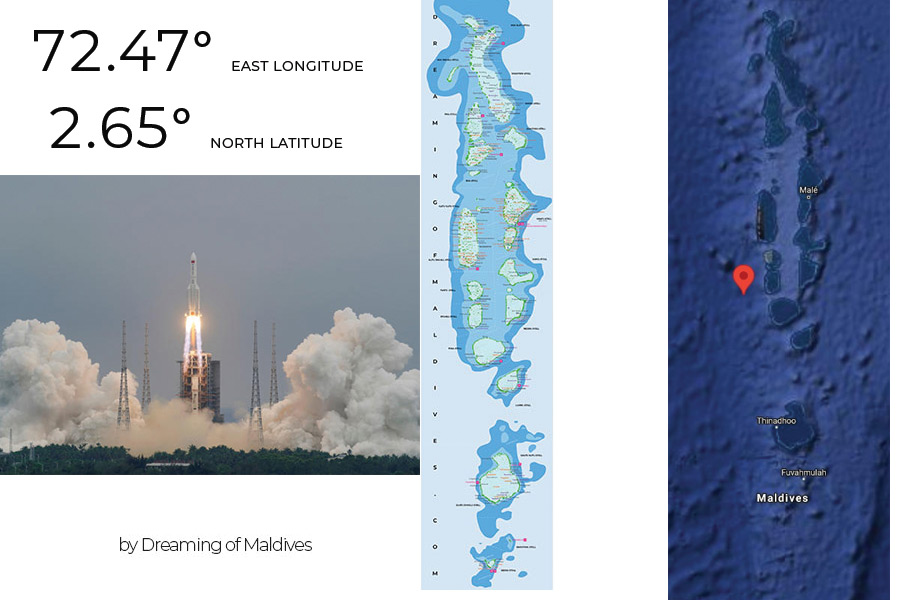 Point of impact coordinates :
72.47° east longitude
2.65° north latitude
China Aerospace Science and Technology Corporation announced this morning, Sunday 2021 May 09th, that their falling rocket crashed at the following coordinates : around 72.47° east longitude and 2.65° north latitude, putting the point of impact in the ocean, west of the Maldives archipelago.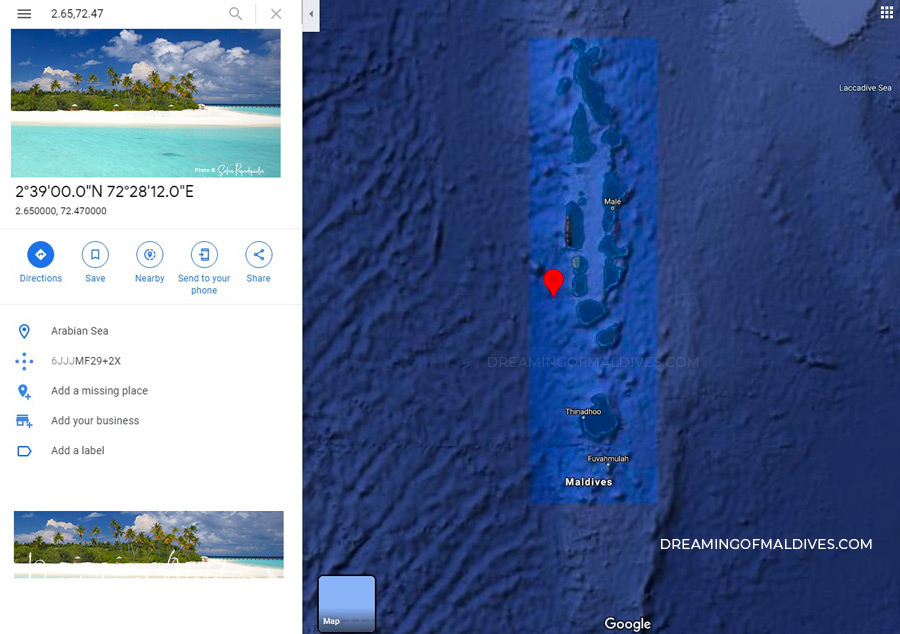 The uncontrolled Long March 5B remnant reentered the Earth's atmosphere at 02.24 am GMT last night, May 09th 2021.
China's foreign ministry said on Friday that most debris will burn on re-entry and is highly unlikely to cause any harm.
Note : yesterday night, when I last looked at the estimation, the debris were estimated to fall on North Island, New Zealand.
Harvard astrophysicist Jonathan McDowell, who tracked the tumbling rocket part, said on Twitter, "An ocean reentry was always statistically the most likely. It appears China won its gamble… But it was still reckless."
Travelling at a speed of around 4.8 miles per second, a difference of just one minute in the time of reentry translates to hundreds of miles difference on the ground.
"This is difficult to predict and not an exact measurement," Space-Track wrote on Twitter.
"The Long March 5B reentry is unusual because during launch, the first stage of the rocket reached orbital velocity instead of falling down range as is common practice," the Aerospace Corporation said in a blog post.
Falling rocket debris datas :
Size : around 100 feet long / 30 meters and 16.5 feet wide / 5 meters
Weight : 21 tons.
Which more or less equals to a big truck
Long March 5B falling junk is one of the largest pieces of space debris to return to Earth
Long March 5B is one of the largest pieces of space debris to return to Earth, with experts estimating its dry mass to be around 18 to 22 tonnes.
The core stage of the first Long March 5B that returned to Earth last year weighed nearly 20 tonnes, surpassed only by debris from the Columbia space shuttle in 2003, the Soviet Union's Salyut 7 space station in 1991, and NASA's Skylab in 1979.
It's the second time China loses control over its rocket
It's the second time China loses control over its rocket.
Last year, pieces from the first Long March 5B fell on Ivory Coast, damaging several buildings. Fortunately no injuries were reported.
The U.S. Space command confirmed the re-entry of the rocket over the Arabian Peninsula, but said it was unknown if the debris impacted land or water.
The 21 tons space junk burned up at entry in the atmosphere ( thank you atmosphere ) exploded in multiple pieces and crashed into the ocean.
Glowing debris of the Chinese rocket was seen in various videos above Jordan and Saudi Arabia skies before it eventually felt close to Maldives.
The exact location of the impact and the span of debris, both of which are unknown at this time, will not be released by U.S. Space Command

NASA website
The rocket is set to be followed by 10 more missions to complete the station.
Sources :
– Chinese rocket debris set for re-entry in coming hours- tracking centres. Reuters
– Debris from Chinese rocket could collide with Earth near New Zealand – European Space Agency. NZherald
– Chinese rocket debris lands in Indian Ocean, draws criticism from NASA. Reuters
– Follow Space track on twitter
Follow our Maldives Dreams on facebook, Youtube and Instagram
Your TOP Best Maldives Resorts 2023
YOUR CHOICE. YOUR DREAM. YOUR VOICE
[ Official ]
Traveler's Choice
12th Edition