Cathy and David Guetta, our amazing French kings of the night, are spending some holidays in the Maldives with their son Elvis.
After going back and forth between Dubai and Maldives, separately and together in various resorts since december, they are now staying at Waldorf Astoria Maldives Ithaafushi for a family holiday.

The french power couple ( ex-couple in life but still friends ) and dance royalty Cathy and global producer/DJ sensation David Guetta, creator of the iconic Ibiza F*** Me, I'm Famous nights, have been spotted in several Maldives resorts between december 2020 and february 2021.
The couple, divorced in 2014, are currently holidaying together at Waldorf Astoria Maldives Ithaafushi with their son Elvis.
By following David and Cathy Instagram accounts here and here, I tried to guess their itineraries in the Island Kingdom.
Waldorf Astoria Maldives Ithaafushi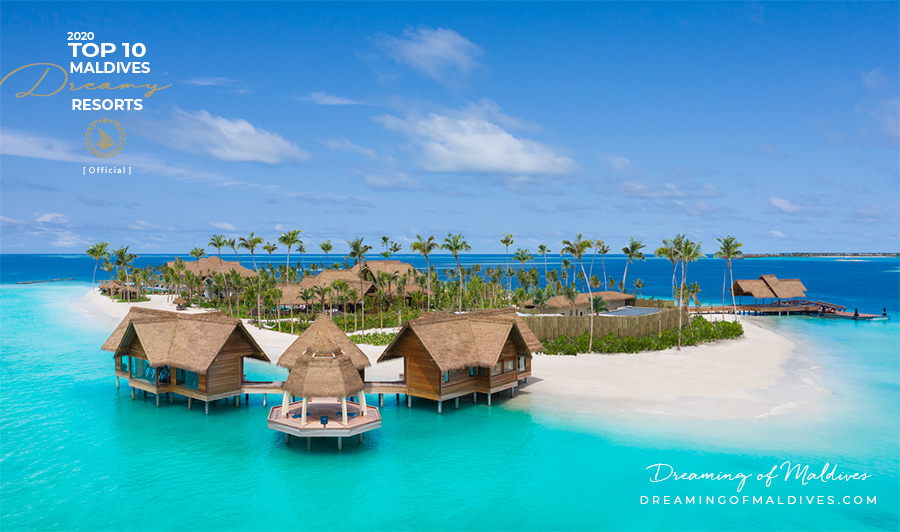 On february 15th Cathy Guetta shared photos of her dreamy moments at Waldorf Astoria Maldives Ithaafushi.
David and Cathy have stayed in various Maldives resorts
David and Cathy have stayed in different resorts before staying together at Waldorf Astoria Maldives Ithaafushu for a family holiday a few days ago.
On his side, David Guetta shared a few photos of his Christmas stay in Maldives.
In December, Cathy escaped UK Covid lockdown on time and left London for better days under the Maldivian sun together with their son Elvis.
Cathy and Elvis stayed first at Four Seasons Maldives at Landaa Giraavaru to celebrate Christmas.

Cathy Guetta also shared several photos of her dreamy festive season in one of Four Seasons Maldives properties, the beautiful Landaa Giraavaru.
A little aside concerning the Resorts they chose for their Maldivian holidays :
Four Seasons at Landaa Giraavaru, Soneva Jani and Waldorf Astoria Maldives Ithaafushi have been respectively voted 9th, 5th and 2nd Best Maldives Resorts 2020 in your Top 10.
Good choice people !
On the video below you can see more about the 3 resorts.
🏅 YOUR TOP 10 Best Maldives Resorts 2020 | OFFICIAL 🏆 Traveler's Choice. Maldives Dreamy Resorts
Cathy Guetta took the pose in her water villa at Four Seasons Maldives at Landaa Giraavaru.
The water villa at FS Landaa Giraavaru where the Guettas stayed. The pool and cabana are easily recognisable.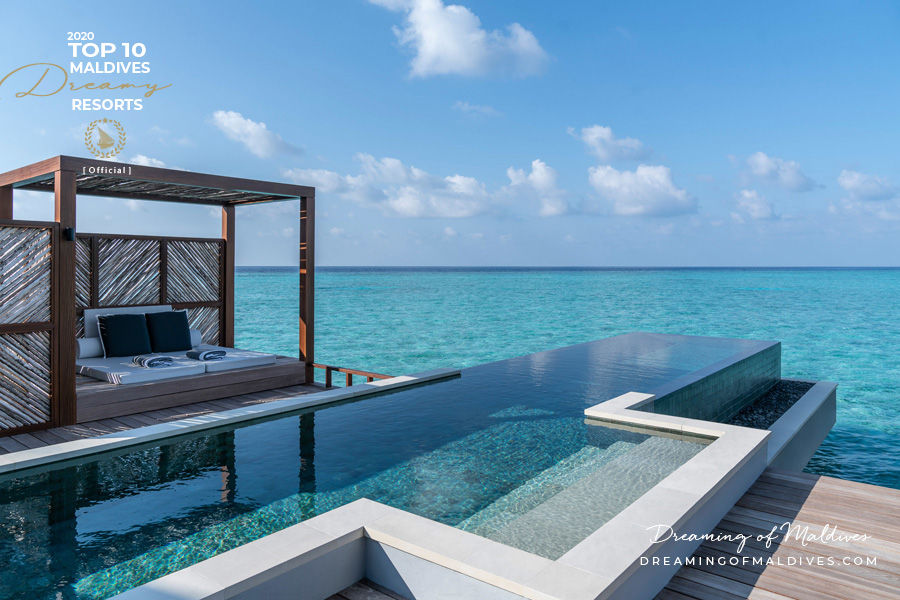 The Sunset photographed by David Guetta from FS Landaa Giraavaru Maldives water villa.
After his striking show at The Pyramide du Louvre in Paris on Dec 31st, David also came to the Maldives to celebrate christmas ( his photo looks like he also stayed at FS at Landaa Giraavaru ) before flying to Dubai and give another show at Burj Al Arab Dubai.
David Guetta mixing at Burj Al Arab Dubai for his World Tour called United at Home.
David Guetta | United at Home - Dubai Edition
David Guetta spotted at Soneva Jani Maldives
In January 2021, after Dubai's concert, David Guetta came back to Maldives with his girlfriend Jessica Ledon for a dreamy stay at Soneva Jani.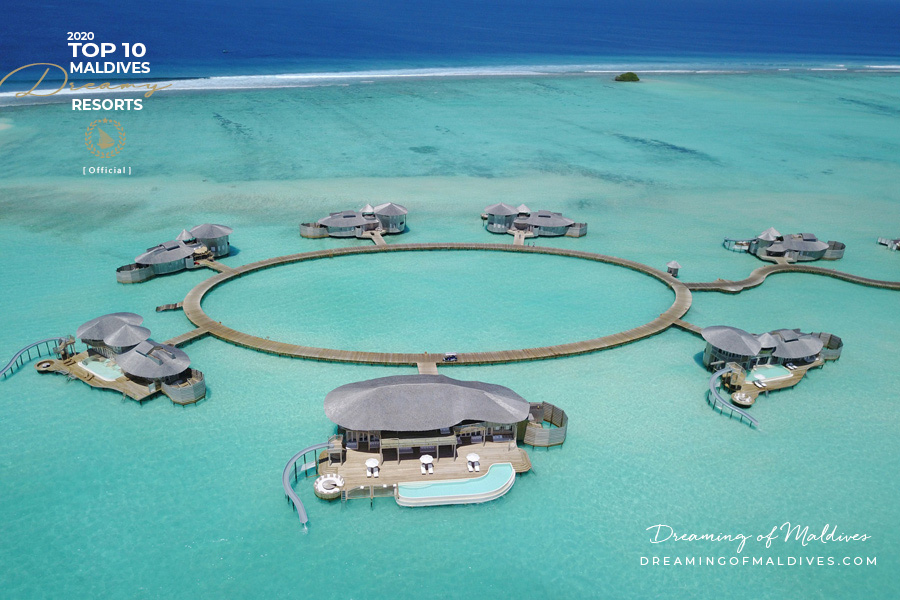 He shared videos on his instagram where the resort can be recognized on various images.
On this photo of himself posing in a blue lagoon, Soneva Jani water villas can be seen in the background.

On the first video, David Guetta is "attacked" by a baby reef shark. You will see a part of his water villa.
Soneva Jani Water Villa with Slide. One of the villa where David Guetta probably stayed.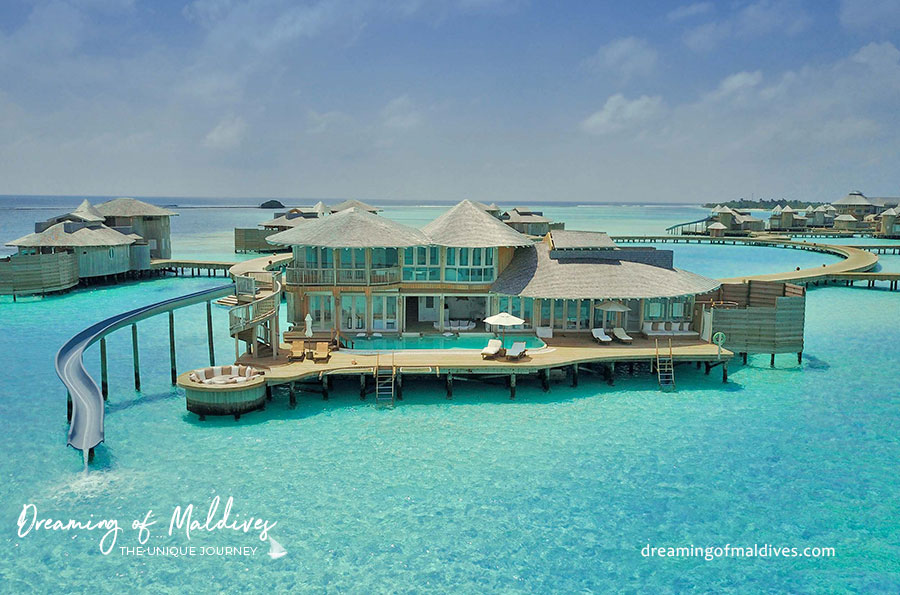 The second video shows him diving around Soneva Jani with dolphins passing-by on the music of The Big Blue.
David Guetta went diving in the wonderful Maldives blue waters
Soneva Jani's water villas with water slides are easily recognizable.

He also photographed himself in the resort fitness center.
David and Cathy now stay at Waldorf Astoria Maldives for some family time with their son.
David Guetta is a Long time Maldives Dreamer
It is not the first time that David Guetta spends some holidays in Maldives. He cam several times.
In 2010, he tweeted that Maldives was the most beautiful place in the world.

In the Maldives on holidays.
Most beautiful place in the world.
I haven't done any tracks since 2 weeks but I'm still a musicaholic!!

– David Guetta
Then in 2014, he shared a photo of himself together with another great French DJ : Bob Sinclar in a Maldives resort. The photo doesn't show enough for me to tell you exactly where they stayed.
Credit Photos and Videos David Guetta and Cathy Guetta / Instagram and Facebook
Photos Soneva Jani Fitness Room and Water Villa, Waldorf Astoria Ithaafushi Maldives & Four Seasons Landaa Giraavaru Water Villa / Respective Resorts.


Celebrities have always loved the Maldives for a sweet Winter escape.
Shakira was also recently holidaying in Maldives together with Gerard Piqué. The couple also stayed at Waldorf Astoria Ithaafushi
The Island Kingdom is, more than ever, one of the best place on Earth to be right now.
I wish the Guetta family a beautiful Dreamy Maldives Holiday.
More People and celebrities spotted in Maldives
Follow us on Facebook, Youtube and Instagram 
for more Maldives Dreams & Stories
Your TOP Best Maldives Resorts 2023
YOUR CHOICE. YOUR DREAM. YOUR VOICE
[ Official ]
Traveler's Choice
12th Edition