Six Senses Laamu Maldives will host a week of freediving activities by iconic world champion diver Umberto Pelizzari.
Update : January 23rd 2012. Photo just released by Six Senses Laamu !
Umberto freshly arrived at Six Senses Laamu. We share with you this photo of him breath-holding taken a short time ago on the resort jetty.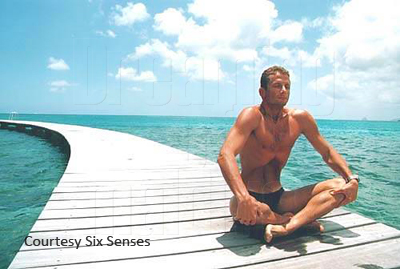 HERE IS A FRESH AND EXCITING NEWS FOR ALL Freediving LOVERS!
From 23rd 30th January 2012, Six Senses Laamu Maldives (only resort in the remote Laamu Atoll, 150 kilometers north of the equator) will host a week of free diving activities by iconic world champion freediver Umberto Pelizzari.
The 16 freediving world records is the only freediver to have established world records in all the depth disciplines, and the first man to reach the depth of 150 meters (492 feet).
Umberto will host daily freediving clinics teaching them the sport unique techniques and make explorative dives around the beautiful coral reefs surrounding Six Senses Laamu.
In the evening, dinners will be organized at LEAF to talk with Umberto about his dives and discoveries.
About Umberto Pelizzari
Umberto now works as a journalist and television reporter for a popular Italian scientific documentary program that focused on the marine environment. He is also the creator of the Apnea Academy, school for the instruction and research of freediving on an international level.
Video of Umberto freediving in Maldives
… ( from the beautiful "Underwater Channel TV")
About Six Senses Laamu
Six Senses Laamu is an eco-friendly luxury Resort reachable after a 45 minute flight with Maldivian Airways to the Atoll Domestic Airport of Kadhdhoo followed by 20 minutes speed boat ride.
Secluded in a undisturbed nature and surrounded by a stunning lagoon on one side and a long close-by and rich house reef on the other side, the spectacular resort offers spacious Beach Villas close to fine white sandy beaches and some of the most beautiful Water Villas in Maldives.
Read more about Six Senses Laamu

Freediving in Maldives
Freediving in Maldives is a dream for many. This extreme sport is surely the purest way to explore the beauty of the country underwater world.
The past decade, the Maldives have become one of the favorite destination for many freedivers who regularly come for their own pleasure or to compete for various events and records.
Freediving world champion Willian Trubridge, a double world record holding freediver in 2019 for the "Neyvaa" event organized by Guinness.
Deepest Man on Earth and freediving record holder Herbert Nitsch, in 2015.
Freediving World Champion Umberto Pelizzari in 2011.
Read more Freediving in Maldives
Follow us on Facebook, Youtube and Instagram
for more Maldives Dreams & Stories
Your TOP Best Maldives Resorts 2023
YOUR CHOICE. YOUR DREAM. YOUR VOICE
[ Official ]
Traveler's Choice
12th Edition