Are you looking for an affordable and dreamy all-inclusive resort in the Maldives ? You are thinking picture-perfect tropical island, blue lagoon, great snorkeling, cocktails and good food without hurting your wallet ?
Here are 5 Resorts selected for the beauty of their surroundings and excellent value for money.
Yes, the Maldives Dream is accessible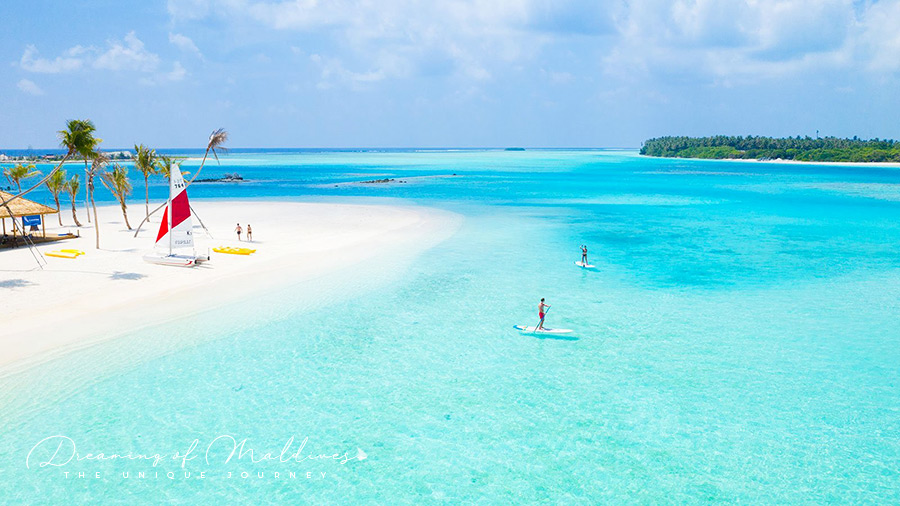 cet article est disponible en Français ici.
Considered by many as one of the most beautiful tropical destination in the world, the Maldives are also stamped with the word expensive.
But, what if I told you that you could spend a Dreamy all-inclusive Maldives holiday for less than $5000 a week in some of the destination most beautiful resorts. Think pristine blue lagoon, great snorkeling, gorgeous tropical island, cocktails and good food and your dream becomes a reality.
The Maldives have become more affordable
With more and more airline companies operating flights to the Island Kingdom, and many resorts offering all-inclusive packages, the Maldives have slowly become more affordable.
A Dream holiday in a beautiful Maldives resort may seem out of reach for many travelers, but it can be done.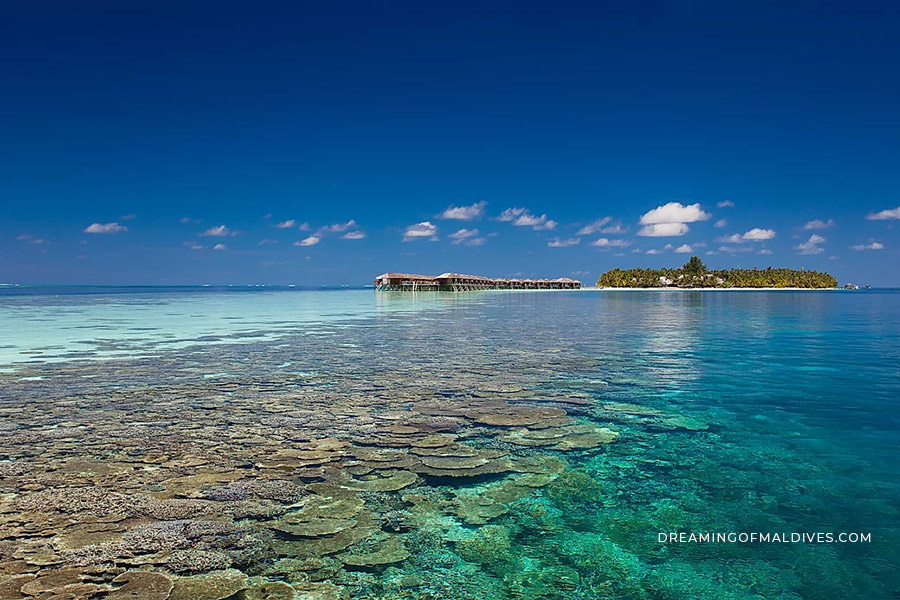 Why you should opt for an All-Inclusive plan ?
If you're looking for a romantic getaway for two, a family holiday or a friend trip, an all-inclusive resort will truly allow you to relax and enjoy without hurting your wallet and your mind.
All-inclusive packages will save you a lot of money.
Lets' do some Maths : in Maldives, a glass of wine can easily cost around 8 USD, the same or more for a simple juice, 4 USD for a coffee, around 30 USD for a salad and I am not going to start with the main course nor the cocktails.
Everything is expensive in Maldives.
What does All-Inclusive generally means in Maldives ?
In most Maldives resorts a very basic all-inclusive package includes 3 meals a day and some beverages.
Meals are generally served as buffets at the main restaurant with a selection of beverages to choose from.
Some hotels add all-day snacks, in-villa minibar, additional à la carte restaurants, discounts to fine dining venues, spa treatments and non-motorized activities.
I selected here 5 resorts with picture perfect surroundings, 5 idyllic islands that really look like a Dream.
I hope they will inspire you.
5 Affordable All-Inclusive Maldives Resorts With Astonishing Surroundings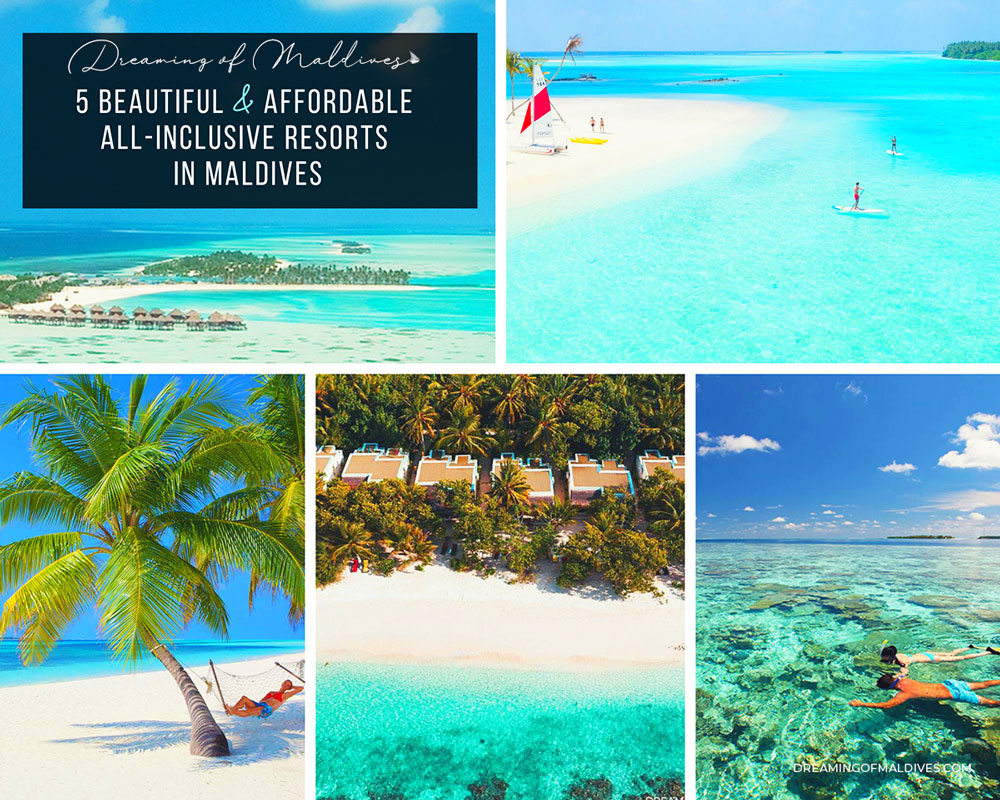 These 5 all-inclusive Maldives resorts offer postcard-perfect images of a tropical paradise.
OBLU NATURE Helengeli Premium 4* All-Inclusive
THE DREAM : excellent snorkeling
---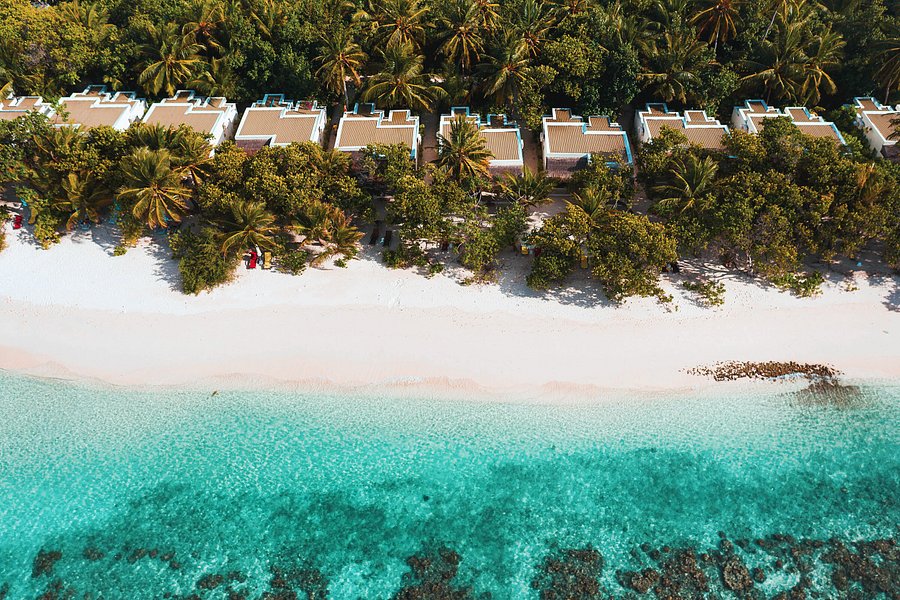 OBLU Helengeli, one of the best 4* all-inclusive of this list, is renowned for its beautiful reefs and snorkeling quality for years. I briefly introduced you the resort when we discovered it at its opening as well as in The Best Maldives Resorts for Snorkeling.
Oblu Helengeli, a snorkeling paradise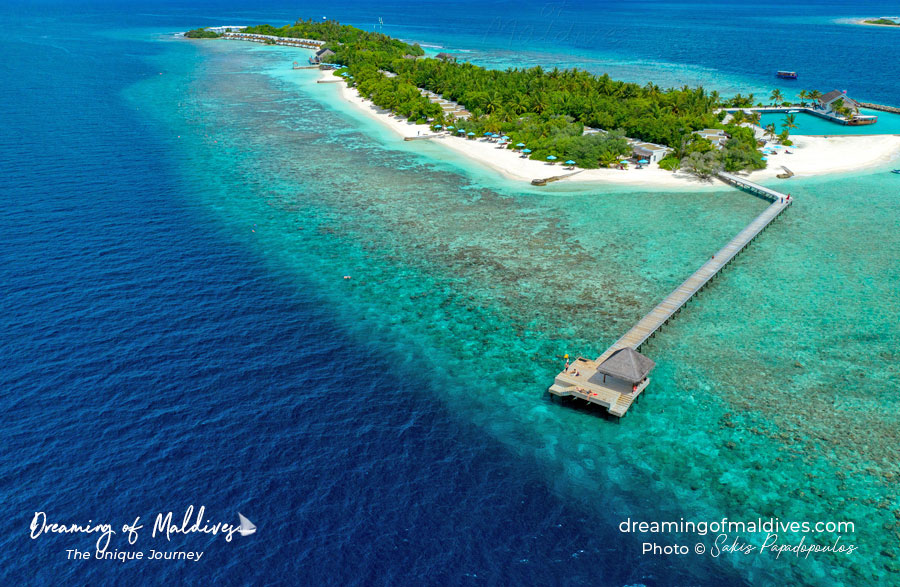 Located in North Male Atoll, OBLU Helengeli caters for families, solo travelers, honeymooners and, of course, water sports enthusiasts with a top-notch snorkeling and access to some of North Male best diving spots.
OBLU Helengeli All-Inclusive Package
At OBLU Helengeli all-inclusive package includes everything, is not optional and is taken as standard in the booking.
The resort offers quality buffets, a host of premium drinks included, a great range of activities, all at surprisingly low rates for its value for money.
Helengeli's all-inclusive premium package also offers great discounts on many services and activities including the island's beautiful spa and gourmet restaurants. The mini-bar in the villas is also included in the package and is replenished at no extra cost !
Discover more about OBLU Helengeli All-Inclusive Package Plan
From 4530 USD for 1 week for 2 adults in All-Inclusive
Book OBLU Helengeli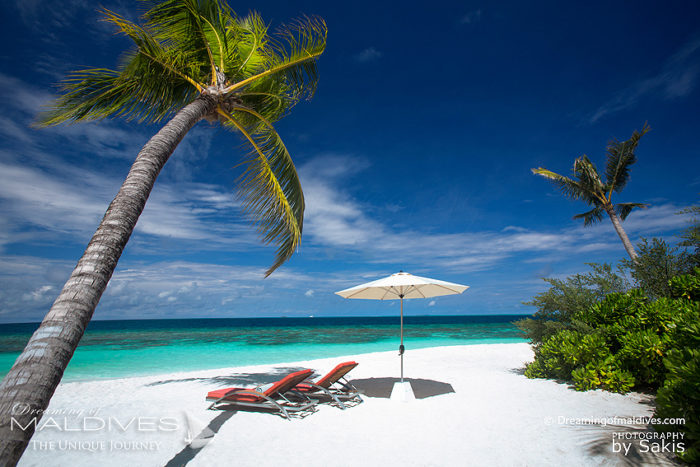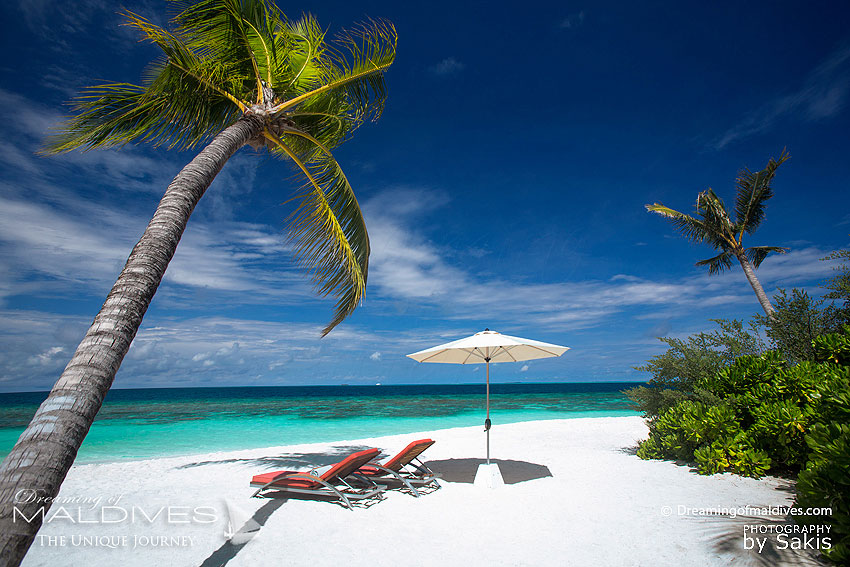 Kuredu Maldives Resort with All-Inclusive option
THE DREAM : a diver paradise with a beautiful lagoon
---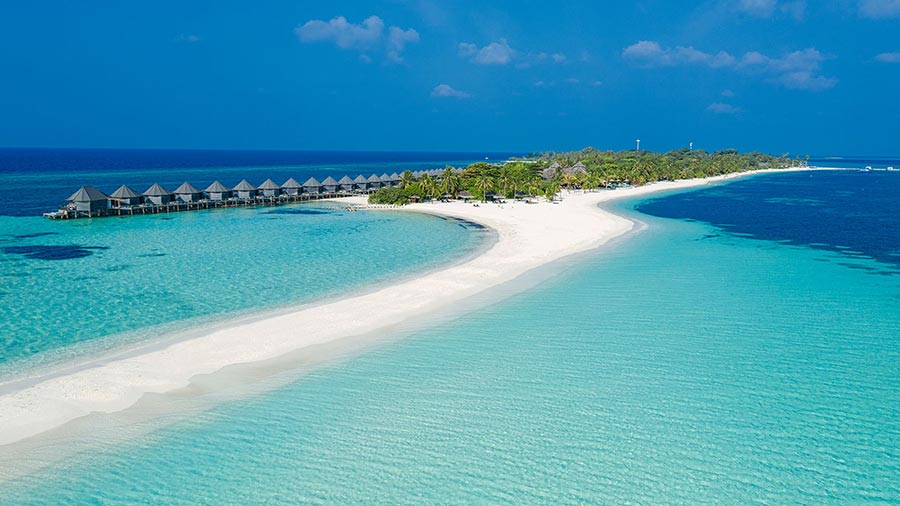 Located in the superb Lhaviyani Atoll, Kuredu Maldives is a typical 4* Maldivian resort famous among divers and water sports enthusiasts. The teardrop-shaped island offers 1.5 km of beaches and is one of the largest island resorts in the Maldives with plenty of activities.
The island is surrounded by a magnificent lagoon and a beautiful sandbank at its extremity.
Kuredu's dreamy sandbank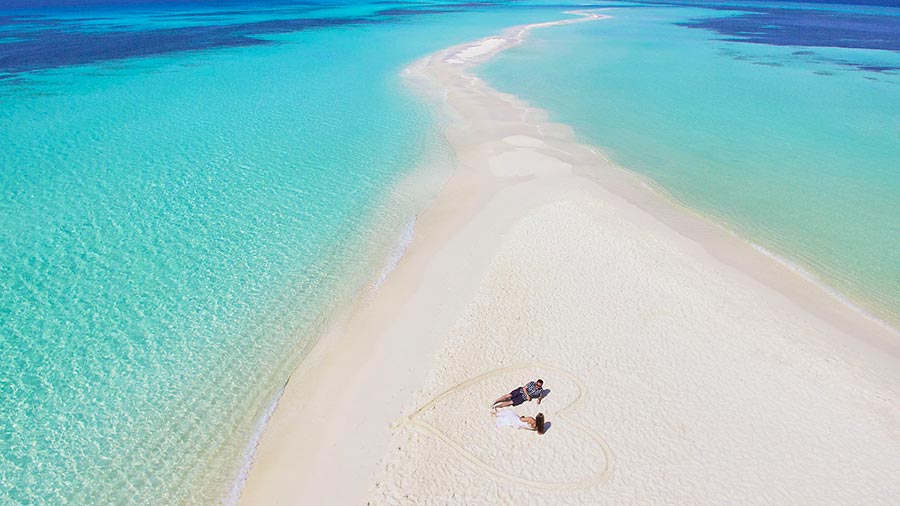 To enjoy this unique playground, Kuredu boasts an impressive water sport center and one one of the largest and longest running diving and snorkeling operations in the Maldives.
Kuredu All-Inclusive Packages
Kuredu is one of the most affordable All-Inclusive 4 * Resort in the Maldives with 2 generous plans : the PLUS and the GOLD. Both packages allow you to customize your holiday in a way that best suits your habits, wishes and comfort level.
The all-inclusive plans work on a color-coded system that gives access to different locations depending on the room category you book.
Discover more : Kuredu All-Inclusive Package Plans
From 3400 USD for 1 week for 2 adults in All-Inclusive
Book Kuredu Island Resort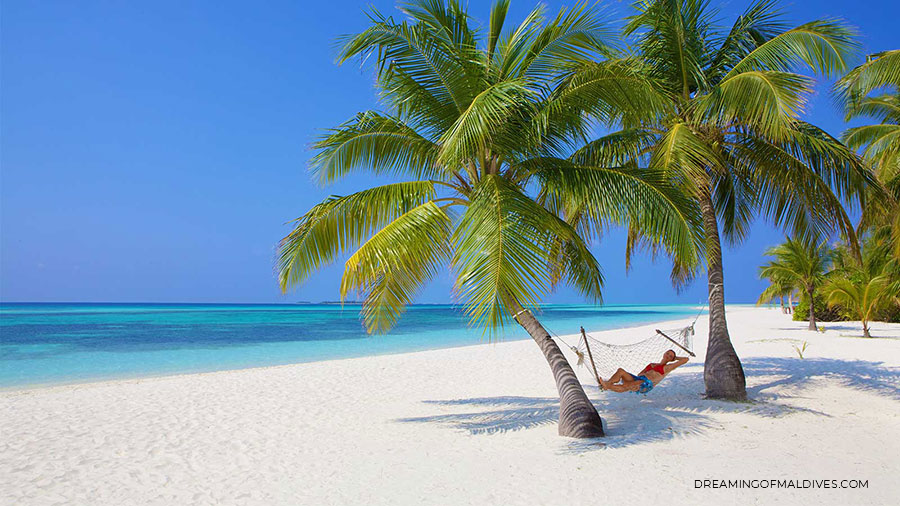 Innahura Maldives Resort with All-Inclusive option
THE DREAM : a beautiful lagoon
---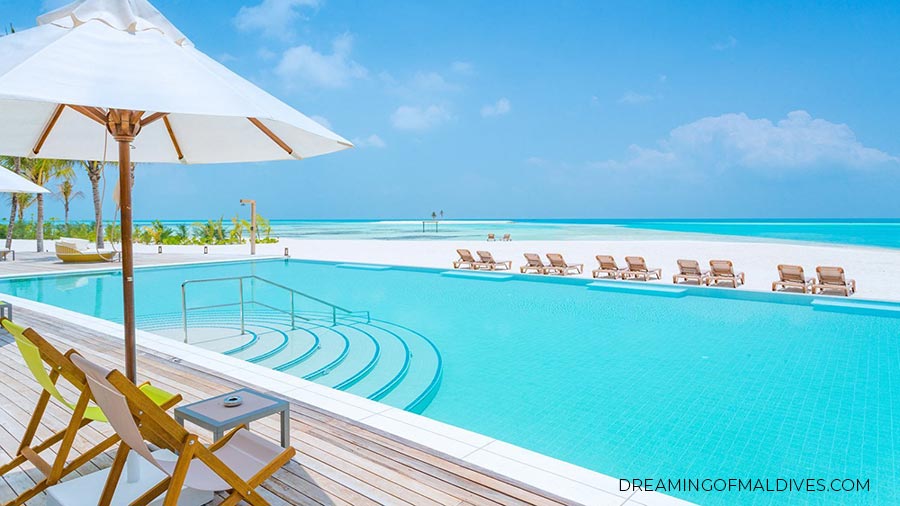 Innahura Maldives is located in Lhaviyani Atoll at a 40-minute seaplane journey from Male International Airport.
Surrounded by a superb lagoon and fine white sandy beaches, the resort defines itself as an unpretentious gem made for families and couples looking for a relaxed and simple holiday.
Innahura beautiful lagoon + beach = paradise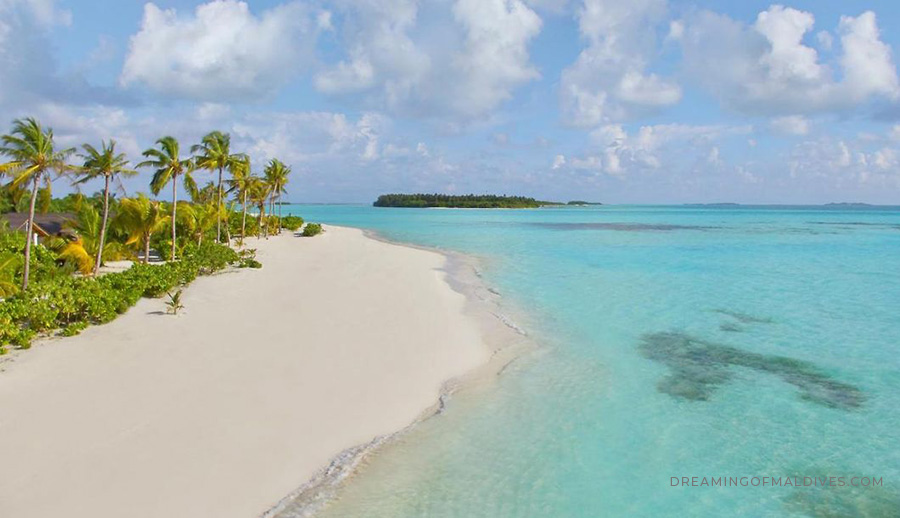 Keeping simplicity and lagoon preservation in mind, Innahura offers only beach villas with a total of 78 vibrant bungalows orientated towards the Sunset or the Sunrise.
Innahura All-Inclusive Easy Package
Innahura's All-Inclusive Easy plan is an optional and affordable package designed for guests to enjoy a hassle-free holiday with the possibility to add their favorite drinks, snacks, experiences and activities to their holidays.
The AI plan can be booked for the number of nights you wish at 105 USD per day and per person.
Discover more : Innahura All-Inclusive Package Plan
From 3200 USD for 1 week for 2 adults in All-Inclusive
Book Innahura Maldives
Vilamendhoo Island Resort with All-Inclusive option
THE DREAM : excellent snorkeling and possibility to swim with Manta Rays
---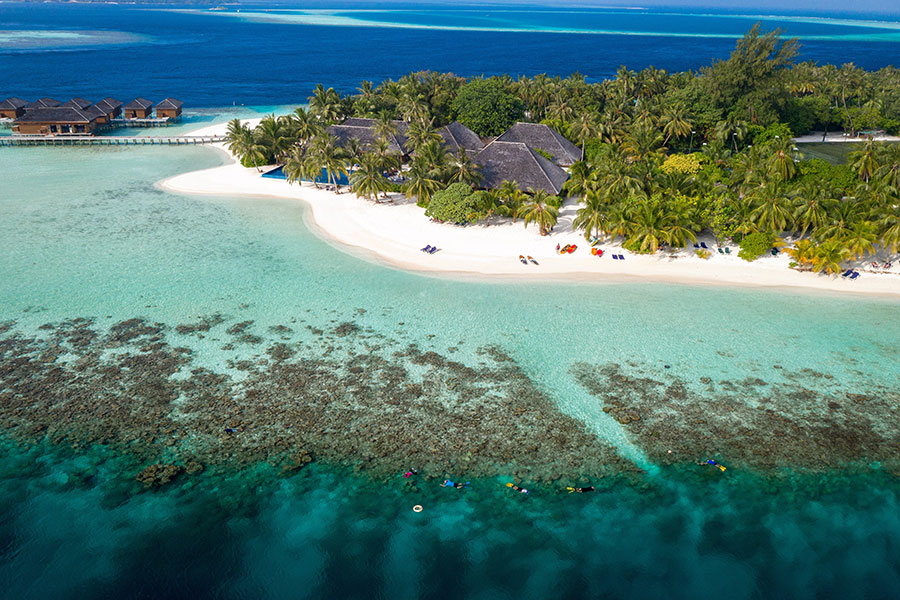 Vilamendhoo Island Maldives is a beautiful 4* resort located in South Ari Atoll offering an optional all-inclusive package. This snorkeling paradise is not only affordable but also heavenly beautiful.
The resort is the home base of Manta Trust, a Marine center that studies Manta Rays in the Maldives.
Vilamendhoo, a Snorkeling paradise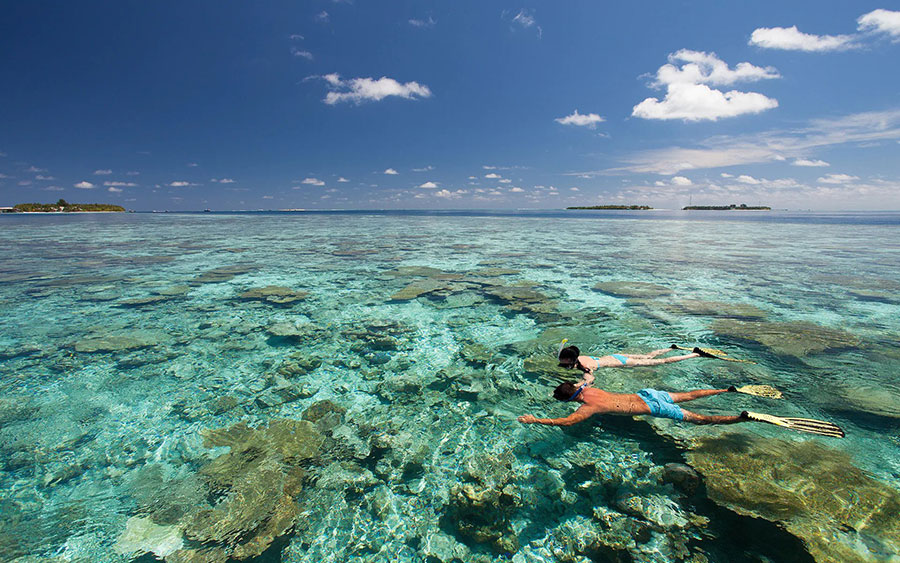 The stunning 4* island resort is ideal for travelers looking for a romantic or a family getaway on a budget.
Besides being one of the most affordable all-inclusive Maldives resort, it is also one of the best for snorkeling with its extraordinary house-reefs located at proximity and surrounding the entire island.
Couples will love the island adults-only section.
Vilamendhoo All-Inclusive Package
Vilamendhoo's all-inclusive package includes the full board in several restaurants, snacks, drinks and activities.
The main restaurant, Dhoni, offers a variety of international cuisine served at a buffet. There is also a snack bar and a café for those who wish to enjoy something light during the day.
The package also includes some non-motorized water sports such as windsurfing (for experienced windsurfers), paddle boarding, canoeing and snorkeling trips (excluding the equipment).
Discover more : Vilamendhoo All-Inclusive Package Plan
From 3240 USD for 1 week for 2 adults in All-Inclusive
Book Vilamendhoo
Sun Siyam Olhuveli with All-Inclusive option
THE DREAM : a beautiful lagoon and a great choice of water sports
---

Sun Siyam Olhuveli, a beautiful 4 * luxury resort located in South Male Atoll, offers an affordable All-Inclusive package in option. Its stunning surroundings, wide choice of water sports and excellent value for money make it an ideal resort for a dream holiday in the Maldives.
Sun Siyam Olhuveli, a Dream for Water Sport Lovers
Olhuveli is made of 3 islands, each with its own atmosphere and facilities.
The resort villas combine a contemporary style with traditional Maldivian architecture offered in many categories ranging from Maldivian-inspired suites to sleek contemporary villas.
Aside from a wide selection of accommodations and several bars and restaurants, the resort offers an excellent choice of leisure and activities including multiple water sports, land sports (including a tennis court), 3 swimming pools ( with one only for children ), a kids club, a PADI/SSI Diamond diving center and a super spa.
Sun Siyam Olhuveli All-Inclusive Package
Sun Siyam Olhuveli all-inclusive package offers the possibility to enjoy a maximum of meals, drinks, and activities at less costs via an interesting All-Inclusive package offered in option.
If you're a foodie, love cocktails and a good wine, have kids or you simply love water sports, the resort generous plan should help you protect your wallet without compromising on quality.
Discover more : Sun Siyam Olhuveli All-Inclusive Package Plan
From 4550 USD for 1 week for 2 adults in All-Inclusive
Book Sun Siyam Olhuveli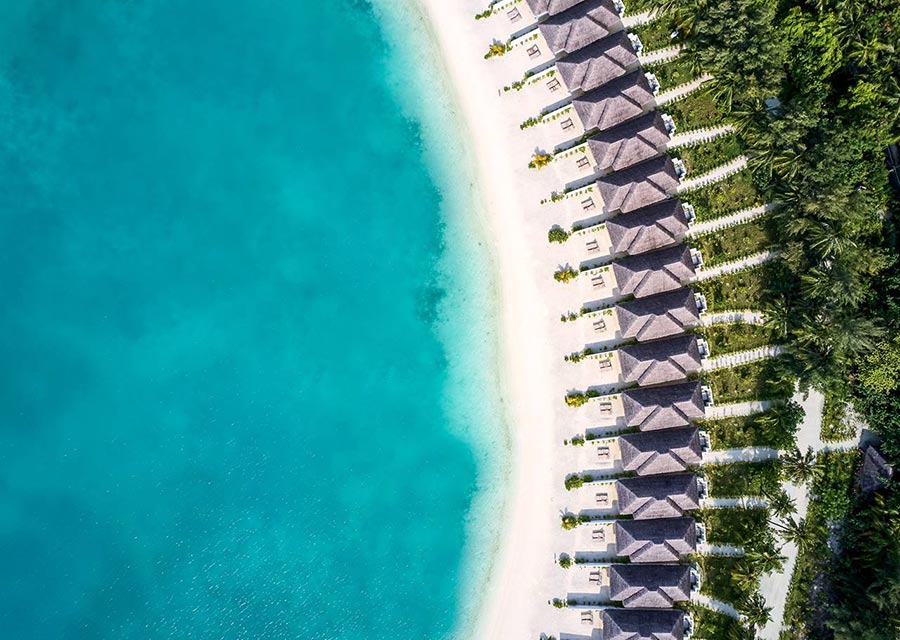 ---

Discover the 10 best water sports you should experience in Maldives : surfing, windsurfing, kitesurfing, sailing, wakeboarding, jet skiing,…

Pullman Maldives Maamutaa, voted Best Maldives Resort in 2021, is a 5* All Inclusive Luxury Resort known for the beauty of its surroundings…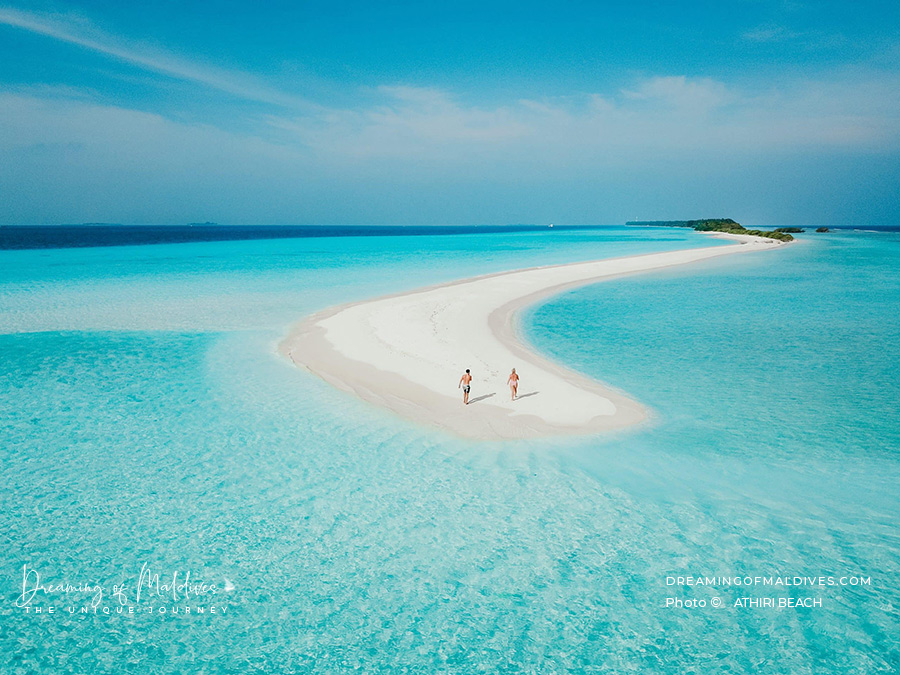 Dhigurah, which means Long Island in Dhivehi, is considered as one of the most beautiful island in the Maldives. Voted in the World's…
Follow us on Facebook, Youtube and Instagram
for more Maldives Dreams & Stories
Your TOP Best Maldives Resorts 2023
YOUR CHOICE. YOUR DREAM. YOUR VOICE
[ Official ]
Traveler's Choice
12th Edition