Accor will open Mercure Maldives Kooddoo & Pullman Maldives Maamutaa in south Maldives.


Accor Asia Pacific has been appointed by Pristine Island Investments Pte Ltd to manage two new resorts being built in one of the most unspoilt areas of the Maldives.
Mercure and Pullman will respectively open in 2016 and 2018
The 68-villa Mercure and 120-villa Pullman will respectively open in 2016 and 2018.
They will be located in the south of the Maldives in Gaafu Alifu Atoll known for having excellent diving and snorkeling natural assets.
With 2 new properties in Maldives, Accor aims to offer both a stylish mid-scale and upscale accommodation to the pristine south of the Maldives
"We are thrilled to announce our first two hotels in the Maldives at a time when the region is enjoying excellent growth, especially with travellers from Asia Pacific. The Mercure and Pullman resorts will provide great options for travelers looking for world-class accommodation in the middle of this unspoilt lagoon and we look forward to working with Pristine to bring these exciting projects to fruition"
– Michael Issenberg, Chairman and CEO Accor Asia Pacific.
About Mercure Maldives Kooddoo
The Mercure Maldives Koodoo Resort will provide one of the best-value accommodation options in the spectacular Maldives, with 68 villas including 43 located over water and 25 scattered along the white sandy beach.
The resort will be built using local materials, bright colors and stylish furniture with the interiors designed to reflect the Maldivian culture and the spirit of travel.
It will be the only Maldivian beach resort directly accessible by domestic plane, without the need of an additional speedboat journey.
Facilities will include an all-day restaurant, lobby lounge, pool and pool bar, sunset bar, spa and gym as well as a range of watersports including a dive centre.
The arrival of Kooddoo Airport has opened up the beautiful southern region to more travel opportunitiues.
The atoll is far from the busiest regions located further north.
About Pullman Maldives Maamutaa Resort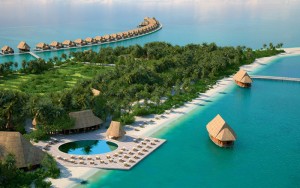 The 120-villa Pullman Maldives Maamutaa Resort, which is slated to open in 2018, will be a 'one-island, one-resort development' located just 10 minutes by speedboat from the new airport on the gorgeous, unspoilt Maamutaa Island which spans 195,000 square meters.
---
Discover Pullman Maldives
Pullman Maldives Maamutaa, voted Best Maldives Resort in 2021, is a 5* All Inclusive Luxury Resort known for the beauty of its surroundings…
---
A destination in itself, the Pullman Maamutaa will be one of the most modern resorts in the Maldives, offering guests five-star services and facilities including 80 spacious overwater villas and 40 villas dotted around the pristine beach, two swimming pools, a lounge, an all-day dining restaurant, a specialty restaurant, a sunset bar perched over the lagoon, spa and fitness centre, organic gardens, tennis court, kids club, beach playground as well as a dive centre and watersports centre so that guests can make the most out of their stay in this spectacular location.
"The upscale Pullman Maldives Maamutaa Resort and mid-scale Mercure Maldives Kooddoo Resort will be our first two hotel developments in the Maldives and we are pleased to partner with Accor which has a large brand portfolio catering to different market segments and a strong brand presence in Europe and Asia.
We believe that this partnership, with our collective experience, will create a new and very exciting holiday destination in the Maldives".
– Mr Ronald Leo, CEO of Pristine Island Investments Pte Ltd.
About Accor Investments and Developments
Accor has a long relationship with the Keong Kong Holdings Pte Ltd, the majority shareholder of Pristine Islands Investment, as they appointed Accor to build and manage the flagship ibis Singapore Bencoolen Resort back in 2007. The success of that hotel has given Pristine Islands Investment great confidence in choosing Accor as its partner on this exciting new project in the Maldives.
The announcement comes at a time when the Maldives are enjoying record visitor numbers with 120,468 tourists arriving in February 2015, the highest number recorded in the history of Maldives tourism.
Asia Pacific currently accounts for around 44% of visitor arrivals (with China the number one source country) and Europe accounting for 49% of visitor arrivals.
With its strong European roots and expansive network in Asia Pacific, Accor will be able to help Pristine Islands Investment to attract visitors from all around the world to these new projects, which are set to redefine accommodation in the Maldives.
Additionally, the opening of the new airport at Kooddoo has dramatically reduced the travel time to the stunning south of the Maldives which boasts some of the most dramatic landscapes and unexplored reefs in the world.
Coupled with the increased air capacity to the Maldives including new direct flights from Singapore, Kuala Lumpur and key Chinese hubs, tourism in the region is expected to grow further with anticipated visitor arrivals to reach 1.72 million by 2017
Mercure Kooddoo and Pullman Maamutaa Artist Impressions.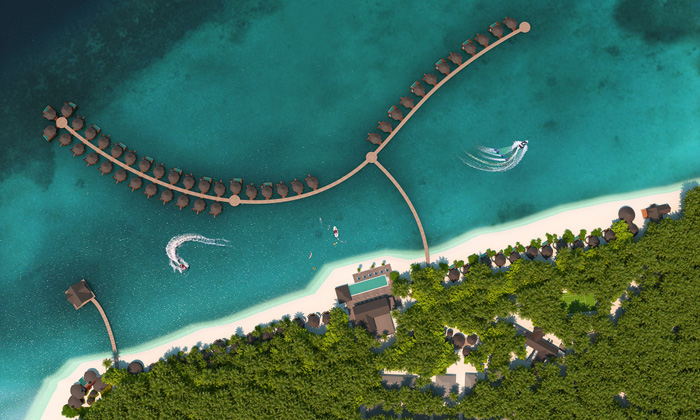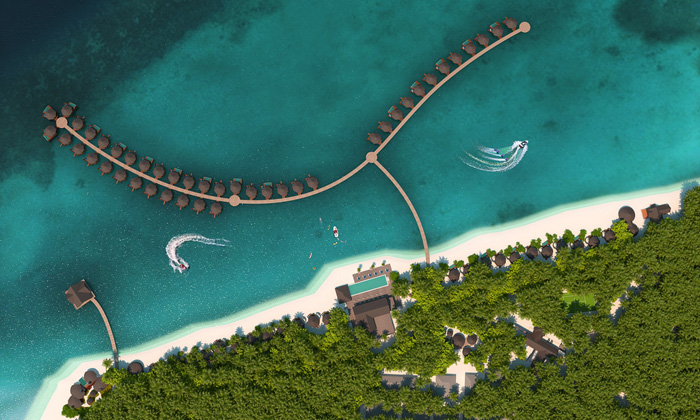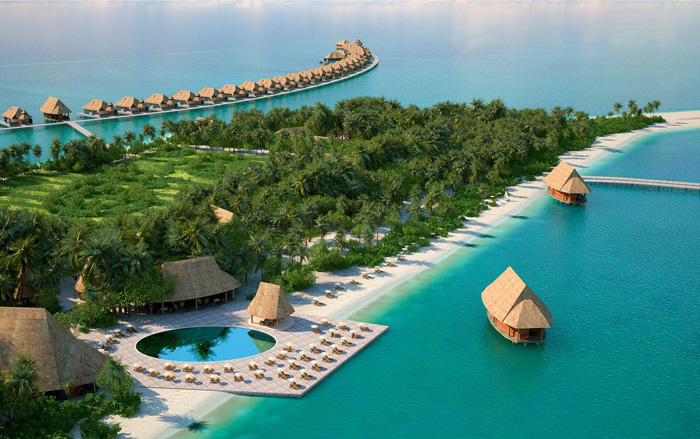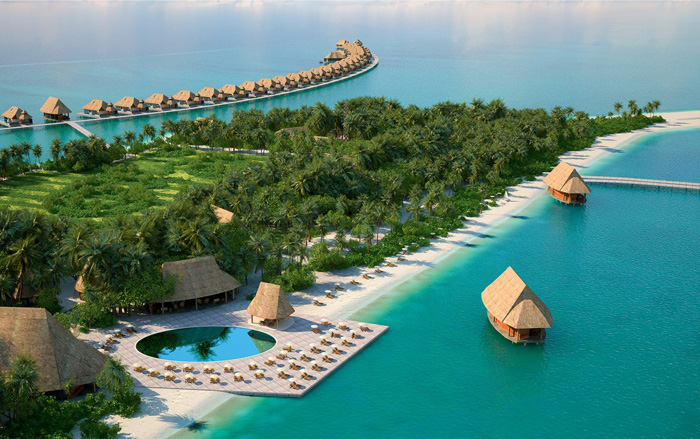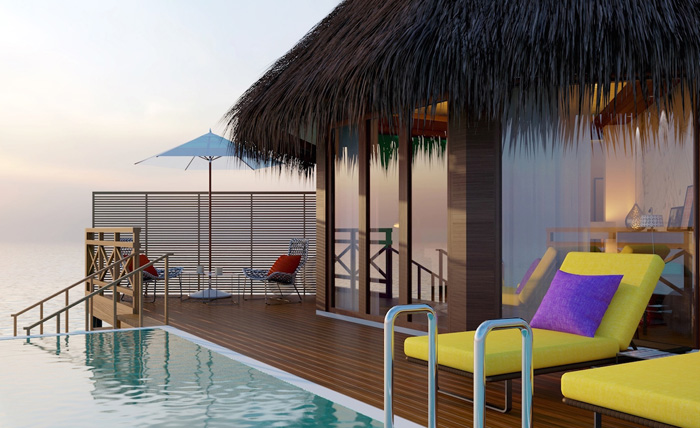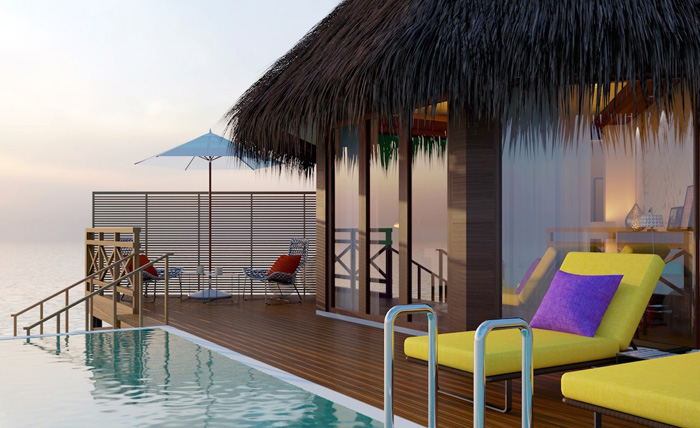 News. April 2015.
Follow us on Facebook, Youtube and Instagram 
for more Maldives Dreams & Stories
Your TOP Best Maldives Resorts 2023
YOUR CHOICE. YOUR DREAM. YOUR VOICE
[ Official ]
Traveler's Choice
12th Edition