Pullman Maldives Maamutaa, voted Best Maldives Resort in 2021, is a 5* All Inclusive Luxury Resort known for the beauty of its surroundings and its excellent all-inclusive plan, considered as one of the best in Maldives for its variety and quality.
Discover why Pullman Maldives Maamutaa is a Dreamy Resort.
all photos © Pullman Hotels & Resorts
Discover Pullman Maldives Maamutaa, the resort and its concept
Pullman Maldives Maamutaa. The Resort at a Glance
Pullman Maldives Maamutaa, a true 5* Luxury All Inclusive resort, is located in Gaafu Alifu Atoll, at 55 mns by domestic flight from Male International airport + 15 mns by speed boat.
Gaafu Alifu Atoll is still not very busy with resorts and is the widest Atoll in Maldives and one of the largest in the world.
Opened in 2019, Pullman Maldives Maamutaa Resort offers one of the best all-inclusive plan in the Maldives, excellent services, a wide range of activities and a complete variety of culinary delights available at six delightful outlets across the island.
Pullman Maamutaa offers 122 decadent villas, including two underwater bedrooms called Aqua Villas featuring each a bedroom submerged at 10 meters beneath the turquoise waters.
The resort also boasts an immense 4-bedroom water residence called The Royal Suite which covers 1474 sqm and can welcome up to 10 persons.
Maamutaa, the island
Pullman chose Maamutaa Island for its exceptional nature, rich in density and diversity.
The 18 hectare island, filled with a virgin lush vegetation, has the unique particularity to have a natural lake inside as well as a mangrove. ( both very rare in the Maldives ).
Maamutaa island is so large ( it spans over 195,000 sqm / app. 2000000 sft ) that it is never crowded and allows fantastic bike rides along a multitude of sandy roads.
If you feel lazy, Pullman has a free buggy to bring you to various places around the island during the day and at evening to go to the bars and restaurants.
Beside its unique assets on the inside, the island is also blessed with a magnificent lagoon, which is one of the largest in the Maldives, a wide area filled with corals and marine life as well as the atoll main reef located at a few meters away from its shore.
See Pullman Maldives Maamutaa in Video at 0.41.
Pullman Maldives Maamutaa interior design and villa architecture are created by Miaja Design Group, a Singaporean based design agency who has already worked on 10 resort projects in the Maldives over the years like LUX* North Male ( now Jumeirah Olhahali ), JW Marriott Maldives or OZEN Life Maadhoo to name just a few.
The resort architecture and interior design are based on nature and fauna with organic elements and modern lines with local traditions ( the emblematic villa bicolor thatched rooftops, inspired by the Maldivian striped sarong, are truly superb ) and a splash of art, with the help of a street artist who came to create various paintings on some building walls.
---
Pullman Maldives Villas and Suites in details
Pullman Maldives Maamutaa boasts 122 Villas located overwater and on the beach available in many categories ranging from the simple yet luxurious Beach Villa, to family villas, an overwater Royal Suite as well as 2 underwater bedrooms.
All villas are offered with and without private pool and have their minibar replenished twice daily ( with free items including chocolates and snacks ) included in the All Inclusive package.
On the Beach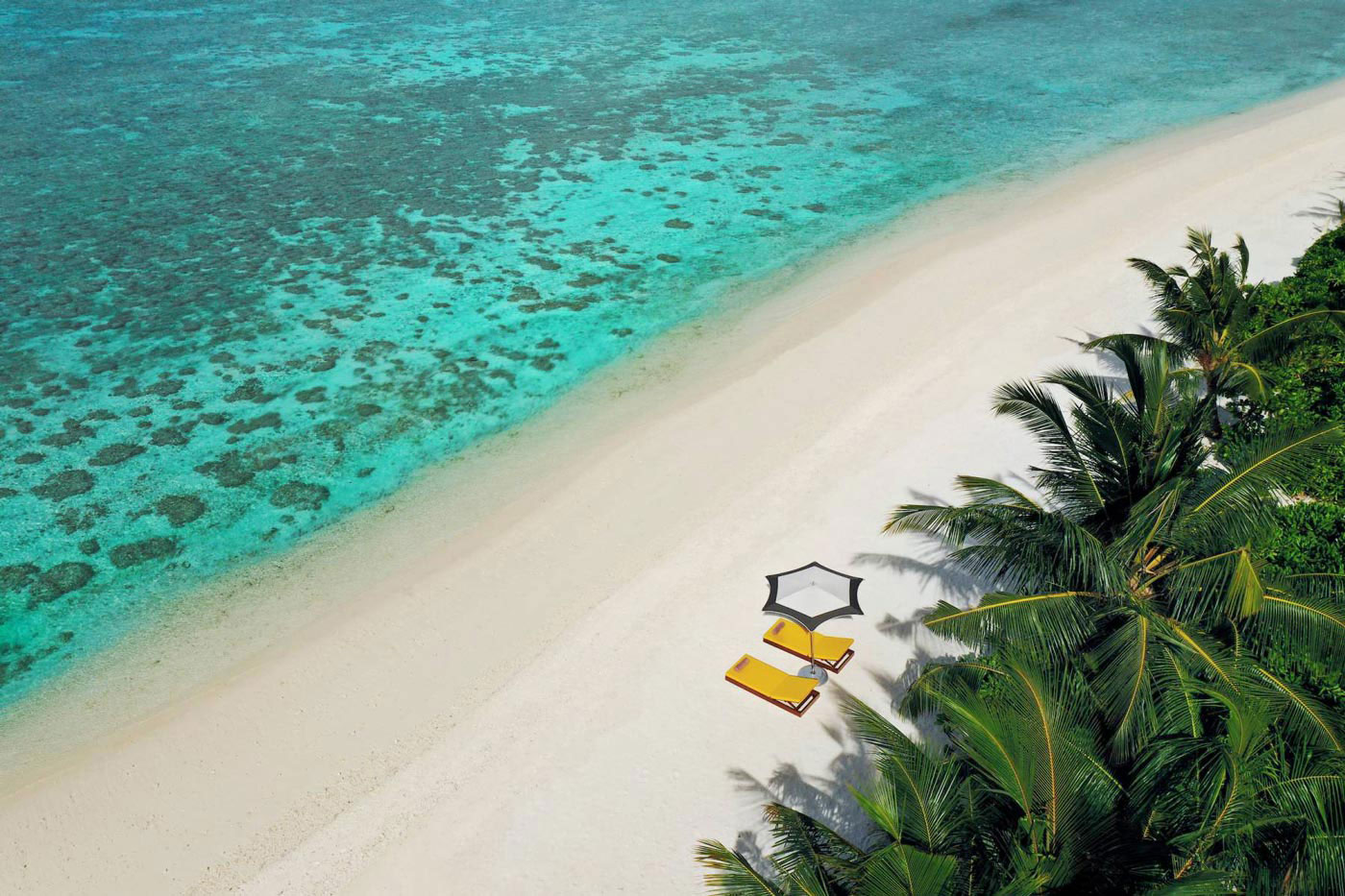 Despite being the first category of villas offered by Pullman Maldives, the Beach Villas offer top-notch accommodation, beautiful design, spacious interiors and 5* star luxury room amenities. Each beach villa offers a hidden and spacious private terrace with its own access to the beach and lagoon.
At the rear of the villas, in the garden side, is a large indoor-outdoor bath area with 2 showers and a freestanding bathtub
The Beach Villas have one bedroom and can accommodate up to 3 adults or 2 adults plus one children and one baby.
On the inside, the Beach Pool Villas are similar to the Beach Villas in terms of beach location, design, spaces, amenities and comfort. On the outside you will find a wider deck and a big private pool.
The Beach Villas With Pool have one bedroom and can accommodate up to 3 adults or 2 adults plus one children and one baby
Aerial view at the Beach Pool Villas and the Two-Bedroom Beach Villas at the bottom right corner.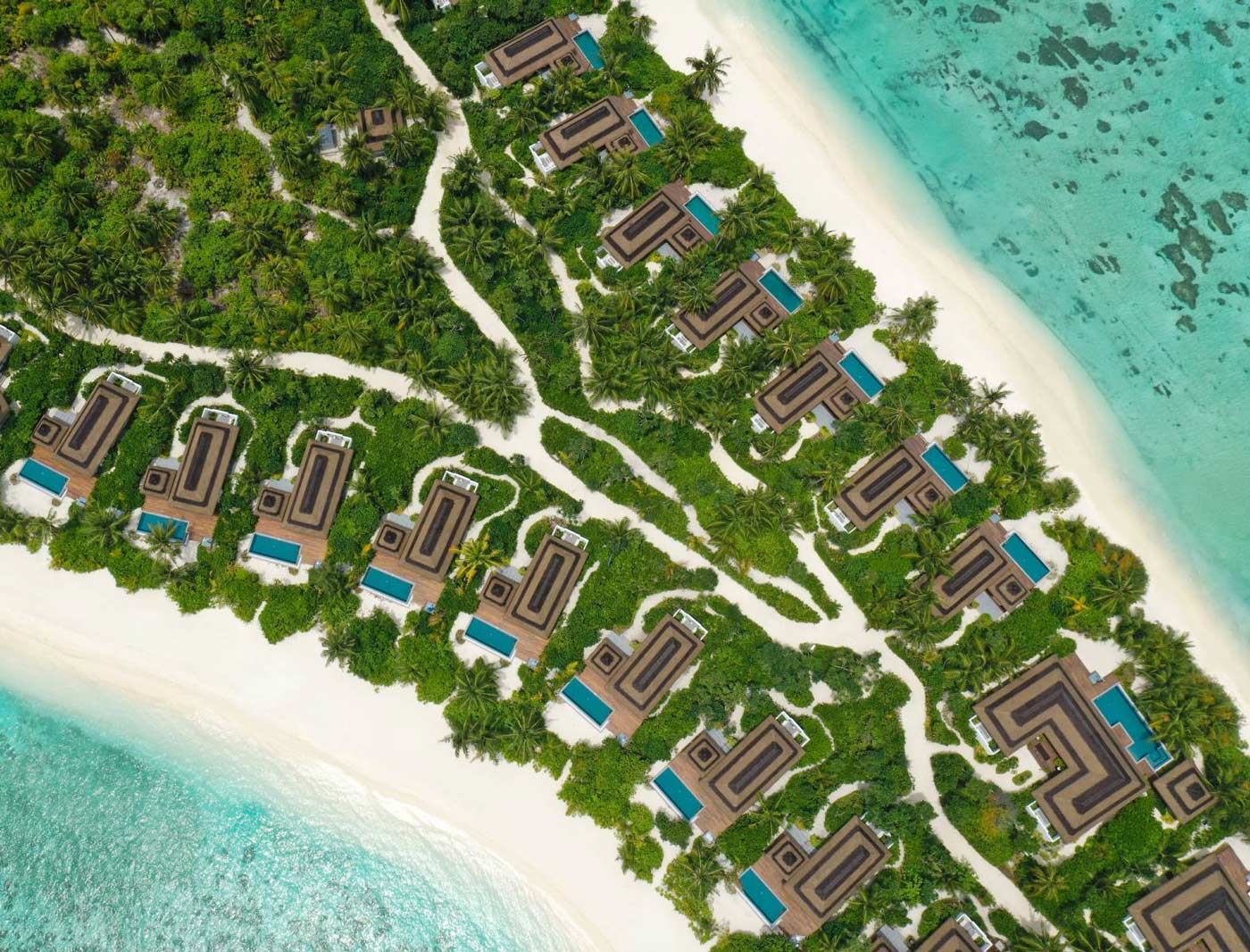 for families
Pullman Maldives Maamutaa is a child-friendly resort. Besides a great Kids-Club, the resort also features some of the best family beach villas in Maldives.
With its lush forest and beach that's safe for toddlers, you can walk straight out of your family villa onto the powder-white sand.
The Family Beach Villas have the same features as the Beach villas. The difference is that the master bedroom is connected to a separate room with a bunk bed to give the kids their own private playground and some privacy for the parents ( the kids room has it own access to the garden ).
On the outside they also boast a wide living area with privacy and direct access to the beach and lagoon.
The Family Beach Villas have two bedrooms and can accommodate up to 3 adults or 2 adults plus two children and one baby.
The Family Beach Pool Villas are identical to the ones with no pool. They also have a wider deck, a private pool
and two bedrooms and can accommodate up to 3 adults or 2 adults plus two children and one baby.
for families & Friends
With 580 sqm spreading on the beach, the Two-Bedrom Beach Pool Villas are Pullman maldives' largest beach villas. Ideal for group of friends and families, they offer two bedrooms separated by a wide and comfortable living room : the master bedroom has a king sized bed and the second bedroom twin beds, each with its own private bathroom.
On the outside, the Family Beach Villas offer complete privacy, a large deck and a covered cabana overlooking the infinity pool and jacuzzi and a private beach access. The Two-Bedroom Beach Pool Villas have two bedrooms and can accommodate up to 5 adults or 4 adults plus two children and one baby.
Overwater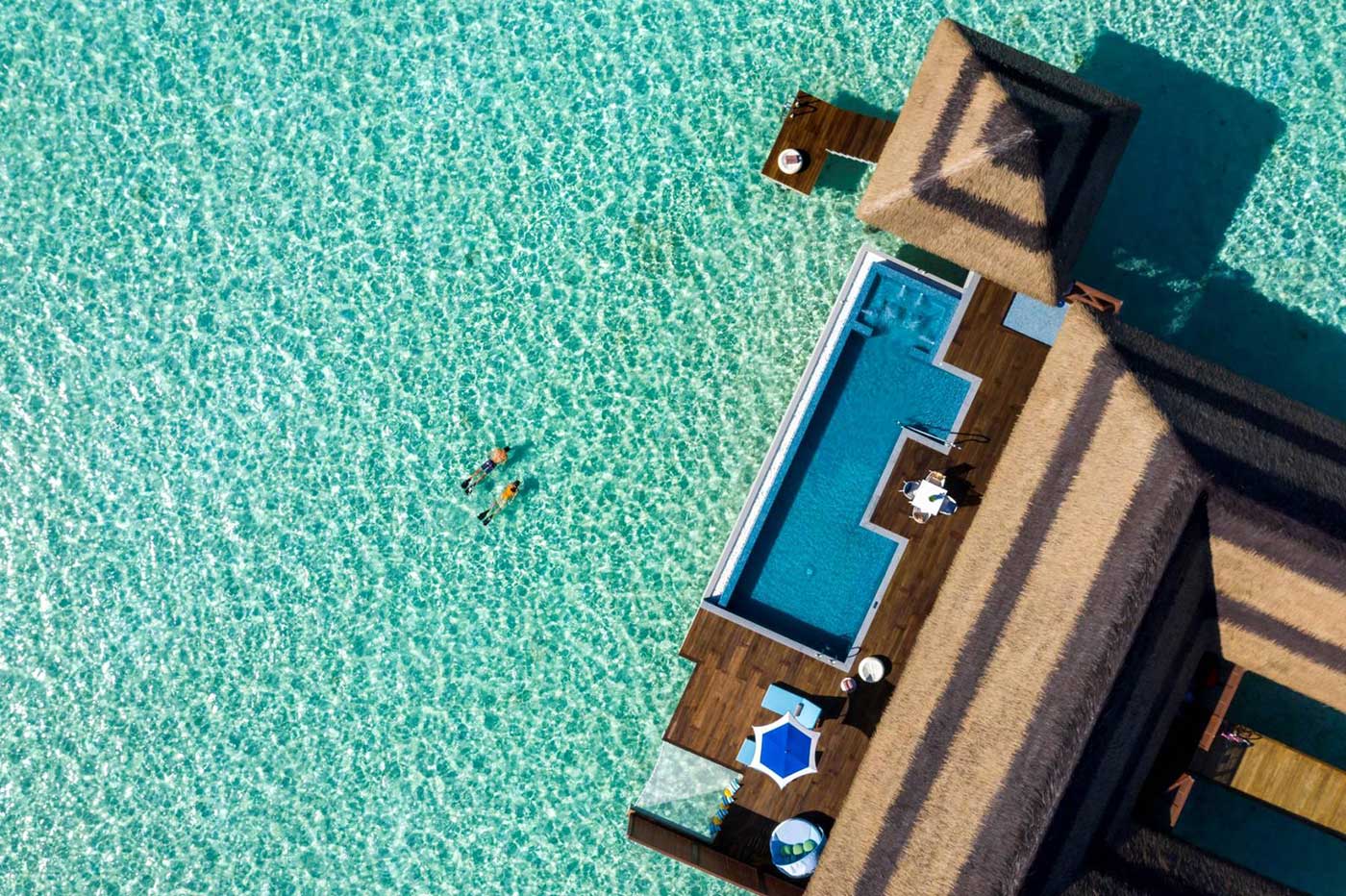 Pullman first category of water villa are perfect for couples. They offer 160 sqm of luxurious interior space and a wide terrace above the shallow lagoon. At the back of the villa you will find a beautiful tropical bathroom with a stand alone bathtub at its center and an outdoor shower. Each Ocean Villa offer a fully stocked Pullman minibar and Nespresso machine.
The Ocean Pool Villas are similar to the Ocean Villas in terms of location, design, spaces, amenities and comfort. On the outside you will find a wider deck and a big private pool.
The Ocean Pool Suite are Pullman Maldives first luxury category of water villas. These beautiful water villas have an open cabana with loungers and a dee private pool. They are located on the most beautiful lagoon side of the island.
On the inside you will find a master bedroom, a spacious living room opening onto the lagoon and the pool, a semi-open air bathroom and an illuminated glass window on the floor to observe the fishes.
The Two-Bedroom Ocean Pool Villa offers complete privacy and a total of 440 sqm living area spread over a beautiful crystalline lagoon. On the inside, the water retreat covers 235 sqm of pure luxury with two bedrooms separated by the living room.
Each bedroom has its own bathroom and faces the lagoon at each side of the villa. The master bedroom with a king-size bed, the second bedroom with twin beds. Outside, above shallow waters you will find an expansive outdoor area with a wooden deck, an alfresco dining area and a big infinity pool .
The 5* Luxury all Inclusive resort also boasts an immense 4-bedroom water residence called The Royal Suite which covers 1474 m2/ 4835 ft of pure luxury for 10 travelers.
Located overwater, Pullman Maamutaa's Royal Suite is a resort within the resort. Completely secluded, the immense water suite boasts 4 bedrooms, a kitchen, a large terrace with indoor and outdoor living space, a large private swimming-pool, a dedicated Chef and Nanny, an open air cinema, a fitness room, a spa and everything you need to stay without having to go out from your residence.
The Royal Suite is your own private resort where all the details will be taken care of. From your private spa therapist to your personal chef ready to prepare your favorite culinary experiences.
The Royal Suite can accommodate 10 guests or 8 adults,1 child and 1 infant.
You will love
Underwater
The Aqua Pool Villas are both elegant overwater villas and giant aquariums. Each water villa consists of a luxurious water villa with open views at the ocean, and beneath it, at 10 meters depth, a second floor featuring a stylish underwater bedroom.
Above the surface the Aqua Villas offer an infinity pool, a luxurious bathroom, a wide deck and a king size bed in a first bedroom.
Below the surface, you will find the submerged bedroom with, at its center, another king size bed facing a wide glass window open onto the marine life.
Read more about The Aqua Villas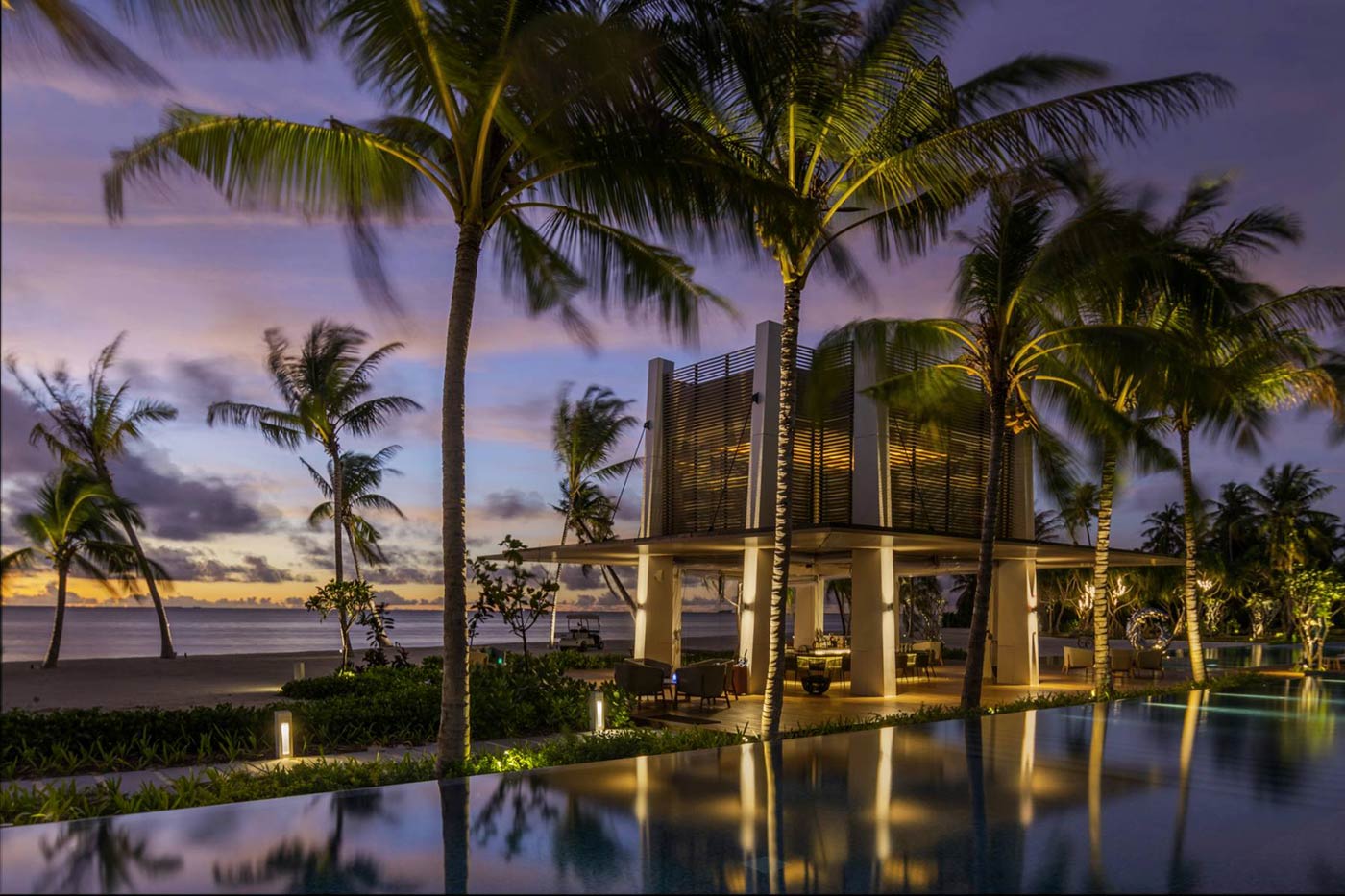 Pullman Maldives Maamutaa All Inclusive Package
Pullman Resort Maldives is known for its excellent all-inclusive package called, "The Transcendent".
The package allows you to choose from a wide variety of dining options at several all-day dining restaurant that features Arabic, Italian, French, Chinese, Indian and vegetarian cuisines with an extensive wine cellar to be chosen from at every meal.
The package also offers an impressive range of activities which are mostly all included.
Dining
Pullman Maldives offers 3 elegant restaurants, 3 lounge Bars and a playful food cart called Bites on Wheels which offers refreshing sorbets and light snacks throughout the day around the island.
The restaurants
Mélange, Phat Chameleon and Souk Oven offer each its own specialties for everyone's taste buds and food diet.
The Lounge Bars
The All Inclusive package also includes 3 superb Lounge bars and snack bars where you can relax and have fun, taste refreshing drinks as well as delicious appetizers from the morning till Sunset.
Pullman Maldives Maamutaa offers an impressive range of activities, mostly included in the all inclusive package : fitness room, karaoke, flyboard, paddle boarding, wakeboard, waterski, windsurf, snorkeling, snorkeling and dolphin safaris, fishing cruises, kayaking, diving, sky diving, table tennis, Golf simulator, self and guided walking, biking….Days can be very busy.
Discover more about Pullman Maldives Inclusive Package
Diving and Snorkeling at Pullman Maldives Maamutaa
Due to the prime location of Pullman Maamutaa ( Gaafu Atoll ) you will have access to some of the best diving sites in Maldives.
Gaafu Alifu Atoll is home to a multitude of diverse species, including as many as 13 different types of sharks, including the magical whale sharks.
Diving from the resort
Pullman Maldives Maamutaa has its own PADI 5-star dive centre.
The center offers courses from beginners to advanced up to Dive Master, specialty courses like Nitrox, DPV dive propulsion vehicle, side mouth and many more…
The resort has access to 26 dive sites located along Gaafu Alifu Atoll, like Maareha Kandu, known for its impressive amount of grey reef sharks or to Villingili Kandu, a 30 meter dive with barracudas and hammerhead sharks.
Diving in Gaafu Atoll
Being the largest and deepest Atoll in Maldives, Gaafu Alifu Atoll is worldwide known for being a paradise for diving lovers. It offers unspoiled coral reefs, outcrops, dramatic walls, caves, tunnels, thilas and fascinating channels.
Expect to encounter a large variety of sharks ( the atoll is known for that too ) schooling pelagics, explore wrecks and see stunning underwater landscapes.
Pullman Maamutaa's best snorkeling spots
Pullman Maamutaa's best snorkeling spots are located on the western side of the island, around house reef's 'drop off'. You will meet the Maldives most common fishes plus bigger species like rays, reef sharks, turtles to name a few.
You should prefer these water villas if you're really looking for a good snorkeling ( intermediate to experiences level is advise due to currents ).
Pullman Maldives snorkeling maps
click the maps to enlarge
Pullman Maldives Maamutaa All Inclusive plan also includes some snorkeling trips for advanced snorkelers for any stay over 5 days ( early booking is advised )
Night snorkeling discoveries are organized on the island western reefs or an additional cost.
The Spa by Phytomer
Pullman Spa by Phytomer is perched overwater a shallow lagoon. The spa's six treatment rooms use exclusive marine cosmetics and the expertise of Pullman therapists to impart absolute relaxation and rejuvenation.
The spa offers multi-day spa experiences, massages, facials, body treatments, beauty therapies, Kids Spa…and much more.
You will love
Supervised indoor and outdoor activities at the Pullman Kids' and Teens Club offer fun and excitement for the youngsters – and relaxation for Mum and Dad.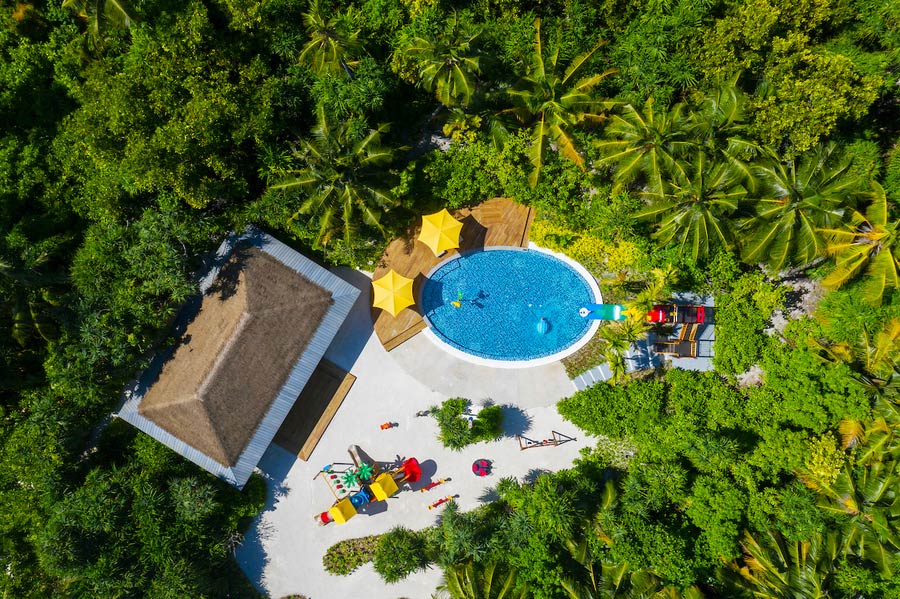 Pullman's Kids Club and Teens Club
Pullman Maamutaa features one of the Maldives best club for kids and teens.
Besides the resort rich All Inclusive plan and weekly program, it also has plenty of activities and adventures for children and teens from 4 to17 years old..
The Kids Club
The Teens Club, The Skillz
How to get there ?
Pullman Maldives Maamutaa transfer is solely made by domestic flight.
You will reach the resort after a 55 minutes flight from Velana International Airport in Malé, followed by a 15-minute speedboat ride from Kooddoo Airport.
See Kooddoo airport location.
Follow us on Facebook, Youtube and Instagram
for more Maldives Dreams & Stories