Soneva Jani opening will be the second property of Soneva Resorts and Residences in Maldives.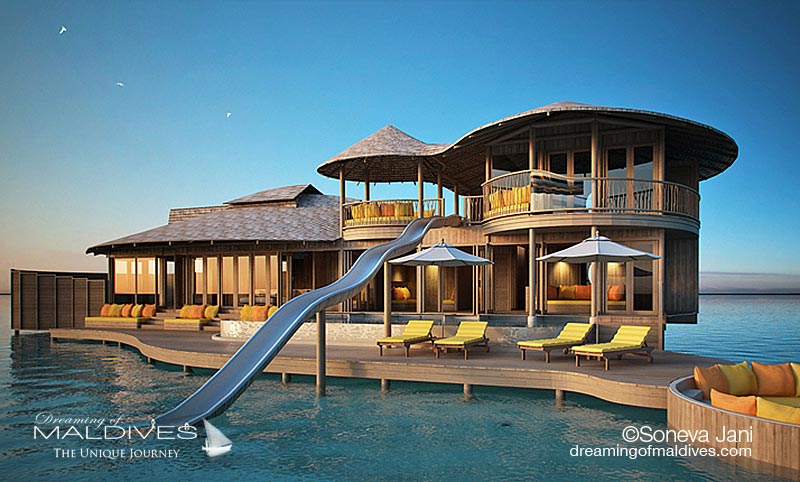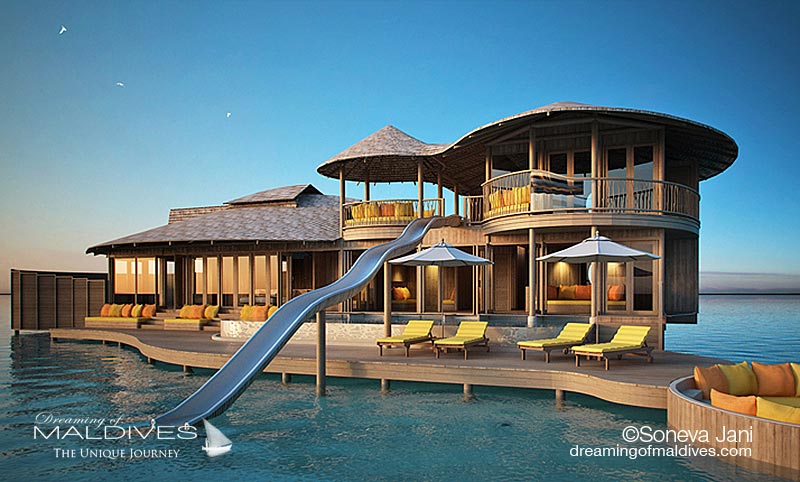 Soneva is about to open a new resort that promises another Dreamy Experience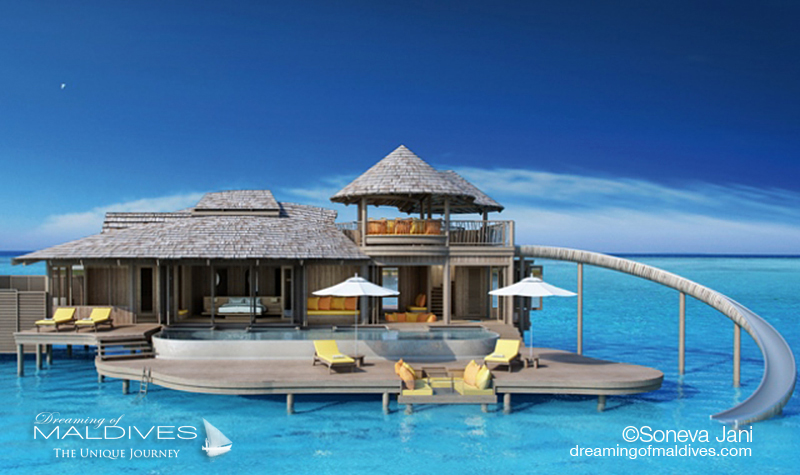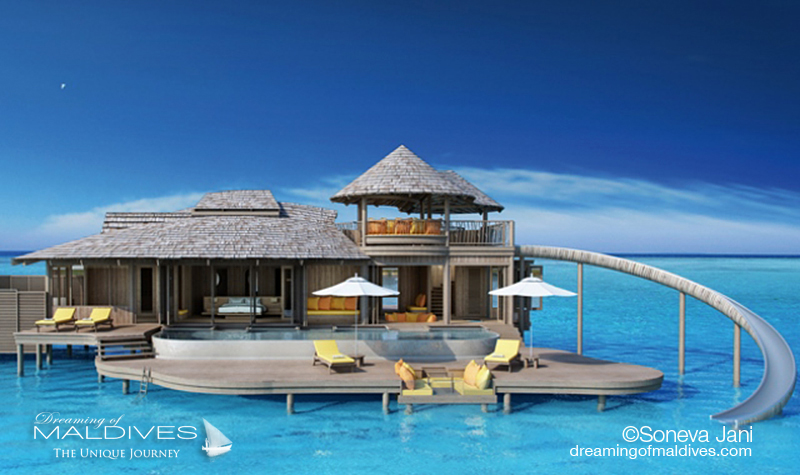 Set to open at the end of 2016 beginning of 2017, Soneva Jani is located on the virgin Island of Medhufaru in the northern Atoll of Noonu, renown for its beauty.
The resort is surrounded by an incredible 4km long beautiful beach with white powdery sand and by a low vegetation typical of this part of the Maldives.
Soneva Jani is built and designed with sustainability in mind.
Soneva Jani will, as for all Soneva's Properties, be built with sustainability fully integrated into the design. The Eco Luxury hospitality comes again at its best with the Company legendary creativity.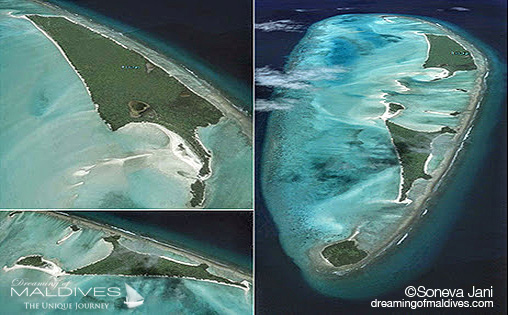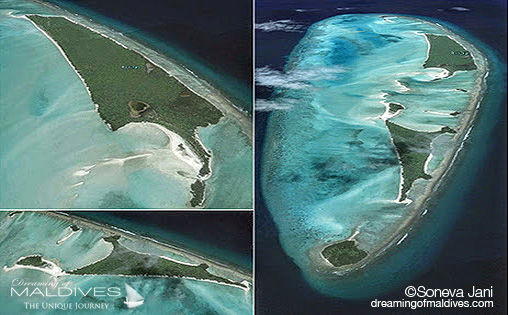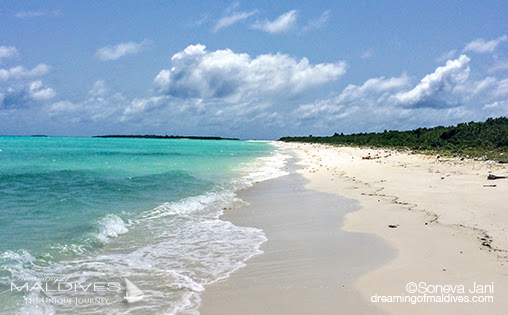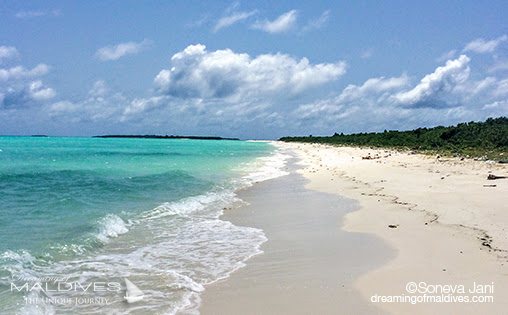 Soneva Jani, first glance at The Villas
Soneva Jani will comprise only 57 villas, spread around the island lagoon with 24 Water Villas and 23 Beach Villas featured in 2 categories: 20 -1 Bedroom Crusoe Villas and 13 -3 Bedroom Beach Villas.
In the spirit of the Company, all villas will offer extra large spaces with sizes starting from 308m2 up to 1,424m2 for the floating Residences.
The Water Villas
Entirely built in sustainable materials, these stunning floating residences are only reachable by boat.
They will offer views on the sunrise or sunset according to their location.
Each Water Villa will feature an amazing Water slide and its private Pool, large lounge areas with open views on the blue, ample wooden decks, kids' sleeping area, a living area with sunken seats, top floor with seating and a dining sala and several other amazing living spaces.
The Water Villas are available with 1, 2 or 3 bedrooms.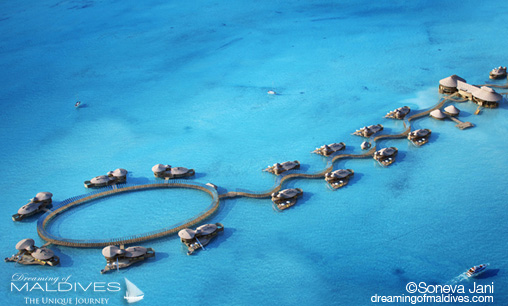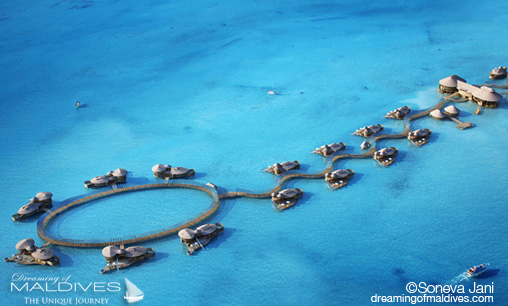 The Beach Villas

On the beach side, the Resort will propose 20 -1 Bedroom Crusoe Villas and 13 -3 Bedroom Villas.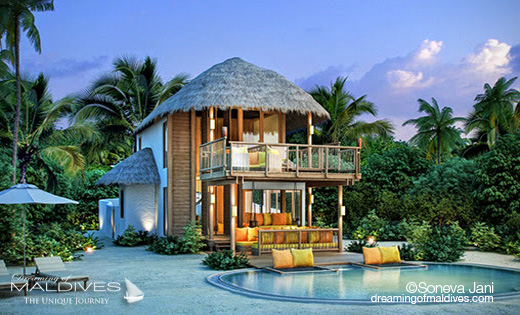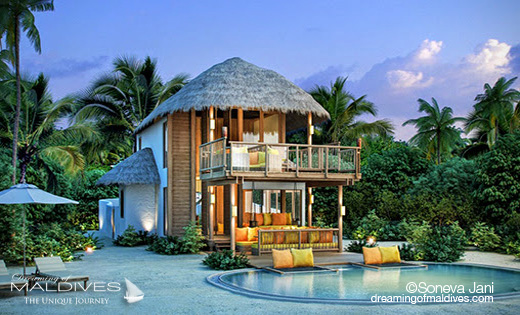 Among several facilities, the Beach Villas will feature a swimming pool, a catamaran net, wide living areas and the beach at their doorstep.
The Resort will feature all facilities and leisure including a beach restaurant, a clubhouse, a spa, a cinema, a Water Sport center and of course a diving centre.
As expected, each Villa will be attended by a personal butler, called Mr/Mrs Friday, as in all Soneva Resorts past and present properties.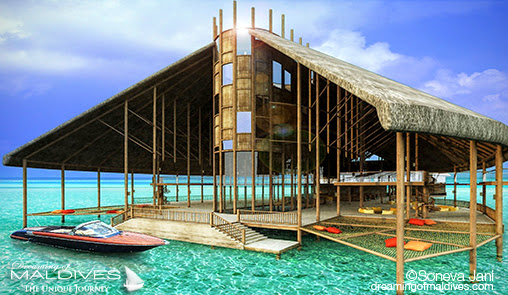 Soneva Jani is located at 1 hour by speedboat from its Iconic Sister Island
Resort, Soneva Fushi and is reachable by seaplane after a 30 mns scenic flight from Male Airport.
About Soneva Resorts & Residences
Soneva Resorts & Residences is a very innovative and successful Chic Eco Retreat Resort concept, created by 2 persons, Sonu and Eva Shivdasani, who have been convinced and charmed by the "Live Green Philosophy" long before the actual trend.
They have lived this way for years and thus decided in 1995 to create the very first Eco-friendly Luxury Resort, Soneva Fushi in Maldives, proving to the Hospitality industry that Luxury could perfectly be combined with Environment.
The true "Intelligent Luxury" was born.
Soneva story and concept have since then inspired many Luxury Hotels and Hotel Brands.
Soneva owns and operates Soneva Fushi in the Maldives and Soneva Kiri in Thailand. Soneva In Aqua, an ultra-luxurious yacht came in 2015 to complete Soneva Properties.
Since its creation, Soneva Resorts and Residences have received numerous Awards for their concept and innovations, including among others :
/ TAT (Tourism Authority of Thailand) – Winner for Nature, Maritime and Heritage – Soneva Kiri
/ Condé Nast Traveller – Readers' Travel Awards 2014 3rd best hotel in the Middle East, Africa and Indian Ocean, and 5th in the 'World's Top 100'. – Soneva Fushi
/ BILANZ – Switzerland's leading business magazine 2014 Winner and Ranked Best Hotel World Wide – Soneva Fushi
/ 'World's Best Holiday Hotels' (Voted for by 85 Swiss travel professionals and 120 Swiss travel journalists.)
/ Wild Asia – Responsible Tourism Initiative 2013 Winner of "Most Inspiring Responsible Tourism Accommodation Provider" Award – Soneva Resorts
Soneva Jani Photo Gallery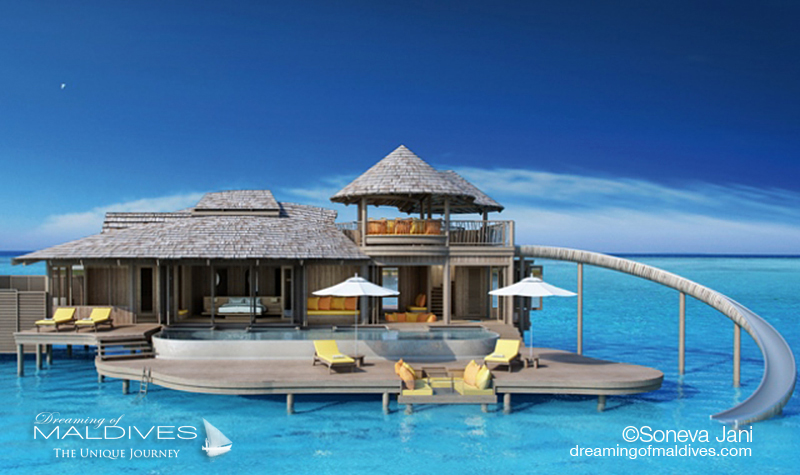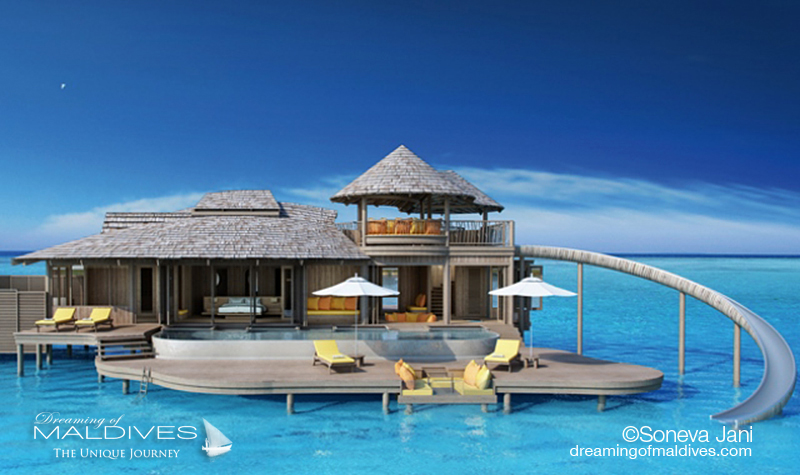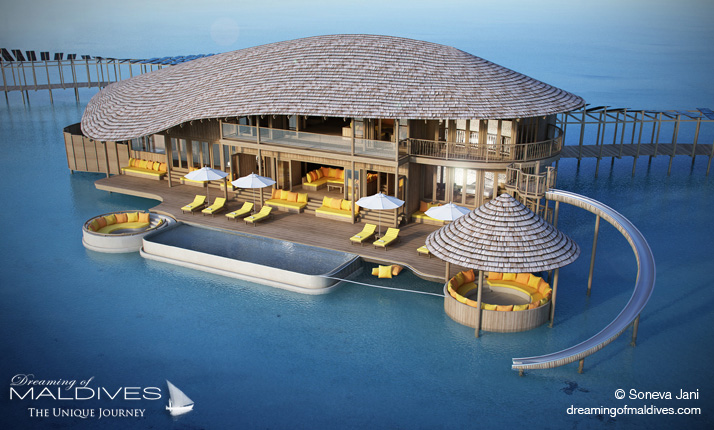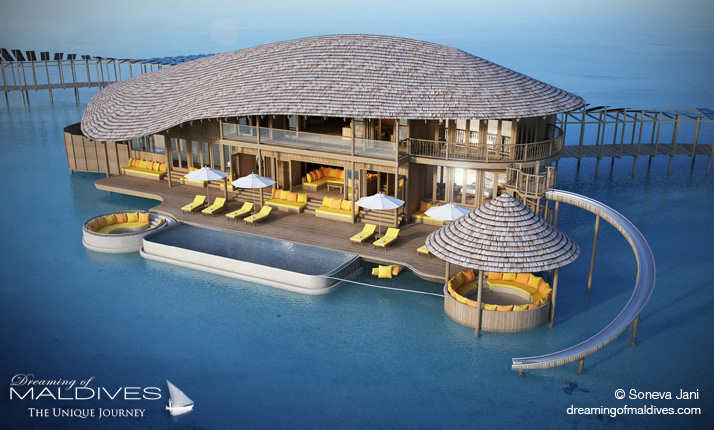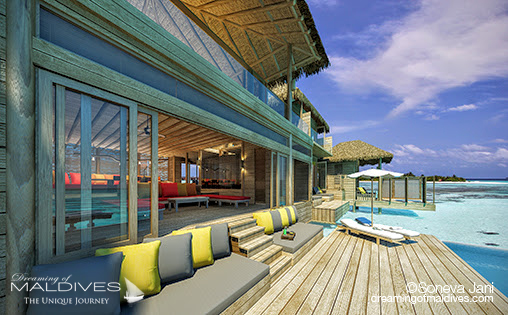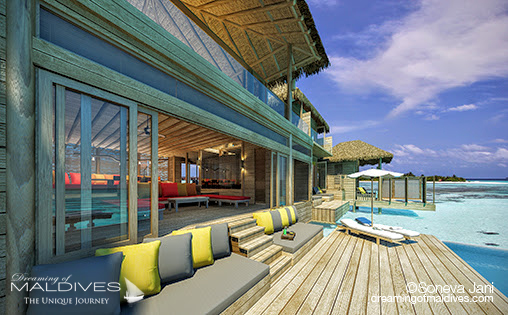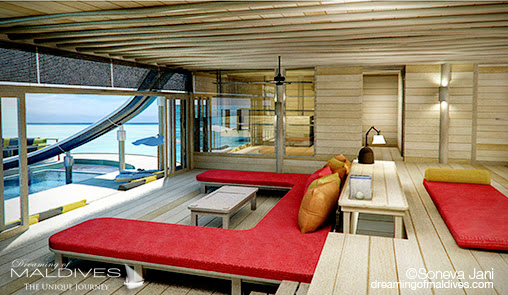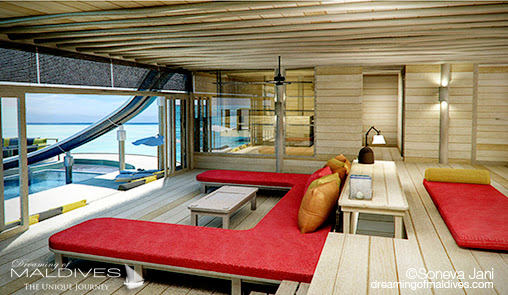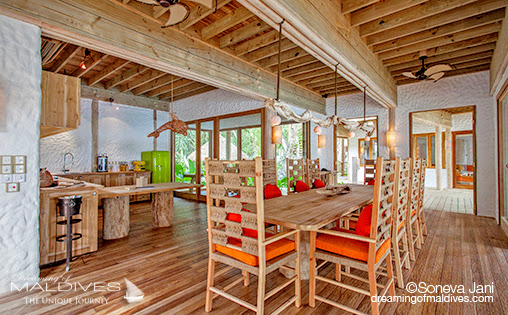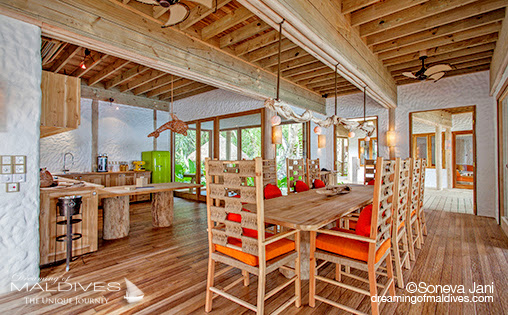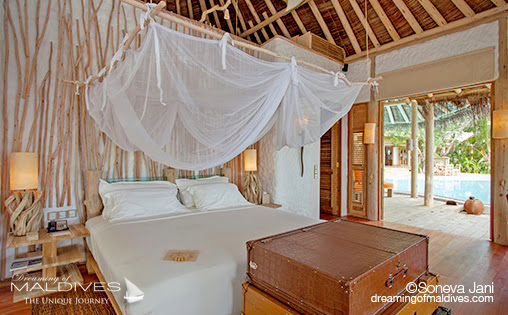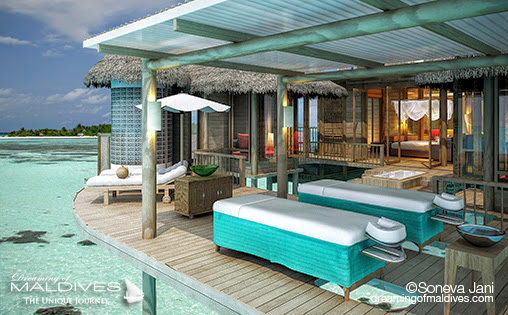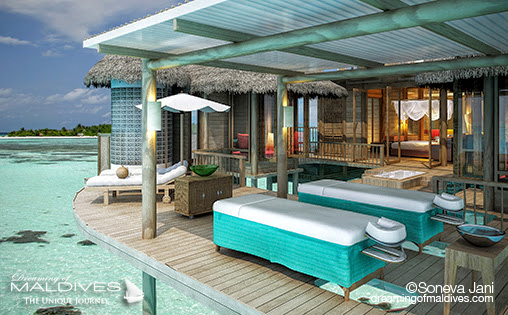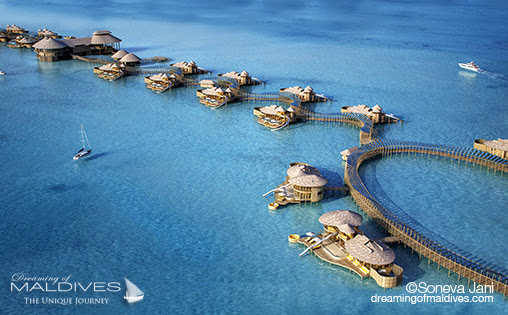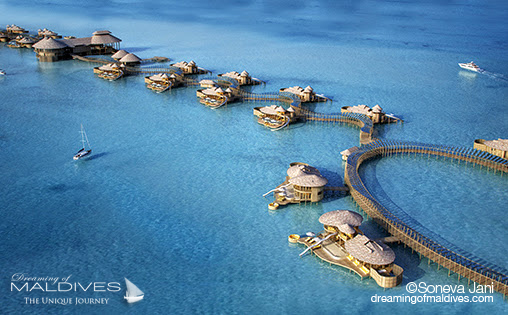 You can own one of these sumptuous Villas.
The private Residences can be privately owned, as in other Soneva properties.
Prices start from app. $2.5 million, including all furniture plus annual maintenance costs (2% of the purchase price ).
Each owner will benefit from several assets and services like income sharing in the Villa Rental Programme, allowing for a return on your investment, discounts at Food & Beverage outlets, flight transfers and other leisure services, exclusive Soneva Club membership, special benefits at other Soneva properties and exchangeability of owner days within all Soneva properties.
All villa owners will of course benefit from the services of Mr. or Ms. Friday private butlers, who are on hand to cater to your every wish.
Follow us on Facebook, YouTube and Instagram for more Maldives stories.
Your TOP Best Maldives Resorts 2023
YOUR CHOICE. YOUR DREAM. YOUR VOICE
[ Official ]
Traveler's Choice
12th Edition