Sleep in a beach bubble in Maldives is a cosmic experience. At Finohu Maldives you will spend a night under the stars and live an extraordinary experience.
Good night Dreamers !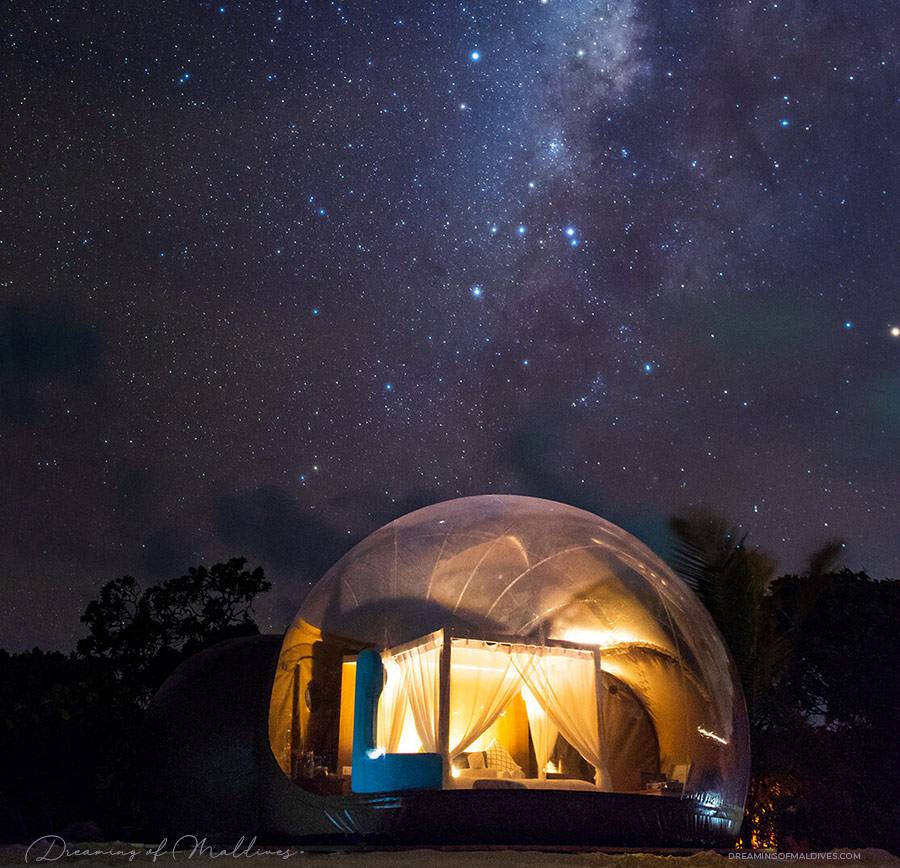 Finolhu Maldives lies within Baa Atoll at 30 minutes by seaplane from Male International airport or 20 minutes by domestic flight to Dharavandhoo Airport followed by a 30-minute speedboat ride.
The stylish resort recently reopened with a fresh new Design including a Beach Bubble experience.
Sleep under the stars in a Beach Bubble Tent
Sleeping under the stars. A romantic night together away from the world. Alone on the sandbank, far away from everyone and everything.
The Beach Bubble Tent Experience at Finolhu Maldives. Video
A stay in Finolhu Bubble is sure to be unforgettable. This experience sphere with own shower and WC is well equipped with a wooden floor and a double bed featuring the finest bed linen.
Awake or asleep – here you'll experience a feeling of infinity.
Above you the cosmos and the blackness of the sky, through which the Milky Way shines like a work of art.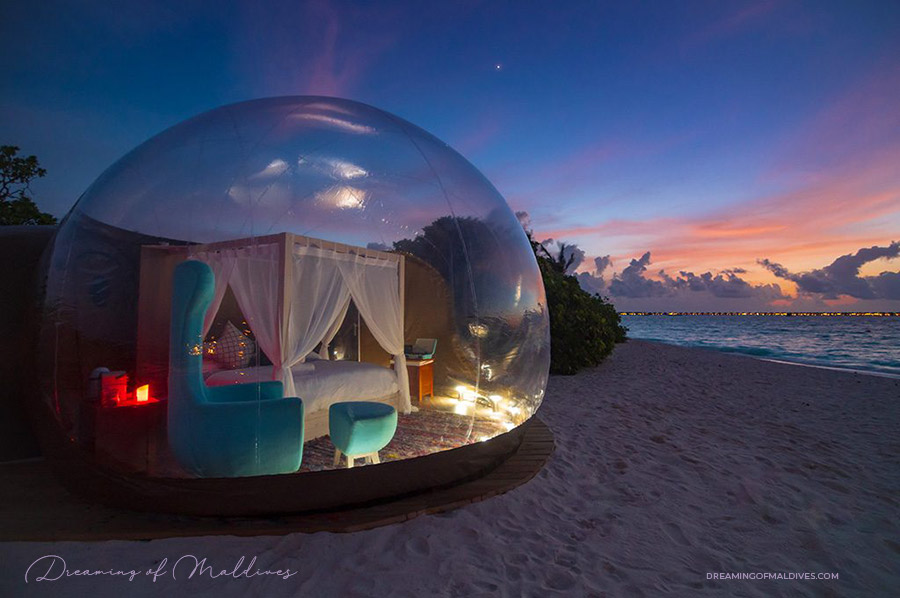 Finolhu Luxury Beach Bubble Tent
Looking like a human sized snow globe, the Beach Bubble Tent at Finolhu Maldives is a bubble-shaped, transparent, inflatable tent that encloses a luxurious hotel room with wooden floor and a double bed featuring the finest bed linen and and elegant velvet lounge chair.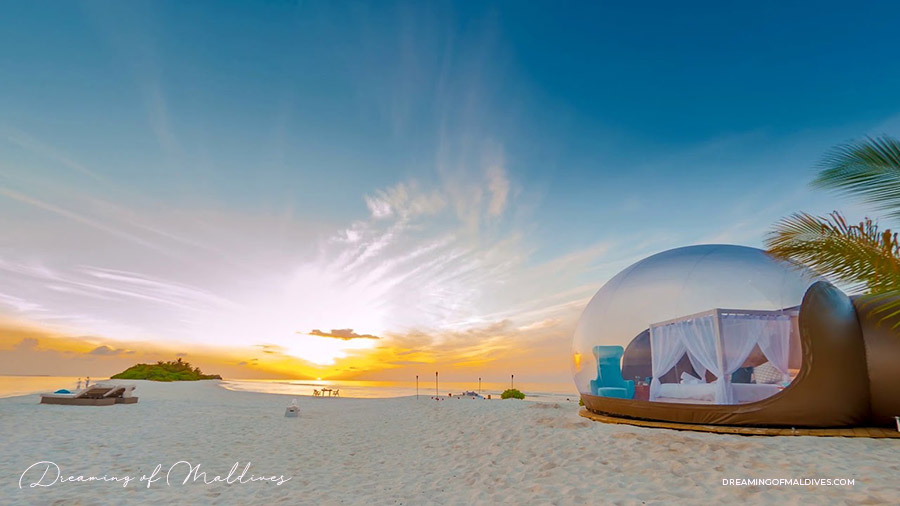 Dramatically located in a secluded spot along Finolhu's marvellous sandbank, the Beach Bubble is available exclusively for incredibly romantic, one-night-only 'Dream Eclipse' experience under the stars.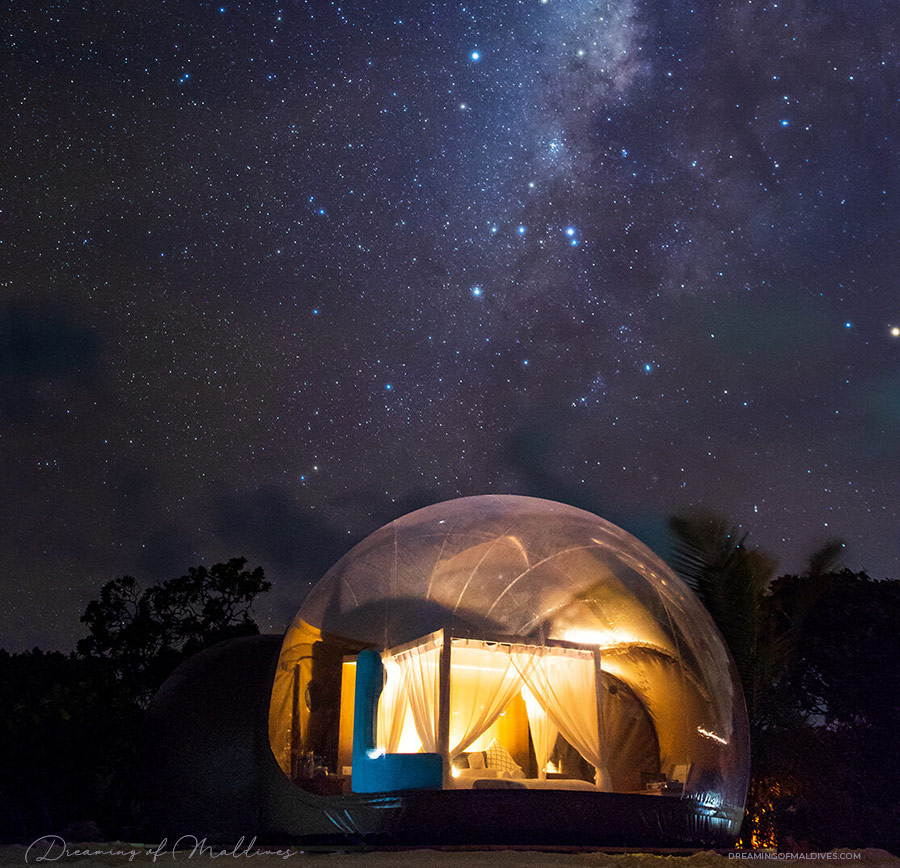 A short sunset stroll takes the couple to the unique Beach Bubble hideaway where they can enjoy a lovely beach BBQ with a Maldivian twist, and then retreat into their private bubble for an unforgettable night under the stars. On waking from this dreamlike experience, you can watch the beautiful sunrise as they linger over breakfast at the water's edge.
From Sunrise to Sunset. Finolhu's Bubble Tent offers the best of both
From Sunrise…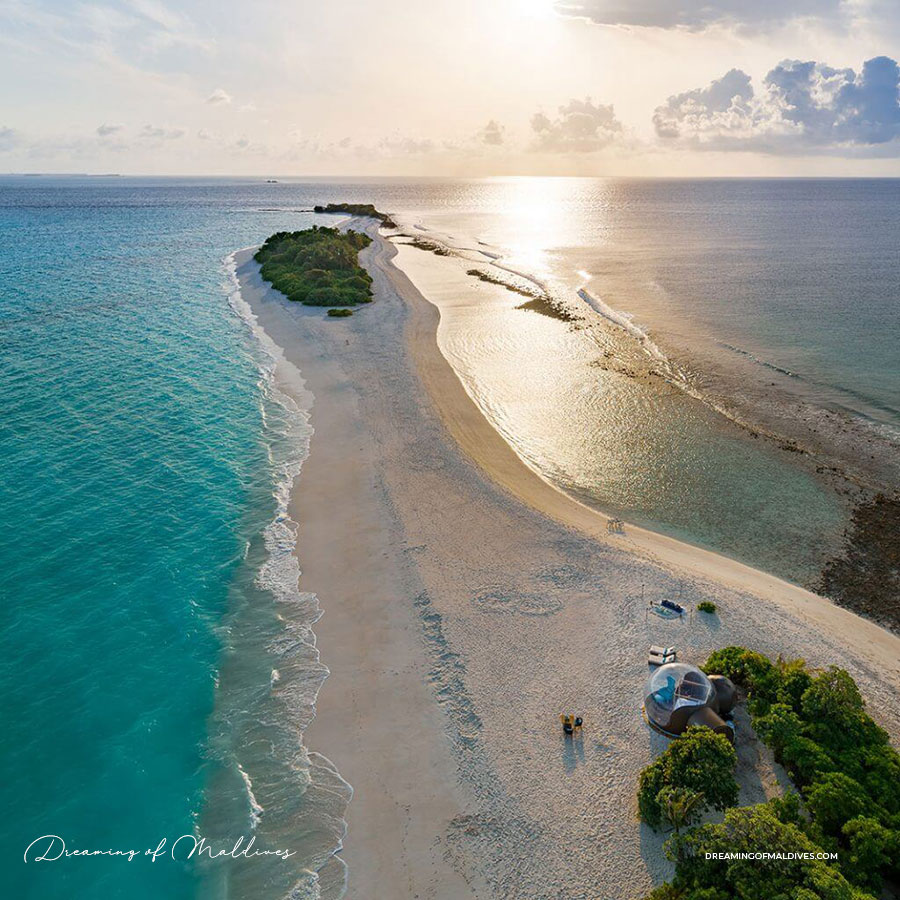 Conceived and custom-designed by leading Spanish design firm Eye In the Sky, the transparent inflatable bubble is a unique, inspiring environment where guests can enjoy an incredible, closer-to-nature experience – without compromising on high-spec design and luxurious comforts. The interior provides a UV-protected, fully waterproof, climate-controlled cocoon that offers guests a unique experience.
To Sunset…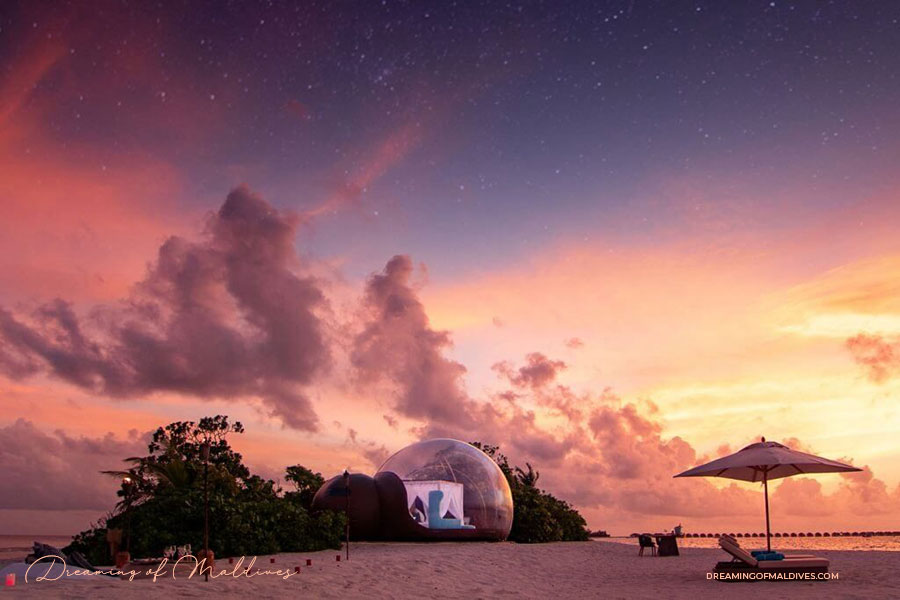 The Bubble is an exclusive worldwide patented Precontraint Serge Ferrari® technology and acquires distinctive properties in terms of resistance, dimensional stability and light weight, eliminating deformation due to load and offering a longer useful life.
The interiors feature custom- fitted wooden floors and bespoke furnishings, and a separate adjoining bubble living room and bathroom with WC and shower.
The price for one night in The Beach Bubble Tent Experience at Finolhu Maldives
Finolhu's exclusive Dream Eclipse experience costs from US$600 per couple per night from sunset to sunrise, including dinner and breakfast.
The offer includes :
One night in the Beach Bubble from Sunset to Sunrise (7 pm to 9 am)
Private Beach BBQ
Private breakfast on the beach at the water's edge
Terms & Conditions:
Surcharges apply for stays on 24 December, 31 December and 14 February.
The rates are subject to 10% service charge and 12 % GST.
Prior reservation of the villa of your choice is required, while the Beach Bubble is an ad-on attraction and should ideally be booked at the time of making the main booking for your stay.
A confirmed minimum stay of 3 nights in a regular villa is required to book the Beach Bubble experience.
BOOK Finolhu

in association with our trusted partner
& personal counsellor in Maldives
All Photos © Finolhu Maldives
Maldives Amazing Places and Hotels

Kudadoo Private Island Maldives' sustainability model is a masterpiece of eco-conscious architecture. Powered by 984 solar panels and…

Soneva Secret unveils the Castaway, an extraordinary floating villa reachable only by boat, which can be moved to any location based on guest…

Discover SAMPA for South Ari Marine Protected Area in Maldives, the world's most unique and significant sites for whale sharks. What is SAMPA…
Follow us on Facebook, Youtube and Instagram 
for more Maldives Dreams & Stories
Maldives TOP 10 Dreamy Resorts 2024
YOUR CHOICE. YOUR DREAM. YOUR VOICE