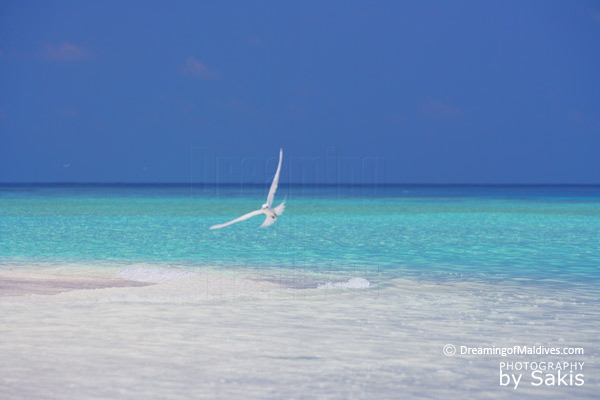 Dreaming of Maldives is a place to dream and, for us, a greener and better World is part of these dreams too…If you are a long-time reader of our blog and have read my previous articles about environment, you probably know it already…in this case jump directly to the next lines about today's subject and avoid the following ones in blue.
Note to the first time readers: before reading this, go back in time and read the following posts : Solar Energy at Soneva Fushi ; The Future of Earth discussed at Soneva Resorts ; and finally Six Senses Laamu, the Green adventure goes on with Carbon-Free Cooking
CONGRATS to Six Senses again for taking another Green initiative!
…And this time they made it even bigger than ever.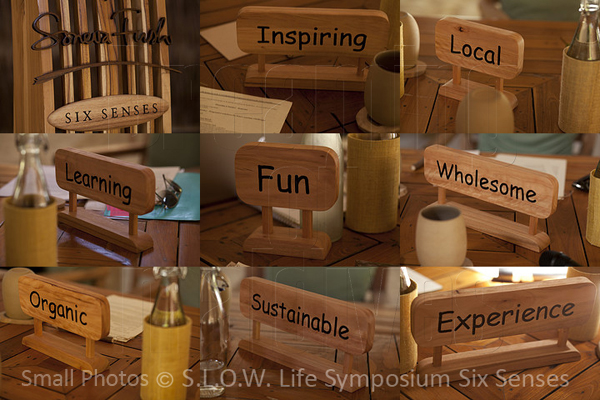 We are delighted by the new ecological event that went on in Maldives at Soneva Fushi by Six Senses Resorts and Spa the past 3 days and gathered some of the world's leading thinkers, policy makers and business leaders and received as guest and speaker, the President of Maldives, Mr Nasheed.
The event, called The Six Senses SLOW LIFE Symposium was created in 2008 and is held each year since then at Soneva Fushi by Six Senses in Maldives to "convene the very best thinkers and industry experts to accelerate progress towards sustainable business practices in the tourism industry". Something essential that Six Senses defends for many years.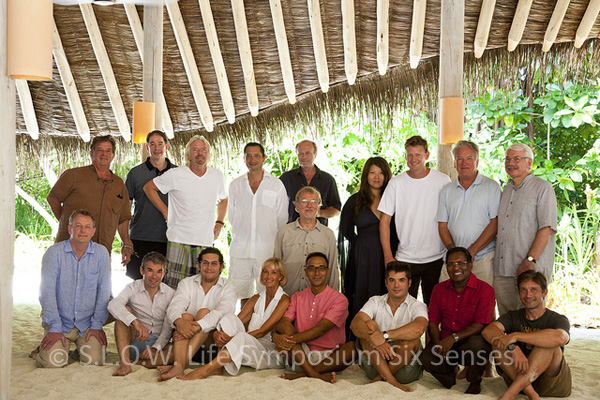 So ...What is the SLOW LIFE Symposium 2011 about?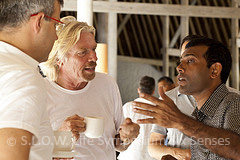 "The SLOW LIFE Symposium seeks to support all small island and progressive states in their shared endeavours to create a sustainable, low-carbon future.[…] The focus of the SLOW LIFE Symposium is to be on practical solutions to the principal challenges facing the tourism industry, including low-carbon infrastructure, transportation, resort management and threatened biodiversity.[…] It is on the role that tourism can play in implementing 'best practice' on both a local and global scale, and how visionary policy makers and business leaders can form an alliance, particularly in support of small island states."
This year, the symposium welcomed an amazing panel of experts and thinkers with to name of few :
– Visionnaire Sir Richard Branson, and CEO of Virgin and Virgin Green Fund which invests in renewable energy and resource efficiency.
– Edward Norton– Talented American Actor, environmentalist and UN-Ambassador for Biodiversity, President of the board of trustees of the Maasai Wilderness Conservation Trust.
– Actress Daryl Hannah -passionate activist and advocate for a more ethical sustainable world for decades.
– Mr. Mohamed Nasheed– Maldives President.
– Chris Gorell Barnes – Co-Founder of the BLUE Marine Foundation.
– Fabien Cousteau – Jacques-Yves Cousteau's Grand Son- third-generation ocean explorer, documentary film-maker, environmental ambassador and founder of Plant A Fish.
– Jon Bowermaster- six-time grantee of the National Geographic Expeditions Council
– Jose Mariano -the founder of zero2infinity – the company which is planning on sending people into space using helium-filled balloons
and many more…(a complete list of the speakers is available on the Symposium website linked at the end of this article).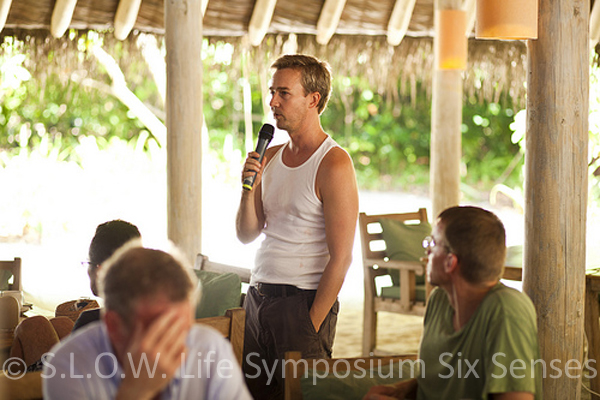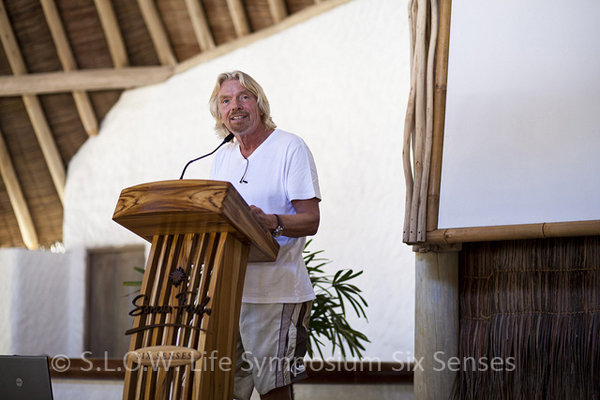 The 3 days were rich in discussions and great idea exchanges and we have followed closely the event for you. Hereunder, I summed-up the forum and highlighted some sessions to give you the essential.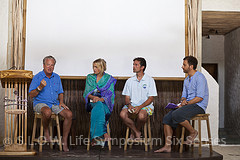 Why in Maldives ?
The Maldives, which is committed to becoming carbon neutral by 2020, could significantly benefit from a new branch of environmental science.
"Interest in new technology is a blessing for the Maldives. We won't save the world by becoming carbon neutral – we emit nothing compared with other countries – but if we can demonstrate a low carbon development strategy that can be copied elsewhere, it will be a step in the right direction.[…] The Maldives has made significant progress since last year in beginning the move towards becoming the world's first carbon neutral country."- President Mohamed Nasheed

The projects includes :
-Publishing the new carbon neutral electricity plan online and inviting 'crowd-sourcing' comments from experts worldwide
-Committing to a new target to generate 60% of electricity via solar power by 2020, and reducing electricity emissions by 80% without putting up the cost of power to consumers.
-The signing of the first contract under the new 'feed-in-tariff' between the state electricity company and a Male' hotel chain to supply solar power onto the grid
-A new import regime by the Transport Ministry to ensure that in future electric cars will be a third of the price of conventional petrol cars
-New policies to encourage the uptake of renewable energy and marine transport
-The pledge to spend 2% of national income on renewable energy deployment in the country.
Also listening to the President's speech were 10 Maldivian schoolchildren from the neighbouring local island of Maahlos, who have been designated 'reef rangers' in an after-school programme set up by Soneva Fushi's resident marine biologist Kate Wilson. The young reef rangers then joined marine conservationist Fabien Cousteau in a snorkeling trip over Soneva Fushi's nearshore coral reef.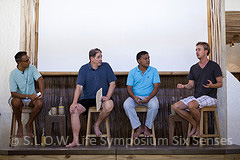 The discussions…Some of The ideas…
Undoubtedly, many great and interesting discussions went on during this symposium. It is impossible to write them here all, but here is a glimpse of them to give you an idea and, I hope, to make you read further about it.
Sir Richard discussed alternative fuel sources and new technologies to power Virgin's fleet of trains, and aircrafts and how his Company needs to adapt their buildings to meet the challenges of rising fossil fuel prices and to stem carbon emissions.
"We have been diverting our profit from airlines into developing fuel for aircraft that won't damage the environment."…"If we don't have alternative fuels we are going to have the mother of all recessions. The way to kick-start the revolution is to have no tax on all clean energy while slowly increasing tax on dirty energy."-Sir Richard Branson

In the last session of the day, yesterday (09th oct) , Sir Richard Branson said that business leaders had to do more to advance sustainable business development.
" -If you are lucky enough to be a successful business leader – and you need a large element of good fortune – there is extreme responsibility that comes with that.[…] If leaders are not responsible citizens and don't redistribute that wealth then our current form of capitalism becomes questionable".-Sir Richard Branson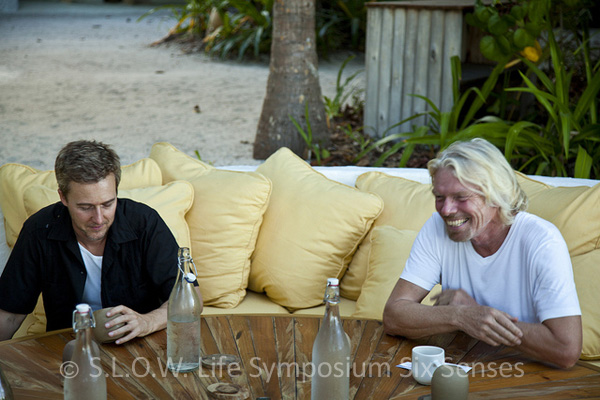 Soneva Fushi will be decarbonising by 2013, with the remaining Six Senses resorts following by 2020. Sonu Shivdasani, the Chief Executive and Founder of Six Senses, who was hosting the event, said:
"Environmental solutions that were devised at the Symposium have already come into being. For example, the UNESCO Baa Atoll marine conservation project, which has been partly funded by Six Senses, was something that was first discussed at the Symposium."-Sonu Shivdasani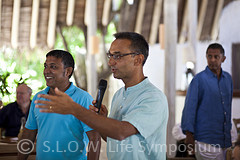 Daryl Hannah also made an interview. Watch the video / Courtesy Six Senses Symposium 2011 Collection

Daryl Hannah at the 2011 SLOW LIFE Symposium
If you want to read more and learn about the SLOW LIFE Symposium, I invite you to visit their (beautiful) website where you'll find the complete reports of the discussions, more videos and a great collection of photos at www.slowlifesymposium.com
If you Twit you can also follow SLOW LIFE Symposium at @SLOWLIFEsym
More Photos of the Six Senses Symposium 2011 Collection…
Your TOP Best Maldives Resorts 2023
YOUR CHOICE. YOUR DREAM. YOUR VOICE
[ Official ]
Traveler's Choice
12th Edition