Set to open in 2020, The Ritz-Carlton Maldives finally announced its opening for June 2021.The resort is part of a group of island development called Fari Islands, in North Male Atoll. From the first images available, the resort design looks absolutely unique.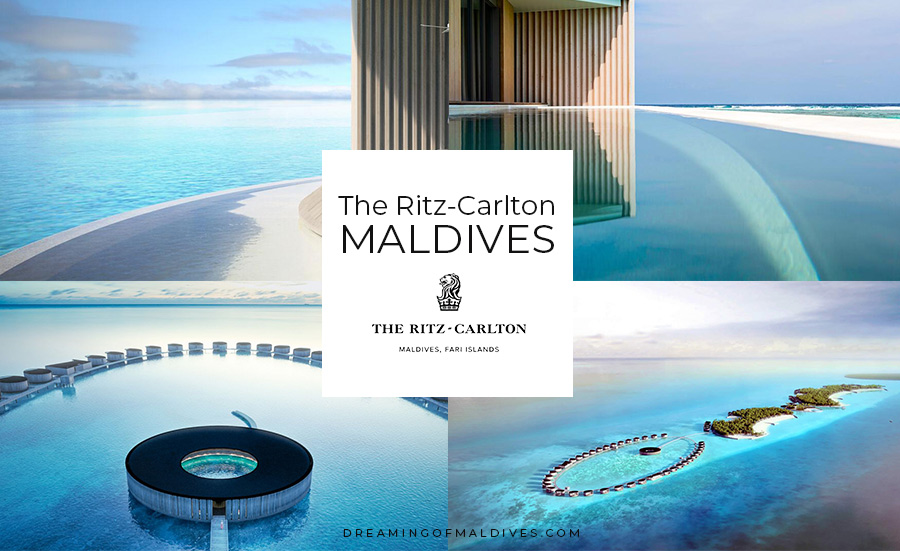 The resort is part of an integrated development, Fari Islands, a group of man made islands currently in development in the north of North Male Atoll.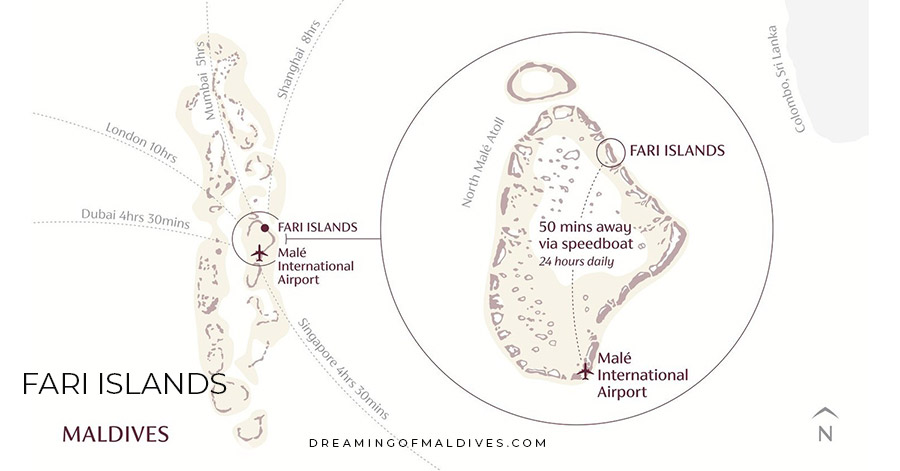 A closer look at The upcoming Resort
Announced to open last year, in the 2020 Maldives new and upcoming Resorts, The Ritz-Carlton Maldives will finally open in June 2021.
What we know.
Unfortunately, just as the rest of the resorts that will open at Fari Islands, a few details and no real photos have been released yet.
I have gathered artist impressions and information released by the hotel at the time of publication.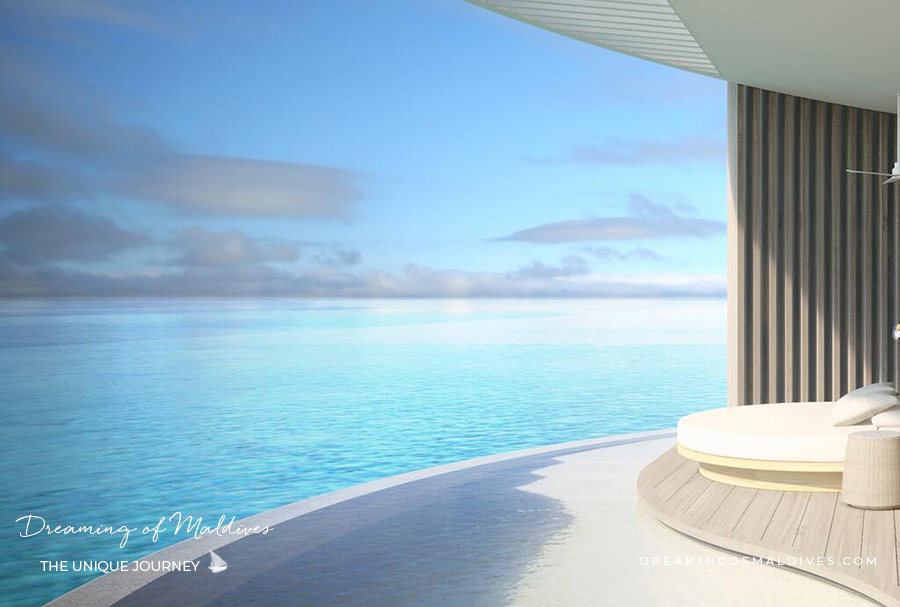 The Ritz-Carlton is set within Fari Islands, a group of man-made islands located in North Male Atoll. .
The Resort at a Glance
100 villas, from one to three bedroom accommodations
24 hours 'Aris Meeha' or butler service for every villa
7 restaurants and 2 bars, including a Michelin-Star collaboration
Signature Ritz Kids program
Jean-Michel Cousteau's Ambassadors of the Environment program
The Ritz-Carlton Spa, offering 9 treatment rooms and a Spa suite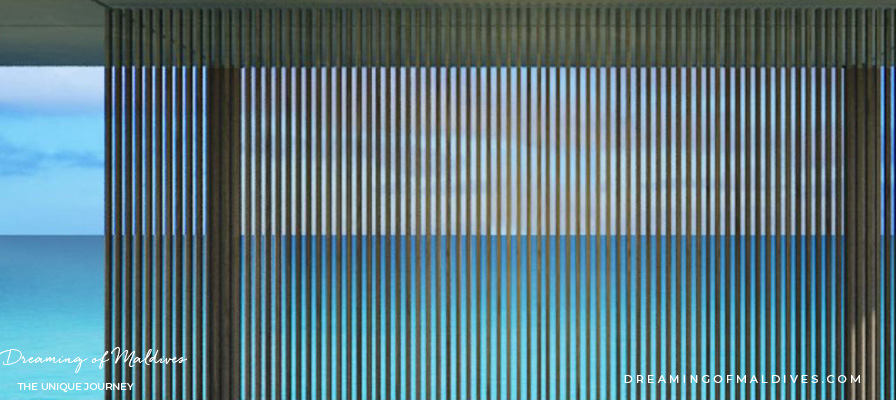 The Ritz-Carlton Maldives has a unique Design
The resort design looks absolutely unique.

From the first artist impressions available, the resort design looks ultra modern. Sleek geometric lines, large open views on the ocean and minimalism are the highlights announced by Ritz-Carlton.
A collection of modern art is also announced by the brand.
"Modern architecture meets the Maldives, inspired by the water and circular movement."
– Kerry Hill Architects
Designed by Kerry Hill Architects, an Australian company, the round shaped architecture seen throughout the resort resembles the Beru, the Maldives Drums.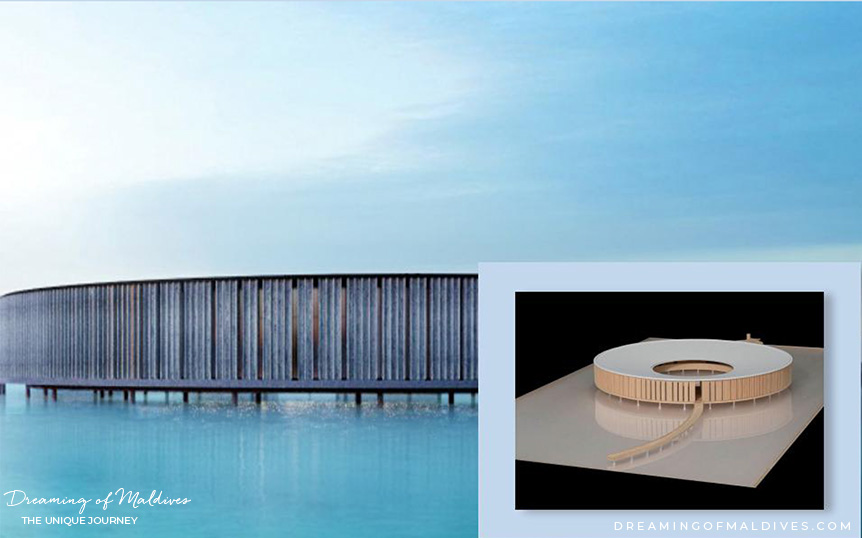 The Maldivian Beru shape flows within the architecture, noticeable even from a distance – apparent in the design of the villas, The Ritz Kids and The Ritz-Carlton Spa.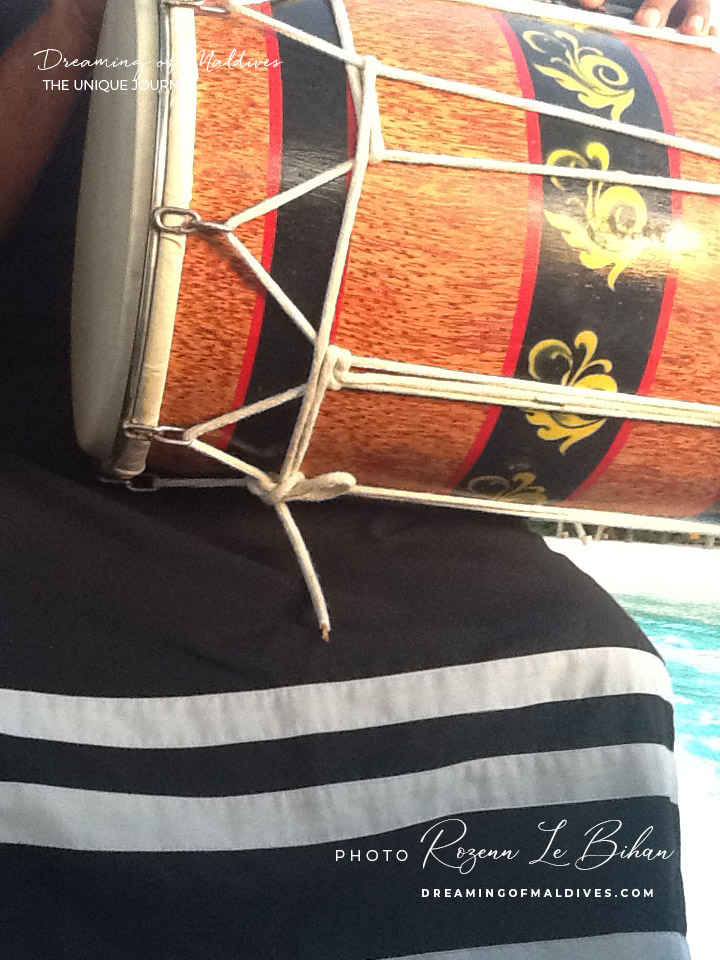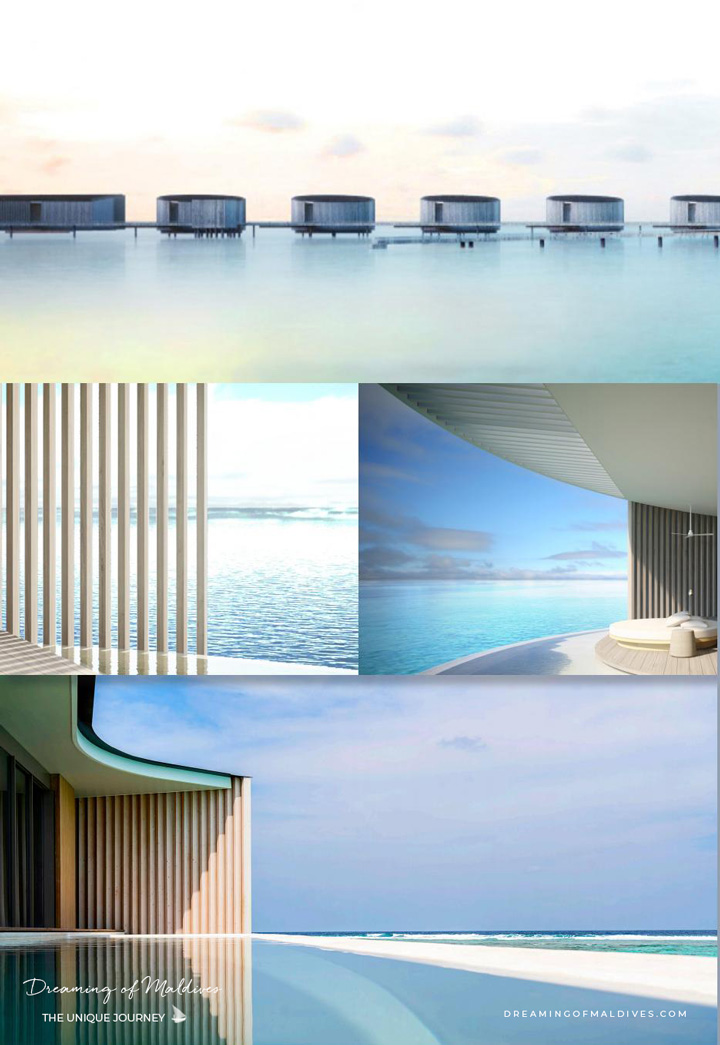 7 restaurants and bars showcasing global cuisines are scattered around the island.
The 100 contemporary beachfront and overwater villas are featured with private infinity pools and butler service.
The resort will also boast an overwater spa, an indoor-outdoor Ritz Kids Club with daily activities, playgrounds and a pool.
From the Ritz, guests will have access to Fari Marina with luxury shopping, dining and entertainment

The Island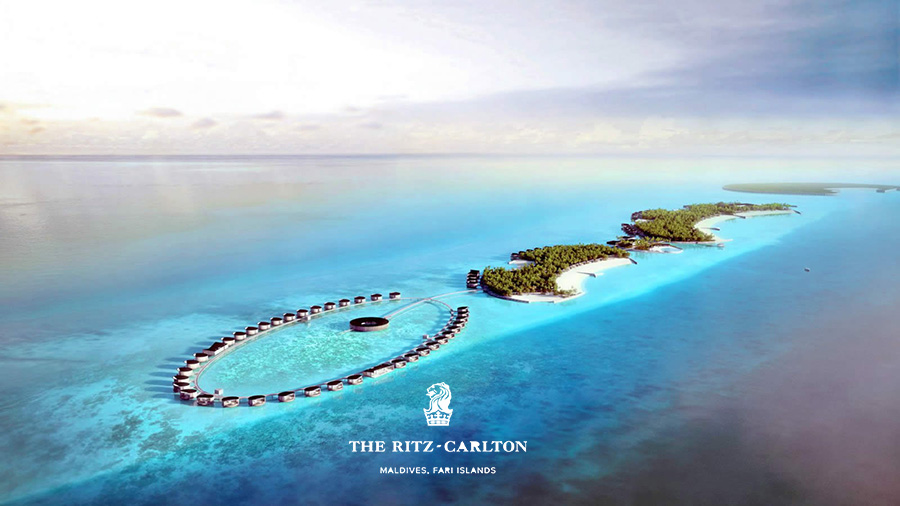 The Ritz-Carlton is part of Fari Islands development, a set of man-made islands located in the northern part of North Male Atoll.
The resort is reachable by a 50-minute private yacht cruise, a 45-minute journey by luxury speedboat or a 10-minute by a seaplane from Velana International Airport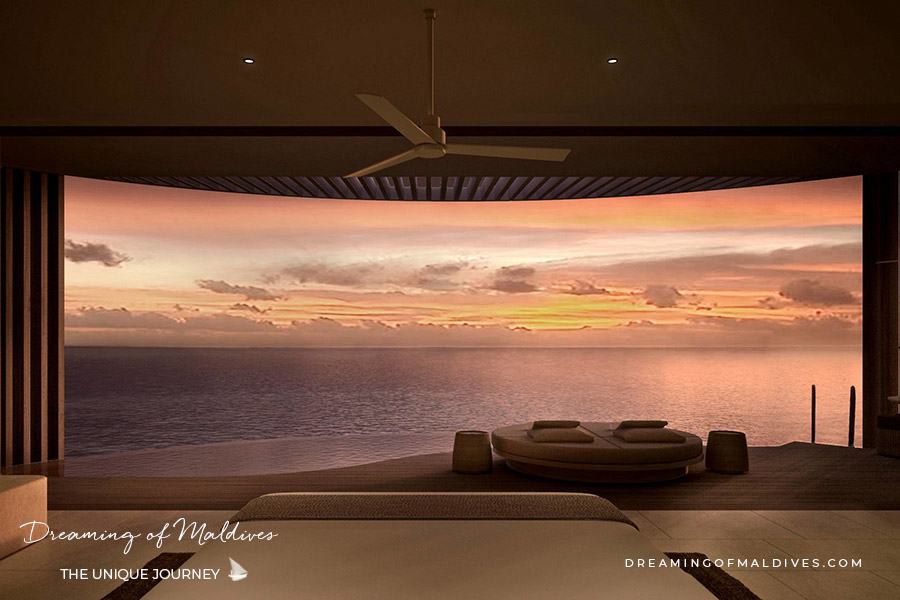 Villas and Suites
Each of the 100 villas, set over water or on the beach, offer spacious living spaces that blur the line between indoors and out with panoramic sliding doors, a sun-deck and a private pool.
The resort will feature 5 categories of villas and 1 Beachfront Estate.
All villas feature an infinity pool and butler services.
Beach Villas, Suites & Estate. 3 categories.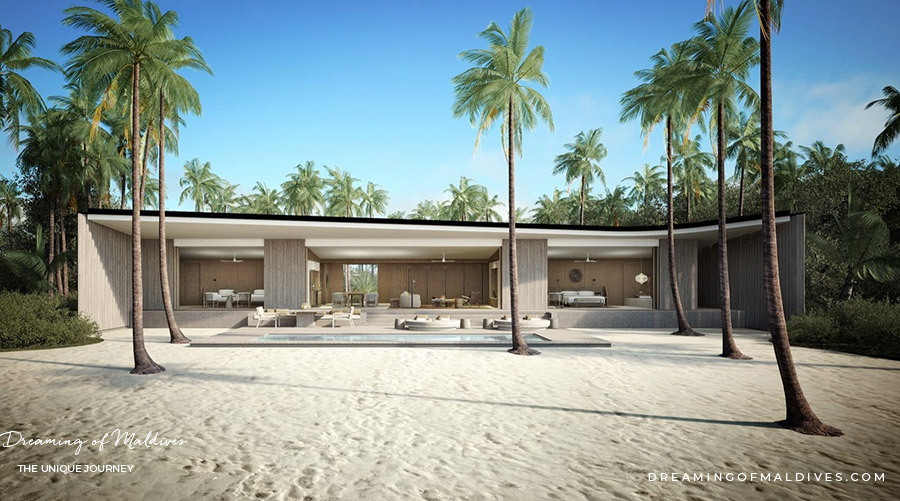 29 Beach Pool Villas. 155 sqm. For 2 persons
9 Two-Bedroom Beach Pool Villas. 400 sqm. For up to 4 persons
1 Beachfront Estate called the Ritz-Carlton Estate. 1500 sqm. For up 6 persons.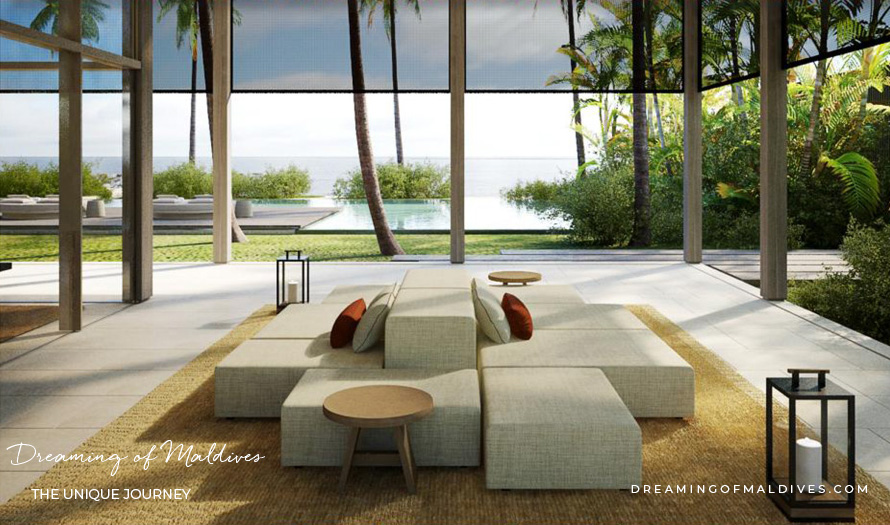 Water Villas & Suites. 3 categories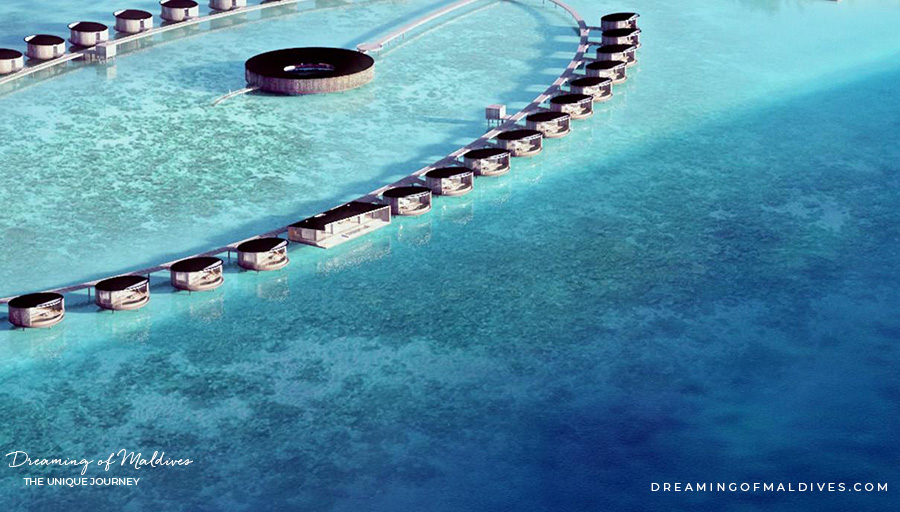 38 Ocean Pool Villas. 150 sqm. For 2 persons
38 Lagoon Pool Villas. 150 sqm. For 2 persons
5 Two-Bedroom Water Pool Villas. 350 sqm. For up to 4 persons
Restaurants & Bars

La Locanda
Known as the island's living room bringing refreshing Southern Italian flavours with indoor and outdoor spaces extended to the sparkling lagoon of the resort in a laid-back atmosphere.
Open for Breakfast, Lunch, Dinner. Dress Code: Casual
Summer Pavilion
This Michelin-starred collaboration offers tapas style authentic Cantonese cuisine in a lantern-inspired dining pavilion perched over the velvety lagoon.
Open for Afternoon Tea and Dinner. Dress Code : Elegant
Iwau
Showcases Japanese specialities, including a lively teppanyaki dining experience under the stars.
Open for Dinner. Dress Code : elegant
Beach Shack
The communal pulse of the island bringing families and friends together over sharing plates of Mediterranean fare and vintage rosé wine to sip all day while dancing to the tunes of live DJ with the Indian Ocean as the backdrop.
Open for: Lunch. Dress Code : Casual chic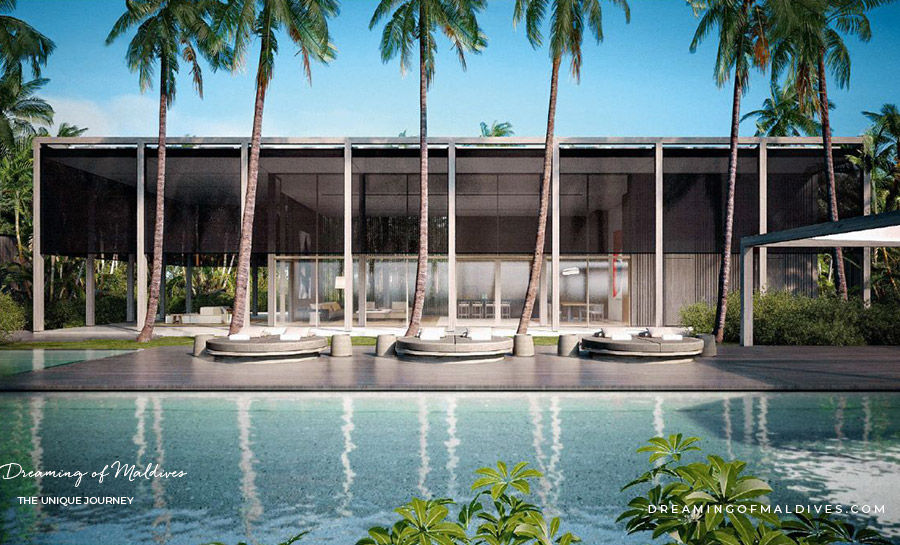 Eau Bar
Balances wellness with indulgence, offering a sustainable gastronomical experience in an elegant, relaxed setting. At Eau Bar, sunset is celebrated each evening with a captivating ritual.
Open for: Lunch, Afternoon Tea and Dinner. Dress Code : Casual chic
Arabesque
Set within a colourful Bedouin tent-inspired restaurant in Fari Marina, Arabesque takes guests on a journey from Lebanon to North India.
Open for: Lunch and Dinner. Dress Code : Casual
Tum Tum
A festive food trailer located in Fari Marina offering scrumptious Asian street food, tempting guests a pit stop amid shopping, arts and culture.
Open for: Lunch and Dinner. Dress Code : Casual
Dine by Design
Whether set on a private sandbank, a lantern filled beach or a private yacht, the resort offers exquisite venues, specially curated menu to celebrate life's most meaningful moments.
The Overwater Spa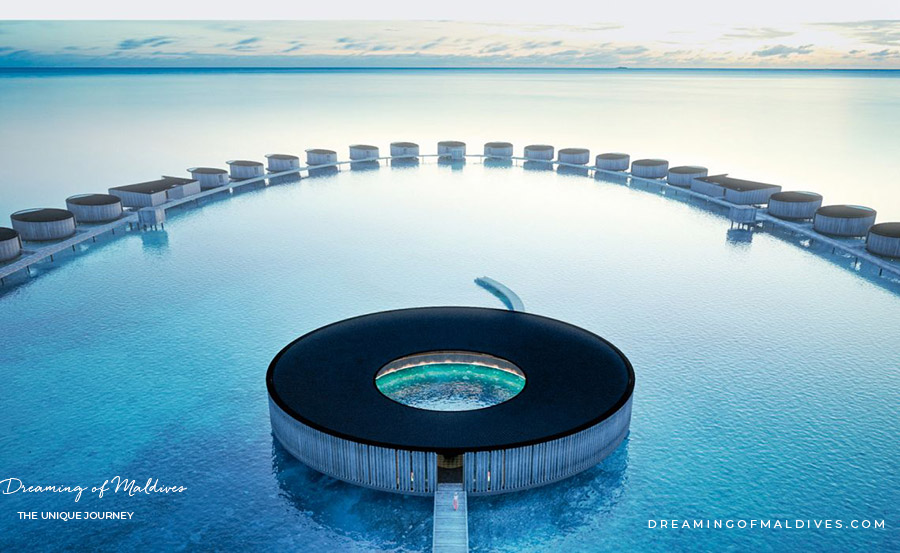 The Ritz-Carlton overwater Spa is designed in a ring-shape and offers nine spa treatment rooms including a spa suite with its own relaxation lounge, a salon and a boutique.
The resort announced a healing by directional energy.
How ? The cardinal directions of each treatment room are designed to exude powerful energy complemented with healing massage.
Leisure & Activities
As part of the integrated Fari Islands development, the resort offers access to experiences both on- and off-property.
On the sand and in the sea, activities include kayaking, snorkeling, volleyball and tennis as well a Ritz Kids Club for the small ones.
At the nearby Fari Marina, guests will have access to luxury shopping from globally renowned designers, dining and workshops focused on arts, culture and local crafts.
The Ritz Kids Club
Designed in the same spirit as the resort, the Ritz Kids Club boasts futuristic indoor-outdoor spaces with playgrounds, napping pods, an area for video games and movies, and a pool with slides and jets.
Young guests have a space of their own at the Ritz Kids Club, where playtime can mean video games or a dip in the pool.
The program is designed for ages 4-12 with the island's four pillars -land, water, environmental responsibility and culture – to create a schedule of daily activities including bike rides, pottery lessons, cooking classes and more.
The Fitness Center
The fitness center offers state-of-the-art equipment, personal training and a yoga studio with classes including aerial yoga. Post-workout is proposed in steam rooms and a sauna.
The Ritz-Carlton Maldives Features and Amenities
Guest Room Features & Amenities
All-villa resort
Direct beach access (select villas)
Ocean or lagoon view
Private integrated infinity pool
Wall-to-wall glass doors offering indoor-outdoor living
Aris Meeha available 24/7
Rain shower and separate marble soaking tub
Bike for each guest to explore the resort
High-speed Wi-Fi
Welcome amenity
Coffee, tea and mineral water
Minibar
Turndown service
Property Features & Amenities
Complimentary boat transportation around the archipelago
Five onsite restaurants and bars showcasing international cuisines
Two Fari Marina restaurants including an Asian food trailer and Lebanese grill
Spa with nine treatment rooms, relaxation areas and a salon
Ritz Kids Club with daily activities, playgrounds, a pool and napping pods
Tennis court, tournaments and private lessons
Dive center offering snorkeling and kayaking
Beach activities including yoga and badminton
24-hour fitness center with yoga studio, sauna and steam room
Photography studio offering portrait sessions and workshops
Access to shopping, dining and entertainment at Fari Marina
Extensive collection of modern art
Eco-friendly resort mainly operating on solar energy
The Ritz-Carlton Maldives is accepting bookings from June 2021.
The resort will offer guests a truly luxurious Maldivian experience and outstanding guest services for which the Ritz-Carlton brand is known.
All Artist impressions / by The Ritz-Carlton Maldives
find The Ritz-Carlton Maldives in :

If you're on the search for a tropical destination where to appreciate modern architecture, design and art and you're a Maldives lover like…

If you love the Maldives, Art and Design, these 3 ultra-luxury hotels should be on your top list. The following properties have commissioned…
Follow us on Facebook, YouTube and Instagram for more Maldives stories.
Your TOP Best Maldives Resorts 2023
YOUR CHOICE. YOUR DREAM. YOUR VOICE
[ Official ]
Traveler's Choice
12th Edition