The cyclone Tauktae, which has been forming in the Arabian Sea since May 13, has affected the Maldives. Strong winds are still blowing on the archipelago as it moves away towards India.
The evolution of the cyclone over the Maldives and towards India

Maldives On Weather Alert Due To Cyclone Formation
Over the past three days, all Maldives atolls has experienced strong winds with heavy showers and thunderstorms.The entire archipelago was progressively placed on white and yellow alert for wave-submersion and dangerous sea conditions.
One of the last Maldivian weather service bulletin this 15 May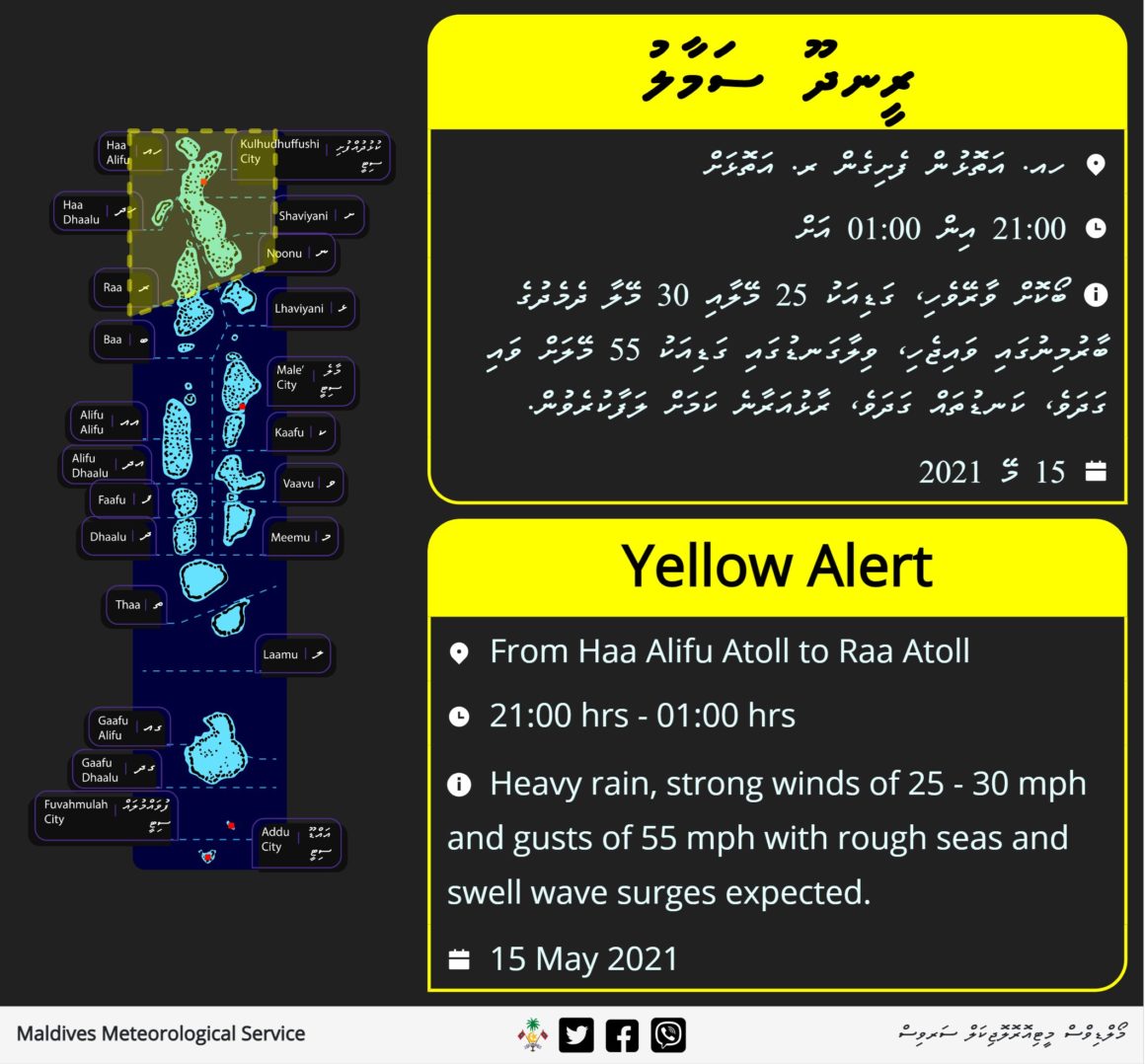 The northern Atolls were the most affected with gusts reaching 55 mph ( 7 beaufort. )
4 meter waves have been recorded in Haa Alifu atoll, extreme north Maldives.
The new domestic airport of Hoarafushi, also located in Haa Alifu, was flooded as well as several local islands. The seaplane jetty at Cheval Blanc Randheli is partially destroyed by a violent sea. No damage has been reported in other resorts or hotels so far.
Tauktae is forming itself since May 13th
The cyclone began to form around May 13 with strong winds that swept the south and later the center of the archipelago. Since then, several warnings have been issued in the Maldives.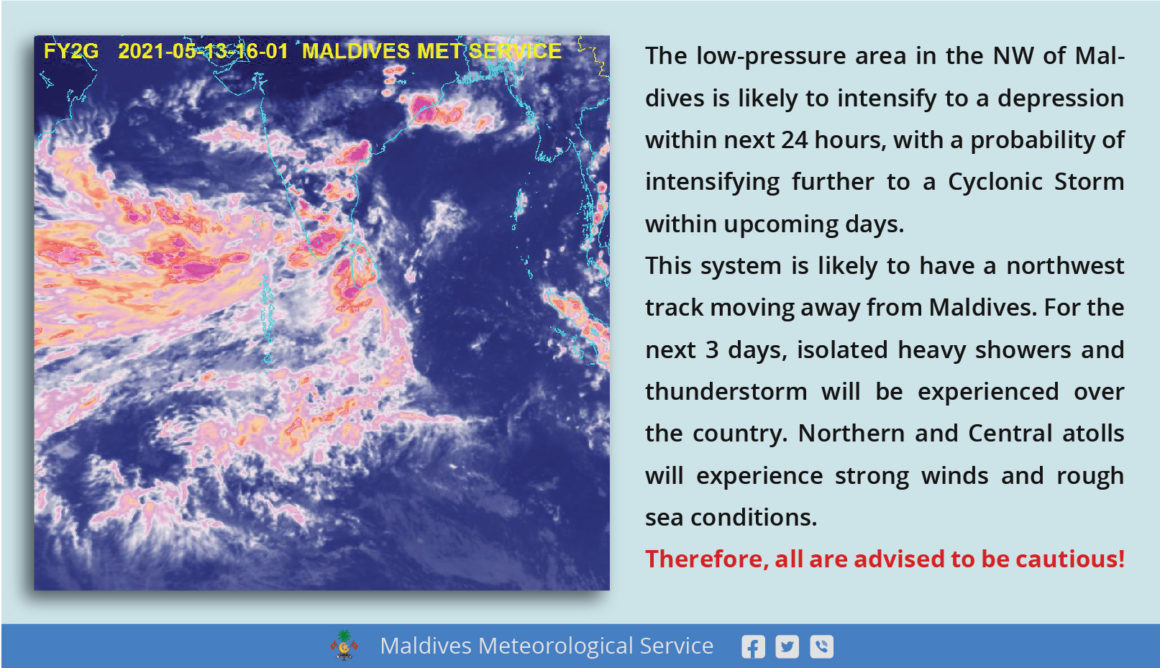 Weather alerts were then extended to the rest of the Maldives with a focus on the north today and for next night as strong winds continue to blow. The rest of the archipelago remains under alert too.
Southern Maldives on yellow alert yesterday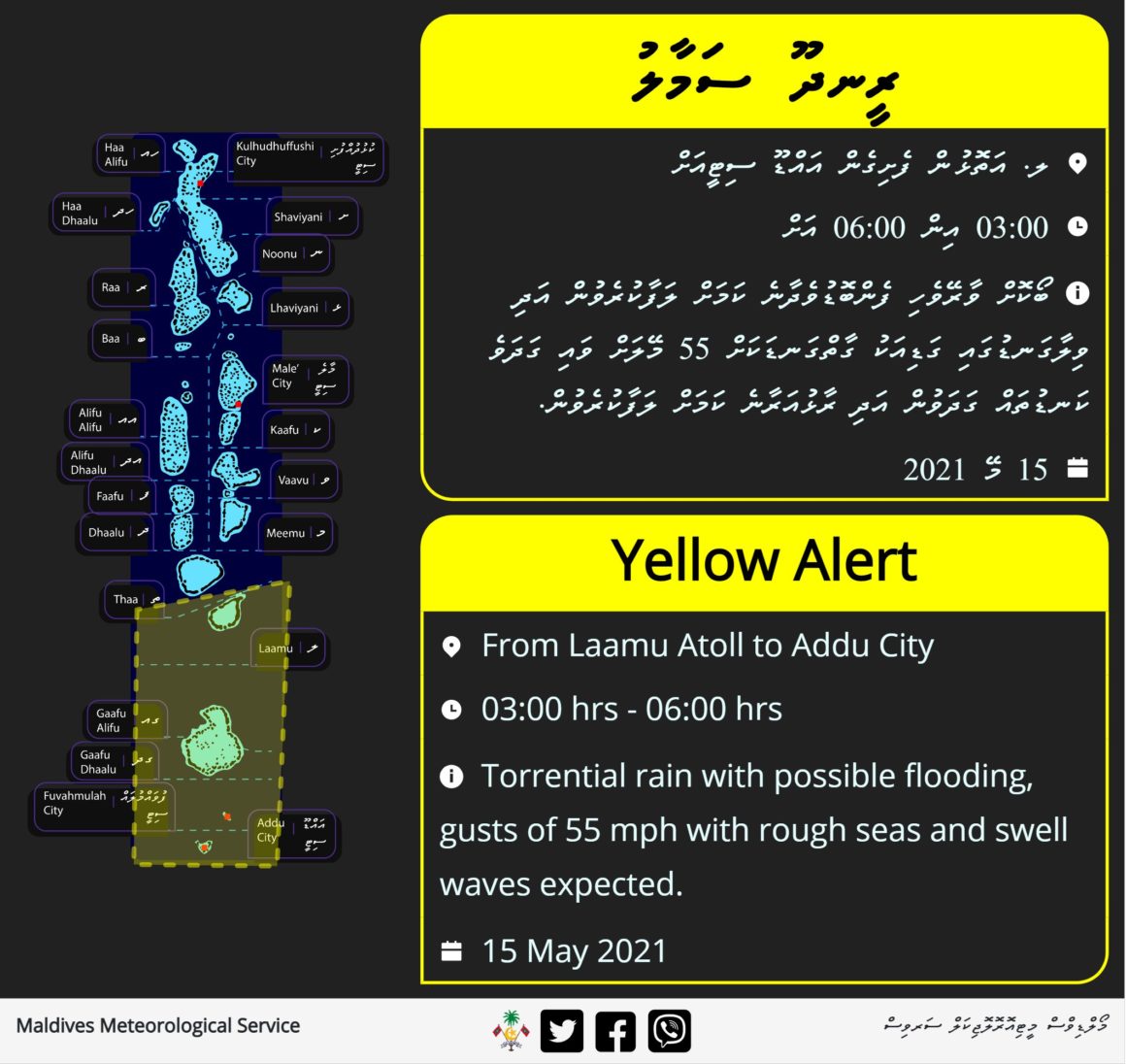 Tonight, Tauktae is still affecting the Maldives and is moving north towards India with winds now reaching 160 km/h / 100 miles per hour west of Sri Lanka.
The cyclone will most likely intensify further and could turn into a category 3-5 cyclone in the next 12 hours.
The monsoon is coming to this region of the world. This is not the first time that a cyclone has formed in the Arabian Sea, but it is rare that it affects the Maldives so much in terms of size and intensity.
More information on climate and weather in the Maldives :
Follow us on Facebook, Youtube and Instagram
for more Maldives Dreams
Follow Maldives weather alerts on Maldives Meteorological Service Twitter account
Maldives TOP 10 Dreamy Resorts 2024
YOUR CHOICE. YOUR DREAM. YOUR VOICE