The very new  Maldives 2011 Wall calendar is available !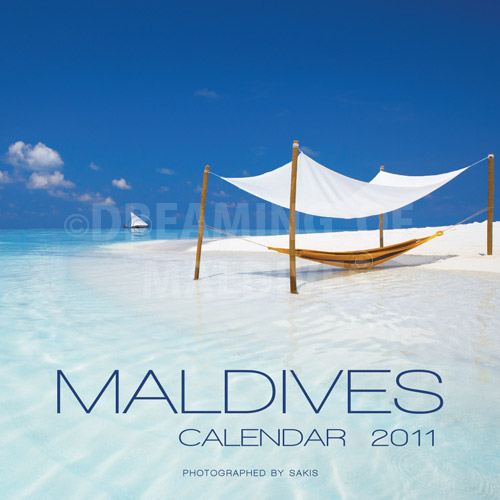 This new 2011 Tropical wall calendar features spectacular and high-quality photos of Maldives along with monthly easy-to-read grids. Published since 2005, this yearly series of Maldives Wall Calendars are the most popular calendars of the Maldives Islands.
All year round, escape to a new Maldives paradise with breathtaking sceneries from the islands. From the air with stunning and unique aerial views, to the sea with turquoise lagoons, desert islands, tropical beaches, snorkeling reefs,amazing colorful sunsets…
The Year 2011 calendar displays stunning photos of Maldives for each month, adorned with a full monthly grid displayed in 4 languages.
This 2011 Maldives wall calendar also includes 2 extra full pages with 2 dreamy and beautiful photographs of Maldives for your notes.
Exclusively available on Dreaming of Maldives.com and in Maldives
Description
Current release: Year 2011. 12 Months
14 photos of Maldives. Photographed by Sakis Papadopoulos
Format : size closed : 25 x 25 cm. Size open : 25 x 50 cm
Standard wall binding stapled. Cover Glossy laminated Paper. Silk Color Paper.
English/ Deutsch/ Francais/ Italiano