For this new edition of our photo book of the Maldives, we make you travel on board a seaplane for a fabulous photo journey, from the Northern most Atoll of Haa Alifu to the Southern most Atoll of Addu, to discover the Maldives like never before.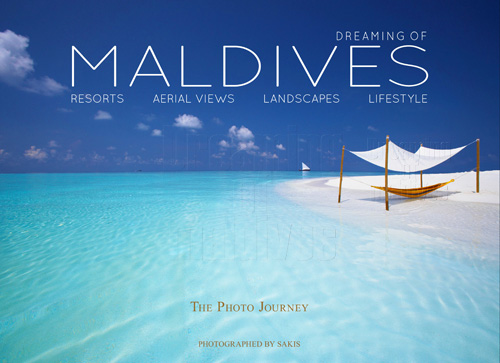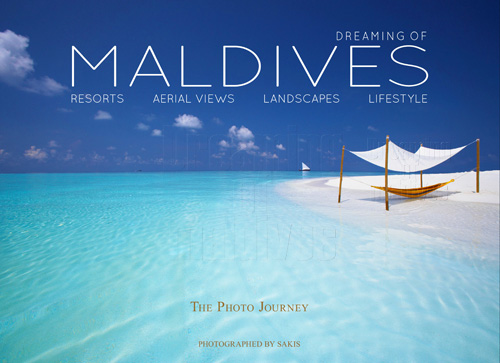 A VISUAL TRIBUTE TO MALDIVES BEAUTY
Colorful and Inspiring, Dreaming of Maldives is an unique journey to the Maldives Islands, published since 2005.
Completely revised and updated, the 3rd edition of Dreaming of Maldives is the latest Photo Travel Guide of these heavenly islands.
The new edition of Dreaming of Maldives Photo Book features some of Sakis Best-Loved-Photographs and numerous new images of the Maldives. Unique by the beauty of its images and its brand new and original concept, Dreaming of Maldives 3 is a visual tribute to the Maldives splendor.
During this trip, that we wanted to complete as possible, you will discover :
– unique and breathtaking aerial photos of islands and atolls
– a new selection of 27 resorts and hotels plus a Luxurious Liveaboard
– new Maldivian islands
– desert islands and sandbanks
– traditions
– lifestyle
– nature….

All photos of this book are simply and truly the absolute reflection of their astonishing beauty.
To fully enjoy the incredible beauty of these islands, most of our photos are printed full page with some panoramic double spreads. Each Resort is accompanied by an information sheet and a map to help you locate your favorite place.
The new concept of Dreaming of Maldives also offers short texts with different themes, helping you learn more about the Maldives (culture, traditions, geography, islands) .
Dreaming of Maldives 3 is recommended to Maldives lovers and photography enthusiasts.
Available in Maldives and at our Boutique only.
Delivered Worldwide
Follow us on Facebook, Youtube and Instagram
for more Maldives Dreams & Stories
Your TOP Best Maldives Resorts 2023
YOUR CHOICE. YOUR DREAM. YOUR VOICE
[ Official ]
Traveler's Choice
12th Edition