Soneva Fushi has installed a 70kW solar photovoltaic (PV) power plant system that has achieved eight months of successful operation. It is the largest renewable energy plant currently operating in the Maldives, a country that has brought international attention to the issue of global warming and rising sea levels.
Soneva Fushi 70kW solar power plant is the largest in the Maldives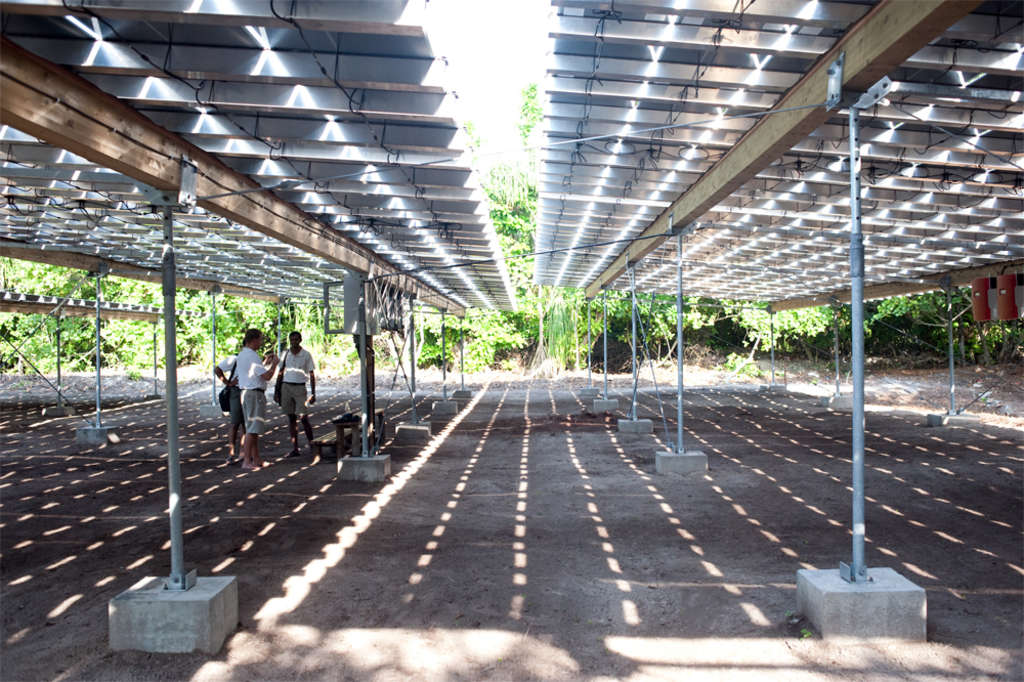 Soneva Fushi Zero carbon commitment
"This is a significant first step in achieving our commitment of a net zero carbon footprint for Soneva Fushi by 2012 as well as supporting the carbon reduction goals of the Maldives government," said Sonu Shivdasani, CEO and Chairman of Six Senses. "We are hoping that our example will lead other resorts in the Maldives and other island grids around the world to also pursue solar PV as a low cost clean energy alternative."

Solar panels are Made in Germany, Built by Maldivians
The 'grid parity' system, the first in the region to use best of breed thin film PV panels, was fabricated in easy-to-assemble kit form by Beck Electric of Germany. The entire system, including tools required for assembly, was shipped to the Maldives in a 40 foot container and installed in two weeks by a team of 10 local workers, none of whom had worked with glass or solar panels before. The panels have been discreetly assembled in the middle of the island's jungle and are visible only when guests are given guided tours of the resort's impressive recycling, waste to wealth 'Eco Centro'.

A blueprint for the future
This innovative kit-based approach removed the dependence on experienced overseas contractors whilst providing islanders with renewable energy expertise. This approach provides a blueprint for smaller, poorer communities throughout the world to generate much-needed clean energy at a cost below diesel generated electricity.
Dr. Lounette Dyer, who leads the Six Senses renewable energy efforts, said, "This project proves that solar PV doesn't just make good environmental sense, it also makes good economic sense.
Solar PV is no longer only a luxury of rich nations with high subsidies. It is now a necessity for poor developing countries that require energy to advance and are tied to global oil prices."
Plans to quadruple the system
Following a successful trial period the company now plans to quadruple the size of the system in 2010 to provide almost half the resort's electricity.
Solar Energy in Maldives

Soneva Fushi has just been voted best hotel in the Maldives 2022 by Conde Nast Traveler. No wonder why, Soneva Fushi is a unique, authentic…

We are delighted to make you discover new photos and detailed information about Soneva Jani, the New & gorgeous Resort of Soneva Resorts &…
Gili Lankanfushi Maldives boasts a 15 x 15 Meter floating solar platform in its blue lagoon. Gili Lankanfushi is happy to announce its…
Follow us on Facebook, Youtube and Instagram
for more Maldives Dreams & Stories
Your TOP Best Maldives Resorts 2023
YOUR CHOICE. YOUR DREAM. YOUR VOICE
[ Official ]
Traveler's Choice
11th Edition