The opening of OZEN by Atmosphere at Maadhoo will mark a new era in Maldives. The Island Nation has never seen such a level of luxury in a All Inclusive Resort. Visit and first photos.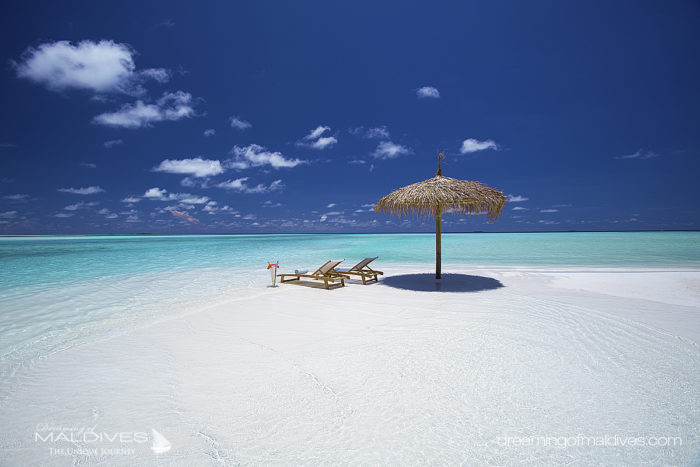 OZEN by Atmosphere expected to be the next BIG thing in the Maldives!
After Atmosphere Kanifushi and OBLU, OZEN at Maadhoo will be the Flagship Luxury resort within the Atmosphere Hotels & Resorts portfolio, the up & coming Indian Ocean hospitality brand and is expected to make a hit in the Maldives super Luxury Resort Collection.
Why ?
First because no Maldives Luxury Resorts has done it before and second because it's challenging :
OZEN dares to bring the All-Inclusive plan idea to a brand new level by matching Top Luxury features with a uniquely exclusive holiday plan called  The Atmosphere INDULGENCE™.
OZEN at Maadhoo will encompass all elements of a Luxury holiday experience in the Maldives with a big twist :
NO Surprises, NO Shocks, NO Hidden Extras : ALL INCLUDED in ONE Price !
Who is behind the Concept of OZEN ?
Behind OZEN concept you will find again the talented and visionary Atmosphere Hotels & Resort team.
The Hotel Brand has already 2 very successful opening :
Atmosphere Kanifushi Maldives in December 2013, with its unique Premium All‐Inclusive Holiday Plan and fantastic value for money.
More recently, OBLU by Atmosphere at Helengeli a now very popular & best in class 4‐star superior resort.
Curious about the Resort ? Let's see the details together…
OZEN Opening Date : 15th July 2016
Where is OZEN ?
OZEN at Maadhoo benefits from an ideal location. It is close to Male in the southern-east part of South Male Atoll, at only 35 mns by speedboat from the international Airport. Thus easily and quickly reachable and 24h/24h.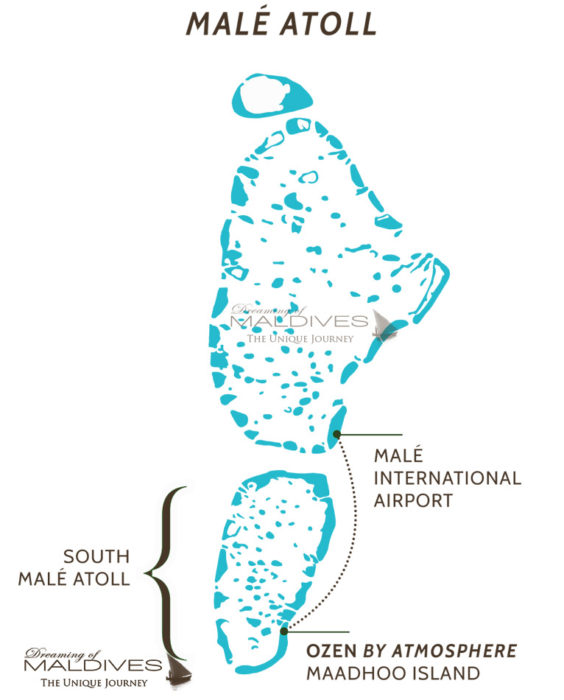 The resort Design
Ozen is designed in a contemporary style blended with Maldivian architecture. The island is naturally surrounded by a stunning turquoise lagoon.
The island is very narrow and long with 750 meters length and app. 100 meters width.
OZEN at Maadhoo The Villas
The resort will boasts 90 Luxurious Stand-Alone Villas located on the beach or over-water, each overlooking the expansive lagoon and
the horizon.
All living spaces are created with utmost Luxury & Comfort in mind, whilst incorporating a seamless fusion of modern design, nature and vibrancy!
Many of these villas come with their very own 8 meter lap pools, featuring fiber‐optic Mood lighting and a Mesmeric Maldivian Sunset View.
The Beach Villas
On The Beach : 41 Beach Villas called Earth Villas, including Family Suites.
– 14 Earth Villas (Beach-front)
– 17 Earth Villas with Pool
– 10 Earth Family Suites with Pool ( Photos and details coming soon)
Earth Villas
Earth Villas first Details and (available ) Photos.*
*I will release more photos as soon they are available.
Size : 185 m².
Main features : Earth Villas are individual Beach-front villas with high slanted ceilings.
They are decorated with luxurious interiors in warm earthy tones and fresh colors.
Every villa has a large outdoor deck and a tropical garden along with a spacious outdoor bathroom, featuring a hand-crafted bathtub and a monsoon shower.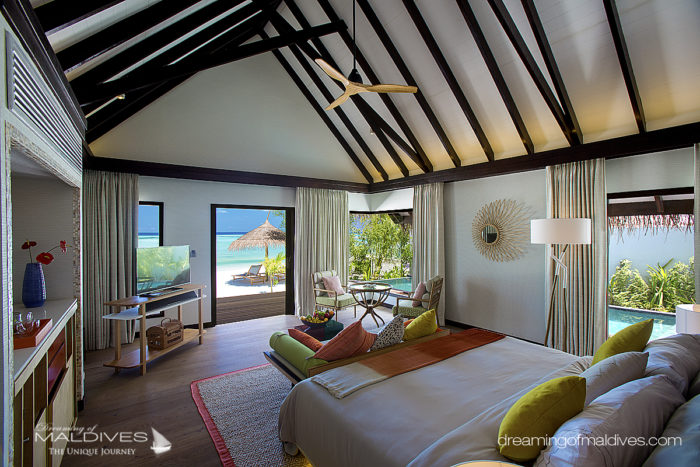 Earth Villas With Pool
Size : 185 m² and 8 m Lap Pool
Main features : Earth Villas & Pools have identical set up, size and design as Earth Villas and have a 8 meters Lap Pool.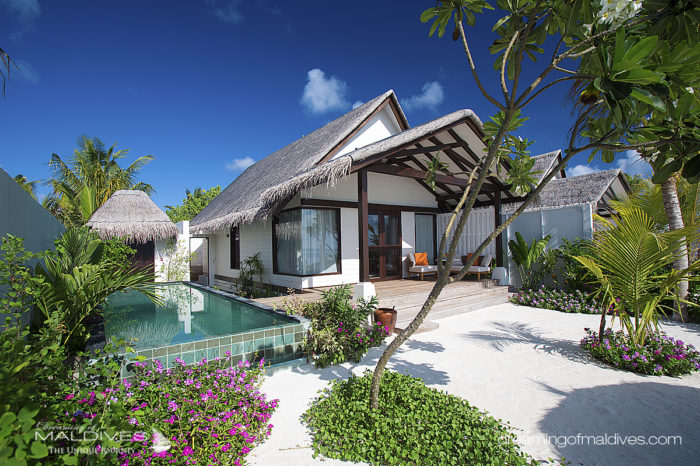 OZEN Water Villas
Over Water : 48 Water Villas called Wind Villas.
– 24 Wind Villas (Over-water)
– 24 Wind Villas with Pool
– The OZEN Water Suite ( Photos and details coming soon)
Wind Villas
Wind Villas first Details and (available ) Photos.*
*I will release more photos as soon they are available.
Size : 85 m².
Main features : Each Wind Villa is decorated with fresh & vibrant color.
The bathroom offers a Dreamy View over the lagoon and has in its center a stand-alone ellipse-shaped bathtub.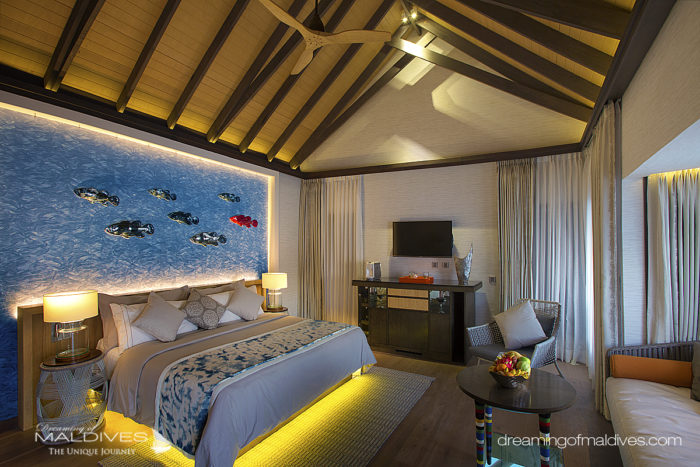 Wind Villas With Pool
Size : 112 m².
Main features : Wind Villas With pool are identical to the Wind Villas but have a more spacious Deck and a 20 sqm Lap Pool with fiber optic mood lighting.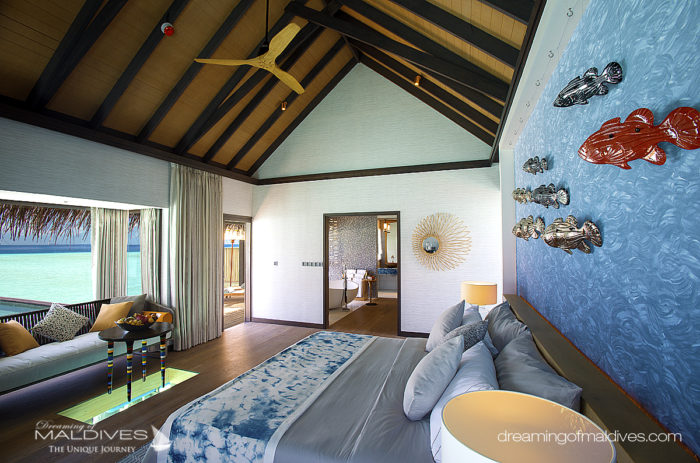 Family Holidays at OZEN

OZEN at Maadhoo will also feature a Kids Club.
Families will enjoy tailored accommodation with 10 Beach Villas with Pool of 285 m² called Earth Family Pool Suites.
Each Family Villa will consist of 2 bedroom Villa complex with a large Master Bedroom and a twin-bedded room ( each with its own private bathroom ).
A separate Living room and an outdoor Lounge with a large 35 Sq.m private pool with fiber optic mood lighting will come in every suite.
Atmosphere INDULGENCE™‐ an ultra‐luxury All‐Inclusive plan. What will it include ?
Atmosphere INDULGENCE™ offers ultra high standards.
The All-Inclusive Plan is the first of this kind,in the Maldives.
Generous, Luxurious, Delicious it includes incredible features.
The Atmosphere INDULGENCE™ – OZEN All Inclusive Plan Details
Eat & Drink
Exotic Champagnes, Cocktails & Wines along with dine‐around Fine Dining experiences which also includes a unique Underwater Dining experience at the FIRST underwater restaurant in Male' Atoll.
• Sumptuous OZEN Champagne BREAKFAST At THE PALMS (Open until 11:00 hrs)
– Wide variety of cuisine from world-over, accompanied by exotic Fruit & Cheese display of Fresh fruits, Assorted selection of Cheeses and Smoked Meats, Cold cuts & Crackers
• LUNCH: selection of light meals & snacks:
– Sandwiches / Burgers / Pizzas to Order
– Salad Bar / Dessert Bar
– Live Station with selection of Hot Dishes
• DINNER : DINE-AROUND FINE DINING Experiences:
– THE PALMS. International World Cuisine with Theme Nights
– THE TRADITIONS – IndoCeylon. Authentic South Asian Specialty Cuisine from Indian, Sri Lankan & Maldivian dishes
– THE TRADITIONS – Peking . Specialty Chinese Cuisine – Far Eastern Theme
– ALL-DAY : Delectable choice of snacks and pizzas at Joie de VIVRE – Poolside Bar & Pizzeria• DINING EXPERIENCES
– ONE** Fine Dining Experience at M6m (UNDERWATER Specialty Restaurant- Open for Lunch & Dinner)
**Eligible ONLY for ALL FOUR NIGHT stays and above
• IN-VILLA MINI BAR
– Replenished TWICE DAILY with EXOTIC Beers, Wines, Soft drinks & Snacks Selection
Relax
The Atmosphere INDULGENCE™ also includes Luxurious Spa therapies from Atmosphere's very own Elena Spa; an extensive spa complex with exquisite over‐water treatment rooms and a wide range of relaxing and rejuvenating rituals and therapies.
You can choose from a selection of SPA service OR Dives** depending on the total number of nights**
** Guest must hold a PADI Certificate
• 4-5 Nights Stay: ONE 60 Minute Spa OR ONE Dive
• 6-8 Nights Stay: TWO 60 Minute Spa OR TWO Dives
• 9-12 Nights Stay: THREE 60 Minute Spa OR THREE Dives
• 13-16 Nights Stay: FOUR 60 Minute Spa OR FOUR Dives
• 17 & Above Nights Stay: FIVE 60 Minute Spa OR FIVE Dives
Have Fun
INDULGENCE™ includes world‐class Diving adventures ( See Relax / Spa Section for details ) at Atmosphere Aqua Club; OZEN's PADI Certified Dive School with a team of multilingual experienced professionals.
Multiple watersports and snorkeling trips are available throughout the stay too.
• Full Access to Joie de VIVRE – Sports & Recreation Centre
– Fully Equipped Gymnasium, Indoor & Outdoor Activities
• ONE Adventure excursion from Excursion Menu per stay (weather permitting)
• Sunset Fishing Excursion
– ONCE per guest per stay (weather permitting)
• OZEN Kids Club
– Children and Young Adults can enjoy a variety of daily
organized activities, games, and exploration
• OZEN Special Activities, Events – Weekly & Seasonally
• Atmosphere Aqua Club at OZEN
– Complimentary Snorkeling equipment for all guests during stay
– UNLIMITED Snorkeling excursions during stay: 2 Snorkeling Excursion Shuttles per day (10:00 hrs & 15:00 hrs) PLUS Arranged daily from a selection of 6 nearby snorkeling sites
– Complimentary rental of non-motorized water sports Windsurfing, Catamaran, Canoe, Stand-up Paddle Board.

See the latest and updatED
ALL INCLUSIVE PLAN at OZEN Maadhoo
OZEN Resort Map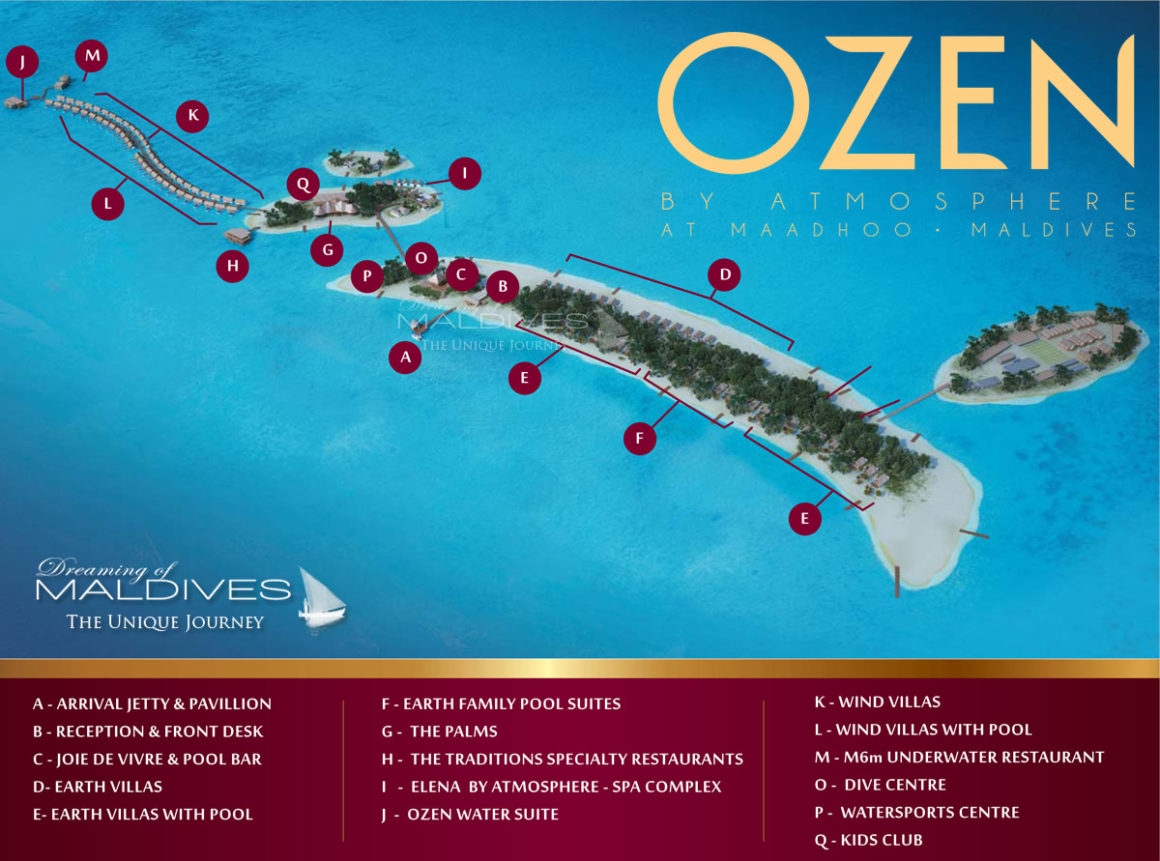 Follow us on Facebook, Youtube and Instagram
for more Maldives Dreams
Your TOP Best Maldives Resorts 2023
YOUR CHOICE. YOUR DREAM. YOUR VOICE
[ Official ]
Traveler's Choice
12th Edition