The Moorish Idol is often confused with the Schooling Bannerfish or its cousin the Pennant Coralfish. In order for you to know if you are really meeting the wonderful moorish idol, or one of the 2 pseudo doppelgängers, here are 3 essential tips to identify them.
It is true that to the untrained eye and without precise details, moorish idols can be easily confused with them, they are closely related but don't belong to the same family. As for the Schooling Bannerfish and its cousin the Pennant Coralfish, there are even more identical ( I am confused too, these 2 really resemble one another).
As a reminder, I have listed below the scientific names of these 3 beautiful fishes.
Moorish Idol : Zanclus cornutus.
Schooling bannerfish : Heniochus diphreutes.
Pennant coralfish : Heniochus acuminatus.
Unfortunately, I could not find any photo of a Pennant coralfish in the photos given to me by the resorts where I interviewed their dive managers.
But, on one of the superb photos given to me by Reethi Beach, you can see a huge group of Schooling bannerfish. They really do look like moorish idols, don't they ? At least from afar.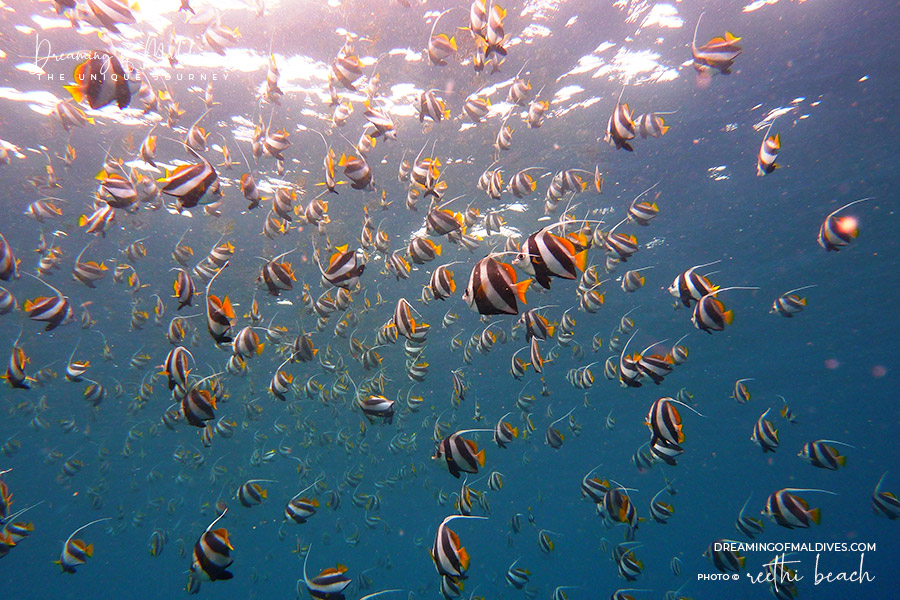 They bring so much confusion that the Schooling Bannerfish is even called the False Moorish Idol.
One of the main clue to differentiate them is the number of fishes. The Moorish idol is often spotted alone, sometimes in small groups and rarely in schools – only in deep waters.
Both the Schooling bannerfish and the Pennant always live in very large groups, sometimes more than hundred.
Still, you might get fooled, numbers are not always precise in nature.
moorish idol vs bannerfish
On the left a moorish idol, on the right a schooling bannerfish. Close to each other, their differences become more obvious.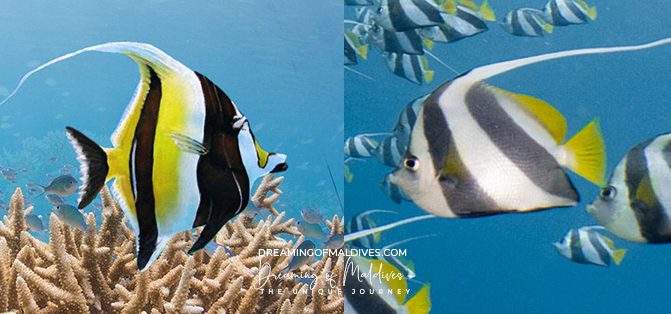 Look closer, These 2 differences should help you
1 / Look at their snout.
The tubular snout of the Moorish idol is very long and distinctive and very pretty. The other two also have a narrow muzzle but not as long as the Moorish idol.
Its snout also has a yellow saddle-shaped patch on top.
2/ Look at their tail fin.
The tail fin of a Moorish idol is completely black, with a thin white border, while the others have yellow tail fins.
Maldives Snorkeling Guides

The Maldives islands are a destination where snorkeling is outstanding everywhere. With 26 Atolls, you are sure to dive on countless beautiful…

Dreaming of swimming with whale sharks meanwhile holidaying in Maldives ? Your dream is about to come true with this complete guide dedicated…

South Ari Atoll, Maldives is a whale shark paradise. Here are 5 of the best hotels & guest houses to stay to see and swim with the sea…
Follow us on Facebook, Youtube and Instagram 
for more Maldives Dreams & Stories
Your TOP Best Maldives Resorts 2023
YOUR CHOICE. YOUR DREAM. YOUR VOICE
[ Official ]
Traveler's Choice
12th Edition