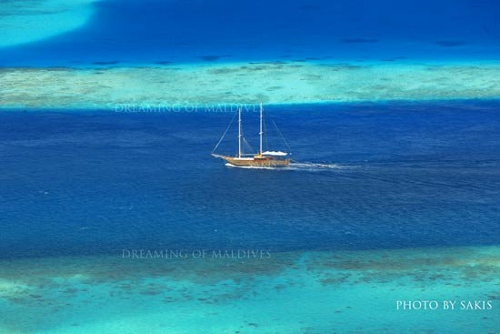 The Maldives are more renowned for their resort-islands than for their Liveaboard holidays. And it just a matter of time before the destination begins to be A-one-of-a-kind in this field.
Living the LIVEABOARD Dream in Maldives
Today, surprisingly, there are around 100 ( official ) Liveaboard ships in Maldives , which is more than hotels & resorts.
You will see them, sometimes, anchored near-by the resort islands, seeking for shelter when the weather gets rough.
They cruise all along the archipelago and offer studied programs and itineraries according to the seasons and the marine migrations.
This type of cruises are a honey-pot for divers and surfers who have a great opportunity to be closer to the best spots and be totally disconnected from the traditional resorts…the further, the better the immersion is !
Live aboard cruising is also a cheaper way to stay in the Maldives and enjoy this Paradise, and if all these boats do not offer the same luxury and comfort as the resorts do, they remain a dreamy and very unique experience.
Most of the ships are medium-sized and so, maintain by their maximum capacity, a nice and cosy atmosphere with a reasonable amount of passengers on board (app. 5/8 persons to a maximum of 60). The average being generally between 15 to 25 passengers. The atmosphere is often friendly and relax. The holidays makers on board share the same hobby and passion which ease the conversations at Sunset on the deck. Great moments guaranteed !
Sailing in Maldives
Often fully motorized, some of them, as shown on the photo, offer sailing possibilities on the lagoon, allowing the cruisers to discover the atolls and islands in a total tranquility.
Prices and ship types vary a lot. The choice is quite wide and will suit to many wishes and budgets.
In order to perfectly and safely select your next favorite liveaboard ship, we advise you to check if the chosen one has all necessary safety equipments and match the government criteria on this matter. The best help you will get for this sensitive quest, is by asking your favorite travel agent or a Liveaboard cruise specialist or a recognized Maldivian Agency.
Liveaboard cruising is booming in the Maldives as this type of holidays seduces more and more travelers searching for something "different".
And…finally…I must admit that the Maldives islands definitely deserve to be discovered by sea. The view and feelings are totally different.
Liveaboard cruising is another Must-do in Maldives. We will continue soon on the subject with more focus-on.
Your TOP Best Maldives Resorts 2023
YOUR CHOICE. YOUR DREAM. YOUR VOICE
[ Official ]
Traveler's Choice
12th Edition