With the desire to share a passion for Art and Design, Cheval Blanc Randheli features a stunning interior design and beautiful objects throughout the Maison. Discover some of the most beautiful creations that you will touch and admire around the resort.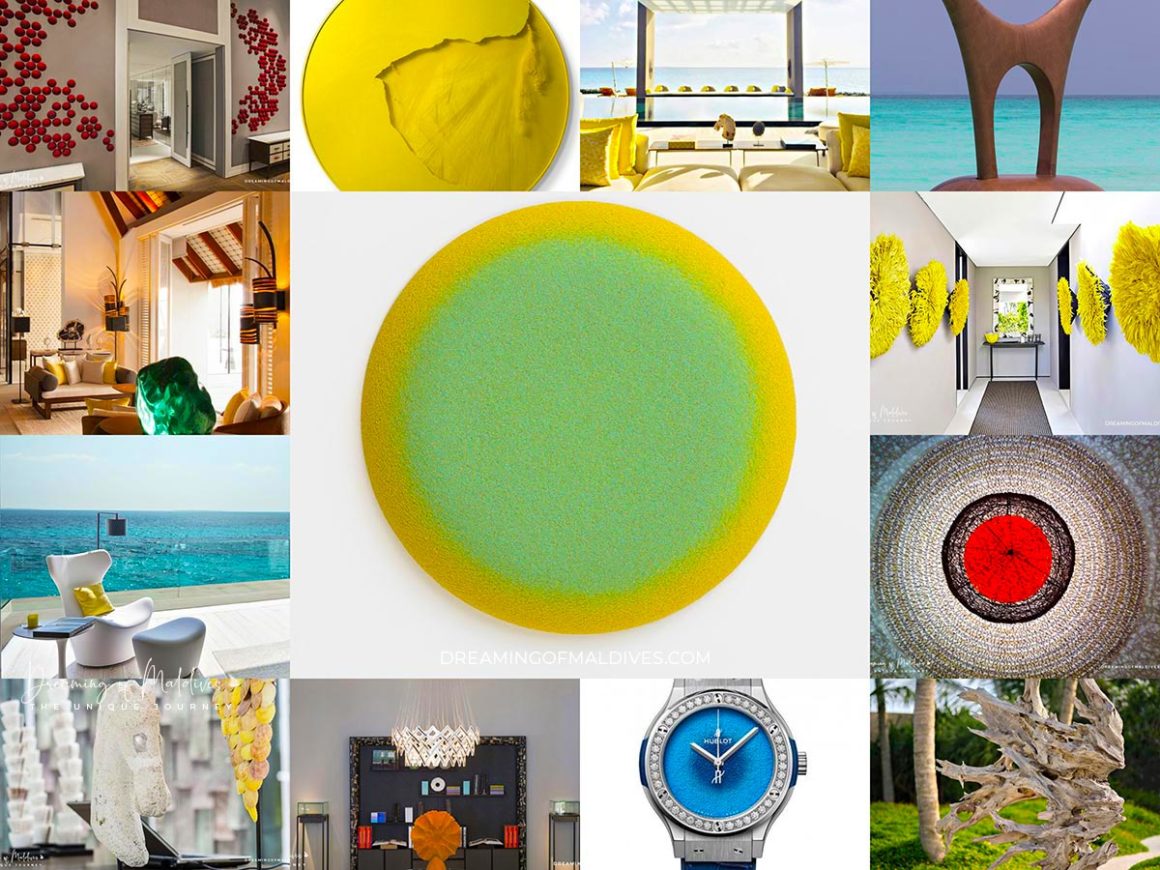 Cheval Blanc Randheli is a Haute-Couture Hotel crafted in a sleek tropical chic design signed by Jean Michel Gathy. Located in Noonu Atoll, north Maldives, at 40 minutes by seaplane from Male international airport, the resort spreads on 5 small islands including a private one to rent to rent for exclusive seclusion.



Cheval Blanc Randheli celebrates the marriage of contemporary Design & Art
The exclusive Maldivian Maison boasts a collection of intimate, exclusive and contemporary loft villas combining residential features, works of art, striking design with a reminiscence of the Maldives.
Randheli opened in 2013 and made an immediate sensation in the world of luxury hotels with its striking design and elegance.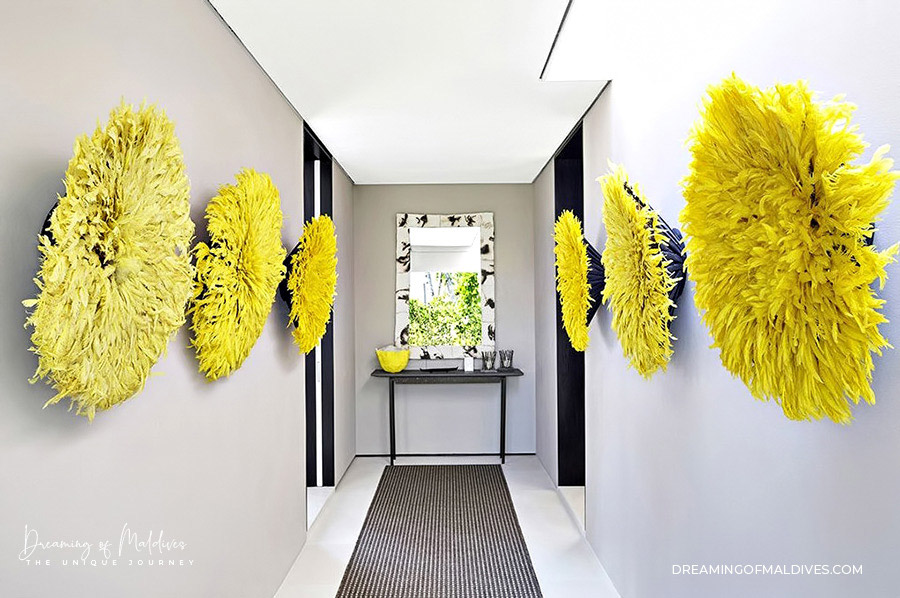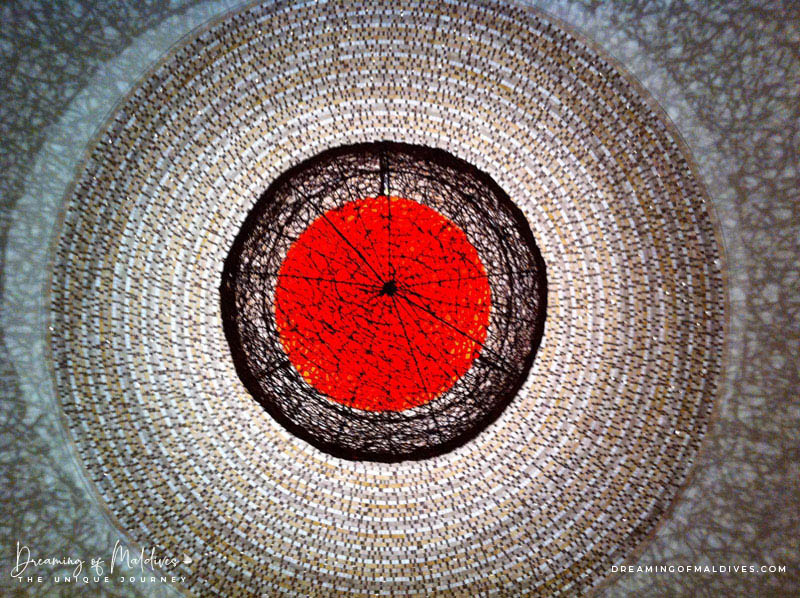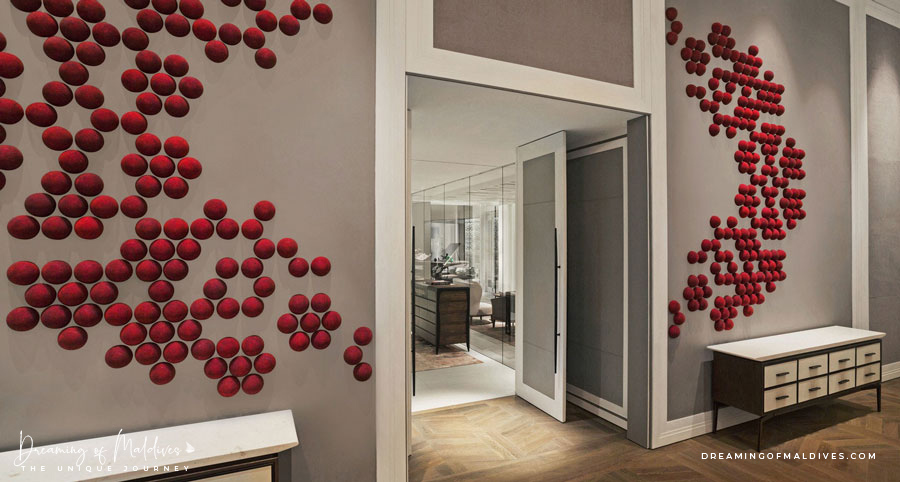 LVMH and the world of art.
LVMH has always been passionately linked to the world of art and culture, areas that carry its values of know-how, excellence and creativity.
The brand integrates contemporary art, artists and creation at the heart of its universe. Louis Vuitton has chosen to establish several foundations for culture and contemporary art in Paris like the very well known Cartier foundation which presents shows of established and young upcoming artists, gathering more than a thousand works by 300 artists from all periods.
LVMH has always been passionately linked to the world of arts so it's not surprising that the luxury Boutique hotel incorporates several art pieces and objects throughout the 5 islands.
Cheval Blanc Randheli embodies this sense of exclusivity and sophisticated luxury with beautiful Art installations, Designer creations and beautiful objects displayed in and out around the 5 islands.
Enter and Admire
Cheval Blanc Randheli Selected Art Pieces
Arch
By Vincent Beaurin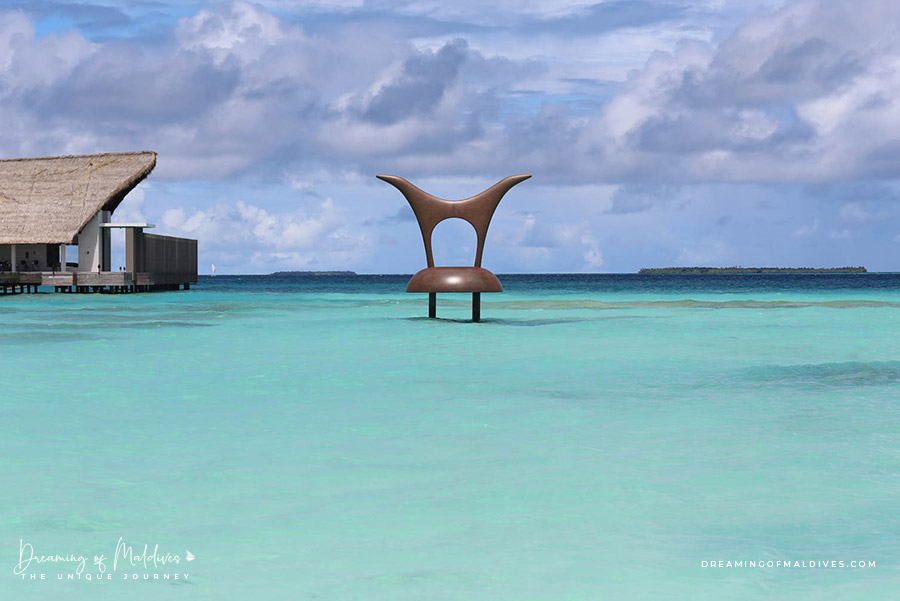 Arch By Vincent Beaurin is the first object that strikes the visitor at arrival on the island. The copper statue, emblematic to Cheval Blanc Randheli, stands in the blue lagoon close to the arrival jetty.
The monumental copper masterpiece is imagined by the artist Vincent Beaurin and mirrors Bruno Peinado horse sculpture that welcomes Cheval Blanc Courchevel travelers.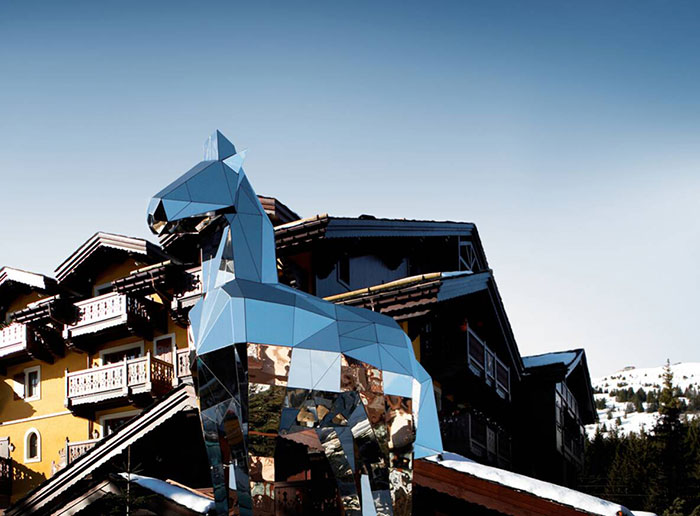 Bruno Peinado Horse Sculpture at Cheval Blanc Courchevel entrance


ARCH
Composite materials, copper
4,20 x 5,55 x 3,50 m
Unique

Arch also exists in miniature and can be found as decorative object at the Maison.
Couronne
by Vincent Beaurin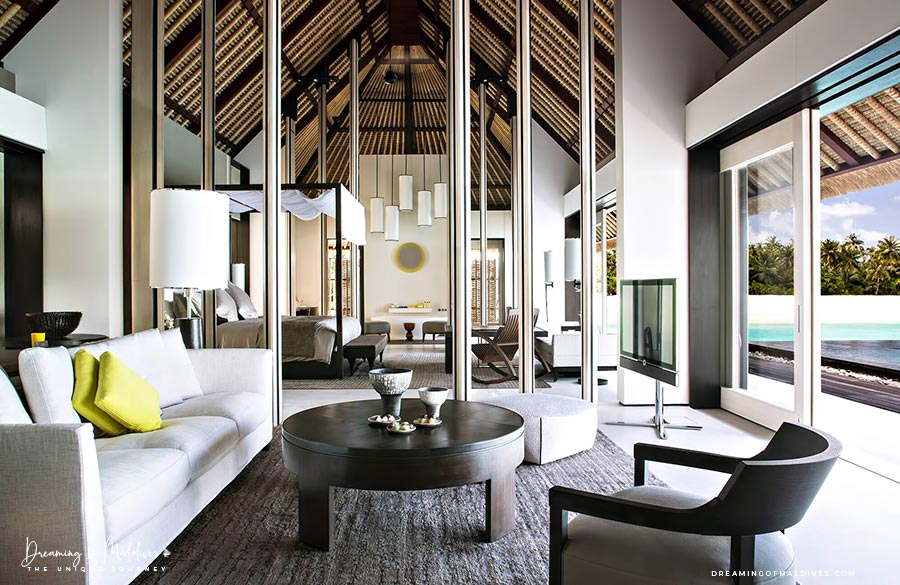 Vincent Beaurin also has created a set of 46 sculptural spots made from marble and quartz sands in individual colour combinations. These spots or 'Couronne' are a focal point in each of the resort villas.
Each spot is unique.


COURONNE.
Composite material, sand
Ø 71 x 13,5 cm / Ø 28 x 5 1/4 in.
Before Couronne was shipped and installed at Cheval Blanc Randheli, the installation was exhibited for three days at Galerie Laurent Godin, in Paris.
The ephemere exhibition was the only opportunity for the public to see the work in its entirety before the colour spots left for their final destination.
Yellow Circle
by Manuel Merida
The beautiful art creation is located at the superb White Restaurant.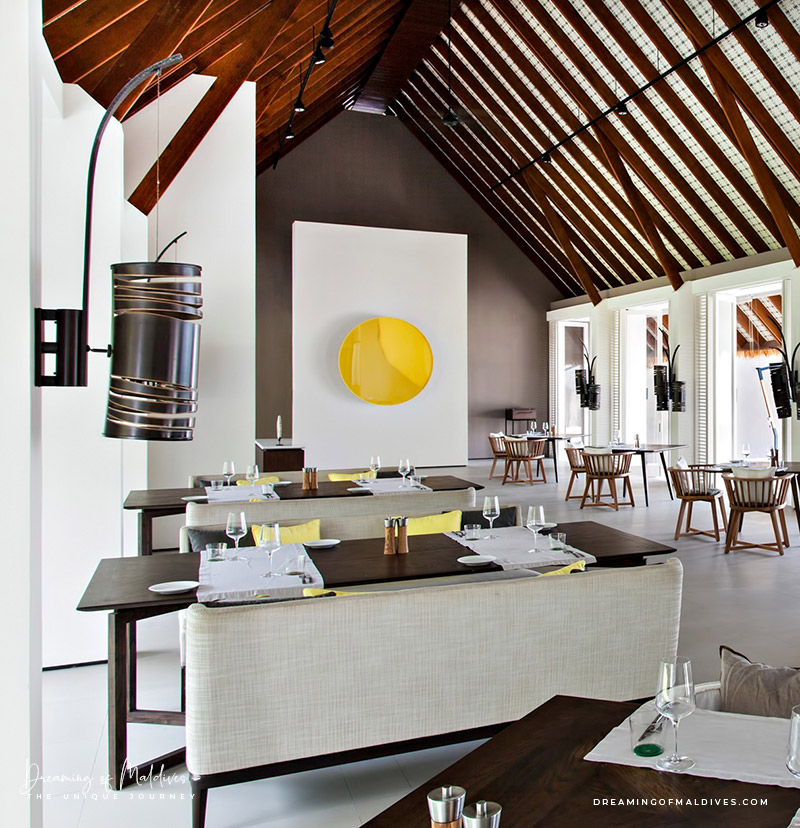 Yellow Circle is one of the monochrome circles created by Venezuelan kinetic artist Manuel Merida. Based in Paris, Manuel Merida is also scenographer for theater, decorator for cinema and advertising designer for Christian Dior, Guerlain, Cartier and Chanel.

Filled with pigment and protected by a glass plate, the bright yellow circle was chosen to recall Cheval Blanc Randheli color palette ( pop yellow, taupe and white ).
Besides its eye catching aspect, Yellow Circle presents the particularity to turn around a central axis and create a work in perpetual transformation.
The moving organic matter moves slowly, creating forms that renew infinitely by reversing itself.


YELLOW CIRCLE
Ø 180 cm, pigment, glass, rotary engine.
Watch Yellow Circle beautiful effect in action.
Video By Espace Meyer Zafra
Cheval Blanc Randheli Interior Design and furnitures
Cheval Blanc Randheli features furnitures designed by various European creators and Denniston, Jean-Michel Gathy's team. The resort proposes exclusive pieces of furniture, lamps and exceptional objects, as well as special projects signed by major contemporary creators.
The Lighting is an exclusive Design by The Flaming Beacon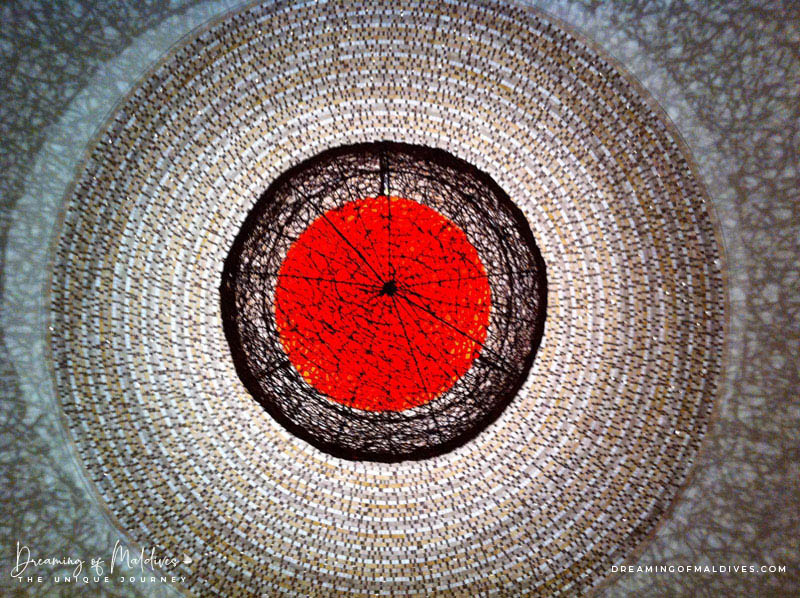 Walls. Design by Denniston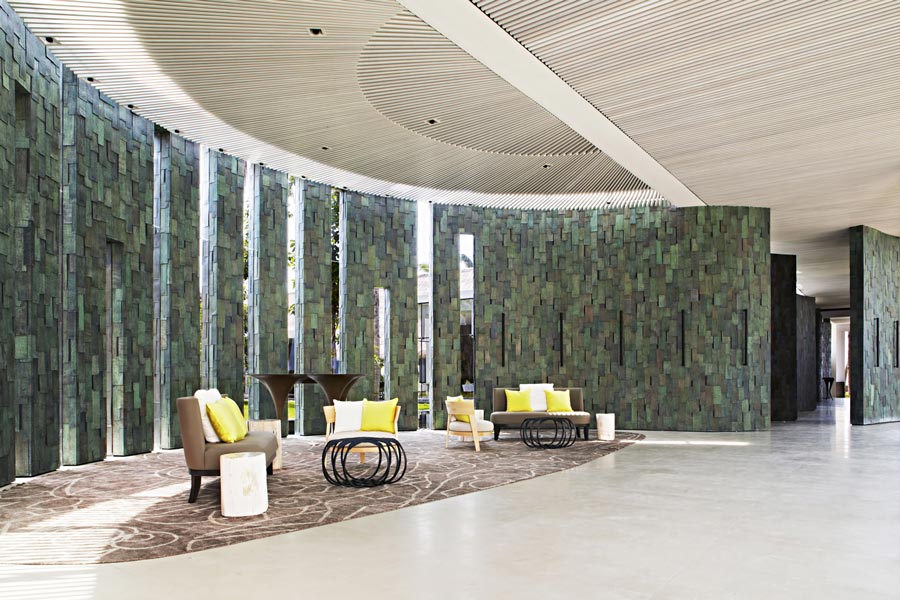 Walls By Denniston, aka Jean-Michel Gathy the resort main Designer and Architect, is an impressive wall made of oxide green copper at the alchemist lounge and bronze finish at White Restaurant.
Each of the panels were hand-crafted individually by the inhabitants of Yogyakarta, a small village in Indonesia known for its classical Javanese art and traditional culture. It took 4 months to create every panels.
Exquisite interiors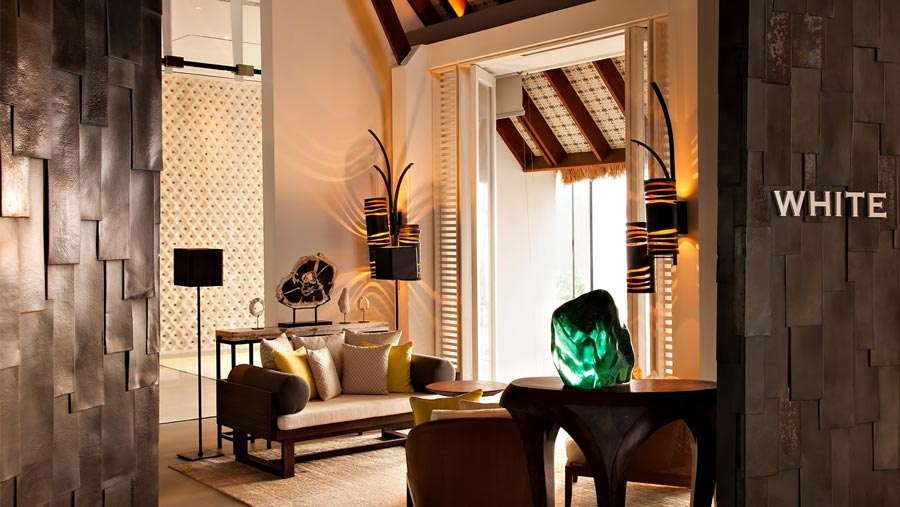 Cheval Blanc Randheli boasts exceptional Design furnitures signed by various European creators
Cheval Blanc Randheli features designer furnitures at every corner of the islands, in and out.
Roda outdoor and indoor furniture can be found at Randheli Concept Store, in the villa gardens decks and patios. Philippe Hurel designer work can be found in villa bedrooms ( chairs and lounge chairs ) and dining areas ( tables and chairs ), various compositions of the Cestone sofa, Dragonfly armchairs and Me chairs are designed by high end designer team from Flexform.

Roda chairs and table on a Villa deck

White Bar Indoor and Outdoor Design furnitures by Roda
Interior Design by Denniston
The Spa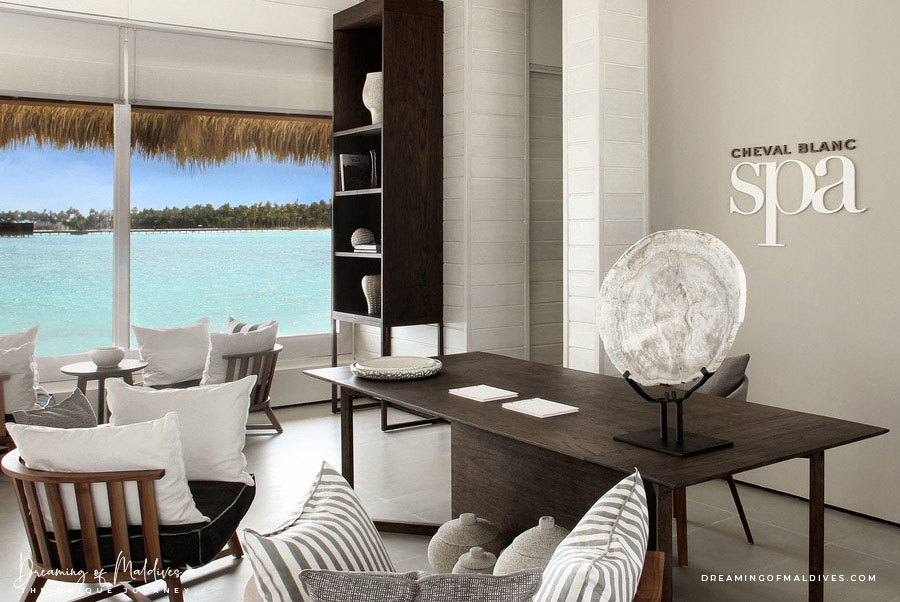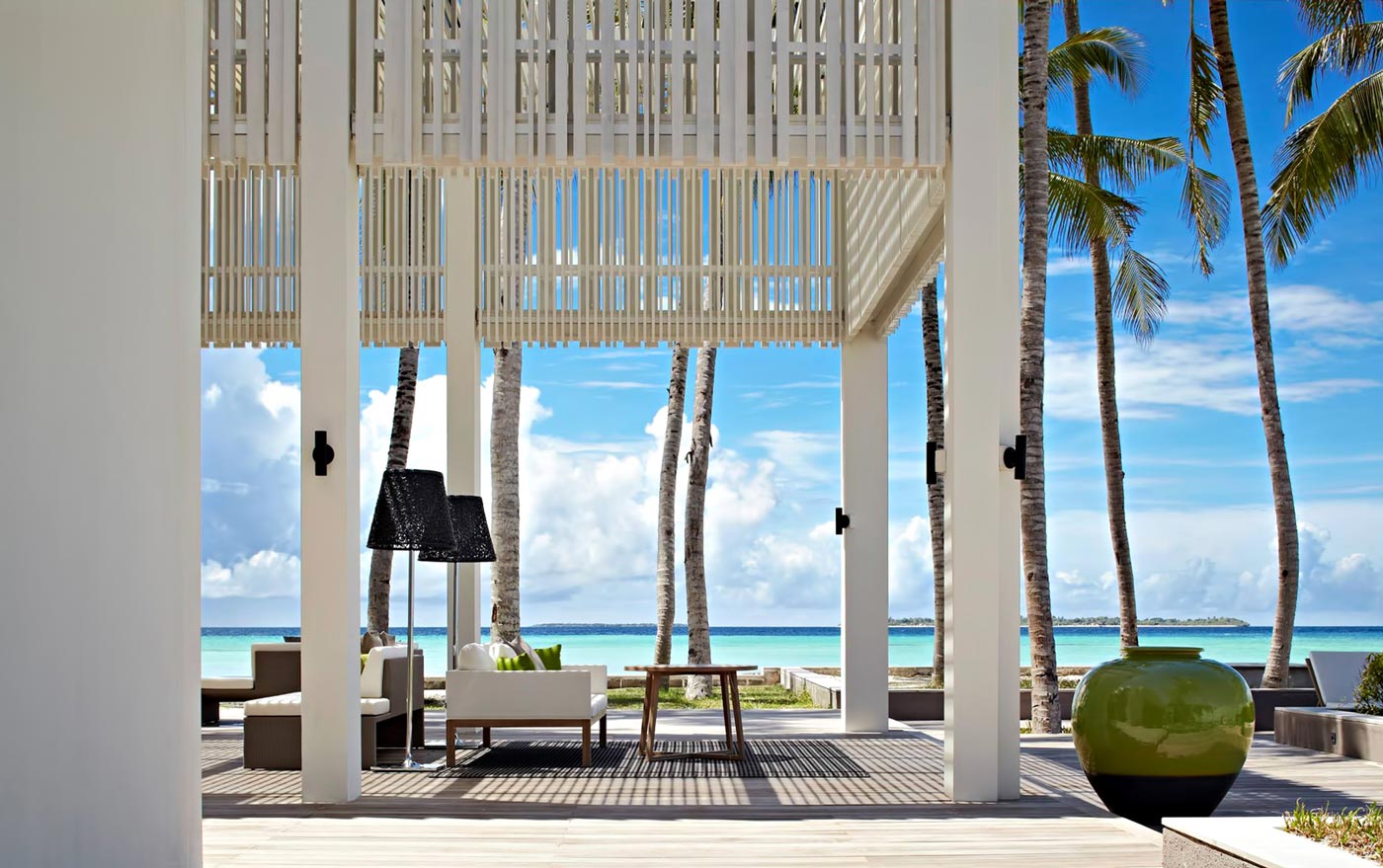 The 1947 restaurant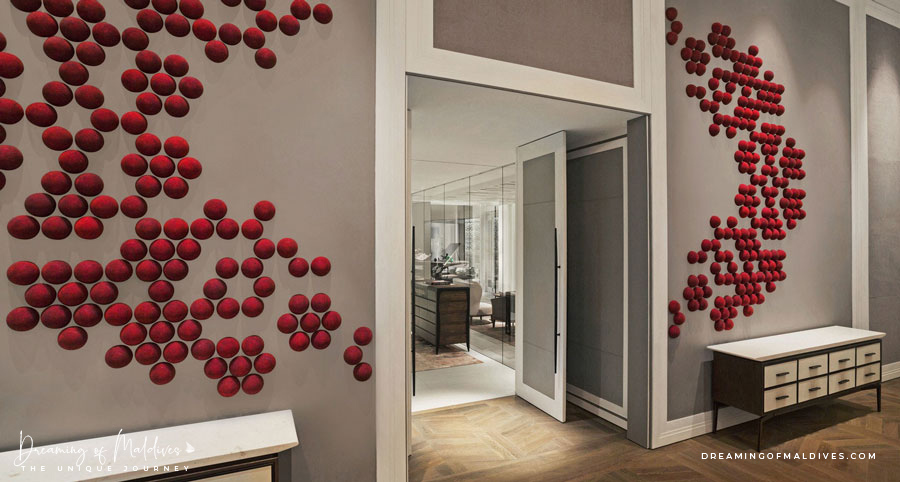 Various objects found throughout the resort, also imagined by Denniston




The Concept Store by Denniston and various Designers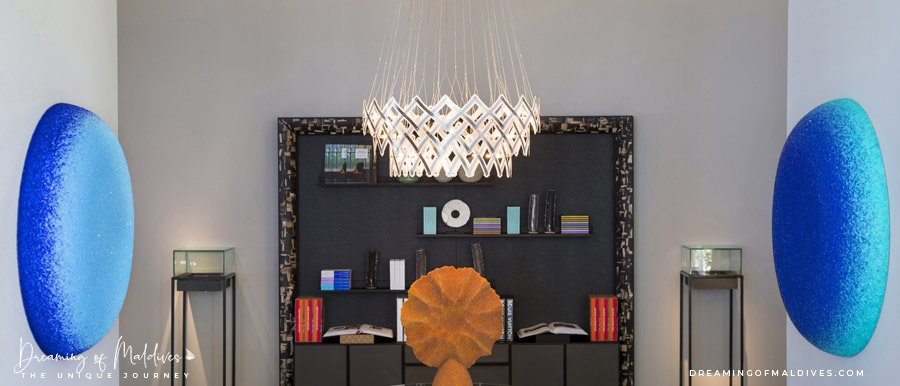 Cheval Blanc Randheli beautiful concept store, designed by Gathy, features several art objects, fine furnitures and sells luxury products together with designer clothes and high end accessories such as Hublot, the swiss luxury watch brand who designed a Collection of watches for the Maison.


The Concept Store entrance
Hublot designs exclusive collections of luxury watches for Cheval Blanc Randheli
Since 2017, Hublot creates luxury watches specially imagined for Cheval Blanc Randheli. The Collection varies with time and is made for men and women.
The Oceanographic 4000 by Hublot.
Exclusively Designed for Cheval Blanc Randheli
The Oceanographic 4000 is made of Titanium and withstands the pressure at the extreme depth of 4,000 m.

The watch took 18 months of research, development and testing.
Hublot Classic Fusion Special Edition Cheval Blanc Randheli inspired by Vincent Beaurin dots.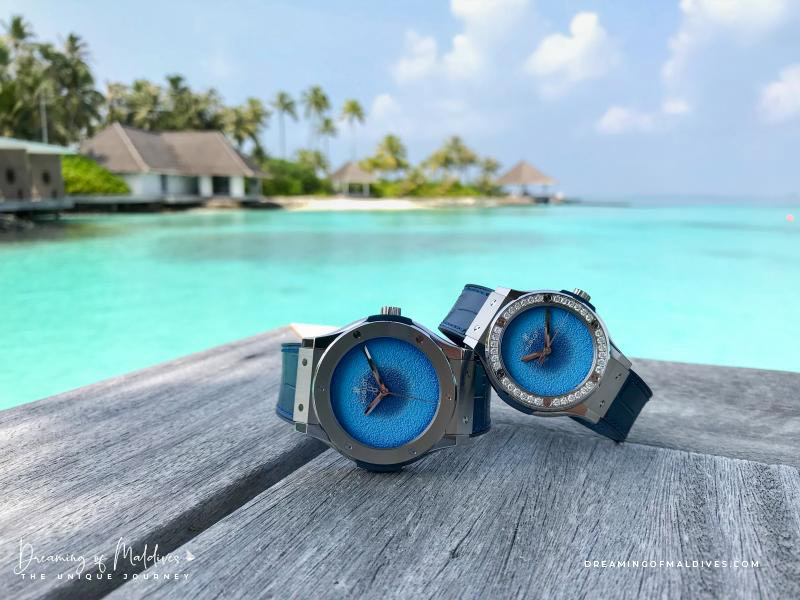 Hublot and Cheval Blanc Randheli offer a limited edition of the Classic Fusion inspired by Vincent Beaurin Dots from Couronne.
Each model is created in Limited Edition and numbered.

The Men's model was produced at 25 pieces.
The Women's Model has diamonds and was also produced at 25 pieces.
The Owner's Villa Design Designer furnitures and Objects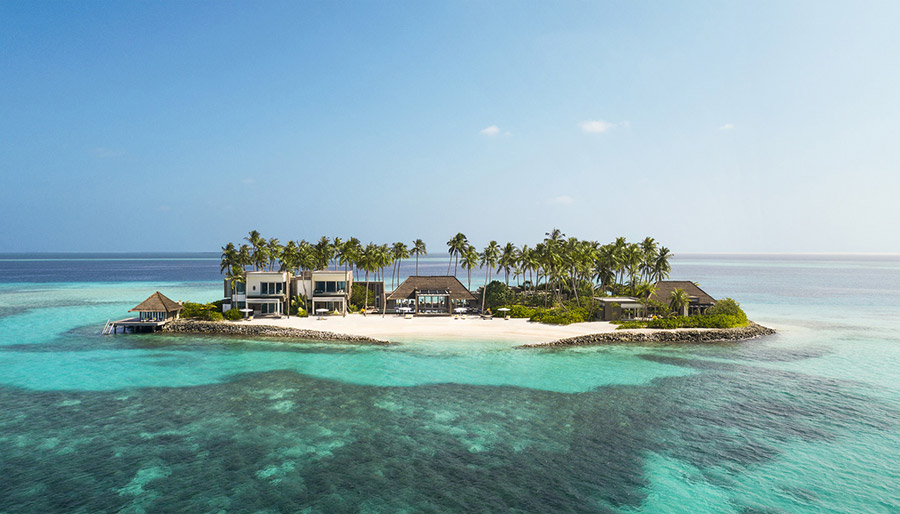 Cheval Blanc Randheli 5th island is entirely private and has, nestled in its vegetation, a superb four-bedroom villa called the Owner Villa where guests can enjoy the freedom of an utterly private home, with all the services of the Maison.
Besides the villa magnificent design and architecture, the beachfront mansion features several designer furniture's and objects.
The Owner's Villa boasts four lavishly appointed bedrooms designed to ensure utter comfort and luxury. The master suite has a state of the art design and boasts bespoke, handmade pieces and furniture.

Wall ornament by Denniston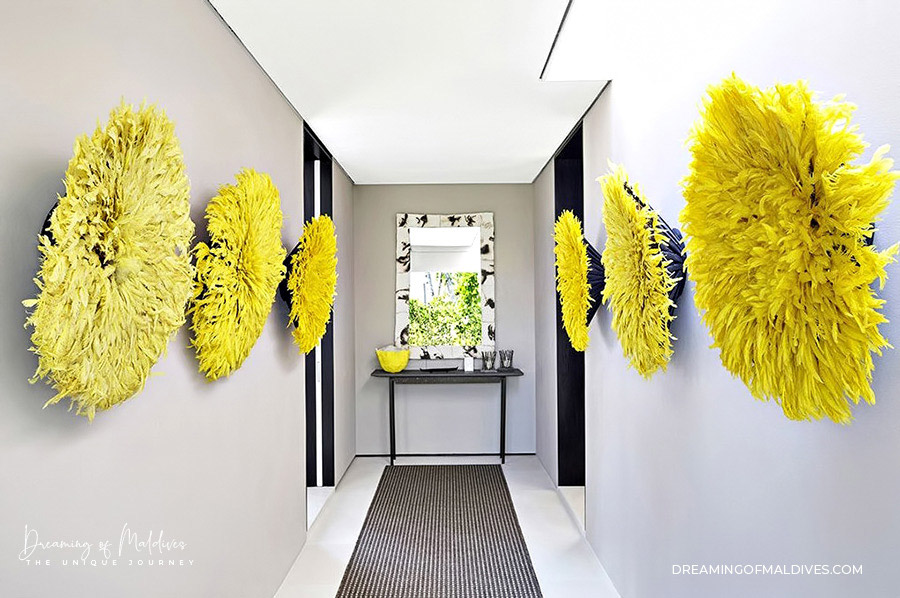 Cestone Sofa in the Living-Room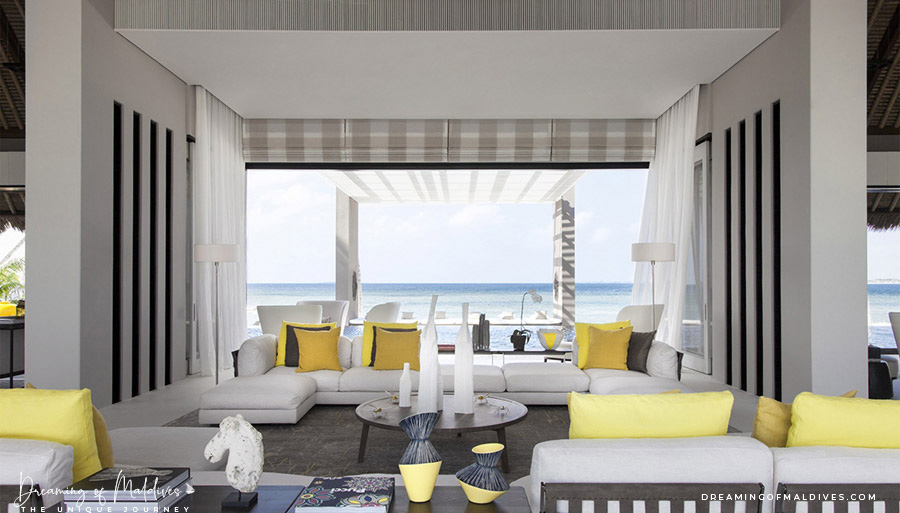 Chairs and Tables by Philippe Hurel



Photo Credits
Resort photos © Cheval Blanc Randheli / Couronne dot detail © Vincent Beaurin / Yellow Circle Detail © Manuel Merida / Close ups on watches © Hublot

more resorts featuring art galleries in maldives /

If you're on the search for a tropical destination where to appreciate modern architecture, design and art and you're a Maldives lover like…

If you love the Maldives, Art and Design, these 3 ultra-luxury hotels should be on your top list. The following properties have commissioned…

Wander around The Ritz-Carlton Maldives to discover 17 curated modern Art pieces that celebrate contemporary art and nature. Follow me for a…
BOOK Cheval Blanc Randheli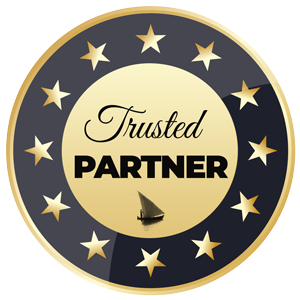 in association with our trusted partner
& personal counsellor in Maldives
Follow us on Facebook, Youtube and Instagram for more Maldives stories.
Maldives TOP 10 Dreamy Resorts 2024
YOUR CHOICE. YOUR DREAM. YOUR VOICE