Gili Lankanfushi Maldives boasts a 15 x 15 Meter floating solar platform in its blue lagoon.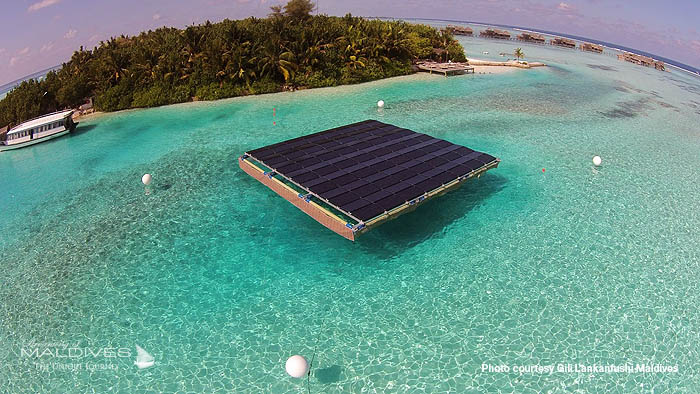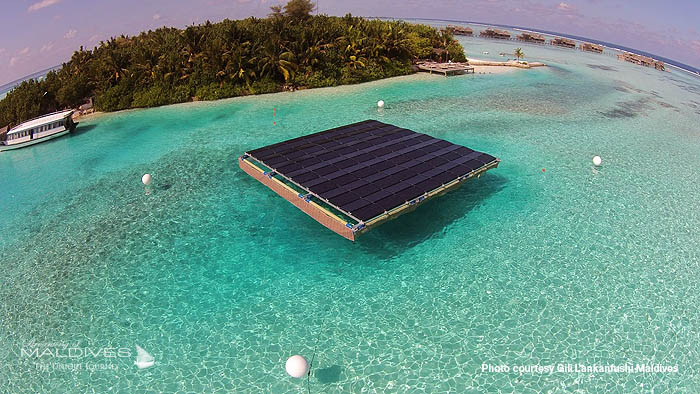 Gili Lankanfushi is happy to announce its partnership with Swimsol, an Austrian company that specializes in ground-breaking floating solar power solutions.
Their idea is to bring green power to the parts of the World, like the Maldives, where land space is limited.
The platform itself is an engineering marvel :
An innovative floating structure that is designed to survive waves and water turbulence.
It consists of glass fibre tubes, aluminum frames and 112 solar panels.
Weighing over 5 tonnes, it took nearly one third of Gili Lankanfushi's hosts to push it into the water.
A 15 x 15 Meter floating solar platform in Gili Lankanfushi lagoon
"This is the largest floating solar panel structure to be plugged in the Maldives, and we are incredibly proud here at Gili Lankanfushi to participate in finding ways forward into a more sustainable future" – Deborah Burn, Marine Biologist & Environmental Officer.
Swimsol's platform has a nominal capacity of 28 KW and on sunny days it will produce up to 200 kWh, which is enough to power all Gili Lankanfushi pathway and jetty lights, as well as the Resort Main Office Building lighting for 12 hours!
1 Platform = 30 return flights.
The platform will reduce the Resort carbon footprint by 35 tons of CO2 per year, which is equivalent to the emissions of 30 return flights from Europe to Maldives per person.
Gili Lankanfushi initiative is absolutely wonderful and we would like to see EVERYWHERE in the Maldives.
About Gili Lankanfushi
Gili Lankanfushi Maldives is a superbly designed Resort. Conceived and refined in the most subtle ways you can imagine. Impeccable at all levels of services, Gili Lankanfushi is a Dream Come True for all Water Villa Lovers and Eco-Luxury Retreat seekers. An Incredible Island beyond any words and expectations.
Discover Gili Lankanfushi
Follow us on Facebook, Youtube and Instagram
for more Maldives Dreams & Stories
Your TOP Best Maldives Resorts 2023
YOUR CHOICE. YOUR DREAM. YOUR VOICE
[ Official ]
Traveler's Choice
12th Edition