Discover the Maldives with a series of 15 beautiful aerial photos of the Maldives islands.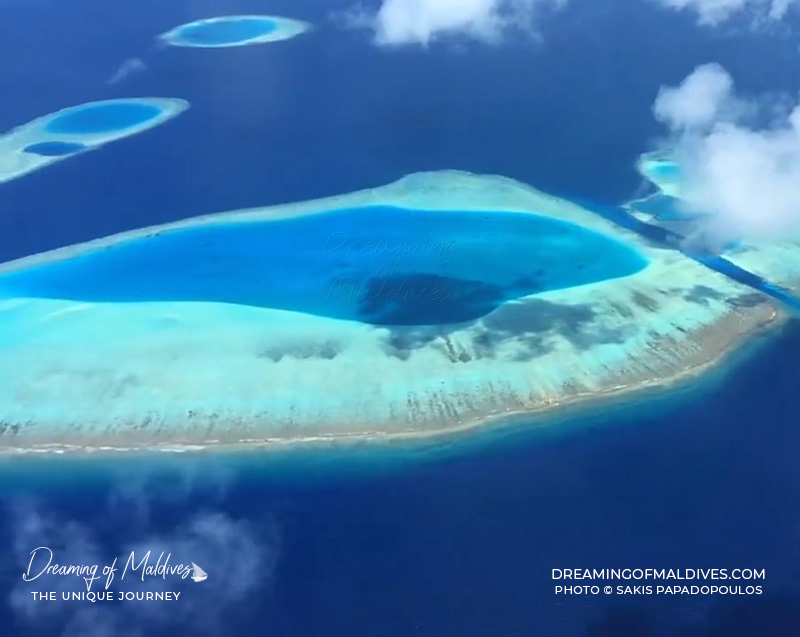 The magic of the Maldives not only resides in the incomparable beauty of their paradisiacal landscapes but also from a Bird's-eye view. Flying above Maldives is a fascinating and unparalleled experience.
Our aerial Journey above the Maldives
Today, we thought to bring you to a special journey, from home. We will make you fly with a series of photos to show you the Maldives from the Air….
Flying above the Maldives islands is a dream for the many travelers who spend their holidays in the Island Kingdom…
We have flown several times from the Extreme South to the Extreme North of the Archipelago and all these hours passed in the air made us realize each time, how amazing the Maldives are.
We have witnessed breathtaking views, we have seen countless numbers of gems, we have been completely dazzled and surprised by the diversity of the shapes of the thousands of islands.
To describe the real beauty of theses islands is often a challenge, and the task often lets me frustrated. Words will never be enough to make you truly "feel" them…only images can achieve this.
Some of them are published in our Editions ( see our Maldives calendars & Maldives photo books ). Some more will be release soon.
The Maldives Islands in 15 Aerial Photos
Sit back, relax, and enjoy this series of 15 photos taken during our many flights above the Maldives. These photos belong to the Dreaming of Maldives Collection.
When Nature Draws
—————————————
—————————————
—————————————
—————————————
—————————————
—————————————
—————————————
—————————————
—————————————
—————————————
—————————————
—————————————
—————————————
—————————————
© Sakis / Dreaming of Maldives
Follow us on Facebook, Youtube and Instagram
for more Maldives Dreams & Stories