The Future of Earth is also discussed at Soneva Resorts in Maldives
By Dreaming of Maldives — February 18, 2011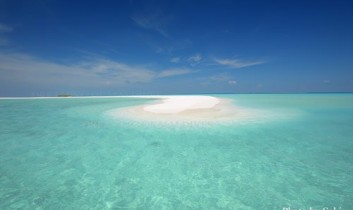 We often talk of melting ice and water rising in recent years. The Maldives, a beautiful Island nation whose highest level averages only 1.50 m is on the front line on this subject. Opinions are mixed and no one really knows what will happen to these paradisiacal islands and sandbanks in the coming decades.
Will these landscapes still exist for our children? QED.
What follows is a bit different from what you are used to at Dreaming of Maldives, but good initiatives, like the ones of Soneva by Six Senses Resorts, deserve once again that we talk about it, here, on our blog (see my previous article on Soneva and solar energy in Maldives)
From April until the end of 2011, several explorers will succeed each other at Soneva Fushi and Soneva Gili in  Maldives and Soneva Kiri in Thailand to make the latest inventory of the Planet and answer the many questions that we are entitled to have about the future of Earth.
Tom Avery, Charley Boorman, Patrick Woodhead and others, will stay at the 3 Resorts for the new 2011 season of the gourmet diners "SLOW LIFE". The "SLOW LIFE" term is part of the Six Senses philosophy of the 2 creators of  the Company, Sonu and Eva Shivdasani, who are committed long before the hour, to a sustainable and intelligent development in Tourism & Hotel Industry.
The "Slow Life" is based on respect of the environment by using sustainable materials, local, organic and healthy food. Respect for the environment is applied to all Resorts, from construction materials, methods of operation to gastronomy.
This philosophy is the essence of Soneva who perfectly blend Luxury and Ecology. Active and committed, the Company also offers its clients to actively participate  in environmental protection, and learn about it in a very attractive and fun way, while on vacation.
During these diners, the explorers will give their views and balance sheets about today's Earth situation and discuss about it, around healthy menus made with organic food harvested on the islands themselves (a long and difficult process in the Maldives).
Soneva  makes a point to set up the dinner  in a very particular place  : " To emphasize the poignancy of his message the talk and dinner will be held on Soneva Fushi's own private sandbank in the middle of the ocean. Sadly, if sea levels rise as anticipated, the sandbank may not be with us for long. "

The new series of dinners will begin Thursday, April 14 2011 with the British explorer Tom Avery, who will speak about his exploits, which include the discovery of the unknown parts of the Himalayas and participation to Pole's marathons  (Tom Avery is one of only 41 people in history to have reached both the North and South Poles on foot).
He will share his observations on the melting Antarctic ice caps, which for most scientists presents the greatest threat and leads to the rising sea level.
Each Soneva Resort will hold a minimum of 3 'Exploratory Talkers Tables' each.
The current official dates are for the moment:
Soneva Fushi – Tom Avery – April 14, 2011;
Soneva Gili – Patrick Woodhead – June 22, 2011 | Olly Steeds-to be rec.;
Soneva Kiri – Neil Laughton – 15 October 2011 | David Hempleman-Adams – 2nd week of November 2011 Charley Boorman to be rec.
© Dreaming of Maldives 2011
About Author
A Comment ? A question ? Leave it here
Comments are posted from viewers like you and do not represent the views of Dreaming of Maldives.
All submitters agree not to submit inappropriate content.
We do not alter the substance of any posted comment but we reserve ourselves the right to reject any comment if we consider to be inappropriate : containing personal information (street addresses, phone numbers, etc.), obscenity, offensive or that advertise or promote a company or service.
By commenting here, you agree that you submit your comments in a spirit of respect and honesty for the others.
Let's keep Dreaming of Maldives nice and informative. Thank you !
Live us a message