Keep yourself updated with the latest Dreaming of Maldives news and subscribe to our blog today!
There are several easy ways for you to get connected to us :
Subscribe to our
Newsletter
via Email
By subscribing you will automatically receive all our blog updates.
We hate spam. Be ensured that your email always remain confidential and is exclusively used for our updates.
All news are delivered to your inbox.
This will allow you to receive our blog updates directly into your email.
It's the best way to stay connected without ever having to do anything extra !
( You can also unsubscribe the same way. If this does not work (
bug
), please send us a personal email via our
contact
page and we will delete it manually )
:: Dreaming of Maldives :: The Photography Book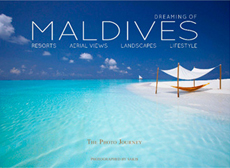 Maldives Photography Book - Dreaming of Maldives
280 Photos. 160 Pages
Maldives weather forecast
30°C
Feels like 30°C
Partly Cloudy
Today:
31°C / 27°C
| | | |
| --- | --- | --- |
| Tomorrow | Sunday | Monday |
| | | |
| | | |
| 30° / 27° | 30° / 27° | 30° / 27° |