Today I bring you to Lily Beach Resort & Spa for a dreamy snorkeling !
In one of my previous post about snorkeling in Maldives, I gave you a tip about choosing your right resort in order to have the best from the Maldives snorkeling reefs. Lily Beach is a part of it among other resorts.
Snorkeling at Huvahendhoo Island, known as Lily Beach Resort & Spa.
Lily Beach Water Villas have direct access to an amazing snorkeling. All of them. If you love snorkeling and want to stay in a water villa, the resort is definitely one of the best choice you will have in Maldives.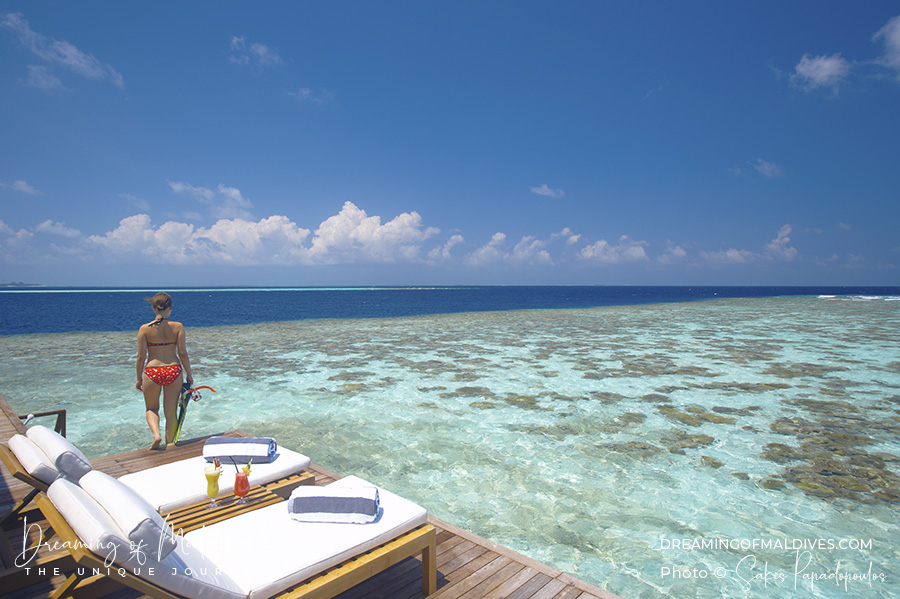 It was a very short introduction about this rich subject. So, let's go further…
One of the best way to make your choice and prepare the right holidays if you are a snorkeling lover or want to discover this great activity, is to observe the aerial photos of the resort you have spotted.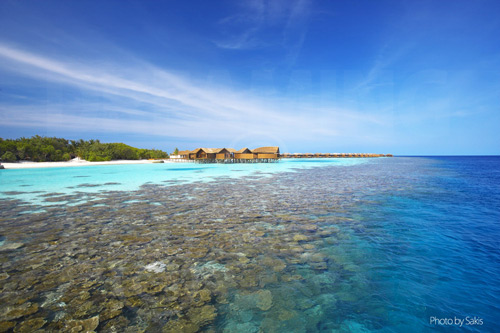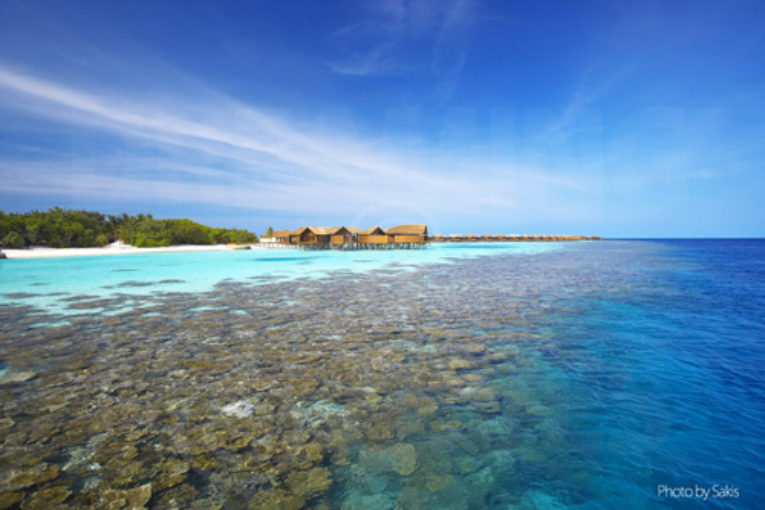 These bird-eye-views on the islands are essential as they will allow you to discover not only the island and its infrastructures, but also, and this is our main focus today, its marine environment.
Located South-East of Ari Atoll, Lily Beach is the ideal example of the "perfect" House-Reef.
The island is located on a very narrow reef with nice slopes and big walls, reachable directly from the beach and the Water-Villas.
The snorkeling is rapidly amazing, ideal for beginners and/or confirmed according to the locations – please visit the Diving Center at you arrival in order to get all the necessary informations and not to miss anything.
Lily Beach is blessed by Nature in matter of Coral reefs
The lagoon of the Atoll is very close and ideally deep and the geographical location of the island itself – close to the Atoll channels- allow to watch a very exciting sea life :
turtles
dolphins
eagle rays
stingrays
reef sharks
frog fishes
morays
lion fishes
parrot fishes
…without forgetting thousands of multicolor reef fishes … a great delight for the children !
Obviously, I cannot enumerate here all species, as almost everything is possible.
During the Summer Monsoon season (May to November) you might be lucky enough to meet mantas and… whale sharks!

If you like adventure, you should not miss the night snorkel around the island reef, just 10m away from the dive center.
Lily Beach Resort and Spa is a 5***** All Inclusive Resort, the snorkeling gear is free.
Lily Beach Maldives is featured as
MALDIVES DREAMY RESORT OF THE MONTH !

Everything you need to know about Lily Beach Maldives :
Photos, our Video and all information you need to organize your holidays.

The villas, diving and snorkeling, the restaurants and bars, the spa, the excursions, maps and more…
DISCOVER LILY BEACH MALDIVES DREAMY RESORT OF THE MONTH- FULL FEATURE.
Follow our Maldives Dreams on facebook, Youtube and Instagram
Your TOP Best Maldives Resorts 2023
YOUR CHOICE. YOUR DREAM. YOUR VOICE
[ Official ]
Traveler's Choice
12th Edition