Dreaming of Diving and Snorkeling at Six Senses Laamu ?
Petra, the Resort Dive Center Manager, brings us to an amazing discovery of the best underwater spots to explore around the island.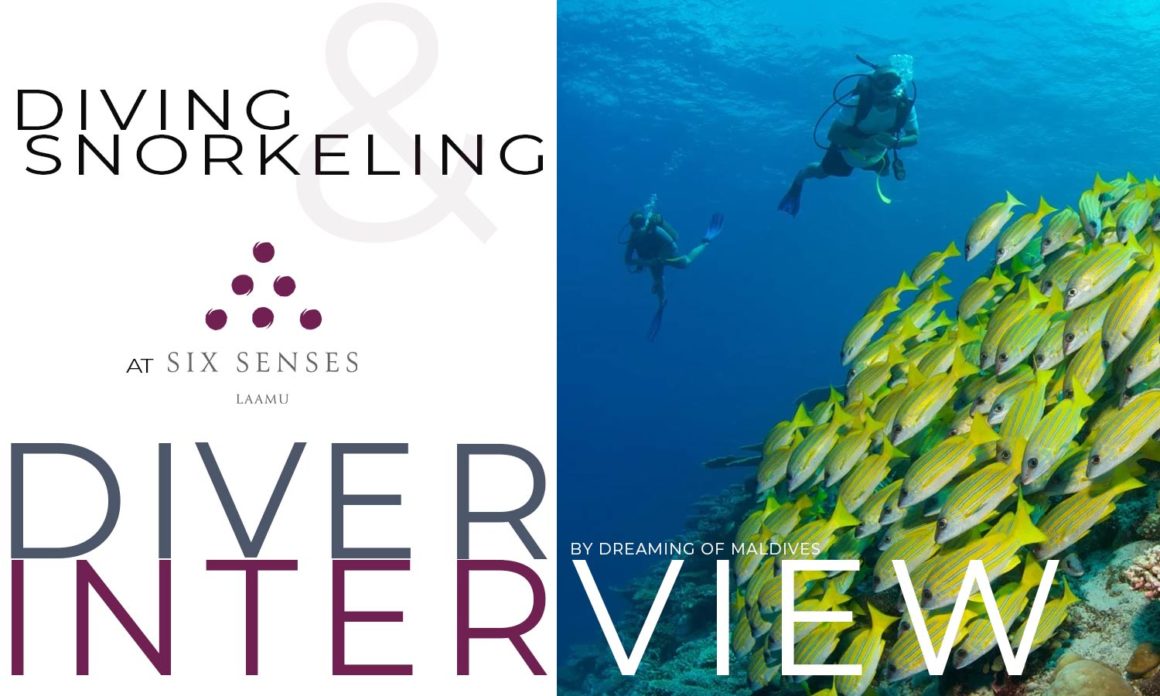 After discovering diving and snorkeling in Noonu and North Male Atolls – North Maldives, with our previous interviews , it's now time to head South, close to the equator, to Laamu Atoll, one of the most virgin Atoll in the Maldives.
Still unknown to most of the tourists and Divers, Laamu Atoll hosts, until today, only one resort…the amazing Six Senses Laamu.
Diving And Snorkeling At Six Senses Laamu, Laamu Atoll.
Interview With Petra, Dive Center Manager.
This last November 2012, we've stayed at Six Senses Laamu where I had the great pleasure to meet Petra, the resort Dive center Ocean Dimension manager and owner.
We had a great time chatting about her life and diver experience in Maldives and particularly in Laamu Atoll, which I was curious to discover. We still miss so many information about this place !
She accepted to give me an interview in which she gives us her insider look and professional advices about diving and snorkeling around the Resort and in Laamu Atoll.
Petra is passionate about her job and The Maldives. She lives at Six Senses Laamu for 2 years now and is one of the very few who perfectly knows the Atoll and its secret underwater beauties.
About Six Senses Laamu
Six Senses Laamu is an eco-friendly luxury Resort reachable after a 45 minute flight with Maldivian Airways to the Atoll Domestic Airport of Kadhdhoo followed by 20 minutes speed boat ride.
Secluded in a undisturbed nature and surrounded by a stunning lagoon on one side and a long close-by and rich house reef on the other side, the medium sized lush island also offers a fabulous and unique sandbank at a very near-by distance, reachable meanwhile you snorkel.
The spectacular resort is set in a typical South Maldivian tropical vegetation and offers stunning and very spacious Beach Villas close to fine white sandy beaches and some of the most beautiful Water Villas in Maldives all set over a bright blue lagoon.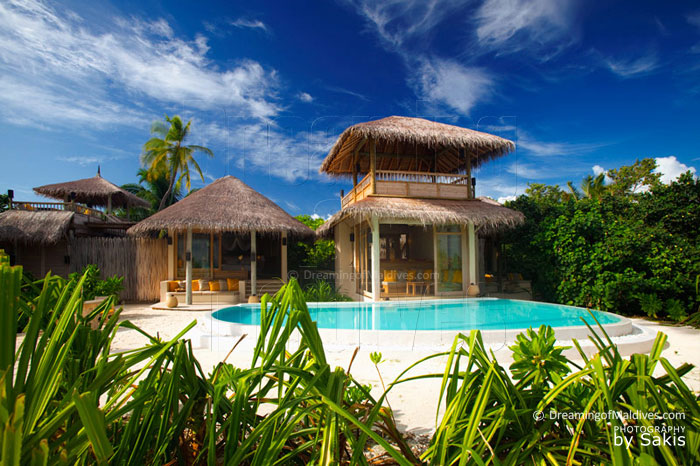 Six Senses Laamu also features the biggest over water facility in Maldives entirely dedicated to entertainment and taste bud pleasures with 5 restaurants and bars with endless panoramas on the blue lagoon and the surrounding reefs, including a chocolate room, an ice cream station, a wine and cheese cellar, a beautiful lounge bar, a roof top Asiatic restaurant, a zero carbon restaurant and a superb main restaurant.
Besides many key features, the gastronomy stands as a must, not only because of the unique location of the restaurants but also because of the quality of the ingredients used in the cuisine.
A wide biological garden and local island fishing are used as some of the main sources of the basic ingredients used by top chefs, working under the creative and exigent executive Chef Nicholas Loubser.
For Spa lovers, Six Senses Laamu will be probably one of the most exquisite choice around. Awarded as Best Spa Design of the year with its Spa rooms / nests hidden in the vegetation with views on the blue lagoon, the Spa, managed by World renown Six Senses Spas, proposes a dreamy list of treatments from self pampering to complete Holistic therapies including Ayurveda retreats.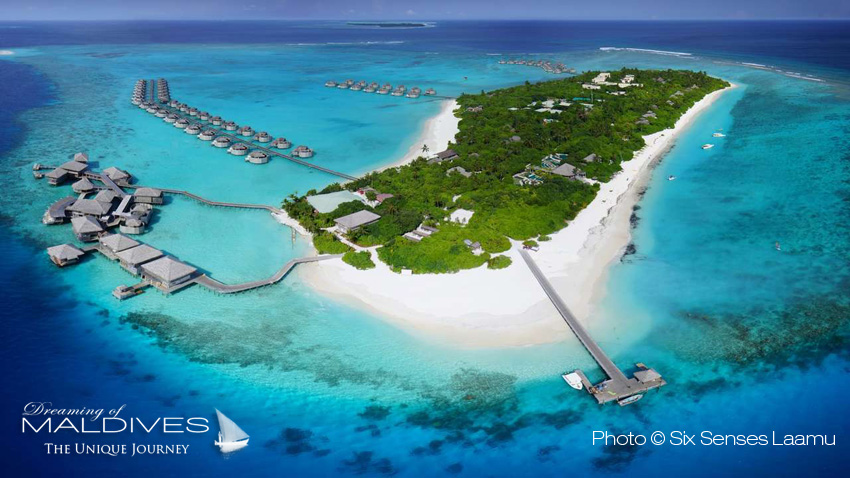 Six Senses Laamu is a unique Resort in a unique Atoll and stands as one of the most beautiful place we've seen in the Maldives.
About Laamu Atoll
Unknown and unspoiled, Laamu Atoll offers pristine untouched hard coral gardens with a large variety of fish life for inner and outer reef dives, as well as channel diving with encounters of sharks, barracudas, stingrays, napoleon wrasses, turtles, whale sharks, mantas and so much more.
In 2012, it remains one of most secret underwater world of Maldives.
Note : A Photo Gallery + some Maps of Maldives and Laamu Atoll are waiting for you at the end of the interview.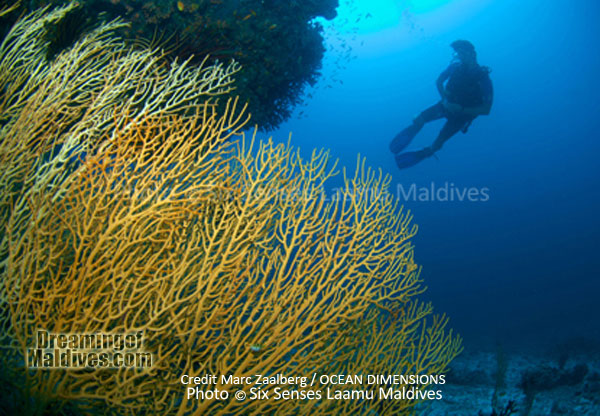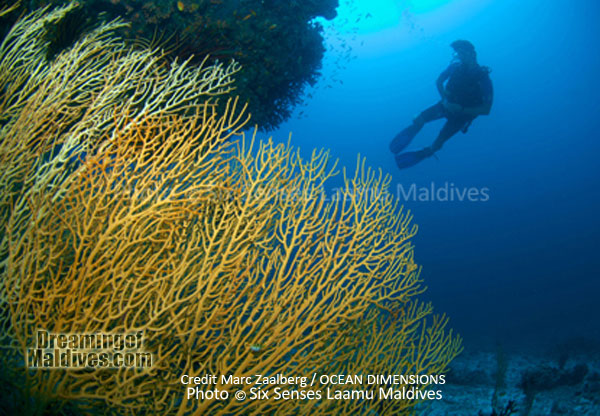 Diving in Maldives and at Six Senses Laamu with Petra
Diving in Maldives from a Professional Point of view.
Focus on Laamu Atoll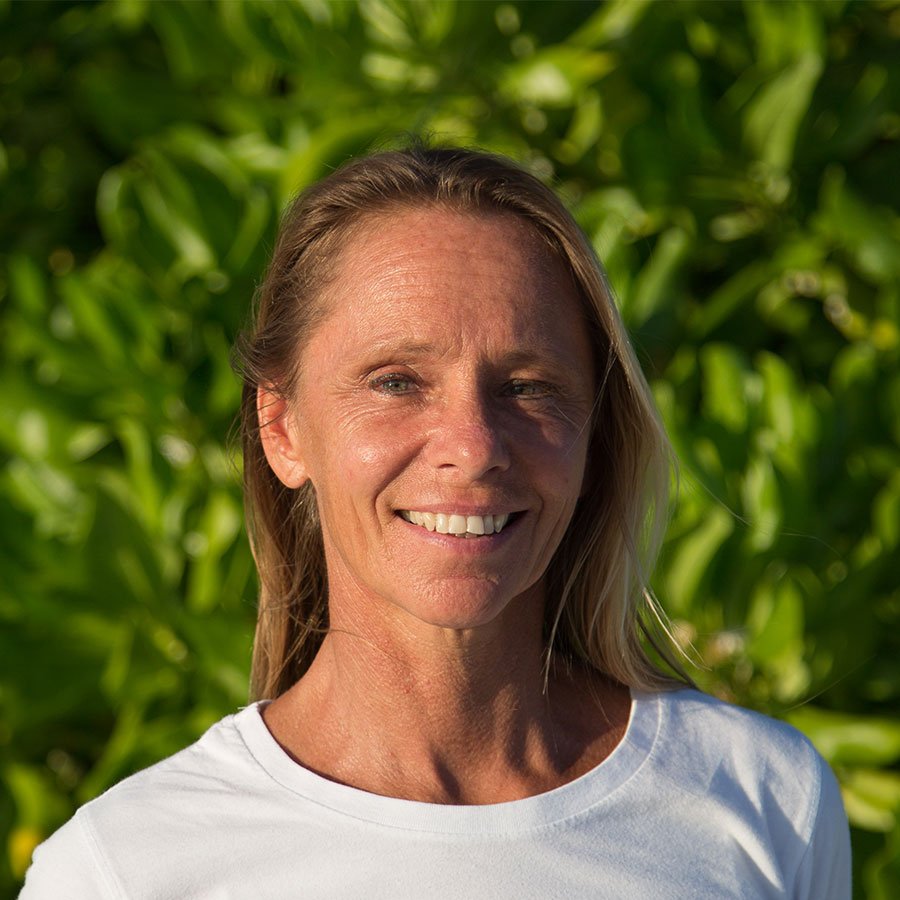 Petra Hellmann. 
Six Senses Laamu Dive Center Manager and Owner.
– Started Diving in 1992
– Diving in Maldives since 1993

Interview
Q.
Can you tell us more about yourself ?
A. My name is Petra, I am from Germany. I am born in Bavaria but grew up near the university city of Heidelberg.
I started traveling when I was 22 years young and every since I have not lived in Germany again – I usually go back once a year to visit family and friends.
First I worked as a tour guide in different countries where eventually I discovered diving. After 1 year of intensive diving in Kenya and Maldives I did my dive instructors course in France when I was about 26. Since then I am living in tropical countries working as a dive instructor. For 16 years I was employed but my dream always was to start my own diving school which I did finally together with my partner Marc ( he was my dive instructor when I first learn diving!!! ) at the newly opened Resort Six Senses Laamu in 2011.
Q.
Your diver degree(s) ?
A. PADI Dive Instructor
Q.
When and why have you started diving ?
A. In 1992 I was a tour guide for TUI working in Diani Beach, Mombasa, Kenya, that seemed to be the perfect time and place to try out diving. I discovered, I loved it and continued.
Within a year I trained from Open Water Diver to Divemaster. I saw my first leaf fish, honeycomb moray, crocodile fish and Whale Shark there. My dive instructor was Marc who is now my partner!
Q.
Have you been diving in other places around the world? If yes, where ?
A. Yes, Phuket and PhiPhi Island – Thailand, Tioman Island – Malaysia, Safaga and Hurghada – Egypt, Varadero – Cuba, Poor Knights – New Zealand, Fiji, Samoa, Tonga, Galappagos – Ecuador and of course the Maldives! I hope I didn't forget anything…
Q.
How long have you been diving in Maldives ?
A. Since 1993!
Q.
How did you become a dive center manager in Maldives ?
A. I worked in the Maldives for the same company for more then 10 years.
Q.
How is the Diver life on a (small Island) resort ?
A. Well, I guess I don't miss living in a big city and by now I have forgotten how to cross a busy street in Frankfurt without a small panic  🙂  . I enjoy life on a small island – I am amongst holiday makers and people who want to be here which are usually happy people.
It is warm all year around, I live near the sea, I can go diving every day, I don't need to buy winter shoes or coats and if I feel like building a snow man I go on a winter holiday.
Q. Holidaying yourself..Are you more underwater or on the land ?

A. Water and land – I go to places where I can go kite surfing, I go to play golf, I go to visit family and friends I also like to go and discover new places. Still on the top of my wish list is to go diving in the Cocos Islands of Costa Rica!
Q. What are your favorite spots in your Atoll and why ?

A. I don't only have one spot – hard to tell…
I love the sites Nufena Haa, Mikolhu Haa and Laamafaru East for their most intact and beautiful coral life – it amazes me to just look at places like that. I also always love a channel crossing with a "good current" which brings the big fish around.
As we are here only since 2 years there are still spots out there to be discovered so I also like to go on discovery dives too.
Q.
If you've worked in other Atolls. What are your favorite spots in Maldives and why ?
A. I worked in :
Lhaviyani Atoll – The Lahviyani Atoll has lots of channels like Kuda Kandu, Fushivaru Kandu, Peak & KFFC Channel, Felivaru Kandu. There I prefer the channel crossings to the reef dives.
North and South Ari Atoll – The Ari Atoll has lot's of Thilas, comparable to underwater mountains with lot's of colourful soft coral life and overhangs. I like Maaya Thila, Mushimasmigili Thila, Pannettone Reef, 7th Heaven, Reethi Thila, Kuda Rah Thila and Broken Rock.
Baa Atoll – The Baa Atoll is similar to the Ari Atoll but the Thila's are bigger. Also here I prefer the Thila diving to the channels. I like Adam's Thila and Dhigali Haa.
North Male Atoll – I like HP Reef and Orimas Thila for the formation and the colors and of course the Manta Point near Furana and Paradise Island.
South Male Atoll – Guraidhoo Corner and Kandooma Corner for the big stuff.
Diving in Maldives VS Other places
Q.
How do you compare Maldives diving with the rest of the top spots around the world ?
A. As I have done most of my diving here in the Maldives I have seen "everything" here.
I had special encounters with dolphins, sailfish, pilot whales, frogfish, ghost pipefish, schoals of eaglerays, mobula mantas, whalesharks, regular mantas, silvertip sharks, hammerhead sharks but also because I have spent 16 years in the Maldives.
My opinion might be a bit influenced by this….. I still dream of seeing a manatee in Florida, the schoals of hammerhead sharks in Cocos and seals! But apart from that, I feel Maldives is the best destination… It has something to offer to everyone.
Q.
The difference(s) ?
A.  In Egypt the boats and dive sites are crowded. In the Maldives you have generally maximum 12 ( in some places of course also less ) divers on board.
Also here, there are so many dive sites in close proximity, in case I need to go somewhere else, I just choose another dive spot nearby.
In Fiji, Tonga, Samoa, Malaysia and Thailand I have been to places were the equipment was not of good quality. The diving is cheaper than in the Maldives but is it safer ?
Here in the Maldives the dive centers are mostly 5*. They charge more but their safety standards and their equipment is top quality.
Q.
I am curious to know about :
– Your most exciting/memorable moment.
A. In 16 years of diving in the Maldives – you are asking a tough question.
I have at least 4!!!
– The 1st :  I was with students on a training dive on a beginner dive site and all of us saw about 6 dolphins curiously swimming past us about 3 times !
– The 2nd : We were going along the out reef towards our dive site. We were standing on the sundeck of the boat looking if we could see the shadow of a whale shark instead we counted about 18 sailfish swimming alongside the boat and plenty of dolphins. We went in the water with snorkel gear and snorkeled with them.
– The 3rd : In the channel we watched dolphins and sailfish hunting – we stayed safely on the boat but it was definitely a National Geographic moment !
– The 4th : We had a baby Whale Shark of about 1.5 m swimming next to our boat, we thought he had lost his mum and thought our boat was the size and shape of her??
– Your worse
A. After a dive, waiting on a boat for 2 more divers to come up from their dive. It only took minutes but it felt like "hours" until they surfaced and we picked them up.
Diving in Laamu Atoll from Six Senses Laamu
Q.
Laamu Atoll : what are the top spots proposed from Six Senses Laamu ?
A. – I like the channel crossings, it is a little more advanced diving as it is deeper, has usually more current but the reward is great : you can see many species : lot's of groups of fish and of course also some big stuff.
Here we have Munnafushi Kandu, Maava Kandu, Fushi Kandu, Vadinolhu Kandu and Maabaidu Kandu. Of course I like Hithadhoo Corner as this is our Manta Spot !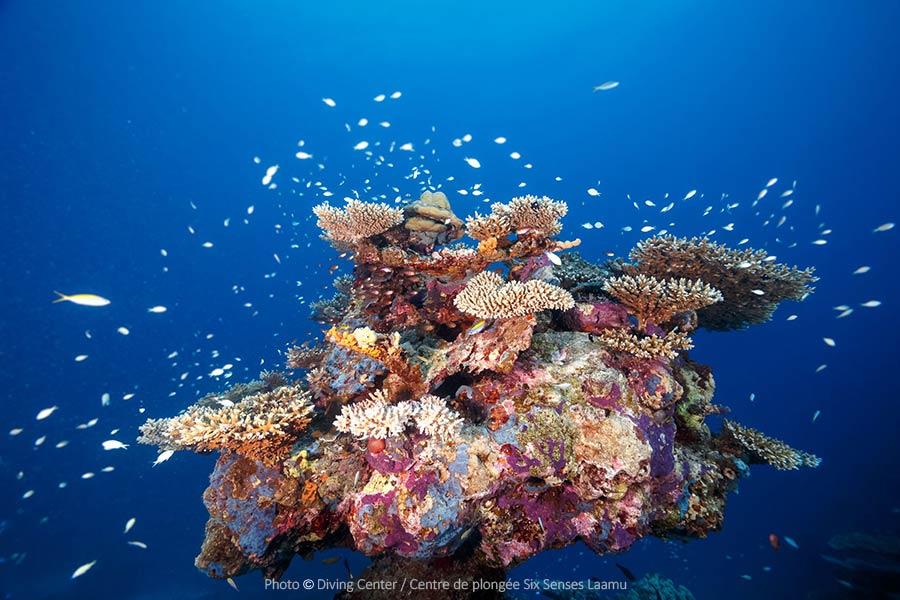 Q.
1 Diving Spot not to be missed inside the Atoll ? Which one ?
A. Just yesterday a Maldives experienced diver (700 dives) told me that on that particular dive she had seen different types corals that she had never seen before and also that they are very much intact.
We have sites with one coral growing next to the other – no space in between. The dive site she spoke about was Mikolhu Haa, also Laamafaru Haa and Mullya Fun Giri are similar.
Inside the Atoll is hardly any current – ideal for photographers.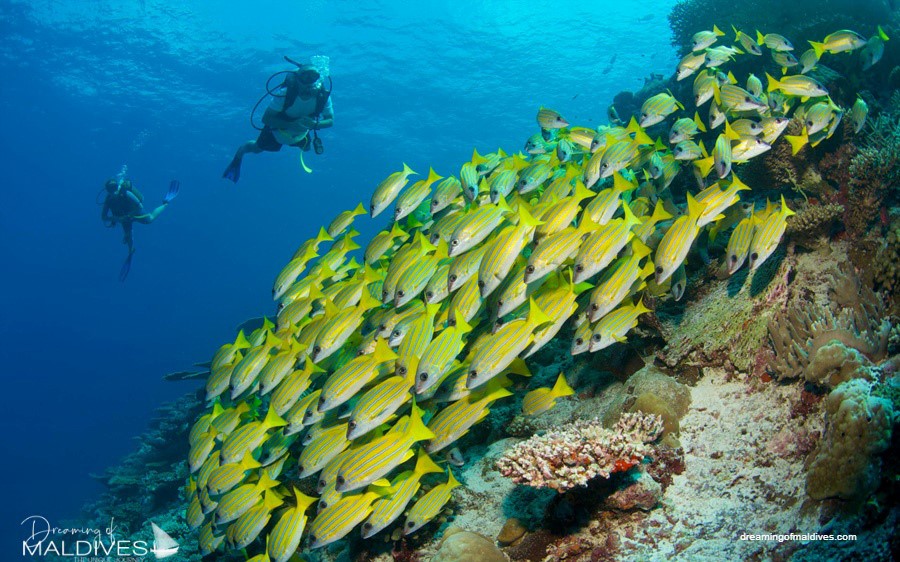 Q.
Is it dangerous to dive from the resort and in Maldives in general ?
A. No – We do an Orientation Dive with every diver – either on the house reef or from the boat. We practice some skill and check for the correct amount of weights for good buoyancy.
Before the dive we remind our divers of all the safety rules AND most important we only take maximum 6 divers per guide.
First the guide is able to show more to the divers and second he can safely look after a small group. Generally the dive schools in the Maldives are very safety conscious we have so many divers coming here every year and accidents can ruin the reputation.
Q.
Any wrecks around the Resort ?
A. Not yet…
Q.
What is the best season for you to dive around in Laamu Atoll – anything about currents, visibility, big species?
A. The inside of the Atoll has no currents. We only have currents in the channels, the corners and the outer reefs. We can choose the dive sites according to the divers on the boat – beginners, photographers, advanced…
Q.
Best season for Mantas in Laamu Atoll ?
A. Looks like we have mantas for most of the year!!
We are only here for the second year and for sure we need to check what happens next year but this year the mantas were here.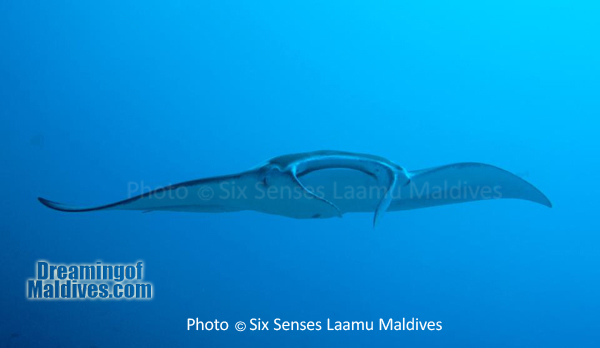 Q.
Best season for Whale Sharks in Laamu Atoll ?
A. Well, we have only seen 2 Whale Sharks – not good for our Whale Shark statistic. Again, we are only here for the second year and still have to find out more about this place.  Maabaidhoo outreef is a place located at 2 hours boat ride away from us. Due to the distance we don't go there very often.
"They" say that in summer time – August – is a good time to encounter Whale Sharks there. We are hoping to get a faster boat to be able to go there more frequently.

Q.
How is the coral
around Six Senses Laamu
? Improvement ? Worsening ?
A. Well, right in front of the bar where everyone goes for snorkeling – there, we can see definite damage but once you swim 5 minutes along the coral is intact and not damaged at all.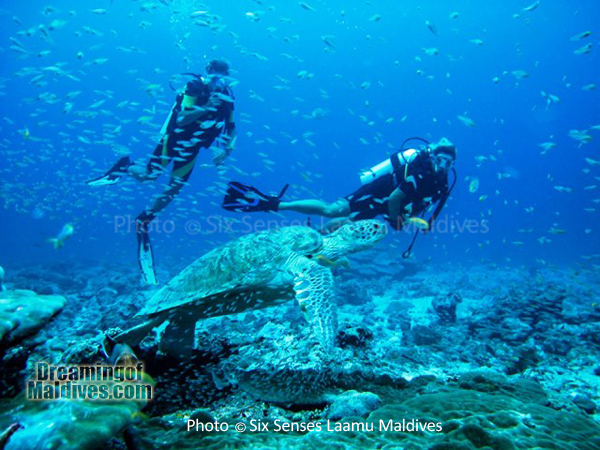 Q.
How is the coral in Laamu Atoll.
? Improvement ? Worsening ?
A. The hard coral live in the Laamu Atoll looks very very healthy.
Q.
Any scuba-dives outside the Resort house reef ? How is the scuba-diving around
A. The house reef starts at 1.5 m depth and gradually ends in a sandy area at about 18m. We see batfish, groupers, trumpet fish, napoleon, puffer fish, lion fish, clown fish, leaf fish AND turtles.
The house reef is a good dive spot to do your first dive after a long break in diving, maybe your first night dive or a training dive.
We have about 25 different dive sites from 10 minutes to 2 hours boat ride away.
We have 1 channel close by and 5 channels a 2 hours boat ride from here. Channel dives are the more advanced dives as usually there are stronger currents which make it more difficult to dive as not everyone is used to dive in currents.
Along the outer reef and within the Atoll are plenty of protected dive sites with little or no current.
Q.
Can I see nice underwater flora / fauna around Six Senses Laamu ?
A. Of course you can – it's all out there – it's a tropical destination with tropical fish.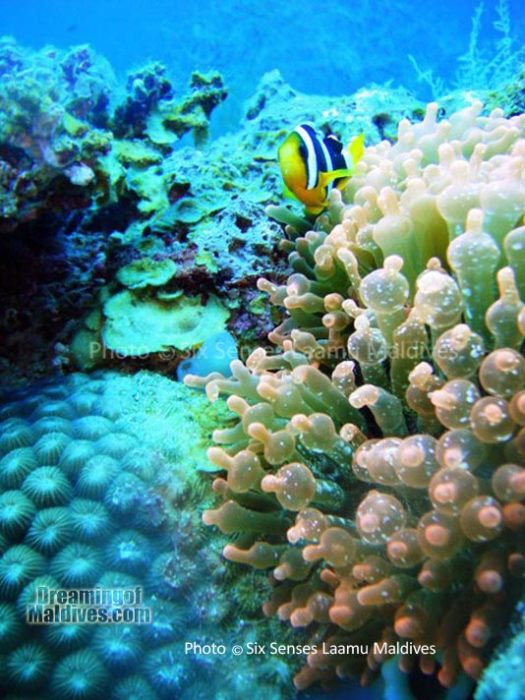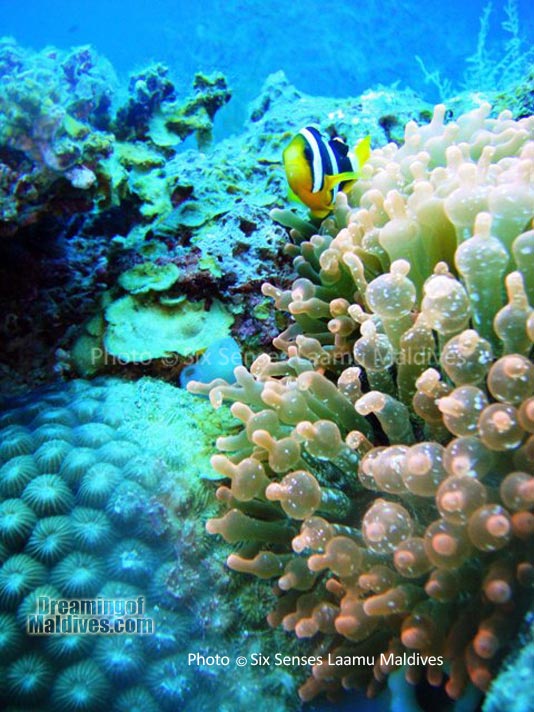 Q.
Approximate Scuba-Diving Depths expected ?
A. Most dives go to an approximate depth of 22m. The maximum depth allowed in the Maldives is 30m.
Q.
Any basic advice for divers ?
A. Maldives is the destination for diving ! The water is 29 degrees the whole year around, the dive sites are close by, diving is in small groups which is good for safety and also more fun. As there are so many dive sites there is something for everyone – beginners, photographers and advanced divers.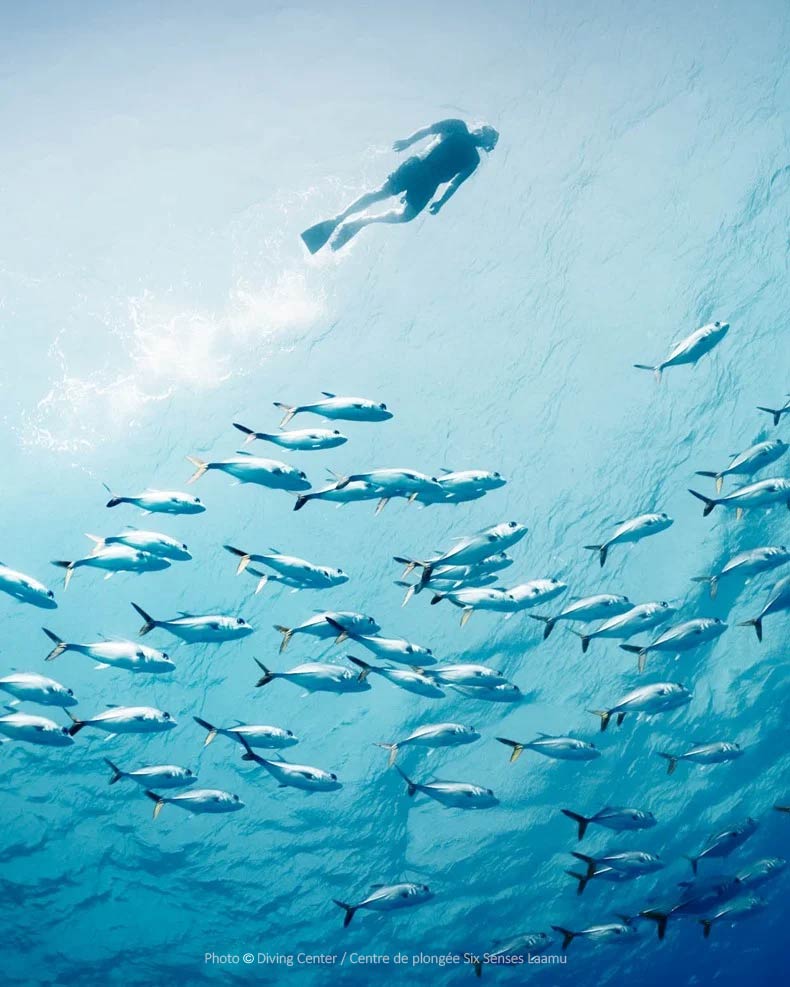 Snorkeling in Laamu Atoll and from Six Senses Laamu
Q.
How is the snorkeling around Six Senses Laamu ?
A. We offer guided tours on our house reef for snorkelers who are either unfamiliar with snorkeling or with the area or just don't want to go on their own.
The bar in the over water area is conveniently located near the reef and can be used as an entry and exit point for the snorkeling. You can go there all day and every day and the more time you spend in the water the more you will see.
In case you would like to see something new, you can join us on a snorkeling tour by boat which we offer 3 times a week were we will always take you to a different spot every time.
Q.
Can I see nice underwater water life around Six Senses Laamu and inside Laamu Atoll ?
A. In Laamu Atoll you will find extremely pretty hard coral life, completely intact! Be aware that hard coral is mostly brown. Many different colorful little fish live amongst the hard coral. You can expect to find butterfly fish, fusiliers, trumpet fish, surgeon fish, clown fish, bat fish and of course turtles. Every now and again you will meet white tip reef sharks and eagle rays.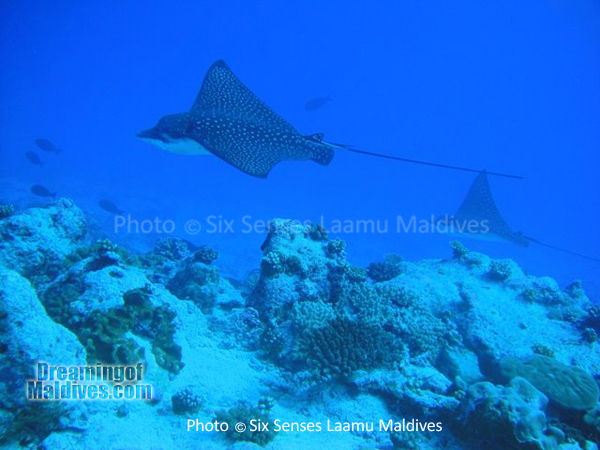 Q.
Approximate Depth outside and inside Six Senses Laamu house reef ?
A. Inside the house reef is the lagoon, which is sandy and is maybe 2 – 3 m deep. From the lagoon you can swim over the top of the house reef which comes up to 1 – 2 m – be careful on low tide you can't swim over the reef. Once you get to the edge of the house reef it will slowly slopes down to about 18m.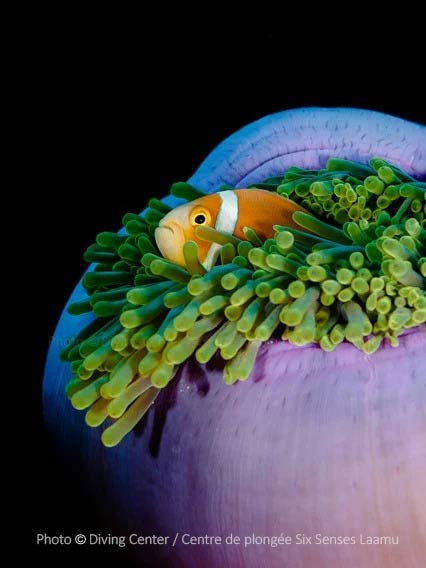 Q.
Snorkeling in front of Six Senses Laamu beach. (near the villas) Can I see nice underwater flora / fauna ?
A. The best snorkeling is not near the villa but near the overwater bar area.
The house reef starts there and extends all the way to a sandbank in the far distance ( 1 hour snorkeling ).
Right in front of the bar there is already some damaged reef but just after 10 min. snorkeling the reef becomes more and more beautiful with very pretty coral formations. There are some separate big coral pinnacles which are surrounded by batfishes, you will find trumpet fishes, fusiliers, turtles, jackfish, butterfly fishes and many many more.
Q.
Is it safe for children to snorkel ? Do you have material for our small ones ? which age ?
A. Yes, but with an adult. Kids can also snorkel with life jackets. The smallest fin size 27-29 and we have Cressi Junior masks available. I believe these are good sizes for 5 year old's and up.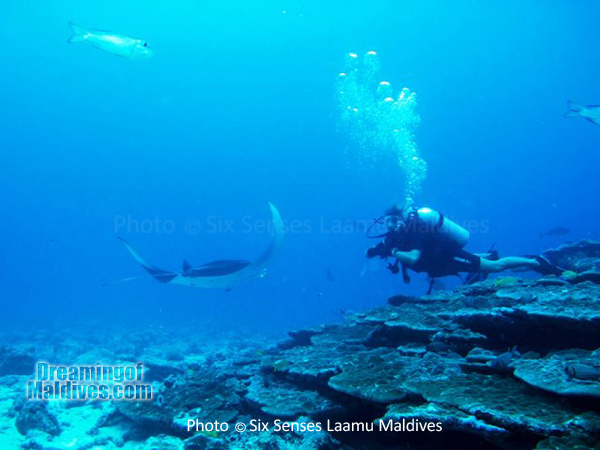 Q.
Night-snorkeling at Six Senses Laamu. How is it ?
A. Once a week we offer either a night snorkel experience by boat or on our house reef. For most people it is a new and exciting experience and also an introduction to night diving. Some fishes like the parrot fish and the puffer fish sleep at night. While jackfishes, lobsters, moray eals come out to hunt. It is an exciting new experience.
Q.
Any top snorkeling spot reachable by boat from the resort? Distance / duration ?
A. We have 2 top snorkeling spots just 15 minutes by boat away and plenty more spots maybe about 30 minutes boat ride.
There is also the option to rent a speedboat for about 2h and go to one of the channels a bit further away. You can have an exhilarating speedboat ride with sometimes dolphins playing along on the way. In one of the channel, there is always the chance to see some bigger fishes – also while snorkeling!
Q.
Any basic advice for snorkelers ?
A. Snorkel as often as you can while you are in the Maldives as the more time spend in the water the more you will see. Buy a book about the underwater life so you can learn about what you see. Do not touch anything or take anything out of the water for yours and the animal's safety and also to keep the underwater world untouched for the next person to look at it in the same condition as you found it.
Six Senses Laamu Diving Center
Q.
Can you tell us about Six Senses Laamu diving center ?
A. Six Senses Laamu dive center is just 2 years old and located on stilts directly over the water.
It is a beautiful wooden building close to the arrival area – everyone can see us, it is impossible to miss us !
It is a 2 story building with an a/c classroom and a upper-floor with great views on the Ocean – not very easy to concentrate on the studies :-).
We use a HD widescreen TV and Mac computers for our lesson presentations.
Downstairs we have a spacious equipment room with an area for rental equipment and also an area for guests to hang up their private dive equipment. We have 3 washbasins to be able to wash cameras, regulators and wetsuits separately. Downstairs, there is also a comfortable sitting area to write logbooks.
We have a changing room and a shower. Adjacent to the equipment room is our own dive school jetty were we either step onto the dive boat to go out for a dive or step down a ladder into the lagoon for a training sessions. Furthermore, the house reef is at short surface at about 20 m away. We also have a shop were we have our own brand of T-shirts and some diving accessories available. For diving equipment we use well recognized brands like Cressi snorkel sets, Suunto dive computers, Canon underwater cameras, Mares BCD's and regulators.
Q.
Spoken languages at the diving center ?
A. English,Russian, French, German, Dutch, Spanish, Italian, Japanese.
Q.
Starting from level 0. Which level can I be if I stay 1 week in Maldives ?
A. You will reach your PADI Open Water Diver certificate in 4 – 5 days. If you really want to be busy every day you could complete your Advanced Level in 2 days but you are probably better off to just do a few dives after your Open Water Diver certificate to gain some more experience before you start your Advanced Course. Of course you can do your Nitrox course which is just a theory course and make you dive with a higher oxygen and lesser nitrogen percentage, which is an advantage.
Q.
How many divers maximum per group ?
A. We take maximum 6 divers per guide for safety and of course for fun.
Q.
Can I dive privately from ?
A. We draw a map and explain every dive site and check the conditions of every site before we start the dive. If a diver feels confident enough he or she can dive separately from the group. This does not happen very often.
In case you mean "dive privately" – if you can rent a boat and a private instructor that is of course also possible. To be prepared the diver should contact us in advance so we have a private guide available and that the diver is aware of the prices.
Q.
Starting price for a simple dive ?
A. USD 62 plus tax and service charge. The more dives you do the price of the single dive goes down, eg. USD 53 per dive if you do a total of 15 dives. Rental equipment is not included as some divers have their own and boat trips are on top as there are different options – single dive trip, 2 tank dive trip, all day dive trip.
Q.
How much costs an initiation ?
A. USD 110 plus tax and service charge.
Q.
Beginner course (discovery ) – where and how does it take place ?- Any age/health issue/requirement ?
A. We start with the Bubblemaker program which is designed for children from the age of 8 – 10 years young. The Bubblemaker goes to a maximum of 2 m and takes place in our sheltered lagoon where we already see little butterflyfish, angelfish, lionfish, jackfish, clownfish, starfish and lots more exciting stuff.

From 10 – 12 years onwards you can do the PADI Junior Open Water Diver license which is the same course as the Open Water Diver just that the diver is limited to a maximum depth of 12 m.
From 12 to 15 years you will be limited to 18 m as a Junior Open Water Diver but you can take part in the Junior Advanced Diver Program and then you are limited to 21 m depth.
From 15 years onwards you are only limited to your certification level.
To take part in diving you need a clean bill of health. If you have any medical conditions you should contact your doctor at home to ask for a "Fit for Diving" certificate.
You can also contact the dive center who will have a PADI questionnaire with about 20 questions about your health with this form you can "check yourself". If you can respond to all the questions with "NO" you can dive if you have to respond with a "YES" you need to see a doctor.
Q.
Not all our readers are divers or snorkelers (yet) "I am afraid of the depths…Convince me"
A. If you don't try, you don't know what you are missing! Actually already looking into the water from the jetty looks very promising, tempting, tantalizing – we can see parrot fish, turtles, Eagle Rays and many more. Why would you not try? If you are scared we take you by the hand but it would be a shame to say you have never even tried…
END –
© DreamingofMaldives.com
Laamu Atoll Maps
Diving and Snorkeling at Six Senses Laamu / Photo gallery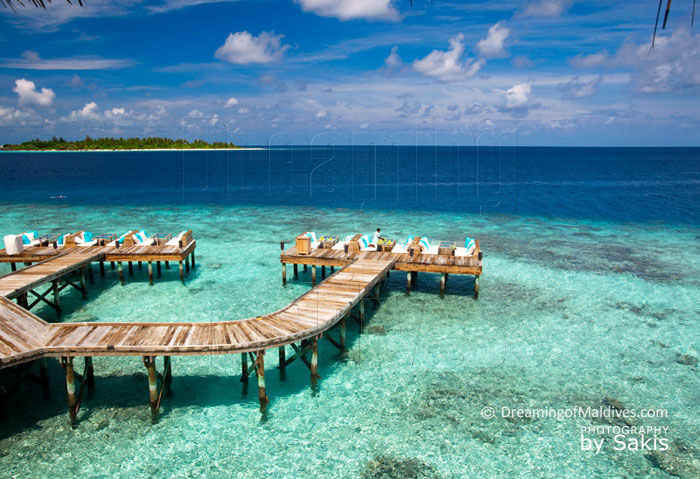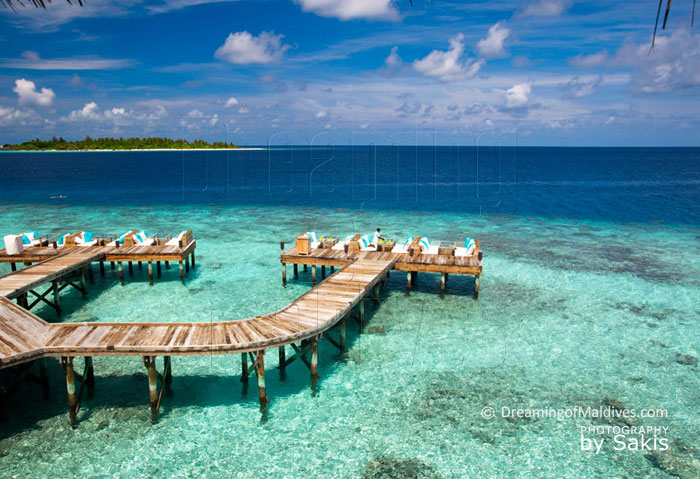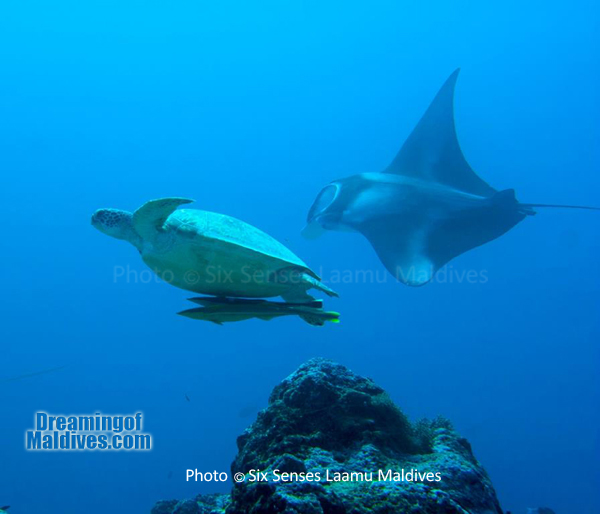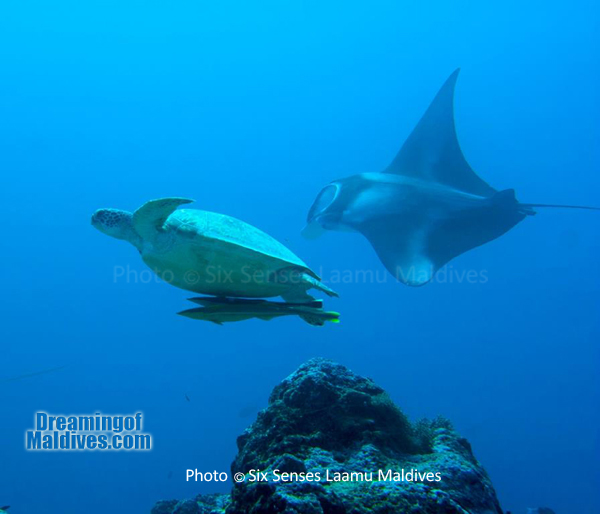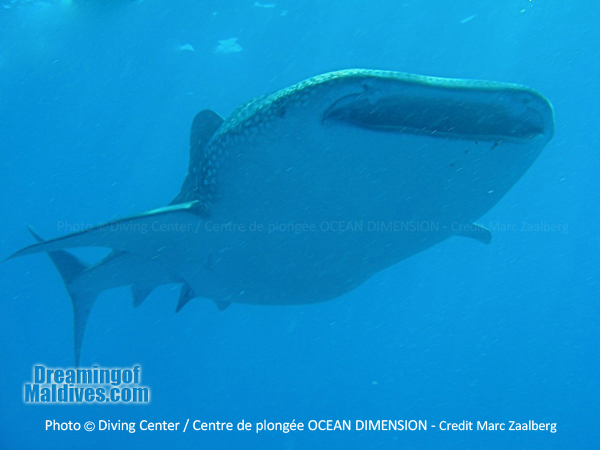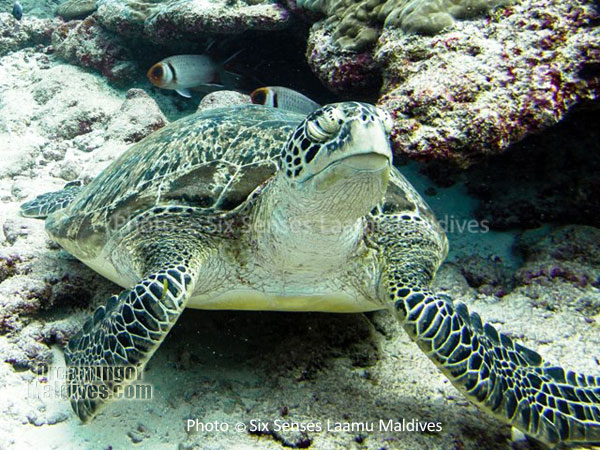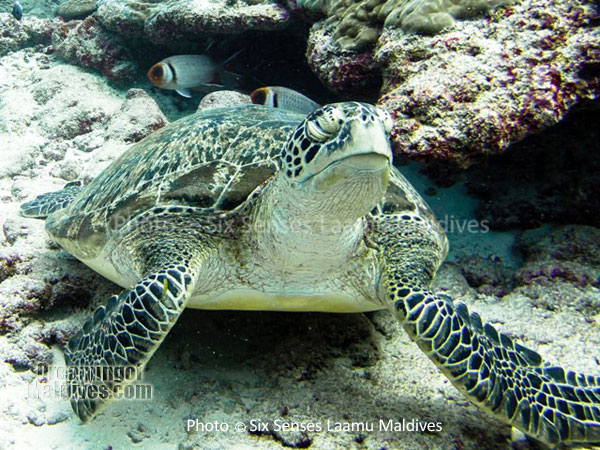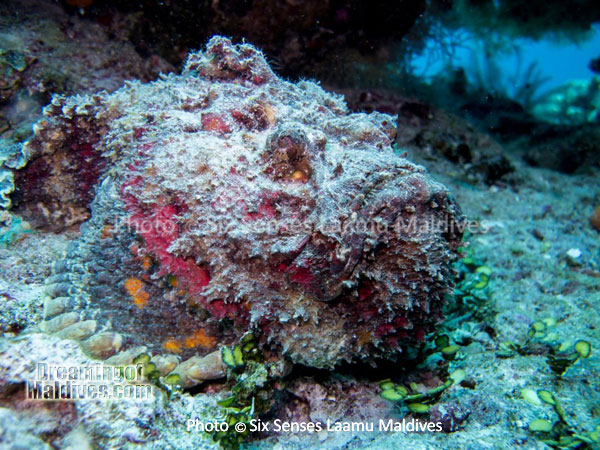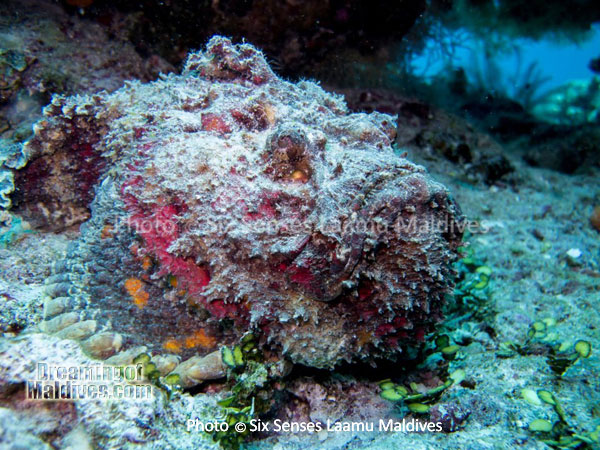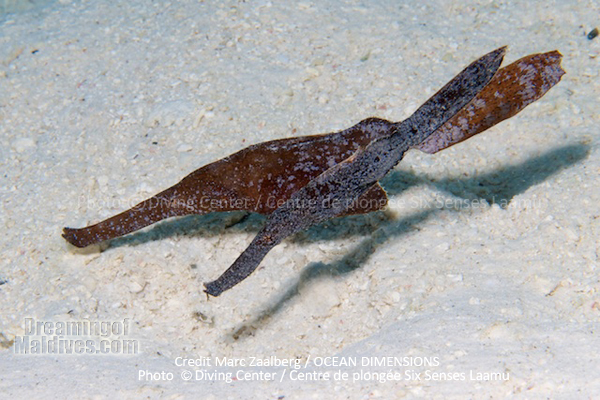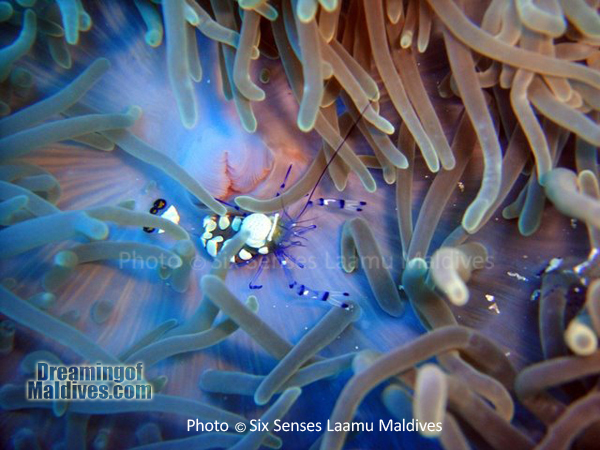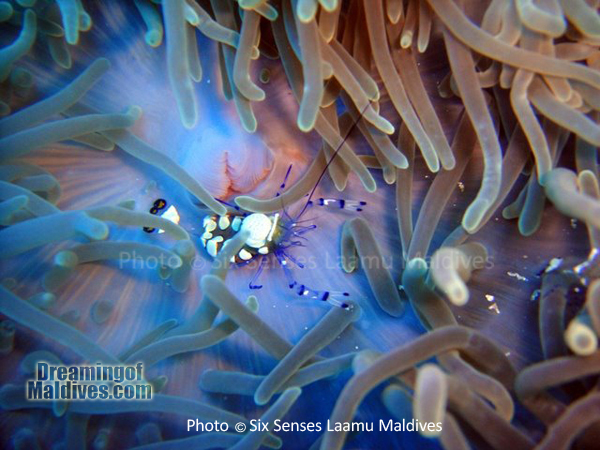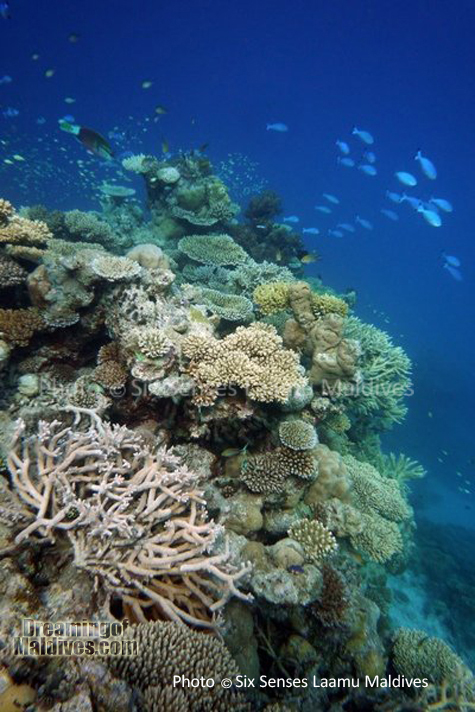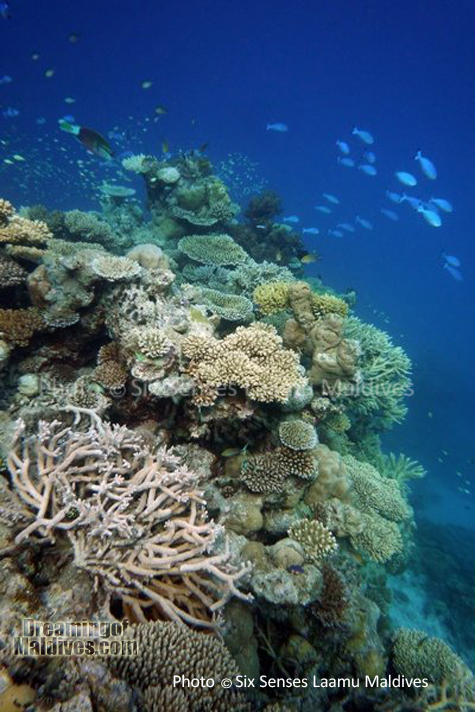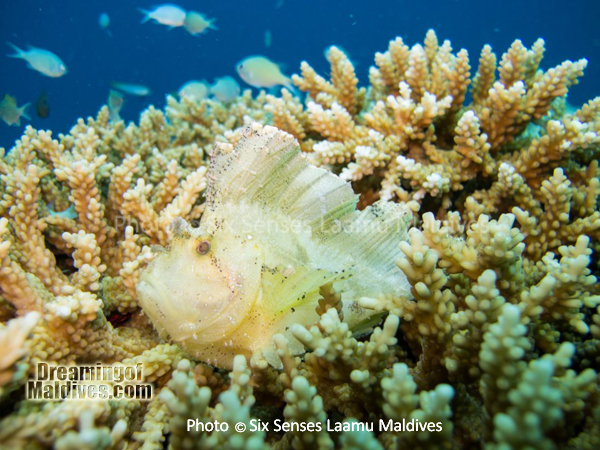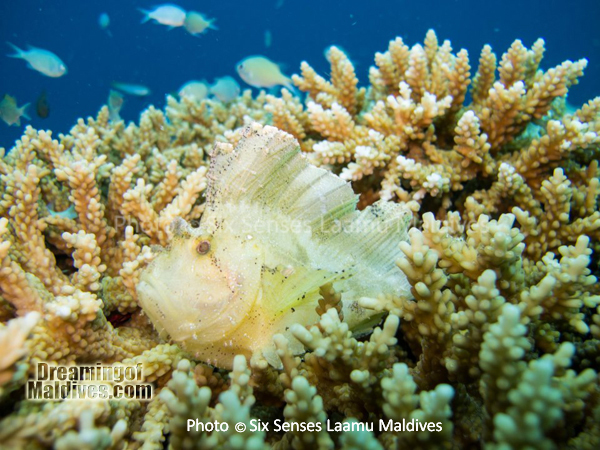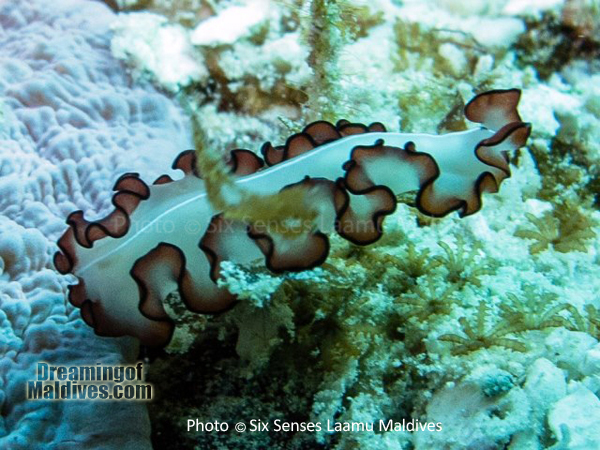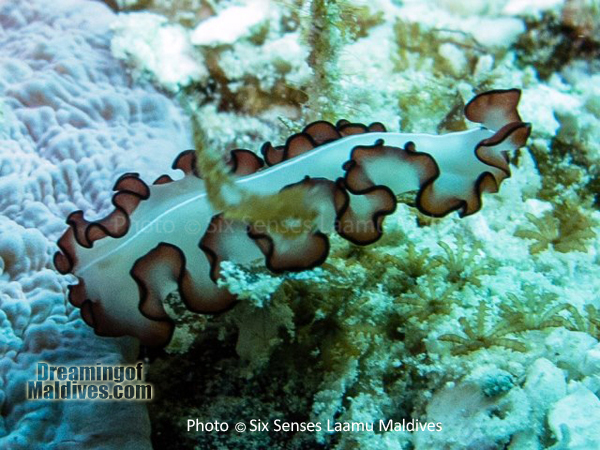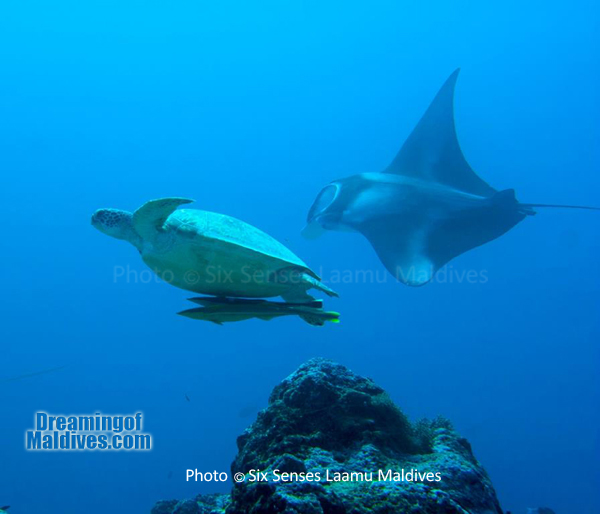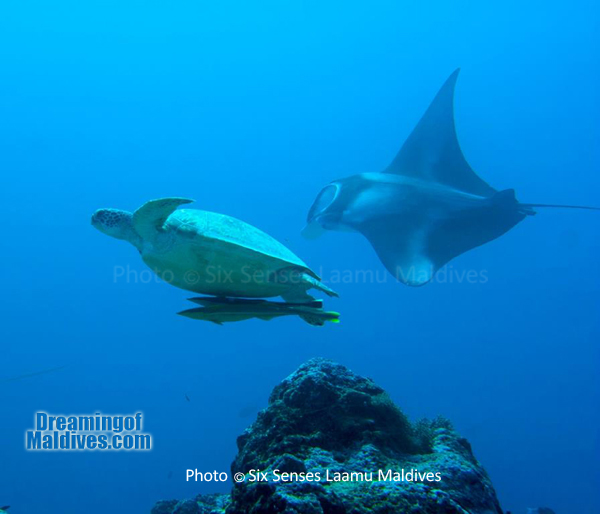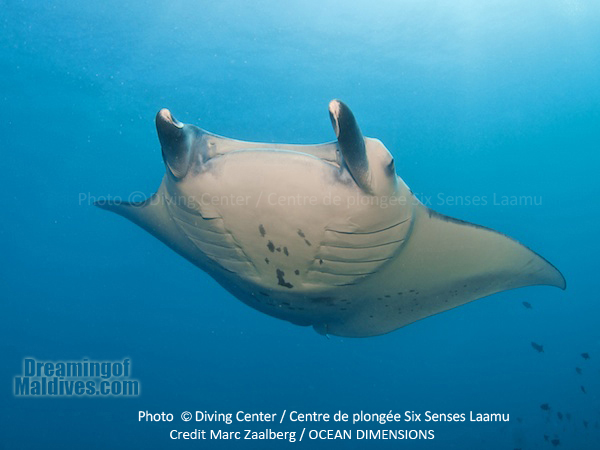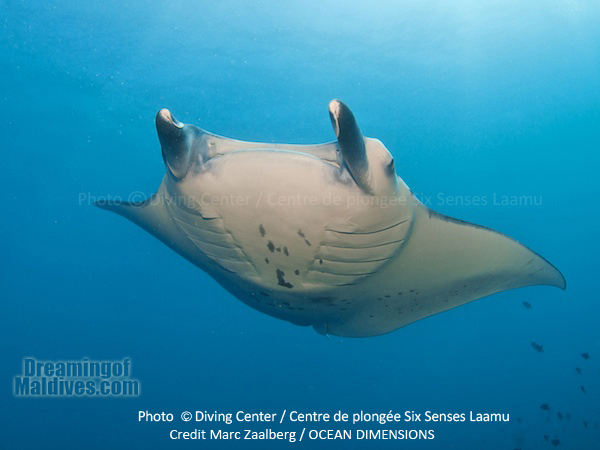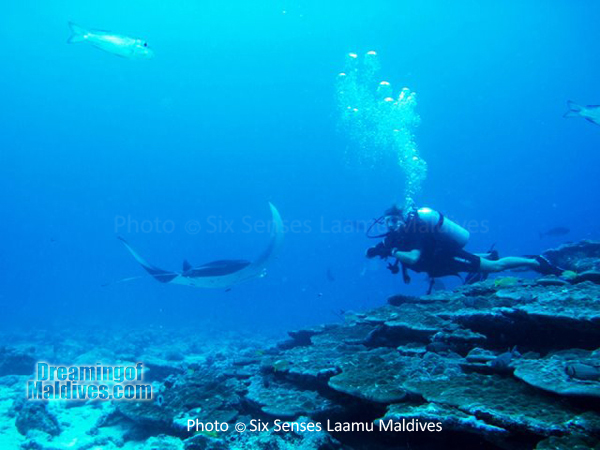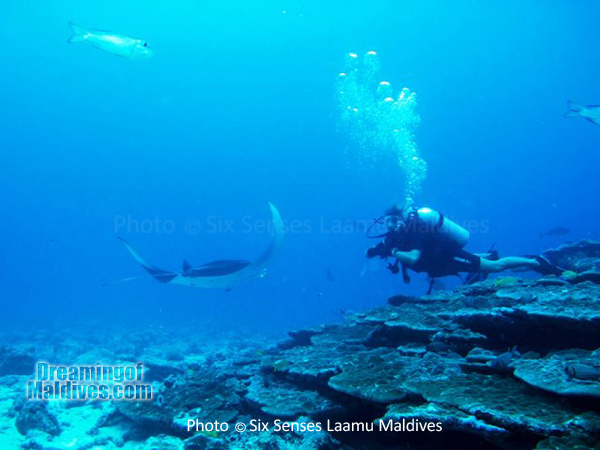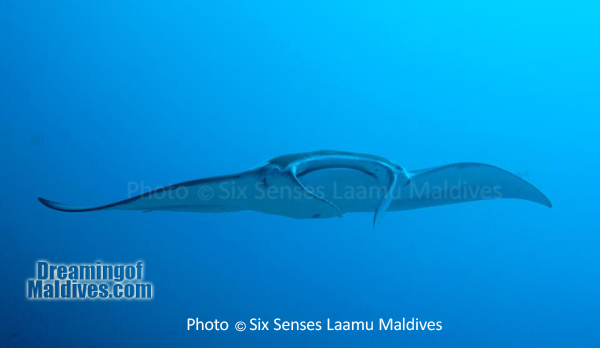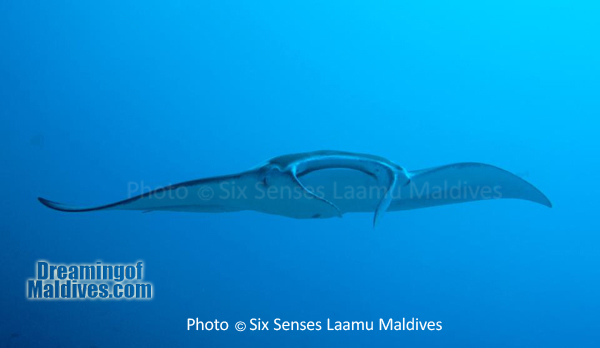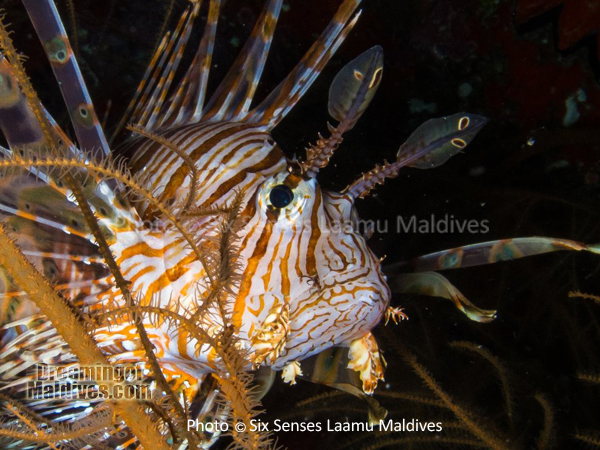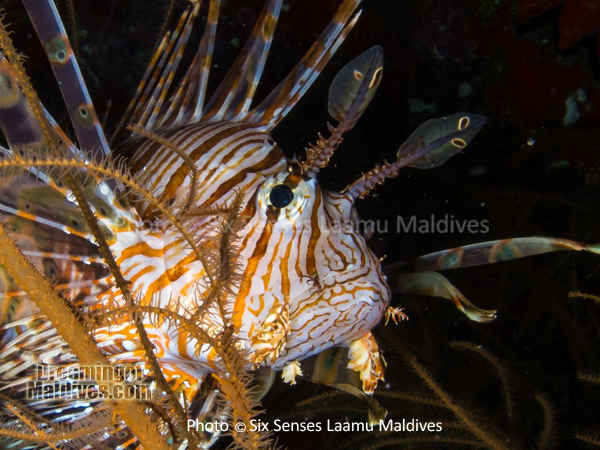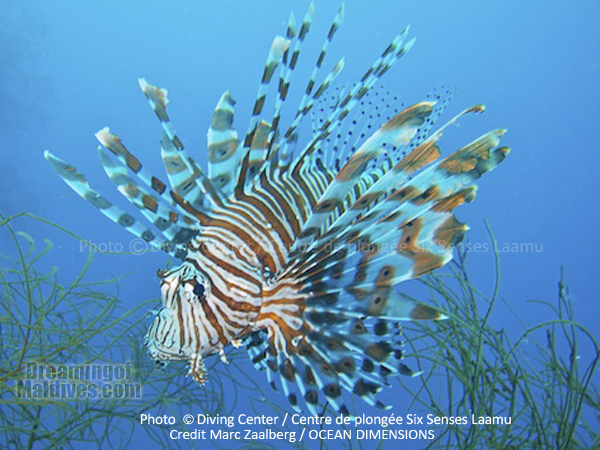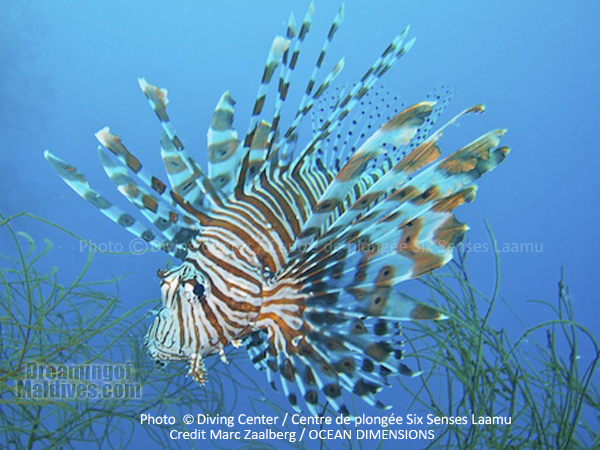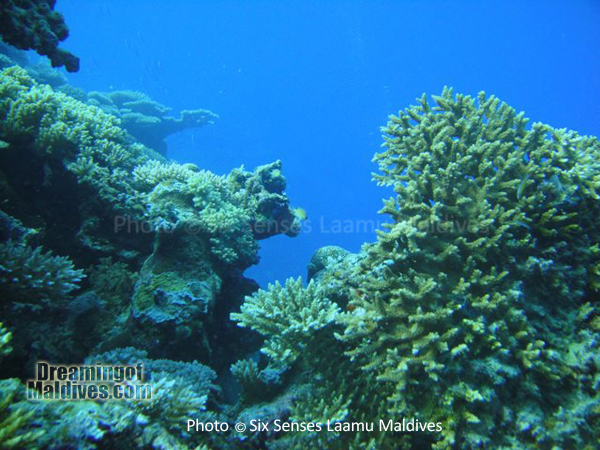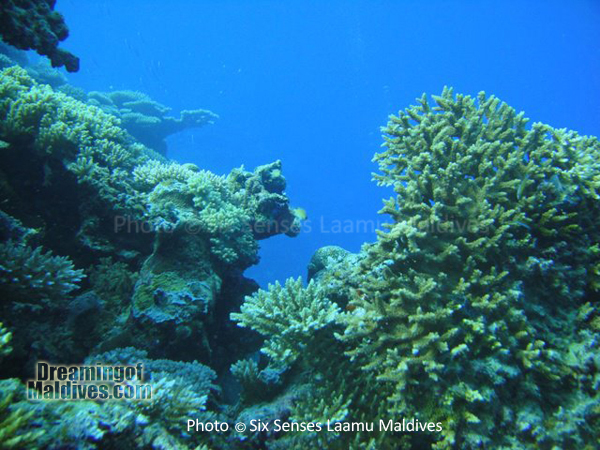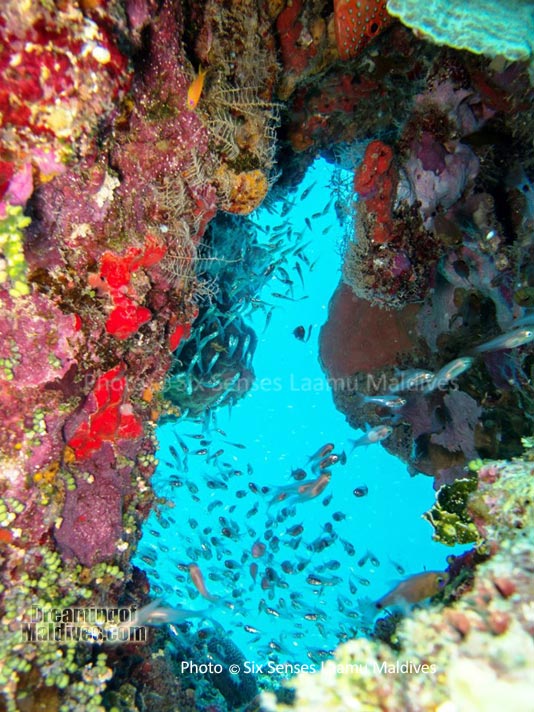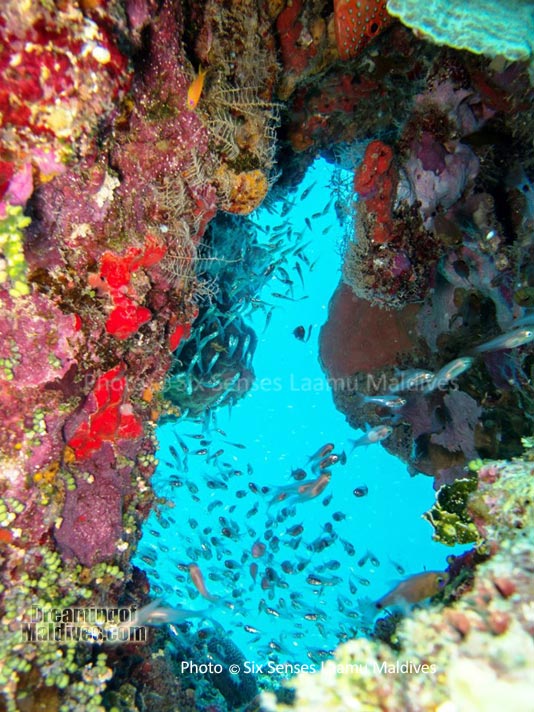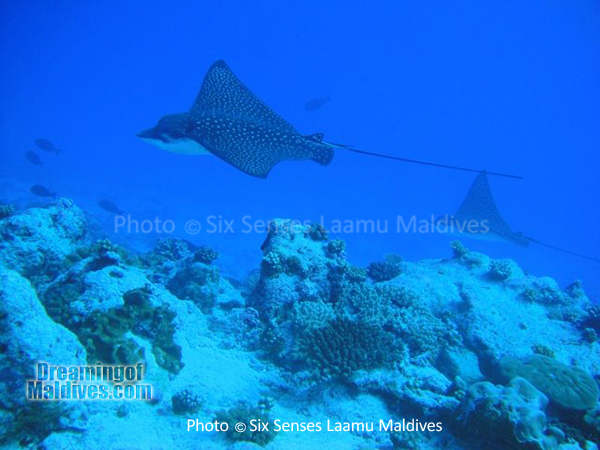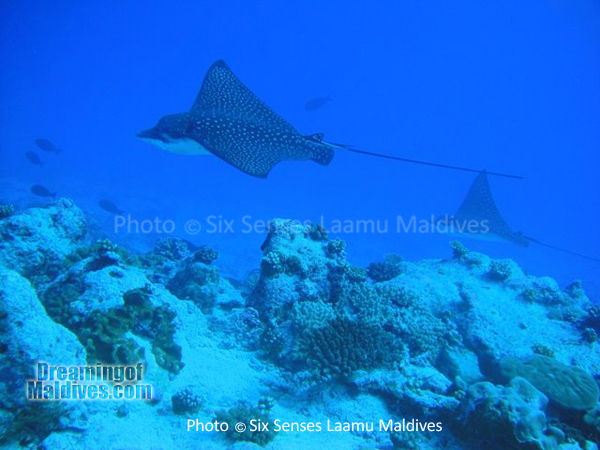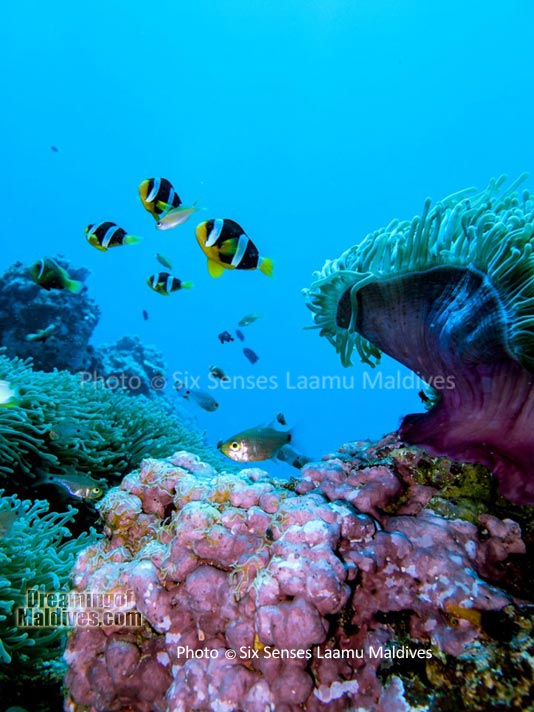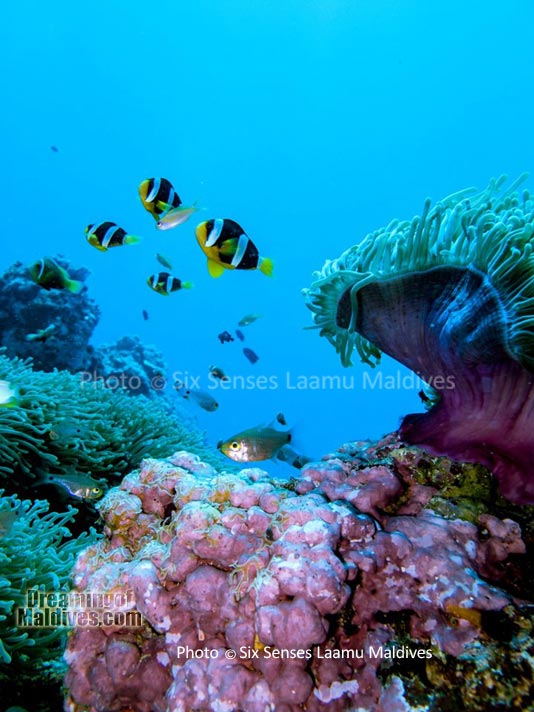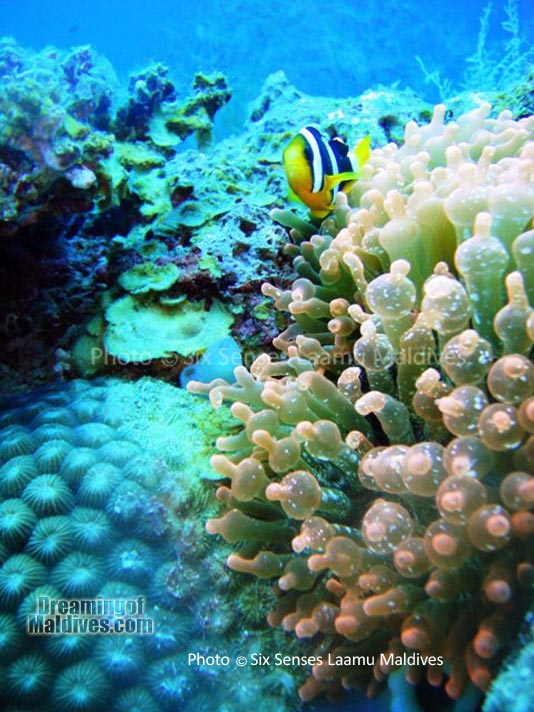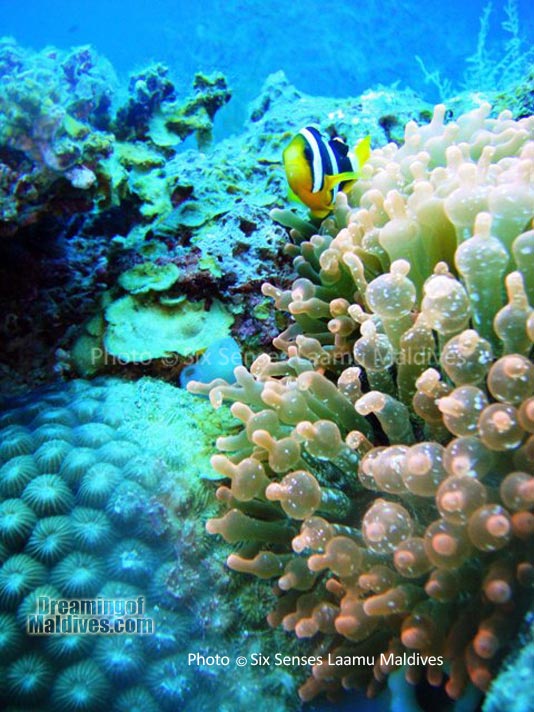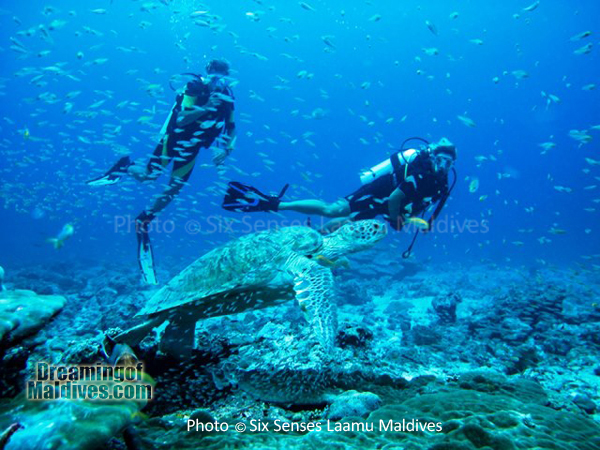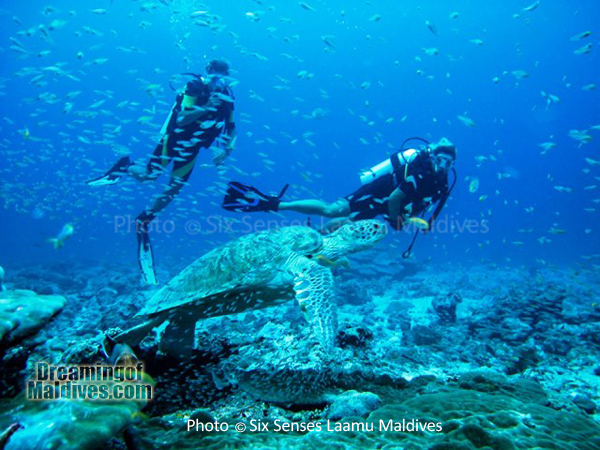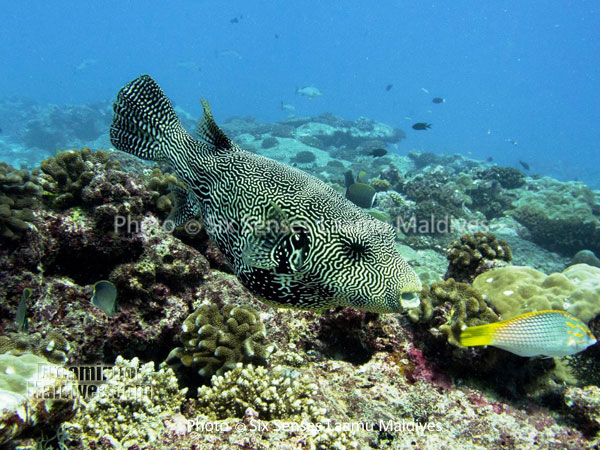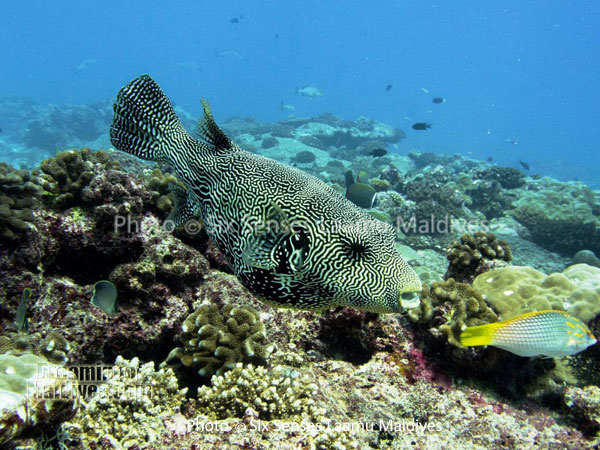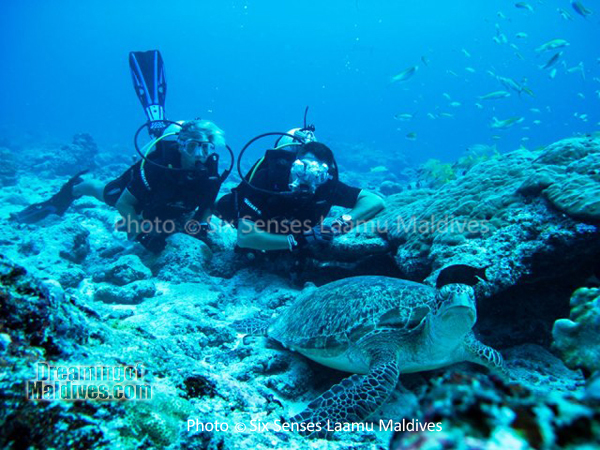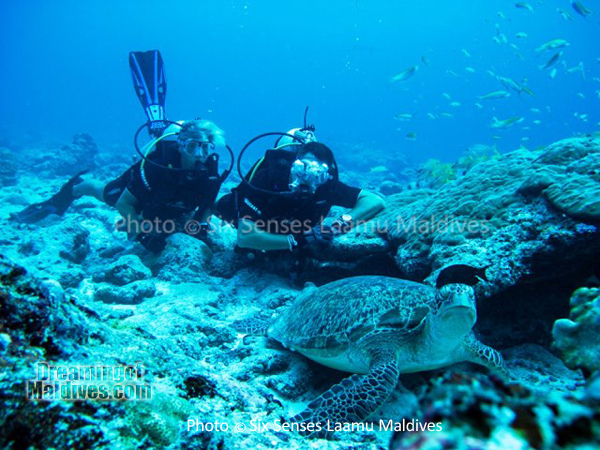 Follow us on Facebook and Instagram for more Maldives stories.
Follow Petra Diving Adventures in Maldives.
Your TOP Best Maldives Resorts 2023
YOUR CHOICE. YOUR DREAM. YOUR VOICE
[ Official ]
Traveler's Choice
12th Edition