Dreaming of Diving and Snorkeling at Sun Siyam Iru Fushi ?
Saeed, the resort Dive Center Manager gives us the best of it in this new PR Diver Interview. Follow him to discover the resort underwater world.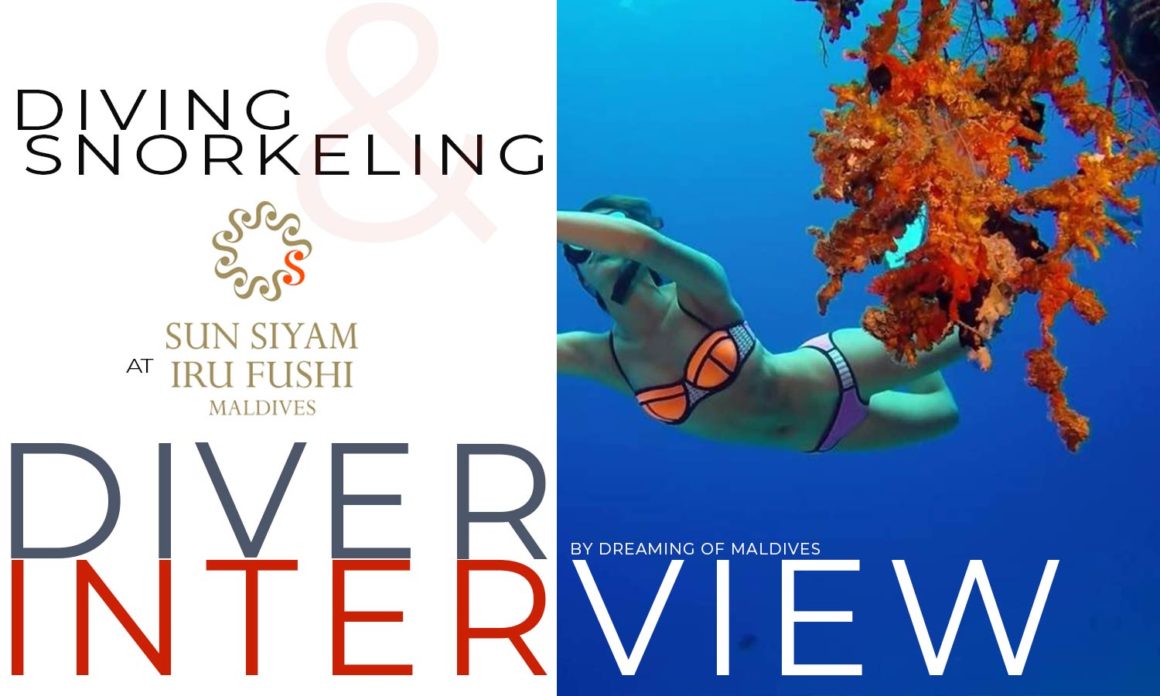 The diving discovery of Noonu Atoll -started a few weeks ago, could not be done without stopping-by the beautiful Island of Sun Siyam Iru Fushi Resort & Spa Maldives ( Formerly known as Hilton Maldives Iru Fushi Resort & Spa ). One of Maldives flagship Resort.
Diving And Snorkeling At Iru Fushi, Noonu Atoll. Interview With Saeed, Dive Center Manager
To complete this underwater journey, we've met Mohamed Saeed, Manager of the Diving Center at the Resort for several years.
Since he was a kid, Saeed dreamt to be a diver. Today he has made more than 8000 dives in various places of his country.
Based now in Noonu, he shares with us some of his favorite spots in the Atoll and in the Maldives, his experiences and some diving and snorkeling tips from and around the resort. His diving sites descriptions are so full of life and details that we feel like we're diving too.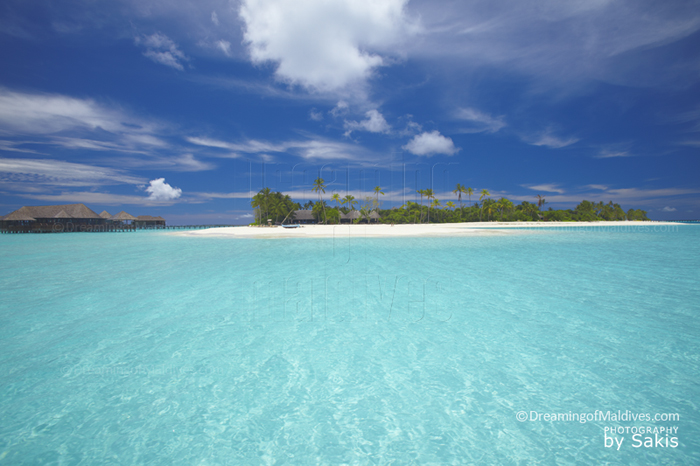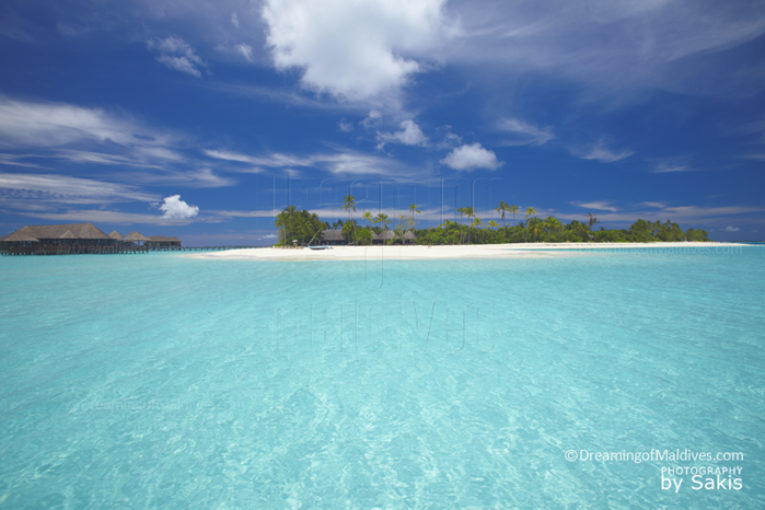 About Noonu Atoll
Noonu Atoll is secluded and still remains one of these peaceful and isolated Atolls that Maldives have to offer to Divers.
The beautiful Atoll is secluded and not ( yet ) very busy…so be sure to explore there uncrowded spots offering some of the best kept reefs and a superb diversity of wildlife in the Maldives.
With more than 20 amazing dive spots, a very abundant tropical fauna, breathtaking walls, gorgeous caves and overall great diving conditions, Noonu Atoll has it all to amaze any Diver in quest of excellence and difference.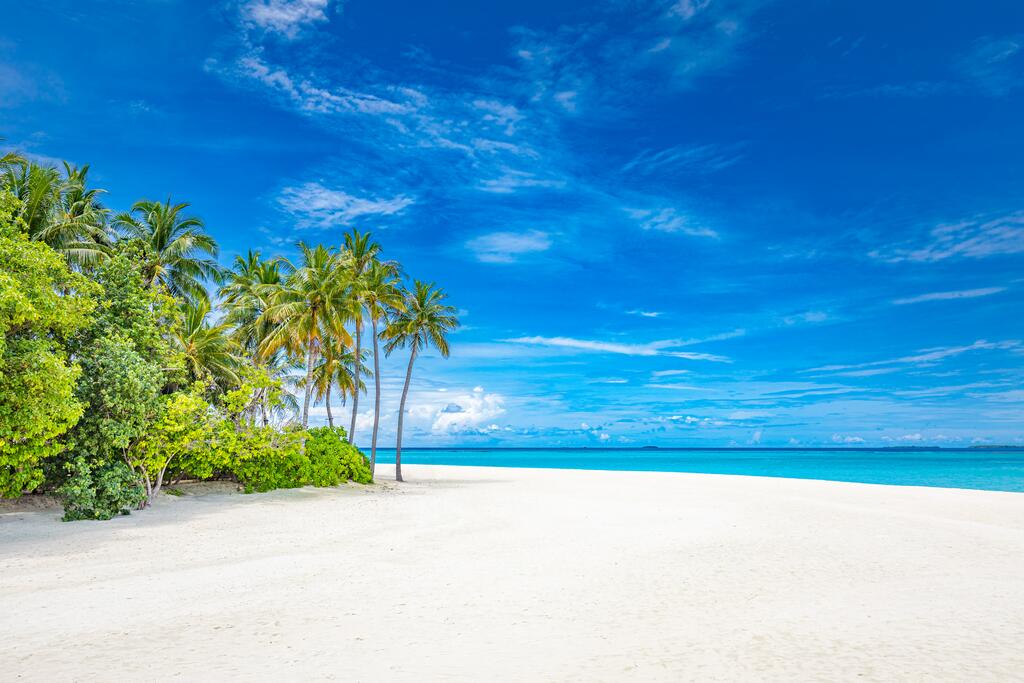 About Sun Siyam Iru Fushi Resort & Spa
The Resort is located in the Southern part of Noonu Atoll, Northern Maldives, at 45 minutes by seaplane from Male International Airport.
The Island is truly beautiful due to a wide and bright blue lagoon, powdery white beaches and a well preserved tropical vegetation on the inside.
The 800 meters long island offers areas entirely dedicated to couples in search of peaceful and romantic places together with well-designed spots fully conceived for families and kids.

Spacious and beautifully built in the middle of the blue lagoon, the Diving Center is a 5***** PADI Golden Palm 5 Star facility and one of the largest in Maldives with access to the best spots of Noonu Atoll. The Diving Center is managed by the well-trusted Sun International Diving School and its ( big ) team, composed of 9 professional instructors.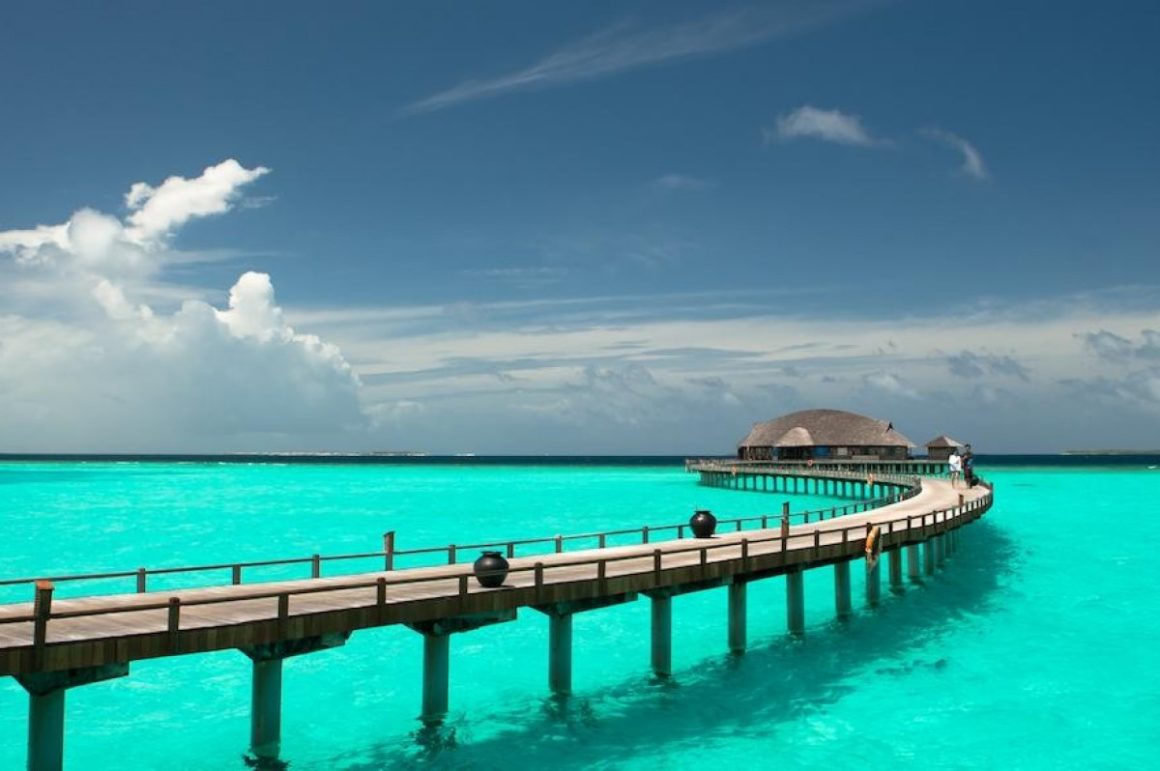 Iru Fushi is ideal for couples, groups of friends, families, Water Sport lovers and Divers looking for impeccable holidays and beautiful landscapes both above and under the water.
Note : A small Photo Gallery + All reachable diving spots from Iru Fushi are waiting for you at the end of the interview.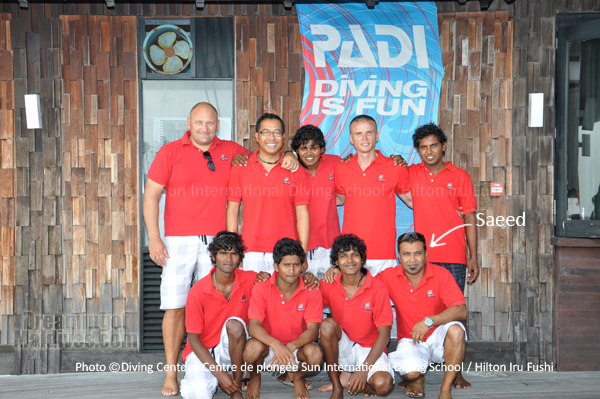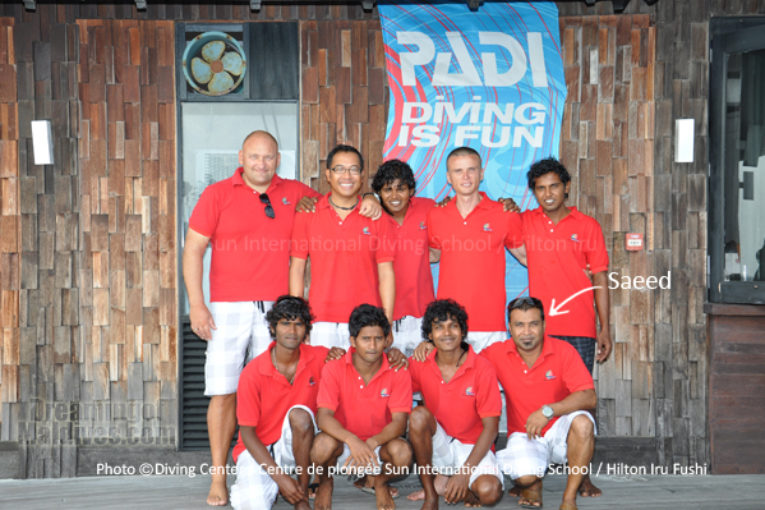 INTERVIEW
Diving in Maldives from a Professional Point of view.
Focus on Noonu Atoll – Part 2
Dreaming of Maldives Question. Hello, where are you from ?
Mohamed Saeed . Maldives.
Q. Can you introduce yourself ?
A. My name is Mohamed Saeed.
I am from an Island called Fuamulah located below the Equator. I work for the tourism industry since 1994. Before starting to dive, I worked as a Bar Tender, Restaurant Waiter and in Construction.
I've done more than 8000 dives in my dive carrier and teach all diving levels from Open Water Diver course till Dive Master Course .
Q. Your diver degree(s) ?
A. Master Scuba Diver Trainer.
Q. When and why have you started diving ?
A. I started Diving in 1998. It was my dream since school time.
Q. Have you been diving in other places around the world? If yes, where ?
A. Not yet, but I am planning to visit different location around the world very soon.
Q. How long have you been diving in Maldives ?
A. For 14 Years.
Q. How did you become a dive center manager in Maldives ?
A. Working many years with one Company that believed I could do it.
Q. How is the Diver life on a (small Island) resort ?
A. Interesting. I really enjoy !

Q. Holidaying yourself..Are you more underwater or on the land ?
A. After a year working, so far, I stay more on land just to relax !
Q. What are your favorite spots in your Atoll and why ?
A. My Favorite Spot is Raafushi reef at 25 minutes by boat.
The inside wall of this channel rises up from a depth of 24 meters to an incredible top reef completely covered with hard corals.
The overhangs in the wall are filled up with black corals and a number of other animals like the giant winged pearl oyster, Cock's comb oyster and black coral shrimps that live amongst the branches. Lobsters can be also found in the small crevices.
The reef is covered by Yellow Clathria, a beautiful soft corals.
On the wall and the coral blocks, you can see green midnight stony corals blooming in currents and during the night.
Jackfishes, rainbow runners and big eye trevally's, five line snappers, fusiliers, surgeon fishes and a huge Napoleon can be easily observed too !
With incoming current hammerheads sharks have been seen. This dive is a gift for life !
Q. If you've worked in other Atolls. What are your favorite spots in Maldives and why ?
A. I dived in many places around Maldives.
My favorite Spot is Kandoomaa Thila. Kandooma Thila is regarded as one of the best dive sites in the world in any circumstance, whether there is strong or medium current inside, slight or strong outside current or no water movement at all.
This thila rises up from the bottom of the channel between Kandooma and Cocoa Island.
The top reef, close to the Indian Ocean dropp-off, starts at 26 meters and elevates after 200 meters stretch, inside the channel, to 14 meters of depth.
It is covered with stag horn and large table corals. Larger builder coral blocks function as cleaning stations for a variety of reef fishes. You can see at the shallower part many large log heads and green turtles between the corals.
Grey reef and white tip reef sharks, barracudas, tons of jack fish, large Napoleon, sailfish, stingrays, red snappers, you name it ! Everything there is in large amounts !
The thila is surrounded by overhangs totally covered by cauliflower and dappled soft corals.
The more current, the more fishes. A perfect bliss!
Q. How do you compare Maldives diving with the rest of the top spots around the world ?
A. No comment because I've never been diving anywhere else than in Maldives.
Q.I am curious to know about :
– Your most exciting/memorable moment.
A. Diving with dolphins for entire dive !
– Your worse
A. Nothing in particular. I would say when really bad weather gives very poor visibility. Nothing interesting to see and the sea can be then very rough on-board.

Q. Noonu Atoll : what are the top spots proposed from Iru Fushi ?
A. – Shark Point by boat 45 minutes.
For beginners and advanced divers, this Thila makes dreams come true.
The top reef of the North-side of the Thila starts at 14 meters and drops off steep to a sandy bottom. When the current comes from the North-West side, you can observe large barracudas staying motionless into the current or chasing when the opportunity comes.
Then, the narrow top reef drops down to 20 meters and rises up to 15 meters southwards like a long stretched saddle. It is very easy to move from West side of the Thila, which has small over hangs with black corals and lion fishes hovering around, to the East side of the Thila which gradually slopes down to a sandy area.
All around the Thila, grey reef sharks might be there exploring the surroundings but they are more likely to be found at the 20 meters deep saddle back. On the top, reef table corals are spread between sandy patches and large anemone colonies.
The diving scenery is sometimes completed by large schools of small barracudas, big eye trevally's and long fin bat fishes.
On the sandy bottom, on the west side of the Thila, between a depth of 18 and 30 meters, leopard sharks, spotted giant guitar fishes and Bowmouth guitar fishes can be seen too. Sometimes you can see huge Manta rays, small white tip and grey reef sharks passing-by or circling the top reef.

Q.1 Diving Spot not to be missed inside the Atoll ? Which one ?
A. Christmas Tree ( By boat 35 minutes)
West of Irufushi next to a large reef which reaches to the surface, is one of the most precious Thilas in Noonu Atoll. It rises up from the 30 m. deep sandy bottom.
It is named this way, because from a little distance, the profile of the reef looks like a Christmas tree. It has deep and shallow overhangs at the bottom, with layers, plateau's and overhangs until the top part of the reef.
The sandy bottom with the overhangs is the ideal place to find nurse, guitar and leopard sharks. Hawks-bill turtles are sometimes there to eat the soft corals that covers the reef.
The top part of the Thila is full of golden and jewel fairy basslets. There are also schools of jack fishes, smaller reef fishes like the red tooth trigger fish, fusiliers or glass fishes and small groupers.
The coral life is astounding, soft and hard corals give the photographers and videographers no chance to put even one finger on the reef to balance themselves for shooting !

Q.Is it dangerous to dive in Maldives ?
A. No.
Q.Any wrecks around the Resort ?
A. Felivaru wreck in our neighbor Atoll, Lhaviyani. From Hilton Iru Fushi it takes 1 hour 30 minutes to reach it but it's really worth it !
We have 2 commercial ships of Japanese Registration sunk there by their owner in 1980 and 1981 with a full cargo still on board. Both wrecks were initially standing upright out of the water, until one has slowly sunk onto the seabed.
It is facing into the channel and lies in 30m. This dive is ideal with an outgoing current, not strong. The reef is shallow, dropping slowly down to the channel bottom at 30 meters.
Many different fish species are found on this top reef.
If you slowly move along the reef, you will see the first ship wreck looming out of the blue. It is lying on its side, with the bottom facing to the reef. The highest part of this wreck you can is at 18m.
Big openings, good coral growth and fish life make this wreck very interesting to dive at.
Both Wrecks lie about 25 meters apart.
Lots of glassfishes, angelfish and big groupers swim in and out of the bridge because they are protected there by the current.You will find the wreck propeller ( still attached ) to the ship at 30m. Orange cup corals cover the sides of the wreck and if you take a closer look you can often find the coral snail feeding on them. The openings of the wreck are covered with glassfishes. Large moray eels can be seen and closer to the surface, sergeant majors might be there too.
Take some extra time for your safety stop and check out the fish life and colours.
Please note that the minimum certification Level to dive there is Advance Open Water Diver.
Q.What is the best season for you to dive around the Atoll – anything about currents, visibility, big species?
A. February and March normally visibility is great.
Q.Best season for Mantas ?
A. October Till January
Q.Best season for Whale Sharks ?
A. Not Available. Only by Luck.

Q.How is the coral around The Resort ? Improvement ? Worsening ?
A. It is getting better day by day, really nice.
Q.How is the coral in Noonu Atoll. ? Improvement ? Worsening ?
A. It is perfectly growing.
Q.Any scuba-dives outside the Resort house reef ? How is the scuba-diving around
A. The diving at Iru Fushi Resort & Spa is excellent for both beginner and experienced diver.
The corals are in excellent condition and all the main fish species can be seen at different dive sites.
The diving is fairly easy compared to other Atolls because of the wide channels and shallower depths, the currents are less forceful.
The reef variety is very and most impressive. The reef formation on each dive site is different and very diverse. Manta rays are very common and can be found at different dive sites; the Humpback turtle, which is not very common in the Maldives, is present among the large green turtles and the Hawksbill turtle.
For beginners and experienced divers it is possible to see grey reef sharks at an easy dive site.
Dive sites are relatively close by to the Resort, with some of the dive sites located within one hour traveling. But most of the spots are located within 45 min. cruising with our fiber diving Dhoni (boat).
Most of the dive sites are also ideal for videographers and photographers due to the easy diving and the shallow depths of the reefs.
We offer 2 tanks diving in the morning, departure at 9 o'clock returning before lunch and one tank dive in the afternoon leaving at 15:30 hours.
For the experienced divers there is the opportunity to dive at any time independently at the house reef.
With 4 divers or more, we go out for a night dive, every day of the week.
The diving Dhoni (boat) has 2 toilets, 2 showers, a large sun-deck. On-board we offer coconut, fruits and bottled water, after the dives. A beach towel is available for every diver.
We have 3 new Bauer Verticus compressors and a separate Nitrox compressor and we offer very attractive non-limit dive packages and Nitrox dives.
The lagoon next to the diving school is the ideal place to start diving. The house reef, 30 meters away from the diving school, has a sloping reef and abundant reef fish to make the first dive a breathtaking experience.
We offer a very wide range of options and lessons : from Discover Scuba Diving, Open Water license up to Assistant Instructor plus a variety of specialties including Nitrox, Digital under Water Photography, Videography, Underwater scooter and Rebreather to give the beginner and the experienced diver the possibility to enrich their knowledge and improve their diving skills.
Q.Can I see nice underwater flora / fauna ?
A. Yes. Snappers, emperors, small groupers and jack fish cruise the reef. Octopus and sting rays, are also very common. Turtle and Nurse Sharks might be there too !

Q.Approximate Scuba-Diving Depths expected ?
A. Max 30 meters.
SNORKELING
Q. How is the snorkeling around the Resort ?
A. The house reef is located on the west side of the Island. The diving school is located near the house reef and an extended jetty leads directly to its entrance.
The reef is gently sloping downwards to a sandy bottom at a depth of 18 meters, which makes it easy for beginners to make their first open water dives and for divers conducting their check dive.
Q.Can I see nice underwater water life ?
A. Yes. The reef is covered with sponges, lush brown soft corals and coral blocks with small reef fishes.
Snappers, emperors, small groupers and jack fish cruise the reef. Sometimes spiny lobsters peek from their small hiding places.
Glass fishes and an incredible variety of colorful reef fishes also come during the dives.
Q.Approximate Depth outside and inside home reef ?
A. Inside the lagoon 1,5 to 3 meters and outside 20 meters.
Q.Snorkeling in front of the resort beach. (near the villas) Can I see nice underwater flora / fauna ?
A. Not much.
Q.Is it safe for children? Do you have material for our small ones ? which age ?
A. Yes , we have material for snorkeling. No age is required. For Scuba diving the minimum is 08 years old.
Q.Night-snorkeling. How is it ?
A. Night snorkeling is really an unique experience for everybody. During the night, life and colors are really different. Fishes have other activities than during the day. You can observe different species too. Some fishes are sleeping, some are hunting, coral polyps are amazing. We night-snorkel every evening.
Q.Any top snorkeling spot reachable by boat ? Distance / time by boat ?
A. Yes. Nice spots can be reached from 15 minutes to 30 minutes swimming.
Q.Any basic advice for snorkelers ?
A. It's a really great way to learn how to be comfortable in the water, and snorkeling is both an awesome family activity and a new way for nature lovers to experience the ocean.
If you're hoping to learn how to scuba dive, it's the first step to getting to the seabed !
Snorkeling is easier than swimming and make sure you stay in the shallows until you are confident! This is definitely a problem, as you are in the water – but snorkelling is more about floating on the top than struggling to move around, so it's not a complete disaster.
If you are a poor swimmer, you should find snorkeling the easier option, as you don't have to keep your face out of the water ! You can just relax and swim face down instead of thrashing about ( Be aware of the currents ! ).
Fins make swimming a lot easier – you don't need to use your arms at all, unless you want to turn around in a tight corner. A wetsuit will help you float better – and salt water is denser than freshwater, so you won't sink as much in the ocean as you would in a pool.
However, if you do run into trouble, or need to take the mask off, you should know how to swim enough to stay in place and manage your equipment. The best way to manage this is to stay in the shallows, so you can actually stand up if you need to ( it's easy to snorkel in shallow water ). And if you're really not sure, stick with a buddy ( AN : Don't snorkel far away or on the reefs alone and always pay a visit to the dive center for tips and advices before you go. ).
If you don't know how to swim, our advise is to take a life jacket with you .
Life jacket is free from the water sport center or you will find one in your room that you can use all the time.
At our dive center, we have all snorkeling equipment sizes that you can hire for free.
The DIVING CENTER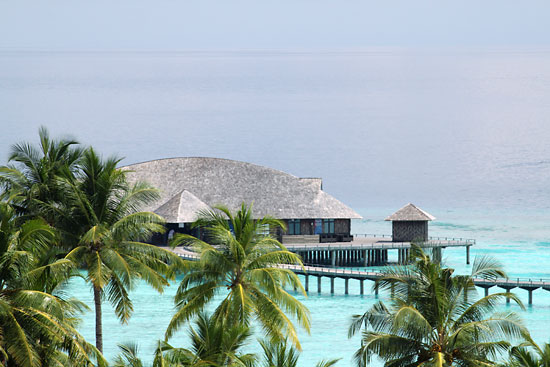 Q.Can you tell us about your diving center ?
A. Sun International Diving School is a PADI Golden Palm 5 Star facility.
The diving school is located over the lagoon near to the house reef on the West side of the Island, and consists of a large and convenient deck all around the diving school with a reception, an office, 3 air conditioned class rooms, compressor area and a spacious wet room.
Opening times are from 8:30 until 18.00 hours.
Our dive center is operating with Nine Instructors and Two compressor boys.
Q.Spoken languages at the diving center ?
A. English, Russian, German, French, Chinese, Japanese, Italian, Spanish and Dhivehi.
Q. Starting from level 0. Which level can I be if I stay 1 week in Maldives ?
A. Open Water Diver.
Q. How many divers maximum per group ?
A. 6 diver's, 4 students.
Q.Can I dive privately ?
A. Yes , but under indirect supervision from our staff.
Q.Starting price for a simple dive ?
A. US$ 64. Dive packages are cheaper.
Q.How much costs an initiation ?
A. US$ 55 or Free without dive (only exercise and weight check ) if no more than two years without diving.
Q.Beginner course (discovery ) – where and how does it take place ?- Any age/health issue/requirement ?
A. Minimum 08 years for Bubble Maker diploma, 10 years for Discover Scuba Diving (Introductory dive).
Doctor certificate : No need if the person does not have any medical issue. One is needed if there are issues. It might a good idea to get a medical advice before coming to Maldives !

Q.Not all our readers are divers or snorkelers (yet) "I am afraid of the depths…Convince me"
A. Our experience dive crew take care with every step you do and they are perfectly train to help anybody with quality and patience.
Just give us a chance to help you discover it ! After all, we are also here to participate to offer you unforgettable holidays.

END –
© DreamingofMaldives.com
Maps of Noonu Atoll and Diving sites reachable from Iru Fushi
Locate Noonu Atoll and Spot some of the best Diving Sites reachable from Iru Fushi
Diving at Iru Fushi Photo gallery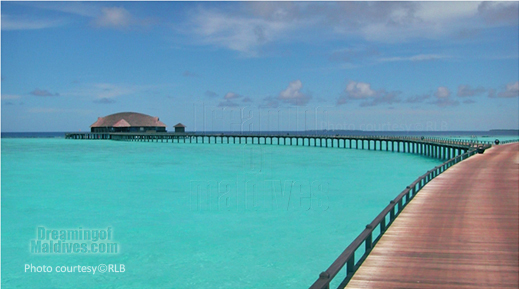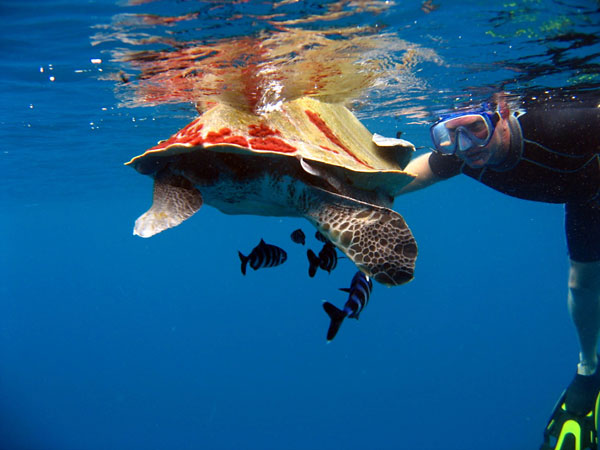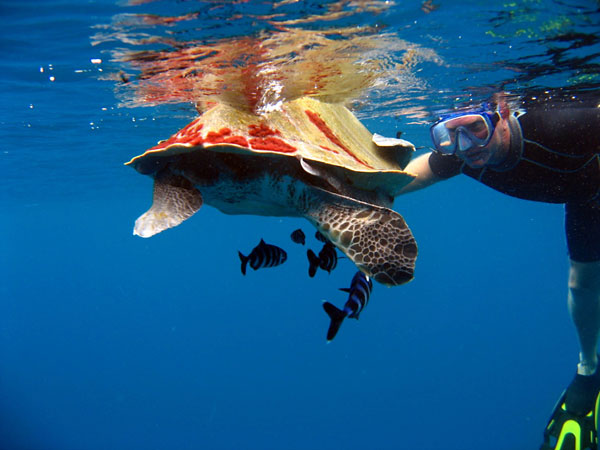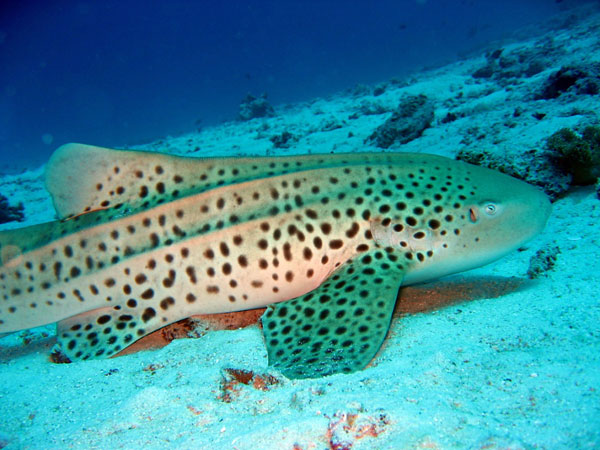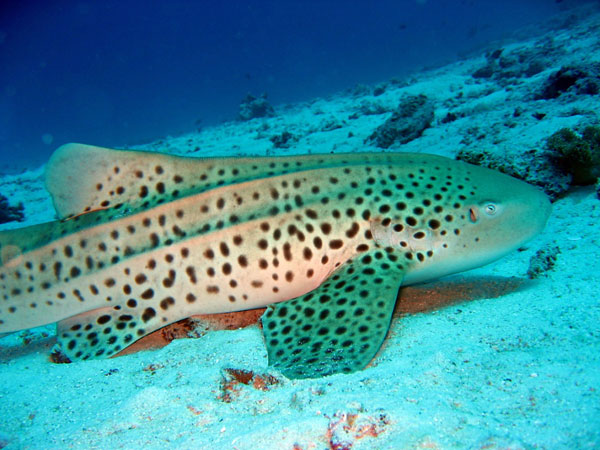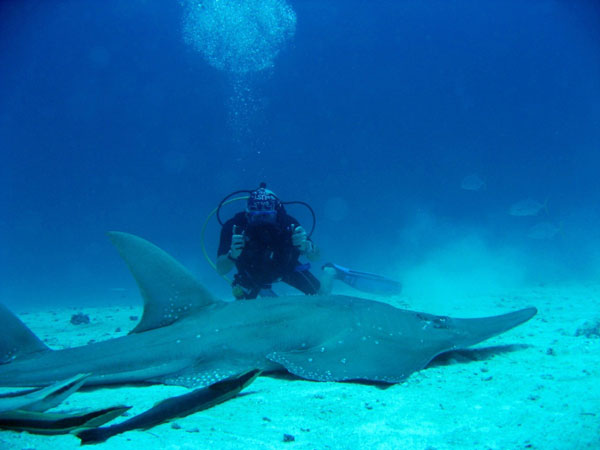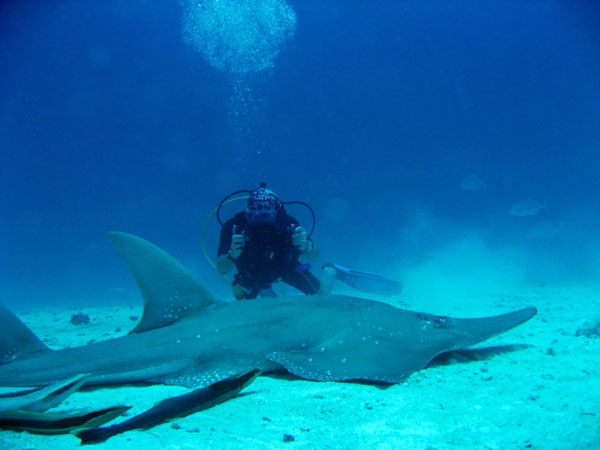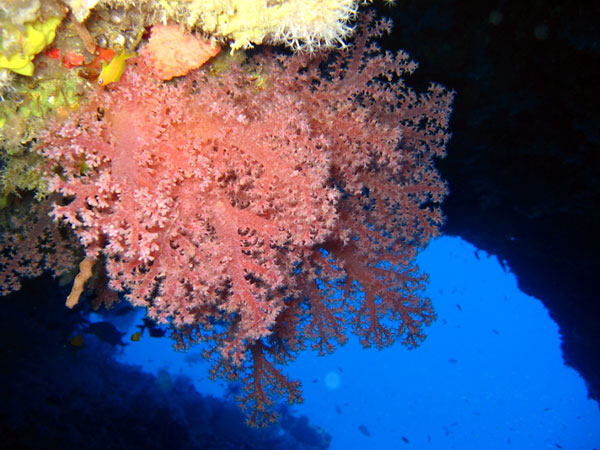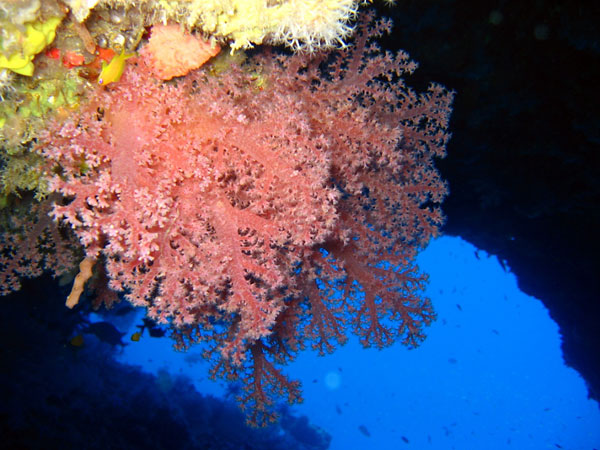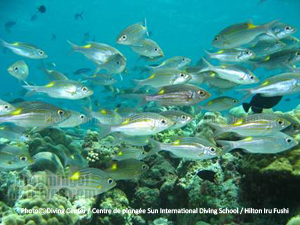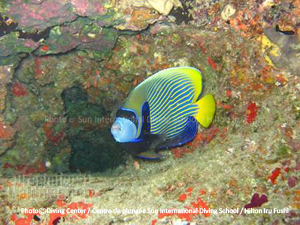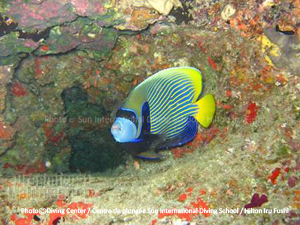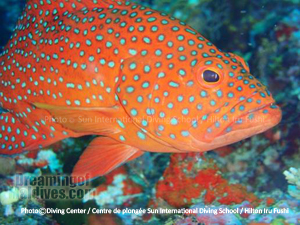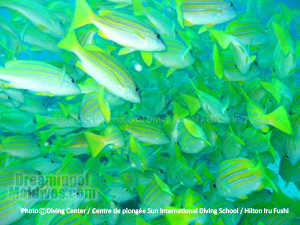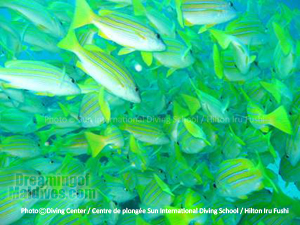 Continue the Atoll Discovery
– Alike's interview at Zitahli Kuda-Funafaru, Read it here.
Follow us on Facebook and Instagram for more Maldives stories.
Maldives TOP 10 Dreamy Resorts 2024
YOUR CHOICE. YOUR DREAM. YOUR VOICE