This is our video of an unforgettable underwater dining experience at Anantara Kihavah Underwater Restaurant SEA.
We've been dazzled by the amount of fishes that swim around Sea.
We saw most of the underwater marvels of Maldives (a stunning underwater Spa or the World's first Underwater Night-Club) , but as we entered Sea, we've been amazed by the life and the colors around us.
Discover Anantara Kihavah Underwater Restaurant in Video
Our Video of Anantara Kihavah Maldives Underwater Restaurant
Anantara Kihavah Maldives Underwater Restaurant #AnantaraMaldives #UnderwaterRestaurant #Maldives


SEA underwater restaurant is part of a unique under-and overwater gastronomic concept that highlights Anantara Kihavah Villas' idyllic location in the dazzling Baa Atoll, North Maldives.
The amazing overwater pavilion consists of 4 separate restaurants.
Sea is one of the few underwater wine cellars and restaurants in the world.
About SEA Underwater restaurant
SEA has been voted World's Best Underwater Restaurant for 4 consecutive years.
SEA underwater restaurant is only 1 meter away from a more than 50 meter deep channel.
Depending on the tide, the roof of the underwater wine cellar and restaurant is between 1 and 2 meter under the water surface.
The octagonal shaped Sea underwater wine cellar and restaurant was designed to optimize the underwater views from a diner's perspective; the acrylic windows are set lower than the dining tables and extend past the guests' peripheral vision, giving the illusion that they are part of the surrounding reef.
Each chair has a hand embroidered lumbar pillow that is derived from the reef occupants, such as file fish, leopard wrasse, grouper and angelfish.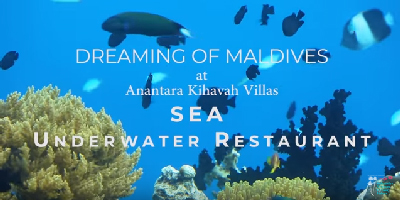 Read more.
SEA Full experience
Follow us on Facebook, YouTube and Instagram for more Maldives stories.
Your TOP Best Maldives Resorts 2023
YOUR CHOICE. YOUR DREAM. YOUR VOICE
[ Official ]
Traveler's Choice
12th Edition