This is our video of an unforgettable underwater dining experience at Anantara Kihavah Underwater Restaurant SEA.
Discover Anantara Kihavah Underwater Restaurant in Video
Anantara Kihavah Maldives Underwater Restaurant #AnantaraMaldives #UnderwaterRestaurant #Maldives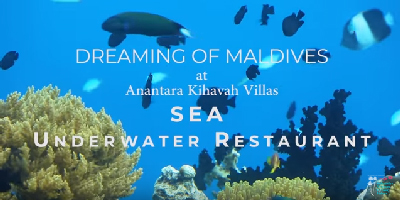 READ MORE about our Experience
About SEA Underwater restaurant
Discover a gourmet paradise with surreal ocean viewing. The world's first underwater wine cellar and restaurant entices with flawless degustation menus for lunch and dinner.
Relish chef's connoisseur creations paired with a wine range spanning nine decades, orchestrated by our Wine Guru. Feast your eyes on dazzling marine life swimming peacefully beyond the curved glass wall.
SEA has been voted World's Best Underwater Restaurant for 4 consecutive years.
You will Love
Follow us on Facebook, YouTube and Instagram for more Maldives stories.