There are so many reasons to surf in Maldives. Famous for its blue lagoons and beaches, the Island nation offers some of the best tropical-born swells on the planet.
From North to South, Maldives waves are constant and abundant and offer powerful rides. Expert surfers will surely enjoy their pristine tubes meanwhile beginners will love to surf their very first wave on such gorgeous waters.
If you are looking for a Dreamy destination to surf or to learn the art of surfing, don't look further, the Maldives are there for you !
Here are 6 good reasons why you should surf Maldives Waves
First, the islands and lagoons are dead gorgeous. And that's a FACT.
Second, there are 1199 coral islands and 26 atolls, no need to say more, it's a tropical dream for real.
Third, the Maldives receive swells almost throughout the year. It is a destination with hot sea and superb classical left and right pointbreaks
Fourth, the Maldives are for all kind of surfers, for all levels and all types of boards.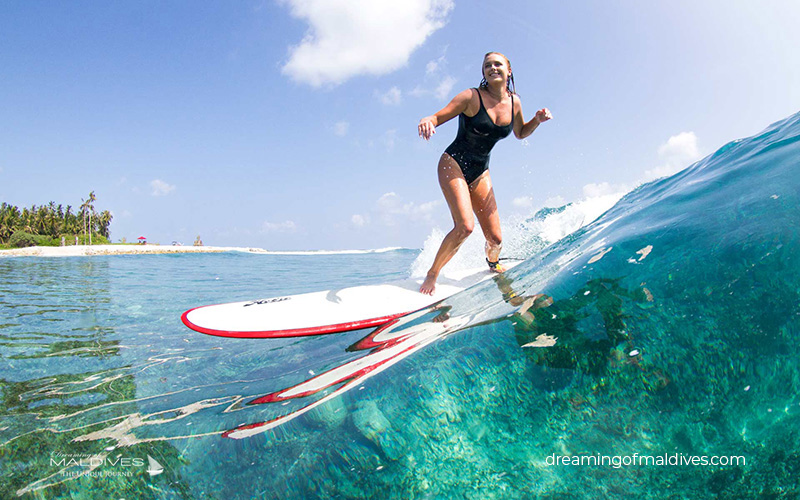 Fifth, Maldivians are great people and even better to surf with, the sea is their second home and they will surely learn you more than you think.
Sixth, You can Surf and Stay on a Budget, Surf in Style in a Luxury Surfer resort or cruise the Maldives Islands and surf several spots in several Atolls on a Safari Boat.
The choice is yours.
What are you Waiting for ?
surfing in Maldives
Where to stay and Surf ?

Surfing at Four Seasons Maldives Kuda Huraa is a promise of a dreamy adventure for surfers looking for a luxury stay in the Maldives. Located…

Six Senses Laamu is considered as one of the top luxury resort for surfing in the Maldives. The eco-chic resort offers a prime access to the…

Kuda Villingili Resort Maldives has been awarded with the title of Best Surf Resort 2023 at the recently held Travel Trade Maldives (TTM)…
Follow us on Facebook, Youtube and Instagram
for more Maldives Dreams & Stories
Maldives TOP 10 Dreamy Resorts 2024
YOUR CHOICE. YOUR DREAM. YOUR VOICE