The Best Child-friendly Resorts in Maldives, all the Kids-clubs
By Dreaming of Maldives — October 22, 2010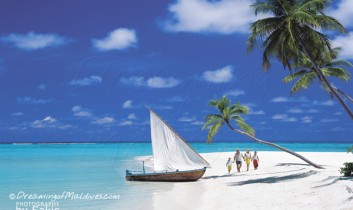 La Version Française est ici !
To be sure you get the latest news from your preferred resort, please find hereunder my latest updates :
- Last Complete Update : 20/11/2013
- New Updates & Modifications : 05/03/2014
More Kids Club Program and Activities are Available !
I am sure your children will appreciate to see what's next for them

!
You will find the following Resorts with all basic information at the end of the article :
Viceroy Maldives | Six Senses Laamu | Niyama Maldives | Angsana Velavaru | Constance Halaveli | Kanuhura  | One & Only Reethi Rah | Sheraton Full Moon | Bandos | Lux* Maldives | Kuramathi | Shangri-La's Villingili | Anantara Dhigu Resort & Spa | Lily Beach Resort and Spa  | Conrad Maldives Rangali Island |  Iru Fushi Beach Resort and Spa  | Island Hideaway Maldives | Kurumba | Anantara Kihavah Villas | Beach House at Iruveli Maldives | Dusit Thani Maldives | Soneva Fushi | Four Seasons Kuda Huraa | Four Seasons Landaa Giravaaru
We receive a lot of requests from parents asking where to stay with children in Maldives…and what are the (most) child-friendly Resorts. So, instead of answering individually, I thought it would be a good idea to give you on Dreaming of Maldives blog an updated list of all the child-friendly Resorts of the archipelago.
I wish to say, before sharing the "Grail" with you, that we have visited many of them, but most important, that our son who stayed many months with us in Maldives since he was 2,5 years old has been pampered and entertained in most of them.
We keep on discovering new Kids Clubs each time !
______________________________
Important note to our readers:
Choosing the perfect holidays is a very personal affair.
We are dedicated to helping you find the best Maldives resort for you and your children,  but we are not able to present you a list of resorts as everything depends first on your budget, you and your personal requirements ( apart from the kids club of course )
Here is how we can help you :
We suggest you to first submit our list online or to your favorite travel agent see where and when you could stay with your budget.
Be aware that some agents and/or websites have different prices, so do not hesitate to compare.
Once you've got a first "selection", come back to us and we will guide you to make it really perfect.
This said, enjoy !
______________________________
Parents, read carefully what follows as today I will guide you through an idyllic journey into the romantic but still family-friendly Maldives ! After all, isn't it a Dream ?
A bit of history…
There was a time, not so long ago, when we use to go to the Maldives with no children…at all…. The destination was far to be family-friendly for various reasons : the absolute Romantic atmosphere, the strong Equatorial Sun, the distance from Europe, but the main one was the complete lack of activities ( excepted snorkeling ) for the little ones. The structures and leisure choice of the Maldives resorts were dissuading the most of us to travel with our children, leaving us with an exciting feeling of real intimacy but sometimes tainted with bitterness and nostalgia.
The perfect balance
For years, the Maldives Resorts have received many unsolvable requests from their guests who wanted more than a Babysitting – a service that was not always available, outrageously expensive or had to be booked days in advance -. As travelers exigencies were continuously increasing, Resort Managements had to face an inevitable challenge : to combine and maintain the tranquility, the intimacy and the Romanticism of the Resort with the presence of children. The challenge was not that easy, considering the legendary concept of the destination. How to satisfy everybody ? Honeymooners, couples, families and children themselves ?
How to preserve the Magic ?
The answer lies in a creative and thoughtful idea : to make stylish, fun and surprising Kids-Clubs. The challenge is accomplished. Today, our children can also enjoy the Maldives dream, the parents happily and finally enjoy their romantic holidays and Honeymooners together with couples still embrace the complete feeling of being on a private Hideaway.
It is important mentioning that even though these kids clubs are magnets to many parents, none of the resorts will ever look nor feel like a kindergarten. The kids-clubs and activities are always managed separately and discretely so that they do not interfere with the serenity and ambiance of the island.
Kids Club were first introduced by 5 Stars Luxury Resorts, 6/7 years ago. Luckily, today, many 4 Stars Resorts also provide their guests with this service.
The Activities
Unlike many kids clubs available around the world, the small structures of the kids clubs of the Maldives Resorts allow your children to have access to extraordinary activities.
Cooking with a Chef
Being a Marine Biologist
Private excursions on board of dhonis
Learning the Maldivian Nature with adventures and discovery of the island in small groups
Learning the Maldivian Culture with songs and dances
Art and crafts made from local items (sand,coconuts) to develop children's creativity
Yoga
Spa treatments
And much more…
Besides usual kid's activities, kids clubs also offer great fun : treasure hunts, outdoor and indoor sports and games, playgrounds, sand castle building, shell finding, crab races, PlayStations, TV, books, films etc…
Some Kids-clubs also propose lunches and/ or diners to the children, giving the parents the opportunity for a Tête-à-Tête.
More and more, in a constant search for Guest satisfaction, Resorts keep their Kids-Clubs open until 9.00 pm or even 10.00 pm.
How late it can appear, this opportunity can be very useful in case of a night-diving or snorkeling…
The ideal time will be at around 7.00 pm, giving couples the pleasure to enjoy the dreamy Sunset time starting around 6.00 pm.
.
Kids Clubs…The List
This list is regularly updated .
If you have any other Kids Club suggestion, let us all know your favorite one in the comment section below.
Note about the missing Resorts :
A few Resorts are not appearing in the below list. This list is based upon our own experience. Some of them do not appear due to negative feedbacks or because they do not want to highlight this service.
Last NOTE : Before booking your favorite resort, do not forget to recheck the below information, as programs, times and accommodation might be subject to modification.
As you will see, some resorts do or do not provide family rooms and / or interconnected rooms.
And remember: they are subject to availability.

On our side, we will do our very best to provide you with the latest updates.

About Author
A Comment ? A question ? Leave it here
Comments are posted from viewers like you and do not represent the views of Dreaming of Maldives.
All submitters agree not to submit inappropriate content.
We do not alter the substance of any posted comment but we reserve ourselves the right to reject any comment if we consider to be inappropriate : containing personal information (street addresses, phone numbers, etc.), obscenity, offensive or that advertise or promote a company or service.
By commenting here, you agree that you submit your comments in a spirit of respect and honesty for the others.
Let's keep Dreaming of Maldives nice and informative. Thank you !
Live us a message