15 beautiful aerial photos of the Maldives
By Dreaming of Maldives — November 12, 2010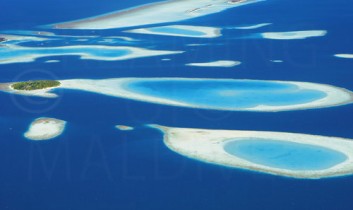 Today, we thought to bring you to a special journey, from home. We will make you fly with a serie of photos to show you the Maldives from the Air….
Flying above the Maldives islands is a dream for the many travellers who spend their holidays in the Island Kingdom…
The magic of the Maldives not only resides in the incomparable beauty of their paradisiacal landscapes but also from a Bird's-eye view. Flying above Maldives is a fascinating and unequalable experience.
We have flown several times from the Extreme South to the Extreme North of the Archipelago and all these hours passed in the air made us realise each time, how amazing the Maldives are.
We have witnessed breathtaking views, we have seen countless numbers of gems, we have been completely dazzled and surprised by the diversity of the shapes of the thousands of islands.
To describe the real beauty of theses islands is often a challenge, and the task often lets me frustated. Words will never be enough to make you truly "feel" them…only images can achieve this.
So, sit back, relax, and enjoy this serie of 15 photos taken during our many flights. The photos belong to the Dreaming of Maldives Collection. Some of them are published in our Editions (books and calendars). Some others have not been released yet.
Only and exclusively for you….Enjoy the Dream.
When Mother Nature draws….
—————————————
—————————————
—————————————
—————————————
—————————————
—————————————
—————————————
—————————————
—————————————
—————————————
—————————————
—————————————
—————————————
—————————————
You can also review these images as a Gallery…
© 2010 Dreaming of Maldives
About Author
A Comment ? A question ? Leave it here
Comments are posted from viewers like you and do not represent the views of Dreaming of Maldives.
All submitters agree not to submit inappropriate content.
We do not alter the substance of any posted comment but we reserve ourselves the right to reject any comment if we consider to be inappropriate : containing personal information (street addresses, phone numbers, etc.), obscenity, offensive or that advertise or promote a company or service.
By commenting here, you agree that you submit your comments in a spirit of respect and honesty for the others.
Let's keep Dreaming of Maldives nice and informative. Thank you !
Live us a message